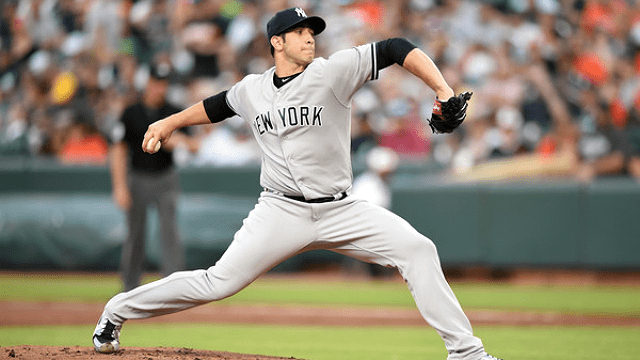 Perhaps it's one that we've talked ourselves into because of its inherent logic, but a truism for the Yankees heading into Spring Training is that Luis Cessa is going to get one of the final two bullpen jobs up for grabs. This makes sense because he is out of options and even if it is the last player or two on the team, why lose a guy for (probably) nothing? Furthermore, if it doesn't work out, it is the last slot or two on the team, something not hard to replace. In addition to the logic of the situation, though, Cessa does appear to be earning his roster spot.
The Yankees have shown a lot of patience with Cessa and given him chance after chance to prove himself. The results have been mixed, but that might be a bit generous; he's only infrequently looked like a Major League quality pitcher. Counting on him as starting pitching depth–even with Jordan Montgomery out–is probably out of the question now and that could be the best thing for his career.
It hearkens back to the days of the Joba Chamberlain: Starter or Reliever? debates, but it still comes out pretty true: pitchers' stuff plays up in the bullpen. Being able to let loose for an inning or two is going to make your stuff look better. Just look at Chad Green, for example. Would he be able to get away with such a fastball heavy attack in the starting rotation? Of course not. Cessa's fastball, meanwhile, is already pretty solid in terms of velocity. Brooks has him averaging just over 95 on the heater for his career. Airing it out in relief could add a tick or two to that, making it that much harder to hit.
Moving to the bullpen would also allow Cessa to drop his curve and changeup and focus on a two pitch fastball/slider arsenal. His slider–his second most frequently used pitch–already has about a ten MPH drop from his fastball. That difference could be even more stark and effective in the bullpen in short outings. Aside from simplifying and amping up, there's something in Cessa's career performance that points to potential success in the bullpen.
Like almost every pitcher to ever throw an inning, Cessa does his best work when facing a hitter the first time. Whether it's as a starter (.688 OPS against) or reliever (.695 OPS against), his best marks show up in his first matchup with an opponent. The drop offs get pretty stark, too. Against hitters a second time as a starter, his OPS against bumps all the way up to .811. As a reliever? .841. His pitch count numbers tell a similar tale. His OPS against is .717 in pitch numbers 1-25. It jumps up to .806 for 26-50 and .812 for 51-75. It gets just under .800 (.796) in pitches 76+.
The clear part is that Cessa most likely belongs in the bullpen, where he can limit his exposure to batters and jump his stuff up a notch or two. What role, then, should he play in the bullpen? The 'first time' numbers suggest he could get away with facing a lineup once through while his pitch count numbers suggest he's better off in a short outing of just one inning. The former is likely more valuable to the team, but the latter is one where he's more likely to be successful. Either way, Cessa should start out in mop up, low leverage situations as he attempts to adjust his repertoire to a new role. If he can nail things down on an inning-by-inning basis, maybe he could be put into a multi-inning role.
Luis Cessa hasn't quite reached the end of the line with the Yankees, but being out of options and only marginally and infrequently successful means that end is coming up quick. 2019 will be the year that makes or breaks Cessa's career and from the bullpen is where he'll have to do it.