We have ten questions this week in the (gasp!) second-to-last RAB mailbag ever. It hasn't really set in for me yet that RAB is closing up shop soon, probably because it's still business as usual on my end. Maybe it'll start to set in once I empty out the mailbag inbox one final time next week. Anyway, send your questions to RABmailbag (at) gmail (dot) com.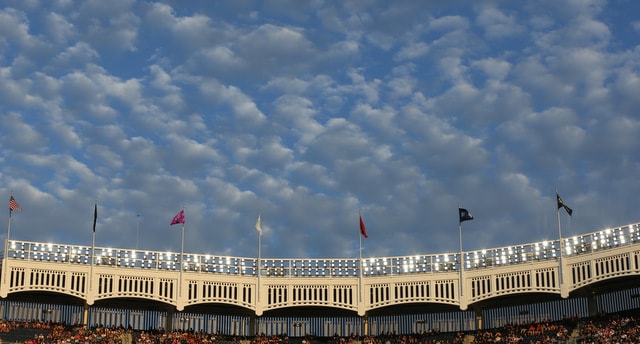 Many asked: Where do we go for our Yankees info and analysis after RAB shuts down???
First of all, thank you again to everyone who reached out since we announced RAB is shutting down. The thank yous have been overwhelming. Most of you also asked where you can get your Yankees fix going forward, but I'm not prepared to answer that right now because, honestly, I stopped reading most other blogs a few years ago, so I'm a bit out of touch. I've decided to put together what will amount to a "A Guide To Life After RAB" post, which sounds incredibly presumptuous, but it seems to be something people want. It'll include other sites to check out, information on how to continue following the minors, where you can find everyone here going forward, things like that. That will probably be posted on April 29th, our final day. I don't mean to ignore everyone asking where to go next. The guide will answer those questions soon enough.
Dan asks: Is part of the reason that you are wrapping up RAB that you are frustrated with the Yankees for not doing more to sign players Harper, Machado, and Corbin, as well as retaining players like Robertson?
It is not. I've have several people ask this and I promise you it is not. The decision to shut down RAB has nothing to do with the Yankees and we would've made the same decision even if they had signed Bryce Harper and Manny Machado, and been 17-1 with 47 home runs through 18 games. This decision has been a long time coming and I actually did decide to shut RAB down last summer, weeks before Harper and Machado even became free agents, though I changed my mind after the season and tried to give it another go. That was a mistake and if I could do it all again, RAB would've closed up properly over the winter rather than a few weeks into the season. That's my mistake.
Greg asks: If Miguel Andujar is not able to throw do you think the Yankees would try him at 1st before ending his season with surgery? Latest word is that his swing won't make the injury worse, so why not get his bat into the lineup. Can't be much worse than Voit defensively.
Good timing! Just Aaron Boone said yesterday the Yankees are discussing bringing Andujar back as a first baseman or DH if he can't make the throws at third. "I don't think we're there yet," Boone told James Wagner, indicating a final decision is not imminent. Supposedly the injury won't hinder Andujar's swing, only his arm, and remember, he would still have to make some throws at first base, plus he'd have to learn the position. I think Andujar at DH is more likely than Andujar at first base. Either way, it sounds like the Yankees will make sure Andujar can not play third base before considering other positions. It's not third base or surgery. There's a third option here. They are thinking about ways to get his bat into the lineup before sending him for surgery.
Erick asks: Anthony Seigler. Where and what's up with our switch-hitter and switch-pitcher first rounder? Is he hurt?
Seigler suffered what was described as a minor quad injury in Spring Training, which prevented him from breaking camp with a full season affiliate. There have been no updates on him since, which is not unusual for Extended Spring Training, even for last year's first round pick. Seigler is very advanced defensively for his age, but holding a 19-year-old catcher back in ExST is pretty standard practice. Even without the quad injury, he might've been in ExST to start the season anyway. Seigler could be perfectly healthy right now (and hopefully he is) and still be in ExST because the Yankees believe that is the best place for him developmentally. Seigler was hurt in Spring Training. I do not know if he is still hurt, and I don't know that he would've been assigned to Low-A Charleston even if healthy.
Mickey asks: Does Chad Green still have a minor league option? And how much longer is his leash before you start considering Joe Harvey as a better option?
Green does have an option left. He used one in 2016 and one early in 2017, so he has one remaining. The Yankees could send him to Triple-A. I can't see that happening though, even with the rocky start to the season. Maybe don't use him in high-leverage spots, but Green deserves a leash longer than seven innings based on what he did the last two years. Besides, who do the Yankees call him to replace him? Stephen Tarpley? Jake Barrett? Jonathan Loaisiga? I'd be down with Loaisiga getting a look as a multi-inning reliever a la Green in 2017, just not at the expense of Green. I know he's struggled in the early going, but I couldn't imagine sending Green down and sticking with Harvey. Not yet.
Nico asks: Your Blake Swihart post got me thinking, what's the point of being a switch hitter if your team platoons you to avoid your weaker side? Why not just try batting left-on-left? Can't be worse, right? Have there been "switch hitters" who give up on it and are actually better after?
Most switch-hitters are stronger from one side (their natural side), and focusing on the strong side is typically a last resort. A few years ago Aaron Hicks stopped switch-hitting with the Twins and Rod Carew talked him back into it. "Rod Carew actually called me and told me, what the heck am I doing giving up switch hitting? It's a blessing, and that I should go back and work harder at it and learn from my mistakes," Hicks said at the time.
Maybe I'm forgetting someone obvious, but I can't think of anyone who dropped switch-hitting well into his big league career and had success from one side of the plate. It does happen quite a bit in the minors — Eduardo Nunez and Francisco Cervelli were switch-hitters very early in their pro careers — but it's easier to work on something like that as a young player in a developmental situation than in the big leagues where wins are the priority. Remember, most switch-hitters have never seen a breaking ball that breaks away from them. It ain't easy to pick up on the fly.
Cory asks: I've got a some questions about Clint. It seems like he's finally getting his big opportunity this year. How would you grade his performance so far? What does his ceiling look like if everything falls into place this year and where does he rank among our hitters? If he keeps this up is it enough to push Gardner to the bench so he continues to get full time at bats if/when the regulars get healthy? What should his nickname be?
Clint Frazier's been really good so far. I'm generally a harsh grader but I am comfortable giving him an "A" in his limited action thus far given how well he's performed after missing so much time last year. I've said Frazier could be a right-handed Nick Swisher several times in the past, though that's probably not a great comparison. Not many players walk as much as Swisher did (career 13.0%) and I think Frazier has a better chance to hit for average. At his peak, I could see Clint being a .280/.360/.500 type. I guess that makes him … Mitch Haniger? Defensively, Frazier is probably a -5 runs defender in left field, so the total package is something like +3 WAR or +4 WAR once he settles in, and that's really good. And yes, of course Brett Gardner should go to the bench so Frazier can remain in the lineup once guys start getting healthy. Will the Yankees actually do it? I dunno. But that's what they should do. I am terrible with nicknames so I don't have a suggestion there. Clint doesn't like Red Thunder. Nicknames have to be organic. Can't force it. Give it time and something good will come along.
Sean asks: How mad are you in hindsight that the Yankees didn't pony up the cash to sign Yoan Moncada? I'm not saying he arrived with how well he's doing this year, but geez, it's money, and the Yankees cheaped out on someone with such upside. And to the Red Sox too, ugh. Imagine him at second and Gleyber at ss, unreal.
The Moncada situation was the first real sign the Yankees were going to operate very differently going forward. For better or worse, they are no longer going to throw money around, even when young players with high upside are available. Getting out-bid for Moncada was infuriating. The Yankees had spent the year or so prior to that saying they were planning to emphasize youth, yet they were outbid for a player pretty much everyone in the industry considered a budding star. Moncada looks like he's finally breaking out this year — I say "finally" but he's still only 23 — and who knows how his career plays out had he signed with New York. His entire development path would have changed. The Yankees planning to emphasize youth, yet allowing themselves to be outbid for Moncada is a pretty good summation of the franchise right now. They talk the talk about doing whatever it takes to win, but their actions tell us that isn't really the case. They want to win on their terms.
Jonathan asks: It seems everyone is gloom and doom. But after this two game sweep of the Red Sox, the Yankees at 8-9. Weren't they 9-9 last year? At the end of the day, if Hicks, Stanton, Severino, Sanchez and Betances come back the Yankees should be fine. Am I wrong for being so chilled?
There are several reasons for the doom and gloom. The first is, obviously, the injuries. There are so many of them and several of them are long-term injuries. Is it really safe to expect guys like Aaron Hicks, Luis Severino, and Dellin Betances to come back and be impact players right away given the nature of their injuries? Secondly, the Yankees have played some crummy baseball these three weeks, and these games count in the standings. How could anyone not be discouraged after losing home series to the Orioles, Tigers, and White Sox? And third, the Yankees just had a giant fart noise of an offseason. They passed on Bryce Harper and Manny Machado, passed on Patrick Corbin, and tried to piece things together with lower cost free agent signings, several of which aren't looking so hot already (J.A. Happ, Zack Britton). When you're a World Series contender and your best free agent signings are DJ LeMahieu and Adam Ottavino, well, you'll have to forgive me for being underwhelmed. Jonathan's not wrong for being chill through this rocky start. There's no right way to be a fan. Personally though, I see a lot more negatives than positives right now. The injuries, the losses to bad teams, and the Yankees being apathetic toward building the best roster possible are hard to ignore.
Anonymous asks: Hi Mike. The other day you mentioned Urshela took Ellsbury's locker and that it is a "prime piece of real estate" in the clubhouse. Ellsbury hasn't played since 2017 but he still had a good locker, so I assume they are assigned based on seniority? What's the locker situation like?
Yes, locker assignments are generally based on service time and tenure with the team, so the guys who have been around the longest have the best lockers. They usually get an empty locker next to them for extra space as well. That is standard throughout baseball and it applies to the road clubhouses as well. When the Red Sox were in town this week Dustin Pedroia, Chris Sale, and David Price had the prime lockers. When the Tigers were in town two weeks ago it was Miguel Cabrera and Jordan Zimmermann.
The Yankee Stadium home clubhouse is gigantic and there are some columns in the middle of the room that kinda split it into two halves. The front left side is the young position players, the back left side is the more veteran position players, the back right side is mostly starting pitchers, and the front right side is the relievers. Some other quick locker notes:
Brett Gardner and CC Sabathia are the longest tenured Yankees and they have the two lockers at the back of the clubhouse. Carlos Beltran had Gardner's locker previously. Derek Jeter had CC's.
Giancarlo Stanton is in the corner next to Gardner and I'm pretty certain he's in Alex Rodriguez's old locker. Dellin Betances is in the corner next to Sabathia. Masahiro Tanaka and Austin Romine have good spots at the end of their row of lockers. Romine took Gardner's old locker when Gardner took Beltran's.
Aaron Judge is in the middle of the row of young position players on the front left side. No special locker treatment for him yet (or Gary Sanchez, for that matter). The lockers at the very front of the clubhouse go to the shuttle players (Joe Harvey, Mike Ford, etc.).
It's kinda interesting how certain lockers have a personality, so to speak. For example, the Yankees have what amounts to a veteran setup man locker that has gone from David Robertson to Andrew Miller to Tyler Clippard back to Robertson to now Zack Britton. But yeah, locker assignments are largely based on service time and tenure with the team, and the Yankees have so many lockers that injured guys like Ellsbury (and Jordan Montgomery) keep their spots even when they're away from the team for long stretches of time.