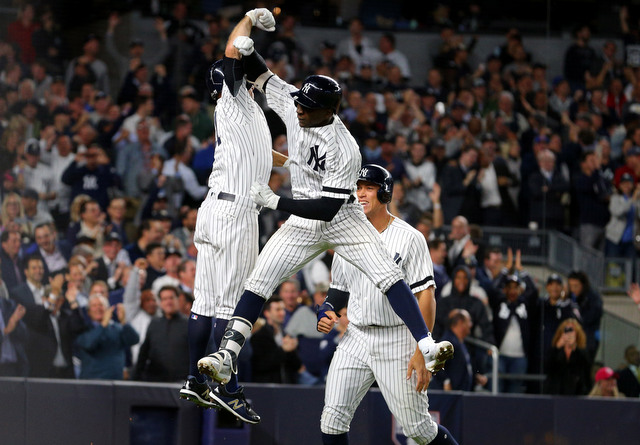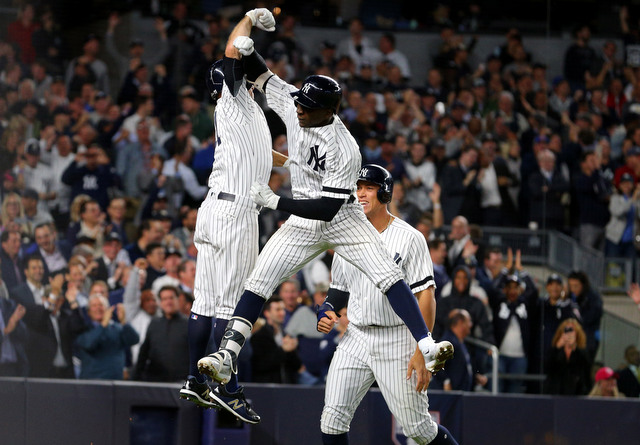 In two weeks and six days, RAB will close its internet doors after more than 12 years covering the Yankees. I am bummed we won't get to cover another World Series, or CC Sabathia's final season, but we were around for one championship and almost all of Sabathia's time in pinstripes, and that's pretty cool. Lots of blogs never got to experience a title or a player as awesome and lovable as CC.
When it's all said and done the RAB era will have covered 2,034 regular season and postseason Yankees games, assuming no rainouts the next 20 days. Turns out Game 161 last season, the game in which the Yankees broke the single-season home run record, was the 2,000th game of the RAB era. Fitting, given my unabashed love of dingers. Twelve years is an eternity in the blog game. Doing the math and seeing RAB has been around for over 2,000 meaningful games really drove home the point for me. We've been at this a long time.
Naturally, some of those 2,034 games are more memorable than others, and for different reasons. Maybe the game itself was exciting. Or maybe you were at the ballpark with a friend or family member, and it was just a great all around day. Whatever the reason, baseball is pretty great, and the Yankees have spoiled us with many awesome games the last 12 years. Even the bad years (2008, 2013, 2004, 2016) weren't that bad. RAB has never seen the Yankees win fewer than 84 games. Could be worse.
What follows is my personal ranking of the five most memorable Yankees games of the RAB era. This is not intended to be a "correct" ranking. It's my personal list and everyone's personal list will be different. For whatever reason, these are the games that most stick out to me from the last 12+ seasons.
5. Sept. 1st, 2011: Jesus Montero's Debut
Kinda random, I know, but this game has always stuck out to me. For starters, it was Montero's debut, and he was supposed to be the next great Yankee. Remember his two-homer game against Jim Johnson and the Orioles? That was so cool. Alas, things didn't work out the way everyone hoped. Montero was traded after the season and eventually ate his way out of the big leagues. He turns 30 (!) in November and hit .273/.349/.382 in the Mexican League last year.
Secondly, this was a really important game! Yankees vs. Red Sox at Fenway Park, separated by one game in the standings atop the AL East. Montero did nothing in his MLB debut (0-for-4 with a strikeout and a hit-by-pitch), but Andruw Jones worked a 14-pitch walk against Al Aceves in the seventh inning, setting up Russell Martin for the go-ahead double. Mariano Rivera struck out Adrian Gonzalez with the bases loaded to end it. Good ol' fashioned "this game is gonna make me puke!" baseball at Fenway.
4. Sept. 21st, 2008: The Final Game at the Old Yankee Stadium
The game itself was unremarkable. I remember Andy Pettitte started, Mariano Rivera closed, and Jose Molina hit the final home run. The box score tells me Johnny Damon also hit a home run, Hideki Matsui batted eighth (?!?), and someone named Chris Waters started for the Orioles. Imagine being an up-and-down arm for the 93-loss Orioles in 2008, and it just so happens you line up to start the final game at Yankee Stadium. Wild.
This game stands out more because of what happened afterward — there was Derek Jeter's speech, and I specifically remember telling a friend it felt like the Yankees won the World Series while the team made their lap around the warning track — and because it marked the closing of the ballpark I grew up in. It was a sad day. The new Yankee Stadium is pretty cool (yay modern amenities!), but the old Yankee Stadium had an irreplaceable charm. I'm man enough to admit I teared up during all the postgame ceremonies. Over a building!
3. Nov. 4th, 2009: World Series Game Six
Surely no one expected the 2009 World Series to not land in here somewhere, right? The entire 2009 postseason run had some very memorable moments. There's the Alex Rodriguez game-tying home run against Joe Nathan in ALDS Game Two, A.J. Burnett coming up huge in World Series Game Two, and Johnny Damon's double steal in World Series Game Four. It was a fun few weeks, no doubt.
Game Six was both a great baseball game and the World Series clincher. I remember thinking the series was over as soon as Hideki Matsui hit that home run against Pedro Martinez. Kinda foolish, I know, but I was feeling really good about things as soon as the Yankees took the lead. Matsui drove in six runs in the game, Damaso Marte struck out peak Chase Utley and Ryan Howard on six pitches in the late innings, and of course Mariano Rivera closed it out with a five-out save.
Fun fact: Damon got hurt in this game. I think it was a hamstring? Melky Cabrera got injured earlier in the series as well. When Rivera got Shane Victorino to ground out to second to end the series, the outfield from left-to-right was utility man Jerry Hairston Jr., unproven rookie Brett Gardner, and regular right fielder Nick Swisher. The Yankees would've had some outfield issues had the series gone seven games. Anyway, I'd rank the five World Series of lifetime like so:
1996
2009
2000
1998
1999
The 1996 World Series was the first title I saw and I'll never forget it. Especially since baseball crushed my soul for the first time the previous year. The 2009 World Series is special because it had been so long since the last championship. I was young and naive in the late-1990s/early-2000s. I started to take winning titles for granted around 1999 and 2000. The 2000 World Series was special because of the Subway Series though. That was really cool, especially coming from a family of (mostly) Mets fans. I'd love to see another Subway (World) Series at some point. It would be crazy fun.
2. Oct. 3rd, 2017: AL Wild Card Game
Say what you want about the fairness or unfairness of the one-and-done Wild Card Game, but wow does it make for great baseball theater. It is Game Seven without the hassle of Games One through Six. I don't think the winner-take-all aspect is particularly fair in a sport that is about marathons, not sprints, but it does well for MLB (ratings, buzz, etc.), so I don't think the format is changing anytime soon. It is what it is.
The 2017 Wild Card Game packed a lot into nine innings. A lot of action and a lot of emotions. There was the shock and sense of dread after the Twins jumped on Luis Severino for three runs in the first inning. The euphoria of the Didi Gregorius game-tying home run. Brett Gardner pimping a home run. David Robertson throwing 3.1 innings and 52 pitches. Something happened every inning and all while the season was on the line. It was … intense.
Perhaps recency bias is playing a role here and I'll look back in a few years and wonder why I have this game so high on my personal list. That said, the 2017 season was the start of a new era of Yankees baseball, and the Wild Card Game was the first time we saw this team in action in October. If the Yankees score six runs in the first and run away with it, this game doesn't make the list. They had to make a big comeback though, and the game was very exciting, plus the Yankees were a young up-and-coming club for the first time since 1996. It was a lot of fun and it's going to stick with me for a while.
1. The Farewells
Okay, I'm cheating, because my personal most memorable game of the RAB era is not one game. It was a series of farewell games. Four, specifically. Here's the list, chronologically:
Pettitte's farewell was kinda weird because he retired once already, and even though it seemed like he was ready to hang 'em up for good in 2013, no one really knew. That little bit of doubt existed. Also, what is widely remembered for being Jeter's farewell game was not actually his final game. You of course remember the walk-off single …
… but the Yankees still had a three-game series in Boston after that. Jeter went 2-for-4 in that series and he walked off the field for the final time following a third inning infield single at Fenway Park. I'll remember the A-Rod farewell game for two things. One, it started raining during the pregame ceremony (only A-Rod), and two, he returned to third base for one batter at the end of the game. That was pretty cool.
Jeter's walk-off hit was an incredible storybook ending and Pettitte going out with a complete game was awesome. For me, Rivera's farewell is the most memorable. Jeter and Pettitte going to the mound to take him out was an all-time great moment, and seeing Rivera bawl his eyes out while hugging Pettitte was very emotional. I always saw Rivera as this larger than life baseball god who never got rattled by anything, yet there he was breaking down in Pettitte's arms. I will never ever forget it.
* * *
Trimming this down to five games was not easy and, honestly, ask me this again in a month and I might give you a different order or even different games. Here are other RAB era games that stand out to me (listed chronologically):
I did not realize Jeter's 3,000th hit game and the Sabathia vs. Shields duel were on back-to-back days! I had a 20-game ticket package in 2007 and it felt like I saw A-Rod hit 30 home runs in those 20 games, including that walk-off grand slam against Ray. What a monster season that was. With all due respect to 2017 Aaron Judge and various Robinson Cano seasons, 2007 A-Rod was the best player of the RAB era. Hands down.
Personally, I'll always remember the Johnny Damon and Mark Teixeira back-to-back homers against Daniel Bard as the moment the 2009 Yankees first felt special. That team was obviously very good, but those homers capped off a four-game sweep of the Red Sox, at which point the Yankees asserted themselves as baseball's dominant team. Turn your speakers up:
Man that was fun. Similarly, Didi's first home run against Corey Kluber in ALDS Game Five two years ago was the first time I truly believed the Yankees had a chance to complete the comeback. After going down 0-2 in the series, I just kinda assumed it was over. The Indians were insanely good that year. Instead, the Yankees won Games Three and Four, then Gregorius sent a first inning message in Game Five. It was awesome.
We may not have gotten four World Series in five years, but I feel fortunate RAB existed these last 12 seasons. Again, even the bad years weren't that bad. We saw a World Series title, more than a few generational players come through town, and the Yankees go through a rebuild transition that resulted in one of the best cores in the game. There were many memorable games and moments along the way. More than I could ever fit into one post. The games above are my personal favorites.