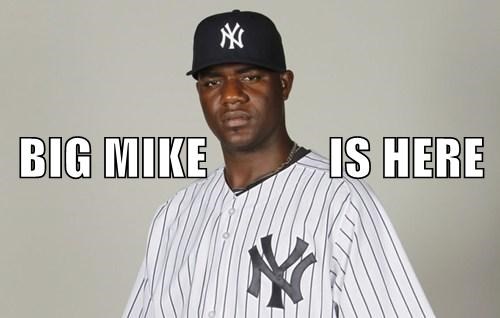 Michael Pineda made his first start of the season (and as a Yankee!) in Toronto back in April, and today he'll face the Blue Jays again, in his eighth start of the season. Pineda held the Jays to one run in six innings in his first start, though that was a really long time ago. I'm not sure how much seeing him once before will really help at this point. Either way, Toronto seems to have checked out on the season, so beat them again and inch closer in the second wildcard race. Here is the Blue Jays lineup and here is the Yankees lineup:
It's cool and cloudy with a little bit of rain in Toronto today, so the Rogers Centre roof might be closed. This afternoon's game will start a bit after 1pm ET and you can watch on YES locally and MLB Network nationally, depending on where you live. Enjoy the game.
Injury Update: Jacoby Ellsbury (ankle) is obviously not in the lineup and he was still limping in the clubhouse earlier today. With the off-day coming on Monday, my guess is he does not play tomorrow either and gets three straight days off.
By

Jacoby Ellsbury injured his left ankle sliding into home plate in the ninth inning of last night's game. A fluoroscope exam — whatever that is — came back negative, but he was walking with a limp in the clubhouse after the game and received treatment. "I'm going to call them first thing in the morning when I wake up and let them know how it feels," said Ellsbury to Brendan Kuty. "It's not going to feel great, but hopefully it's good enough for me to play tomorrow."

Replacing Ellsbury in the outfield won't be much of a problem for the Yankees — they could play Brett Gardner in center field and Martin Prado in left or right — but losing his bat this point of the season would be a big blow. He's been the best hitter on the team over the last week or two, igniting the offense once he moved back into the leadoff spot. Hopefully the ankle is just a little sore and it's not anything more serious. Ellsbury is one of the most indispensable players on the roster. · (56) ·

Source: FanGraphs
That was a good way to rebound from Thursday's rough walk-off loss. After being shut down for the first six innings on Friday, the Yankees rallied late to walk away with a 6-3 win over the Blue Jays in the series opener. Let's recap:
MLB.com has the box score and video highlights, FanGraphs some other stats, and ESPN the updated standings. The Orioles won, so the Yankees remain seven games back in the AL East. Assuming the Tigers hold on to their big lead over the White Sox, the Yankees will remain three games back of the second wildcard spot regardless of the what the Mariners do in the late game. FanGraphs puts their postseason odds at 10.8%. Michael Pineda and Drew Hutchison will square off in the second game of this series on Saturday afternoon.
OF Jake Cave placed eighth on this week's Prospect Hot Sheet while 2B Gosuke Katoh made the No So Hot section.
Triple-A Scranton (6-5 loss to Lehigh Valley)
SS Jose Pirela: 0-2, 1 K — left the game in the fourth for an unknown reason
RF Chris Young: 1-4, 1 K
2B Rob Refsnyder: 0-4, 1 K
LF Ramon Flores: 0-2, 1 R, 1 BB, 1 HBP, 1 E (fielding) — left the game in the eighth, a few innings after getting hit by the pitch
3B Scott Sizemore: 1-4, 1 R, 1 HR, 1 RBI, 1 K
C John Ryan Murphy: 2-4, 1 R, 1 HR, 3 RBI, 1 K — second homer in his last six games
LHP Manny Banuelos: 4 IP, 6 H, 3 R, 3 ER, 1 BB, 4 K, 1 WP, 2/4 GB/FB — 48 of 73 pitches were strikes (66%) … finishes the minor league season with a 71/31 K/BB in 76.2 innings
LHP Tyler Webb: 1 IP, 1 H, 0 R, 0 ER, 0 BB, 0 K, 1/2 GB/FB — 14 of 19 pitches were strikes (74%)
RHP Preston Claiborne: 1 IP, zeroes, 0 K, 2/0 GB/FB — six pitches, three strikes
The Yankees just suffered a pretty rough walk-off loss and they can't let the series loss to the Tigers spiral into some kind of extended losing skid. The Blue Jays are in bad shape right now — they've lost ten of their last 14 games and are 7-16 in August — so everything is set up for the Yankees to bank some wins. Here is the Blue Jays lineup and here is the Yankees lineup:
It's nice and sunny in Toronto, so the Rogers Centre roof should be open. Tonight's game is scheduled to start a bit after 7pm ET and you can watch on YES locally and MLB Network nationally. Enjoy the game.
By

4:28pm: Tanaka told reporters the soreness is "throughout the arm" and he does not feel any pain in his elbow. He attributed it to the layoff and said he isn't worried. He just needs to build arm strength.

4:23pm: Masahiro Tanaka has been sent back to New York with "general soreness" in his right arm, the Yankees announced. It is not specifically his elbow. He will perform some strengthening exercises and is not scheduled to see a doctor. Hopefully this is nothing more than a dead arm phase after the long layoff. Either way, it now seems unlikely Tanaka will return to the team at some point next month. · (125) ·
By

As expected, the Yankees have added Josh Outman to the active roster and designated Rich Hill for assignment, the team announced. They acquired Outman from the Indians for a player to be named later or cash last night. · (19) ·
Starting with this three-game series against the Blue Jays in Toronto, the Yankees will play 27 of their final 30 games against AL East opponents. Those intra-division games always seem to be tough regardless of where each team sits in the standings. The Yankees are 7-5 against the Jays this year, including 3-3 at Rogers Centre.
What Have They Done Lately?
Toronto is in a month-long free fall. It wasn't long ago that they were right in the thick of the wildcard race, but they've dropped ten of their last 14 games and are now 5.5 games back of the second wildcard spot and 2.5 games back of New York. "The difference between other years and this year is we believed," said Adam Lind to TSN recently. Ouch. The Jays are 7-16 in August and 67-66 with a -2 run differential overall.
Offense
Manager John Gibbons watches over one of the most powerful lineups in baseball. His club averages 4.43 runs per game with a team 105 wRC+, plus they rank fourth in baseball with 147 homers. The Blue Jays are currently without 3B Brett Lawrie (100 wRC+) and IF Maicer Izturis (79 wRC+) due to oblique and knee injuries. Neither is expected to return this series. OF Colby Rasmus (98 wRC+) has missed the last few days with flu-like symptoms.
As usual, the Toronto lineup is built around OF Jose Bautista (149 wRC+) and 1B Edwin Encarnacion (151 wRC+). Those dudes are monsters. DH Adam Lind (136 wRC+) has been pretty awesome as well. SS Jose Reyes (106 wRC+) and OF Melky Cabrera (129 wRC+) set the tone from the one-two spots in the lineup. The top five spots in Gibbons' lineup are as good as any top five around the league. Speed, power, high averages, on-base ability … this group does it all.
The lineup thins out considerably after those top five. Former Yankees C Dioner Navarro (92 wRC+) and C Josh Thole (84 wRC+) split time behind the plate — Thole is knuckleballer R.A. Dickey's personal catcher — and IF Juan Francisco (108 wRC+) and 3B Danny Valencia (109 wRC+) have been platooning at third with Lawrie out. IF Munenori Kawasaki (81 wRC+), OF Kevin Pillar (50 wRC+), and UTIL Steve Tolleson (82 wRC+) fill out the rest of the bench.
Pitching Matchups
Friday: LHP Chris Capuano (vs. TOR) vs. LHP Mark Buehrle (vs. NYY)
This has gone from a career year to a pretty typical Mark Buehrle year these last few weeks. He's slowed down considerably following his great start to the season. The 35-year-old has a 3.41 ERA (3.81 FIP) in 26 starts and 161 innings with his typically low strikeout (5.25 K/9 and 13.6 K%) and walk (2.29 BB/9 and 5.9 BB%) rates. He hasn't gotten many grounders (42.6%) and his homer rate (0.73 HR/9 and 6.9 HR/FB%) is unusually low. That's been on the way up in the second half. Buehrle's platoon split is tiny and he's been much better on the road (.309 wOBA) than at home (.360 wOBA). As always, he works in the mid-80s with his four-seamer, two-seamer, and cutter, mixing in some upper-70s changeups and low-70s curves to keep hitters (even more) off balance. The Yankees have seen Buehrle three times this year and each start has gotten progressively worse (for him): three runs (two earned) in six innings in June, four runs in 6.2 innings later in June, and six runs in three innings in June.
Saturday: RHP Michael Pineda (vs. TOR) vs. RHP Drew Hutchison (vs. NYY)
Hutchison, 24, has a 4.68 ERA (3.95 FIP) in 26 starts and 150 innings this season, his first following Tommy John surgery. His strikeout (8.04 K/9 and 20.9 K%) and walk (2.94 BB/9 and 7.6 BB%) rates are very good, his homer (1.08 HR/9 and 9.0 HR/FB%) and ground ball (35.7%) numbers less so. He has had less success against lefties (.362 wOBA) and at home (.357 wOBA) than against righties (.276 wOBA) and on the road (.306 wOBA). A low-90s fastball is Hutchison's main pitch and he throws it a ton, more than 65% of the time. Sliders and changeups in the mid-80s round out the repertoire. Hutchison has faced the Yankees four times this year, and, unlike Buehrle, he's been progressively better each time out: six runs in 3.1 innings in April, four runs in 4.1 innings in June, four runs in six innings later in June, and two runs in 6.2 innings in July.
Sunday: RHP Brandon McCarthy (vs. TOR) vs. LHP J.A. Happ (vs. NYY)
I'm still pretty mad at Happ for breaking Curtis Granderson's forearm in Spring Training last year. The 31-year-old has pitched to a 4.40 ERA (4.34 FIP) in 118.2 innings across 20 starts and four relief appearances this year, and his peripherals are decidedly meh: 7.66 K/9 (19.7 K%), 3.34 BB/9 (8.6 BB%), 8.6 HR/9 (10.8 HR/FB%), and 39.2% grounders. Both his platoon and home/road splits are small. Happ throws a lot of fastballs, using his low-90s two and four-seamers more than 70% of the time combined. A mid-80s changeup is his top offspeed pitch and he'll also mix in a few low-80s sliders and low-70s curveballs. The Yankees have faced Happ just once this year, scoring three runs (two earned) in 5.1 innings.
Bullpen Status
The Blue Jays were off yesterday, so their bullpen is as fresh as it's going to get in late-August. Closer RHP Casey Janssen (4.14 FIP) is set up primarily by two lefties: LHP Brett Cecil (2.51 FIP) and LHP Aaron Loup (3.56 FIP). Top prospect RHP Aaron Sanchez (2.52 FIP) was called up recently and has also seen some late-inning work.
The rest of Gibbons' bullpen includes RHP Chad Jenkins (3.48 FIP), RHP Dustin McGowan (4.76 FIP), and RHP Todd Redmond (3.27 FIP). Check out our Bullpen Workload page for the status of Joe Girardi's relievers, then check out Drunk Jays Fans for everything you need to know about the Blue Jays.
By

Got plenty to talk about this week. Chat starts a little earlier than usual today, at 1pm ET. See you then. · (1) ·