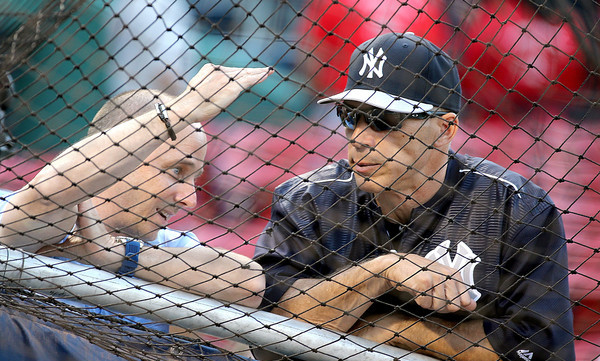 The Yankees are in a bad place right now. They've lost five straight and 13 of their last 17 games to fall to 8-15 on the young season. Only the Twins, Astros, and Braves have worse records. Their -31 run differential is fifth worst in baseball as well. Now that Dellin Betances is giving up dingers, basically nothing is going right.
Needless to say, whenever the Yankees struggle this much, changes are discussed. Joe Girardi's job security has been a popular topic lately, and yesterday we discussed some potential roster changes. Apparently no changes are coming, however. Yesterday Brian Cashman told Mark Feinsand nothing is the works. From Feinsand:
"There are no changes in store; ultimately, I'll be forced to make changes if it continues," Cashman said. "What needs to change is the players that are capable of so much more on this roster that I've put together starting to perform to those levels.

"Over time, if it continues, we will be forced to do things that weren't part of the game plan. That's just what has to happen at some point."
Even if the Yankees wanted to make some moves, there's not really much they can do. They don't have a ready made third baseman to replace Chase Headley (or a shortstop to replace Didi Gregorius), swapping out Austin Romine for Gary Sanchez doesn't accomplish a whole lot, and benching an outfielder really complicates things. Here's a little more from the GM on the roster situation:
"Everybody at Triple-A is trying to be an option for us at the major-league level," Cashman said. "Right now, we're going to keep giving some opportunities to everybody to fix themselves. In the event that we change that mindset, I'll explore all other options. But we're not at that point yet despite how bad this stretch has been."
The best possible fix for the Yankees is getting the players on the roster to perform better. It's both pretty simple and very difficult. Starlin Castro has been pretty awesome, Brett Gardner's been solid, and Alex Rodriguez is starting to come around, but otherwise the rest of the lineup is falling well short of expectations. Every non-Masahiro Tanaka starting pitcher has a 5+ ERA too. Yeesh.
I would like to see the Yankees try some smaller changes in the meantime. There's no a whole lot they can do about the rotation — I'm not all that eager to see more Ivan Nova — but they can give Aaron Hicks and Ronald Torreyes one or two extra starts a week. That couldn't hurt. I mentioned flipping Gardner and Jacoby Ellsbury in the lineup earlier this morning. It's possible to shake things up without overhauling the team.
The season is young but the Yankees have already dug themselves quite a hole. They're games back in the AL East with four quality teams ahead of them, so yeah. The Yankees start a stretch of 20 games in 20 days tonight — 18 of their next 32 games are against AL East rivals as well — so it's already gut check time. They can't fall any further behind, otherwise it won't matter what moves Cashman makes to shake-up the roster.