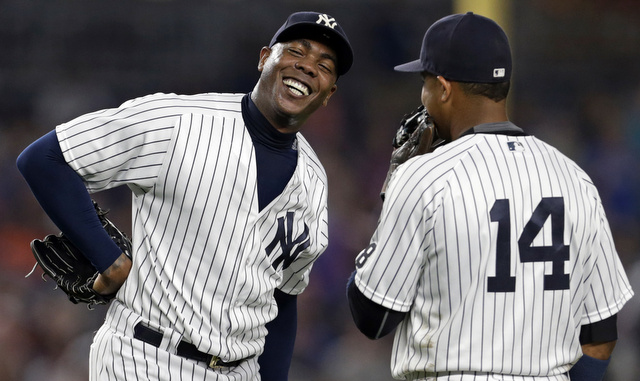 Sunday, 12:41am ET: Rosenthal says a trade is not necessarily imminent. The Yankees are preparing to wrap-up the process though. I guess that means they're sorting through final offers and things like that.
Saturday, 10:38pm ET: The Yankees are telling teams they are close to trading Aroldis Chapman and will hold on to Andrew Miller, reports Ken Rosenthal. There's no word on where Chapman may be heading or when a deal may be completed. For what it's worth, the Nationals have been connected to him most frequently.
Following Saturday's loss, the Yankees are now 49-48 on the season and 7.5 games back in the AL East. They're 4.5 games back of a wildcard spot with four teams ahead of them. FanGraphs puts their postseason odds at 8.3% as of this writing, which should have the team firmly in sell mode. I'm not sure what else ownership needs to see.
Now, that said, trading Chapman would make sense even if the Yankees were in the race. They were able to get him at a very discounted rate due to his pending domestic violence suspension, and now that the suspension has been served, they can market him as a full price rental elite reliever. That's pretty darn valuable and should fetch a lot.
In addition to the Nationals, the Rangers, Cubs, and Giants have all been connected to Chapman to some degree. Washington tried to acquire Aroldis in the offseason following his domestic dispute incident, but the Yankees beat them to the punch. Nationals manager Dusty Baker had Chapman with the Reds and has reportedly been pushing to acquire him.
As for keeping Miller, it's certainly a sound strategy considering his general awesomeness and the two years left on his affordable contract. It's been reported that the Yankees will have to be blown away to move him. That could still happen before the deadline, it's not like there's a shortage of teams in on Miller. We'll see. The trade deadline is one week from Monday.