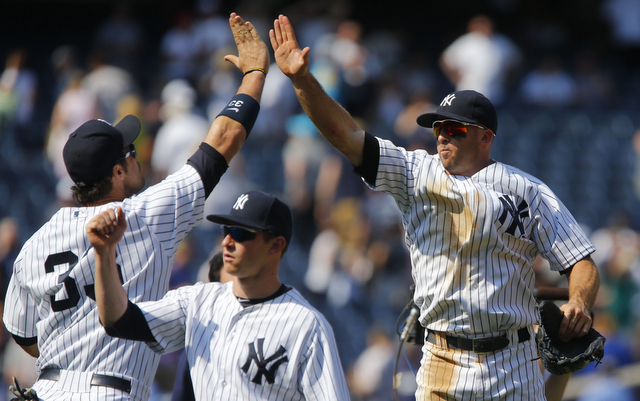 The Yankees wrapped up a pretty great three-game sweep of the Royals yesterday afternoon, and now they're heading out to the West Coast for seven games. First they play four against the lowly Athletics, then they get Robbie Cano and the Mariners for three games. Here are some thoughts prior to the trip.
1. Man, the AL East is so bad. So, so bad. There is no great team. I'm not even sure there's a team we can safely predict to win 85 games. That's both good and bad. It's good because the Yankees can lose ten out of eleven games but not get completely buried in the division, as we just saw. It seems like they'll be able to hang around all season. At the same time, the weak division is bad because there's going to be that much more competition for the division title. It's a division deep with mediocrity. The Yankees won't have to worry about just one or two other teams, they'll have to worry about four. And I'm not sure a wildcard spot is a realistic fallback option either. Is the second best team in the AL East going to be better than the second best team in the AL Central or the AL West? I'm not sure. That's essentially the bar they have to clear though. I think there's a pretty good chance there will only be one AL East club in the postseason this year, and that's the club that gets those 86 or 87 wins to grab the division.
2. The backup infielder's spot continues to be an eyesore. Jose Pirela, one of those "he's gonna hit!" guys, isn't hitting thus far — he's 6-for-30 (.200) with no walks and seven strikeouts — and his defense has been pretty bad as well. No, that's not much playing time, but he's a 25-year-old bench player whose supposed to be a bat first guy. When someone like that doesn't hit, they get replaced quickly. Gregorio Petit (hand) doesn't seem to be close to returning and I suppose the Yankees could move Stephen Drew to the bench and install Rob Refsnyder as the everyday second baseman, but they seem hesitant to do that. The middle infield has been very unproductive in general, in part because the Yankees haven't found a competent right-handed platoon bat to start against lefties. Maybe Pirela can be that guy. But if he doesn't start hitting soon, I don't expect the Yankees to show much patience.
3. I really wish we had a quality game-calling statistic for catchers. Harry Pavlidis and some others recently made an attempt at creating such a stat, but it's still in the developmental stages, and we don't have a leaderboard yet. It's obvious calling a game is important the same way framing pitches is important, though we don't know how much. And remember, a catcher can call the greatest game in the history of game-calling, but it's still up to the pitcher to execute. Anyway, I'm talking about this because John Ryan Murphy seems to be really, really good at calling a game and working with pitchers, at least anecdotally. He was behind the plate for Adam Warren's gem the other night, for CC Sabathia's strong start in Kansas City, and for Chase Whitley's masterpiece in Toronto a few weeks ago. (Murphy was also at catcher when the Rangers wrecked Sabathia over the weekend, so it goes both ways.) Murphy's drawn a ton of praise for his work behind the plate over the years and I'm sure that extends to his game-calling. I just wish we had a way to measure it. (For what it's worth, Brandon McCarthy though Francisco Cervelli was a great game-caller.)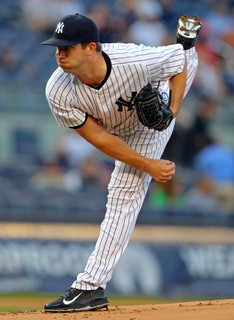 4. Speaking of Warren, his last three starts have been really good (19.2 IP, 13 H, 7 R, 6 ER, 5 BB, 14 K) and his last start was his best of the season. He seems to be getting stronger and more comfortable as a starter as the season progresses, and although his value in the bullpen is obvious, don't the Yankees have to see this rotation thing through? Perhaps Warren really can be a cheap and effective option for the back of the rotation. That's pretty valuable and something the Yankees would benefit from greatly going forward. Of course, it also could be a good three-start stretch, nothing more, so we'll see. Warren is definitely trending in the right direction though. Masahiro Tanaka is on the mend and Ivan Nova isn't too far behind, so the Yankees have some rotation help on the way, and Warren's bullpen success makes it easy to move him back into a relief role when space is needed. Hopefully he makes that decision a little harder the next few weeks.
5. We are now more than one-quarter and slightly less than one-third of the way through the season, and Alex Rodriguez is hitting .276/.374/.566 (158 wRC+) with eleven homers in 179 plate appearances. He hasn't really missed any time to injury either. (His hamstring acted up a few weeks ago but it was nothing major.) Is this not the best case scenario? I am certain every single one of us would have signed up for that performance on the spot had we been told A-Rod would do that in Spring Training. He isn't running well and he can't play the field, which sucks, but at the plate he looks close to the A-Rod of old. Alex hasn't topped even a 125 wRC+ since 2009. He's gone from a total question mark to indispensable. The focus now is figuring out a way to keep him healthy and on the field as much as possible. The Yankees would be sunk if A-Rod goes down for an extended period of time. When was the last time we could say that?