By

Via Conor Glassey: MLB has announced details for the 2013 Draft broadcast. A total of 73 picks — First round, Supplemental First Round, Competitive Balance Lottery Round A, Second Round, and Competitive Balance Lottery Round B — will be broadcast by MLB Network at 7pm ET on Thursday, June 6th. The broadcast will be preceded by an hour-long preview show. Day two (rounds 3-10) and day three (rounds 11-40) will be broadcast online at MLB.com on June 7th and 8th.

Willie Randolph and area scout Andy Cannizaro will represent the Yankees at MLB Network during the day one broadcast. Tino Martinez, Lee Mazzilli, and CC Sabathia have represented the team in previous years. The Bombers have four picks that night — 26th, 32nd, 33rd, and 66th overall — so that will be a lot of fun. The Yankees will be in Seattle for the start of ten-game, 12-day road trip that night, which means we'll get to focus on the draft for a few hours before first pitch. Not as nice as last year's off-day, but better than having to juggle with Red Sox-Yankees like 2008. · (0) ·
By

Hiroki Kuroda left tonight's start in the third inning after taking a line drive to the right shin/calf in the second inning. The trainer came out to talk to him after the liner, but he threw a few warm-up pitches and remained in the game. After giving up some rockets in the third, Joe Girardi and the trainer came back out to the mound and removed him from the game. The YES cameras showed Kuroda grimacing a bit and favoring the leg. After what happened with Andy Pettitte last year, this is a fingers crossed moment. Stayed tuned for updates. · (4) ·
The Yankees and Orioles have split the first two games of this three-game series, and both games were so close they needed a tenth inning. It's been a continuation of last year, when these two clubs played tight game after tight game and fought for the division title right down the final week of the season.
With all due respect to CC Sabathia, the Yankees are sending their ace to the mound in the series finale today, hoping Hiroki Kuroda can send them into tomorrow's off-day with a win and a five-game lead over Baltimore. Hopefully this one only takes nine innings. Here's the lineup that will face righty Jason Hammel…
And on the bump is right-hander Hiroki Kuroda, who will be making his first career start at Camden Yards. He somehow avoided the ballpark last year and never faced the Orioles during interleague play while with the Dodgers.
It's warm, cloudy, and humid in Baltimore, and at some point later tonight it'll rain. Hopefully long after the game is over. First pitch is scheduled for 7:05pm ET and can be seen on YES locally and ESPN nationally. Enjoy.
Rotation Update: Vidal Nuno will start on Saturday, giving Sabathia, Phil Hughes, and Kuroda an extra day or rest. David Phelps is starting Friday as scheduled.
Injury Updates: Mark Teixeira (wrist) and Kevin Youkilis (back) both had six at-bats in a simulated game … Eduardo Nunez (ribcage) hit in the cage for the first time since being placed on the DL … Joba Chamberlain (oblique) threw an inning in Extended Spring Training game. A minor league rehab game with High-A Tampa is probably next.
The 2013 amateur draft will be held from June 6-8 this year, and between now and then I'm going to highlight some prospects individually rather than lump them together into larger posts.
Sean Manaea | LHP
Background
Undrafted out of an Indiana high school in 2010, Manaea didn't establish himself as a prospect until he dominated the Cape Cod League last summer. The Indiana State southpaw owns a 1.47 ERA with a 93/27 K/BB in 73.1 innings this year after posting a 3.78 ERA with a 197/85 K/BB in 188 innings during his first two years on campus. Manaea rolled his ankle earlier this spring and that led to hip problems, and he had to skip yesterday's scheduled start due to shoulder stiffness and continued hip problems according to Jonathan Mayo. He'll try to start Saturday instead.
Scouting Report
A big and physical left-hander listed at 6-foot-5 and 235 lbs., Manaea overpowered hitters with a 94-96 mph fastball and a wipeout mid-80s slider on the Cape last summer. He hasn't shown the same caliber of stuff this spring, instead throwing his fastball in the 88-91 mph range with a few 94s. His slider has sat in the low-80s. Manaea's third pitch is a split-changeup hybrid in the upper-70s/low-80s that doesn't do much of anything. No fade, no drop off the table, it just kinda goes. He employs a low Madison Bumgarner-esque arm slot and his command has been just okay this spring. A high leg kick and an especially long stride add deception. There are plenty of videos on YouTube.
Miscellany
Keith Law (subs. req'd) and Baseball America ranked Manaea as the eighth and tenth best prospect in the draft in their latest rankings, respectively, but that was before yesterday's shoulder and hip problems. The Yankees have three first round picks (26th, 32nd, 33rd), and for what it's worth, Law said he's gotten "the sense that they'd love to get one good college arm out of their three first-round selections" in his latest mock draft. He'll have to fall quite a bit due to the injury concerns to be available when New York picks. Regardless of who drafts Manaea, they'll be banking on their development staff turning him back into the guy he was on the Cape last summer.
I'm not sure about you, but I've really enjoyed watching Travis Hafner in pinstripes this season. Quite frankly, he's already surpassed my expectations in terms of production (and durability), and he has done a really good job of fitting in with the organization's preferred style of play — that is to say, power and patience.
Over 128 plate appearances, the man they call Pronk has batted .275/.383/.550 (.397 wOBA, 149 wRC+) with the Yankees. As indicated by the spray chart below (provided by Texas Leaguers), he's been willing to hit to all parts of the field, though most of his home runs have landed in right, as to be expected given his handedness. He's done a great job of crushing right-handed pitching (though he really hasn't been bad against lefties either).
What's more, it appears as though his bat speed really hasn't declined very much; he's listed at 6.6 wFB (fastball runs generated above average). This is especially comforting given his age and the number of high velocity arms in the league. In terms of plate discipline, according to PitchF/X, Pronk's swung at 64.9% of the pitches thrown in the strike zone, and only 22.9% outside of the strike zone — resulting in am excellent 13.3 BB%. Meanwhile his 22.7 K% is basically in line with his career norms.
And then there are the hits. Pronk's .275 ISO is not an accident. Most of his home runs are not Yankee Stadium cheapies either. In other words, his power is most certainly as advertised. As of this point, he has the third most home runs on the team (8), despite having about 60 fewer at-bats than both Robinson Cano and Vernon Wells (who lead him with 13 and 10 HR respectively). Much to our delight, we've also seen that several of hits have been timely — he most recently victimized Orioles All-Star closer, Jim Johnson.
While I typically do not like to spend much time focusing on a player's intangibles, in this instance, I think it worth a quick mention. We never hear anything negative about this guy in the club house. More importantly, Hafner has completely embraced his role with the team. There were no surprises when he was signed for a one-year, $2 million dollar pact. Both he and the organization were in agreement that his job was to be a designated hitter — and a platoon bat more often than not. Unlike many players who dread the DH part time role, Pronk welcomed it from moment one and has thrived because of it. Anecdotally, all to often it seems that a club's expectations do not align with that of the player. Fortunately, that is not the case here.
Unlike players such as Jason Giambi who have vocalized their preference to remain on the field throughout the game (as it apparently helps them remain focused), Hafner seems to relish sticking by his rituals in-between at bats and disappears afterward (which incidentally, helps the team on the field defensively quite a bit too). While the rotating DH has proved itself a convenient method of resting veterans during the Joe Girardi era, it has simaltaneously resulted in some mediocre results occasionally from the designated hitter slot over the past few seasons. For the first time in a long time, the Yankees have a guy optimally suited for the role.
Will he wind up being the 5+ fWAR player that he was with the Indians back in the 2005-2006 circuits? Probably not; but as long as he stays healthy, he'll absolutely remain an effective offensive threat for the Yankees. In other words, keep those cortisone shots coming because Pronk is just what the Yankees need at DH.
By

Via Nick Cafardo: The Yankees are one of several teams with interest in Japanese right-hander Masahiro Tanaka. Danny Knobler recently reported the Rakuten Golden Eagles are expected to make their ace available via the posting system following this season.

Tanaka, 24, has pitched to a 2.08 ERA with a 45/9 K/BB in 52 innings across seven starts this year. Since the start of the 2010 season, he owns a 1.57 ERA with 9.1 K/9 (25.6 K%) and 2.0 BB/9 (3.1 BB%). One scout told Knobler that Tanaka has "a wipeout split-finger fastball" and "a good slider" to go with solid velocity, though it's unclear if he can remain a starter long-term. He has missed time with shoulder issues (strains and inflammation, mostly) over the years.

The Yankees have shunned the Japanese pitching market since the Kei Igawa fiasco, and Brian Cashman explained why in a recent interview with Index Universe. They're concerned about difference in pitching routines as well as the cultural adjustment. Tanaka is not Yu Darvish and frankly he's not even Daisuke Matsuzaka, but he's still someone worth keeping an eye on over the next several months. The Yankees can't ignore Japanese pitchers forever. · (47) ·
I'm not sure when exactly it happened, but at some point recently the Baseball Hall of Fame partnered with the Scout of the Year Foundation to create a free and searchable online database of old scouting reports. The data is very incomplete — it doesn't include every player and it only goes back so far — and the database itself can be slow and a bit of a pain, but those are minor nuisances compared to the wealth of information available.
Thanks to the database, we can look back at what professional talent evaluators — people who do this for a living — had to say about our favorite players once upon a time. For example, here are some bits and pieces of reports from various teams about a young high school senior from Michigan named Derek Jeter back in 1992: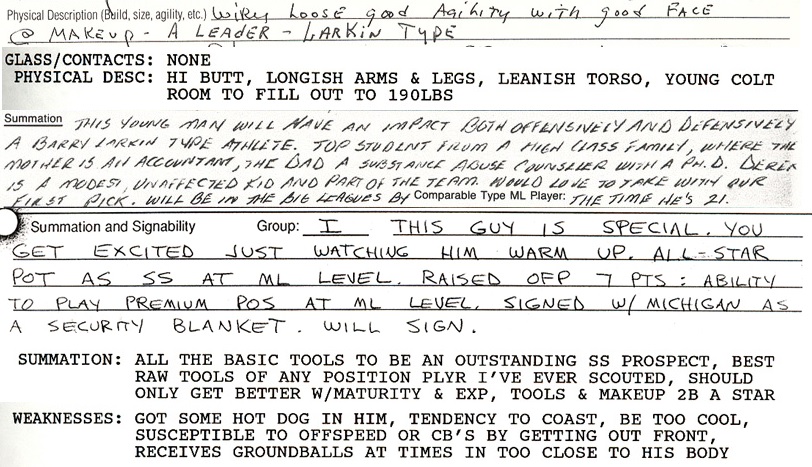 You can click every image in those post for a larger view, and I highly recommend you do just that.
Within those report snippets, future first ballot Hall of Famer Derek Jeter is described as having:
a good face
a hi butt
an impact both offensively and defensively
makeup 2b a star
some hot dog in him
Once upon a time, Jeter was a showoff. Wrap your head around that. All of the reports agreed he was a future star though, and in the end that is what was most important.
After the jump — lots of images and I don't want to cripple anyone's computer — are some opinions on Alex Rodriguez back from 1993, when he was a high school senior:
For the first time this season, the Yankees lost despite scoring first. The Orioles snapped their six-game losing streak with a tenth inning walk-off win on Wednesday night, taking the second game of the series 3-2.
Phil Rebounds
I'd call two runs in six innings a successful rebound from last week's seven-run, two-out disaster for Phil Hughes. There was nowhere he could go but up after that nightmare, really. Tuesday's start against Baltimore featured two solo homers by former Yankee Chris Dickerson — I didn't think the decision to cut him in favor of Ichiro Suzuki would look stupid this quickly, but here we are — and five strikeouts in six innings, including 70 strikes out of 102 pitches. Of the 25 men he faced, 19 saw a first pitch strike.
For the most part, this was a typical Hughes outing. Some solo homers, some jams escaped, aggressive early in the count, stuff like that. That return to normalcy is a net positive, because it showed there wasn't something seriously wrong following that last start. No underlying injury or major mechanical flaw. Phil gave the Yankees an opportunity to win; two runs in six innings from the fourth starter is plenty good enough.
Death By Line Drive
Maybe it was just me, but it sure seemed like the Yankees hit a lot of balls right at people, no? The play-by-play says there were only four line drive outs, but that only includes the infielders. There were a few hard-hit balls right at outfielders or close enough for them to make a play. Nick Markakis did make a diving catch in the seventh that may have saved a run. If nothing else, it at least saved a first and third situation.
Anyway, the Yankees scored their two runs thanks to Travis Hafner, who plated Brett Gardner with a single in the first and Vernon Wells with a single in the fourth. Gardner was on third following a double and a fly ball, Wells was on second following a double. Both of Hafner's hits were ground balls to the right side that probably would have been scooped up for outs had the Orioles employed the shift. Instead, one snuck through and the other bounced off the second baseman's glove.
Miguel Gonzalez, as he tends to do, kept the Yankees off balance and held them to just those two runs in six innings in his first start off the DL. He dominated them last year, and this was more of the same. The Bombers didn't have a single runner make it beyond first base after Hafner drove in Wells, and 21 of the final 22 men they sent to the plate made outs. When this offense is bad, man is it ugly.
Leftovers
The bottom five hitters in the lineup went a combined 1-for-19 with four strikeouts, the one being a solid David Adams single to center. Pronk was the last line of defense in the cleanup spot. Robinson Cano took an 0-for-4 and is stuck in a 13-for-60 (.217) slump. He ain't getting no record-breaking contract like that. Oh who am I kidding, yes he is.
I don't know what it is about the first base umps and Camden Yards, but they really suck there. There was the Jerry Meals episode last year, the two blown calls on Monday, and another on Tuesday. This time first base ump Paul Scrieber incorrectly ruled Jayson Nix out on a would-be infield single. Replays showed he cleared beat the relay throw, by alas. Oh well, Yankees weren't winning if they got that call anyway.
Outside of Vidal Nuno, who needed all of three pitches to serve up the walk-off solo homer to Nate McLouth, the bullpen was pretty nasty once again. Boone Logan recorded two outs, Shawn Kelley retired the only man he faced, David Robertson struck out the side — he threw nine curveballs and got seven (!!!) swings and misses — and Preston Claiborne tossed a scoreless ninth. They gave the offense a chance to re-take the lead.
Box Score, WPA Graph & Standings
MLB.com has the box score and video highlights, FanGraphs some other stats, and ESPN the updated standings. The Red Sox lost to the White Sox again, so they remain two games back in the loss column. The O's and Rays climbed to within four back. I hate that I'm keeping track of the standings in May. I guess that's a function of lowered expectations.

Source: FanGraphs
Up Next
These same two teams will wrap up this three-game series on Wednesday night. Hiroki Kuroda gets the ball against Jason Hammel in the rubber match.
By

The Yankees have outrighted Alberto Gonzalez to Triple-A. They designated the infielder for assignment after acquiring Reid Brignac over the weekend. He remains in the organization, just not as a 40-man roster player.

Gonzalez, 30, went 3-for-9 in three games with the Yankees last week. They acquired him in a minor trade with the Cubs a little less than two weeks ago to add some minor league infield depth, but they wound up calling him up right away due to Eduardo Nunez's ribcage injury. Gonzalez, who can play all three non-first base infield positions, will likely to play shortstop everyday for Triple-A Scranton. · (1) ·
Triple-A Scranton (5-1 loss to Columbus)
CF Melky Mesa: 2-5, 1 K
LF Zoilo Almonte: 2-5, 1 SB — four hits in his last nine at-bats after an 0-for-14 stretch
3B Ronnie Mustelier: 3-5, 1 R, 1 SB — 11 hits in his last 31 at-bats (.355)
RHP Chien-Ming Wang: 5.2 IP, 7 H, 1 R, 1 ER, 2 BB, 4 K, 9/2 GB/FB — 62 of 102 pitches were strikes (61%)
RHP Chase Whitley: 1.1 IP, 1 H, 1 R, 1 ER, 1 BB, 0 K, 2 WP, 2/2 GB/FB — only ten of 23 pitches were strikes (43%)