The march back into the wildcard race has hit a speed bump. The Yankees dropped their second straight winnable game Monday night, this one 8-5 to the Royals. It's not good when the last guys on your roster are deciding the most important games of the season.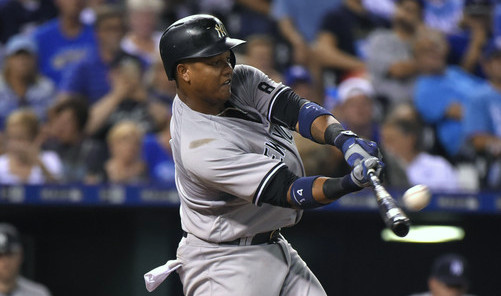 There Are No Runs, Only Zuul
Can the Yankees go back to playing the Orioles again? They scored 27 runs Friday and Saturday, then scored one run in the next 16 innings. Dillon Gee, who went into Monday's game with a 5.62 ERA (5.14 FIP) as a starter this season, held the Yankees to one stupid little run in six innings. Back-to-back two-out doubles by Didi Gregorius and Starlin Castro created that run in the fourth inning. Nothing too exciting.
All told, the Yankees put five runners on base in six innings against Gee, and all five came with two outs. The Yankees went 0-for-12 with zero or one out against Gee. Tough to score when your rally starts with two outs. They did get a leadoff single against reliever Brian Flynn in the seventh inning, but the runner (Brian McCann) never advanced. The next three batters made quick outs. So it goes.
So Perfectly Pineda
This start had a little bit of everything from Michael Pineda. Backbreaking two-out hits with two strikes? Yup. The Royals built their three-run first inning with five singles, including three with two strikes and three with two outs. Utter dominance? Of course. Pineda retired 15 straight batters from the second through sixth innings. Left in too long? Yes, though that's a Joe Girardi thing.
Anyway, Pineda finished the night with five runs allowed on seven hits in six innings plus two batters. He struck out eight and walked none, so don't worry, his single-game FIP is totally cool. We've seen enough of Pineda to know this is who he is. He's incredibly frustrating with a knack for being unable to pitch out of jams, yet he'll show you just enough flashes of brilliance to keep you interested. Maybe he'll get better one day. Probably not.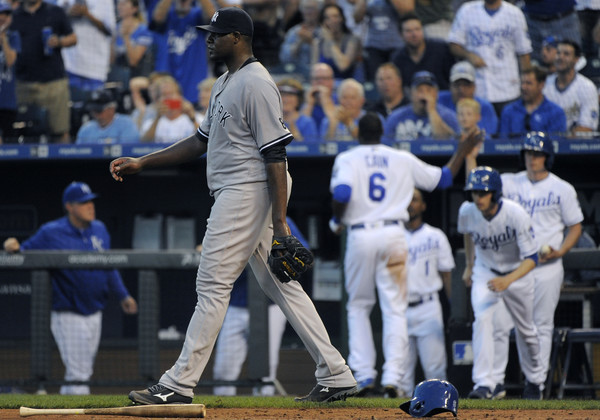 Too Little, Too Late
For the second time in as many days, the last-ish guy in the bullpen allowed a game to be put out of reach. Pineda allowed back-to-back singles to start the seventh, then was replaced by Blake Parker with the Royals up 3-1. Parker gave up a three-run home run to Alcides friggin' Escobar to give Kansas City a 6-1 lead. Three more singles and a walk stretched the Royals' lead to 8-1.
Why is the last guy in the bullpen pitching with a two-run deficit? Beats me. Adam Warren pitched both Saturday and Sunday, but Tyler Clippard and Dellin Betances have each pitched twice in the last seven days. Couldn't use Clippard there to keep the game close? Seems like the smart thing to do given the standings and the team's proximity to the second wildcard spot, but nope. Chances are Clippard and Betances will pitch no matter what Tuesday because they need the work.
Naturally, the Yankees rallied in the eight and ninth innings to make things interesting, but they came up just short. They actually brought the tying run to the plate. Twice! A catcher's inference (Jacoby Ellsbury, of course), a walk (Aaron Hicks), and a hit-by-pitch (Gary Sanchez) loaded the bases with no outs in the eighth. The Royals gifted the Yankees a rally. Gregorius drove in two with a double, then Castro (sac fly) and Chase Headley (infield single) plated two more.
Headley's single cut the deficit to 8-5 and put the tying run on deck. Pinch-hitter Brett Gardner, who replaced Aaron Judge, drew a four-pitch walk. Mark Teixeira, who pinch-hit for Tyler Austin, then had a chance to tie the game with one swing. He instead swung at ball four from Kelvin Herrera (via Brooks Baseball) …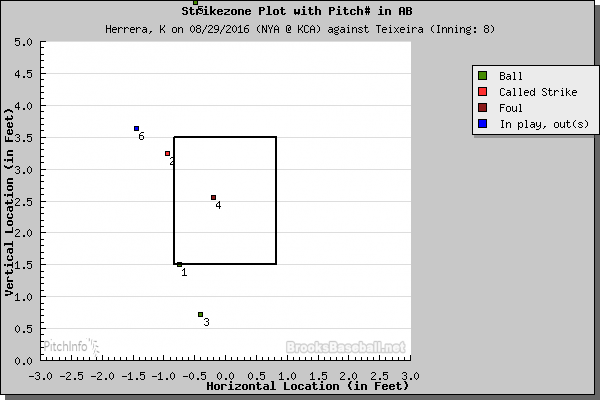 … and grounded out to second to end the inning. The Yankees again brought the tying run to the plate in the ninth with back-to-back two outs singles by Sanchez and Gregorius, but Castro struck out on a pitch in the dirt. Non-competitive at-bat. Alas. At least the O'Neill Theory is in effect for Tuesday. Would have been cool to see a good reliever in that seventh inning instead of a guy picked up off the scrap heap a few weeks ago.
Leftovers
Girardi was ejected during that eighth inning rally for arguing balls and strikes. He was chirping at home plate umpire Brian O'Nora pretty much all game, then after the score got out of hand, he let off some steam. It was a pretty tame tirade, all things considered. No hat throwing, no dirt kicking, nothing like that. But Girardi did fire up the offense that inning. (Nope.)
Gregorius had three hits and Austin busted out of his slump with two. Judge went 0-for-3 with three strikeouts and still looks way too passive at the plate. Like he's waiting for the first pitch every single time. Sanchez, Castro, McCann, and Headley had hits as well. Ellsbury, Hicks, and Gardner drew the walks. The Yankees went 3-for-8 (.375) with runners in scoring position.
Box Score, WPA Graph & Standings
Go to ESPN for the box score, then MLB.com for the video highlights, then ESPN for the updated standings, then RAB for our Bullpen Workload and Announcer Standings pages. Here's the ol' win probability graph:

Source: FanGraphs
Up Next
Same two teams Tuesday night, in the middle game of this three-game series. Masahiro Tanaka and Edinson Volquez are the scheduled starter for that one, assuming the rain holds off.