By

As expected, Ivan Nova has decided to undergo Tommy John surgery, the Yankees announced. Dr. James Andrews will perform the procedure on Tuesday after looking over the test results yesterday. Elbow reconstruction comes with a 12-18 month rehab time. So long, Ivan. See you in 2015. · (3) ·
By

4:20pm: Yep, Anna and Claiborne were sent down and Nova was moved over to the 60-day DL, the Yankees announced.

3:48pm: The Yankees have called up right-handers Shane Greene and Bruce Billings from Triple-A Scranton. Based on the lineup card, Preston Claiborne and Dean Anna were sent down in corresponding moves. Greene was already on the 40-man roster and I assume Ivan Nova was transferred to the 60-day DL to clear a spot for Billings.

Greene, 25, was scheduled to start for the RailRiders tonight, but he has been up and down so much this year that he hasn't been able to get stretched out. He's only thrown 2.2 innings in 2014. Billings, 28, started for Scranton four days ago and is fully stretched out — he could throw 100+ pitches tonight if need be. The Yankees ran through their bullpen last night following Michael Pineda's ejection, so this gives them a pair of fresh arms. It appears they'll go with a three-man bench during Pineda's suspension. (They aren't allowed to replace him on the roster.) · (35) ·
Michael Pineda has been suspended ten games for having a "foreign substance on his person" during last night's game, MLB has announced. Thanks to Monday's off-day, he will only miss one start. The suspension starts immediately unless he files an appeal sometime between now and the first pitch of tonight's game.
This suspension is not like Alex Rodriguez's suspension. The Yankees will not be able to call up a player to replace Pineda and have to play with a 24-man roster for the next ten games. What can you do. The rules are the rules. Pineda does get paid during the suspension (only drug suspensions are unpaid), though I'm not sure if he still accrues service time.
Hopefully Pineda does not appeal. There is a ton of evidence against him — video plus he admitted to using pine tar following the game — and the odds of getting the suspension overturned or reduced are tiny. Let's get this thing out of the way early in the season rather than having the appeal hanging over the team for weeks on end.
David Phelps is the obvious candidate to make the spot start, but the Yankees could always call up one of the veterans from Triple-A. I guess it depends on whether Phelps is needed out of the bullpen over the next few games. We're a few days away from worrying about that. Pineda's rotation spot doesn't come up again until next Saturday, against the Rays. He is eligible to return the following Monday. Pineda made a dumb mistake and now he has to face the music. That's all there is to it.
Update: Pineda told reporters he will accept the suspension and begin serving it tonight. "I made a mistake," he said, stating the obvious. Seems like appealing would have been pointless. Glad he didn't.
Got some spare Joe Girardi-related notes lying around, all stemming from last night's game and the whole Michael Pineda pine tar incident. Away we go…
Yankees file protest, MLB investigating ESPN camera
During the game, Girardi "pushed" a remote ESPN camera that was filming Pineda in the tunnel while he was talking to pitching coaching Larry Rothschild and trainer Steve Donohue. The video is above. According to Erik Boland and George King, the Yankees formally protested to MLB because the camera was snooping around in what was supposed to be a private area. The league is investigating.
"What frustrated me is that the camera is meant for the dugout and Michael was already out of the game so I don't want it down in our tunnel. It's a private area and it has been clearly stated that it is for the dugout, not for the tunnel and conversations that happen between players and coaches," said Girardi. "If I was really going to tear up the camera I would have torn it up but I was just trying to get it from being in the tunnel … I think MLB is going to have a problem with ESPN."
I didn't realize the camera was designated for the dugout and field only when I wrote last night's recap, so I take back what I said about Girardi likely getting fined. I get that ESPN was trying to find a juicy shot, but if the tunnel was off limits, Girardi was absolutely right to turn it around. I don't know what can come of the protest — this is not the same as protesting a play on the field — but hopefully the league puts the self-proclaimed World Wide Leader in Sports back in line.
Girardi may talk to MLB about changing foreign substance rules
The use of pine tar or other foreign substances has been universally supported around baseball, including by the Red Sox following last night's game, but Pineda made the mistake of being so obvious about it. Girardi told Jorge Castillo he will consider talking to MLB about changing the substance rules so that pitchers can legally use something to help their grip.
"That's something I'll talk about with Major League Baseball," said Girardi. "You're at the highest level. You want safety. I'm going to talk with Major League Baseball."
The thing that really stands out to me is that hitters are okay with pitchers using pine tar. Both Mike Napoli and A.J. Pierzynski said they were fine with it as long it was well-hidden. If everyone within the game is fine with pitchers using something to improve their grips and no one is being harmed in any way, I don't see why some kind of substance shouldn't be approved. Let the whole process be transparent, have pitchers declare the substance and get approval from the umpires before the game. Makes sense to me.
As you know, Michael Pineda was ejected from last night's game because he had pine tar on his neck. This came less than two weeks after television cameras and the internet caught him with a big glob of pine tar on his hand against the same team, the Red Sox. Manager John Farrell did not play dumb this time, instead bringing it to the attention of umpires, who checked Pineda out and ejected him immediately. Farrell had to say something. It would have been irresponsible not to at that point.
Let's start with the obvious here: it was pretty stupid of Pineda to use a foreign substance so blatantly. Both times, but especially yesterday. He had to answer questions about it last time and it was all over the media. Television, internet, radio, newspapers, everything you could imagine. He knew it was a big deal. Pineda knew everyone knew he was using something last time out and he still tried to get away with it again. Not the smartest move on his part. Here's what he said after the game:
I dunno, he sounds remorseful to me. Maybe I'm just biased. Pineda said he apologized to his teammates and seems genuinely upset. He seems like a player who thought he was just doing what he could to help his team, really. I thought Joe Girardi and Brian Cashman said all the right things, that it was an embarrassment to the organization and everyone's fault, not just Pineda's. And it is. After the first incident two weeks ago, I don't know how they let him get out of the dugout like that.
Girardi said they spoke to Pineda about using pine tar after the first start against Boston, but apparently they did not convey the message clear enough. That's on the coaching staff. Pineda made a dumb mistake — note: dumb mistake =/= dumb person, no need make conclusions about his intelligence, we've all done embarrassingly stupid stuff — but I don't see how anyone can blame this on him and him alone. The team failed him to some degree. Everyone said the right things, but at the end of the day, words mean nothing. Pineda is going to be suspended and deservedly so.
Now, about that suspension. The rulebook says pine tar results in an automatic ten-game suspension in the minors, but MLB can hand down whatever penalty they want. They'll talk it over with the umpires and look at the video and all that. Joel Peralta got eight games for having pine tar on his glove two years ago, and ex-Angels reliever Brendan Donnelly got ten games for the same infraction back in 2005. Because Pineda was so obvious about it and made zero attempt to hide the pine tar (twice!), I bet he gets ten games. Who really knows though. MLB tends to make up arbitrary suspension lengths.
The Yankees have an off-day on Monday, so even if Pineda gets ten games, he would only have to miss one start. If he appeals the suspension, it'll get delayed until whenever the appeal is heard. Could be weeks. Again, because he was blatantly cheating (twice!), I'm not sure an appeal would do him any good. It would just delay the inevitable. They could get the suspension out of the way now, let David Phelps or whomever make the spot start, and that'll be the end of it. And heck, it would give Pineda a nice little breather early in the season. The Yankees are going to have to monitor his workload anyway.
As for the pine tar itself, it doesn't seem to bother players and coaches around the league, so it doesn't bother me. It's against the rules but apparently everyone does it, so that makes it okay. That seems to be part of the problem. It's okay but against the rules at the same time. I don't care if Pineda uses pine tar to improve his grip going forward but he can't be so obvious about it. On the glove or the belt or whatever. Of course, now teams will be gunning for him, asking to have him checked even if he isn't using anything just to throw him off. The Yankees will probably retaliate somewhere down the line by having a BoSox starter Clay Buchholz checked, but that doesn't accomplish much.
Do we have to question Pineda's strong start to the season after this? I guess. I mean, once a player is exposed as a cheater, we have to question his entire existence. That's how it seems to go. Fair or not (fair), Pineda is going to be second guessed for the rest of the season and likely beyond that. Good start? He was hiding pine tar somewhere. Bad start? Didn't use pine tar because he was worried about getting caught. The inches fill themselves. The coverage of this over the next few weeks will be insufferable.
Like I said, I don't care that Pineda was using pine tar and I don't care if the masses want to invalidate his first three starts. I care that he made a pretty dumb mistake and now a pitcher not as good as him has to take a turn or two in the rotation. Pineda's return from shoulder surgery and early-season success was one of the most fun and exciting things about the Yankees this year. Now, instead of talking about that, we're talking about pine tar. Pineda and to a lesser extent the Yankees brought this on themselves, and now they have to deal with the consequences.
Well that was … interesting. Wednesday night's 5-1 loss to the Red Sox featured a starting pitcher ejection, sloppy defense, and a disappearing offense. The trifecta of bad.
WTF Big Mike?!
Yeah, so Michael Pineda made a really dumb decision. Less than two weeks after getting caught with pine tar on his hand — caught by television and the internet and everyone but the umpires and Red Sox — he was caught with pine tar on his neck in the second inning of this game. Unlike the last time, the Red Sox brought it to the ump's attention, they went out and looked at Pineda, and he was immediately ejected as per the rules. He's also facing a suspension. He deserves whatever he gets for being dumb enough to use it so blatantly a second time. Spoiler: More on this coming Thursday morning.
Defense? We Don't Need No Stinkin' Defense
Holy moly what a bad game in the field. Derek Jeter committed two errors — he was only charged with one, the other was ruled a hit for reasons unbeknownst to me — and they led to three runs total. The first went right through his legs and the other was a poor throw that short-hopped Mark Teixeira at first. Brett Gardner looked awkward in his first game in right field, most notably failing to catch a blooper near the wall. I thought it was clear he was uncomfortable running towards the wall from that direction.
Later on, Kelly Johnson threw away a barehander that led to an insurance run in the eighth. Adam Warren chucked a potential 1-6-3 double play ball into the dirt and it short-hopped Jeter, so no outs were recorded. The Yankees were charged with three errors but it could have been about five or six. This was as bad as they've looked in the field in a while. The shaky defense contributed to four of Boston's five runs.
Runs Are Overrated Anyway
Despite the rough start, this game was very winnable. The bullpen did a fine job of keeping it close but the offense never managed to scratch anything together. The Yankees actually had a runner on base in every inning but the second and eighth, yet their only run came when Carlos Beltran (double) and Alfonso Soriano (sac fly) teamed up in the sixth. Otherwise the Yankees stranded runners at second and third in the fifth and a runner at first in the first, third, fourth, seventh, and ninth.
Beltran and Brian Roberts both went 2-for-4 while Brian McCann, Soriano, Gardner, and Johnson had one hit apiece. The Yankees didn't draw a walk and they struck out a season-high 14 times. Teixeira took a big fat 0-for-4 with four strikeouts and Jeter saw his 11-game hitting streak come to end. This was also the first time he failed to reach base in a game this season. Worst game for the Cap'n this year by far. This looked nothing like the team that scored nine runs and pounded the ball all night on Tuesday.
Parade of Relievers
Because Pineda was ejected so early, Joe Girardi had to run through his bullpen thoroughly. David Phelps threw two innings and 57 pitches (!), Matt Thornton threw 1.1 innings and 25 pitches, Preston Claiborne threw two innings and 32 pitches, and Warren got three outs on ten pitches. They combined to allow three runs (one earned) on six hits and four walks. Phelps was easily the worst of the bunch, walking three and having a hard time putting guys away in general. He has Phil Hughes Disease. Get ahead of everyone 0-2 but struggle to put them away. Shawn Kelley, David Robertson, Dellin Betances, Warren, and probably Thornton are in good shape for tomorrow's game. Phelps and Claiborne … probably not.
Leftovers
Pineda wasn't very good before the ejection and he looked very uncomfortable on the mound. He was taking lots of time between pitches and making lots of throws to first. Very fidgety. His body language made it clear he wasn't comfortable. Pineda allowed two runs on one well-struck ball and a bunch of bloops and bleeders (and a Jeter error) in the first before getting two quick outs in the second. Then he was ejected. Because he was cheating. With pine tar. On his neck.
I was watching on YES, but apparently the ESPN camera caught some members of the coaching staff talking to Pineda in the tunnel at some point. I don't know if it was before the ejection or after. Either way, Girardi pushed the camera so it couldn't see down the tunnel. Not a big deal but he'll probably catch a fine for that. Can't mess with the networks.
I know it was a weird game because of the ejection and all that, but I thought the YES booth was pretty terrible in this game. Lots of nonsense talk that had nothing to do with the game and more jibber jabber about infield shifts. They were treating it like a blowout even though it was only a four (and temporarily three) run game. Not a good night for the broadcasters.
Box Score, WPA Graph & Standings
MLB.com has the box score and video. FanGraphs has some other staffs. ESPN has the updated standings.

Source: FanGraphs
Up Next
The Yankees and Red Sox will play the rubber game of this three-game series on Thursday night, when lefties Felix Doubront and CC Sabathia square off. Win that game and tonight will be forgiven.
C Luis Torrens is currently out with some kind of shoulder injury, according to Josh Norris. He is currently catching bullpens but not throwing the ball back to the pitcher, and is expected back in a week or so.
Triple-A Scranton (5-0 win over Buffalo) the win makes Dave Miley the winningest manager in Scranton/Wilkes-Barre franchise history (575), so congrats to him
RF Ramon Flores: 2-4, 1 CS — eleven hits in his last 35 at-bats (.314)
CF Antoan Richardson: 0-1, 2 R, 2 BB, 1 K, 3 SB — stole second, third, and home
DH Russ Canzler & 3B Adonis Garcia: both 1-4, 1 R, 1 K — Canzler stole a base
1B Corban Joseph: 0-2, 1 RBI, 1 BB
LF Ronnie Mustelier: 2-3, 1 R, 1 BB — eight hits in his last 19 at-bats (.421), though the only extra-base hit is a double
RHP Chase Whitley: 5 IP, 3 H, 0 R, 0 ER, 2 BB, 7 K, 7/0 GB/FB — 42 of 67 pitches were strikes (63%), plus he picked a runner off first
RHP Al Aceves: 4 IP, 3 H, 0 R, 0 ER, 1 BB, 4 K, 3/3 GB/FB — 36 of 52 pitches were strikes (70%) … in the bullpen, huh?
By

Michael Pineda was ejected from tonight's game for having a foreign substance (pine tar) on his neck. Red Sox manager John Farrell brought it to the home plate umpire's attention, they checked him out, and he was ejected. Pineda is facing an automatic ten-game suspension now, per the rulebook. (Ten games is for the minors, MLB can suspend whatever they want.)

As you know, Pineda was seen with a substance on his hand against the Red Sox two weeks ago. It was played off as "everyone does it, just be more discrete about it," but apparently Pineda never got the message. The ejection is well deserved. I mean, seriously. Couldn't hide it better than that? Dumb. Dumb dumb dumb. · (74) ·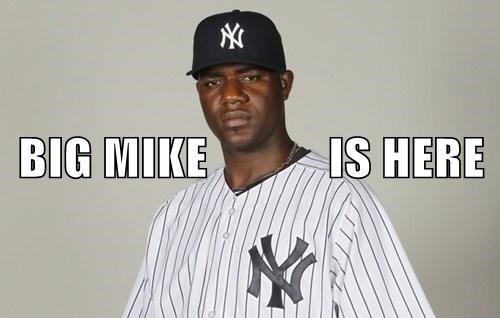 Masahiro Tanaka and the offense set the tone last night. Tonight, Michael Pineda is charged with keeping it going and helping the Yankees to a third straight win. He is facing the Red Sox for the second time in less than two weeks, the first time a team will get a second look at him this year. How much will that matter? The element of surprise is a very real thing, but it's not like Pineda relies on tricking hitters to succeed. The element of surprise means a little less to him, I think.
Anyway, Brett Gardner returns to the starting lineup tonight at a new position: right field. He has never played the position in his career (minors or Majors) aside from a handful of innings in Spring Training. This allows the Yankees to play their weakest outfield defender in tiny left field while their two strongest cover the bigger parts of the park. I like it. Given all the shifts the Yankees have employed this year, I guess we shouldn't be surprised the team is thinking outside the box defensively. Here is the Red Sox lineup and here is the Yankees lineup:
SS Derek Jeter
RF Brett Gardner
3B Kelly Johnson
RHP Michael Pineda
Remember all that talk about rain last night? Forget it. It's not raining in Boston but it is chilly and very windy. The balls might be flying out of the park tonight. Either that or being held in. We'll find out soon enough. Tonight's game will start at 7pm ET and will be broadcast on YES locally and ESPN nationally. Enjoy the game.
By

Ivan Nova has requested another opinion on the partially torn ulnar collateral ligament in his right elbow, according to Chad Jennings. The Collective Bargaining Agreement allows plays to get another opinion from the doctor of their choice. The test results are being sent to Dr. James Andrews and it is unclear if he will look at Nova himself. Yankees team doctor Dr. Ahmad confirmed the original diagnosis during yesterday's exam, but I guess Ivan wants to make sure he can not avoid Tommy John surgery before going under the knife. No big deal. Few days won't make a difference. · (28) ·