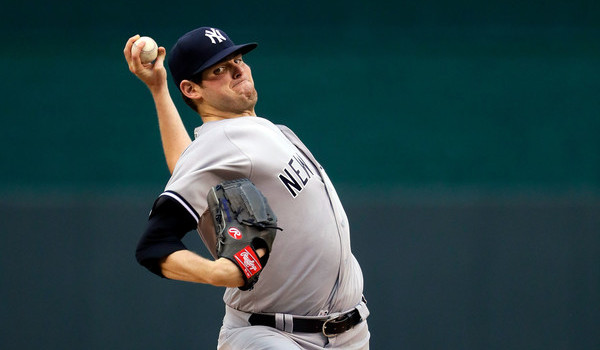 Seven starts into his big league career, Jordan Montgomery has pitched like, well, most rookie pitches. Sometimes he looks great, sometimes he walks too many. That's usually how it goes. Tonight will be a pretty big test for Montgomery even though the Royals are the worst offensive team in baseball. Kansas City will be the first team to see the big left-hander a second time, and they'll see him twice in the span of a week.
Last week the Royals roughed Montgomery up for five runs in five innings, so it's up to him to make the adjustment to find success, not the other way around. The Royals are free swingers — they lead baseball in chase rate (33.0%) and overall swing rate (49.6%), so yeah, they'll take their hacks — and hopefully Montgomery will figure out how to use that to his advantage now that he's seen them once already. Here is the Royals' lineup and here is the Yankees' lineup:
It has been cloudy and cool in New York all day today, and that will again be the case tonight. There's no rain in the forecast though, and that's the most important. Tonight's game is set to begin a little after 7pm ET. YES will have the broadcast. Enjoy the game.
Injury Update: Greg Bird (ankle) has increased the intensity of his running. He was supposed to hit off a tee and soft toss for the first time today. I have no reason to believe that didn't happen.
HOPE Week: Today the Yankees held a track-and-field event to benefit the One Step Ahead Foundation, a non-profit organization "dedicated to giving children with physical disabilities positive experiences through sports to build confidence, courage, and friendship, increase self-esteem, and create a better sense of self-worth all while giving them a positive experience they will use throughout the rest of their lives." Here are some photos.