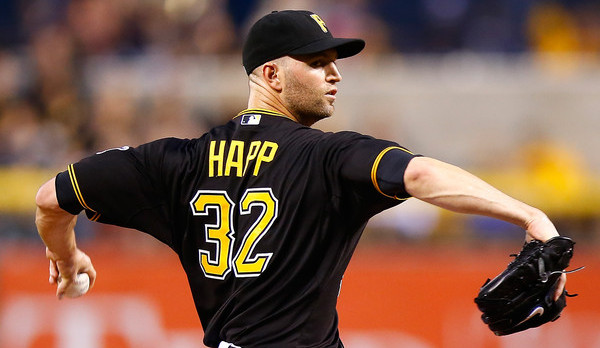 Yesterday morning the first significant free agent came off the board when Jordan Zimmermann agreed to a five-year contract with the Tigers. The deal, which is still pending a physical, is reportedly worth $110M. The Winter Meetings are only a week away now, so the markets for other big name free agents will surely heat up soon.
Aside from Zimmermann, several other free agents have already signed this offseason, but they're mostly second or third or even fourth tier types. All of the half decent catchers (Alex Avila, Chris Iannetta, Geovany Soto) have signed, plus several pitchers have inked new deals as well. Rich Hill went from an independent league in August to a one-year, $6M deal with the Athletics in November. What a world.
The Blue Jays have signed two starting pitchers already. They re-upped Marco Estrada for two years and brought back J.A. Happ for three years. The contracts have similar average annual value: Estrada gets $13M annually while Happ gets $12M per year. Clearly the Blue Jays are hoping their performances in 2015 — Estrada was great the entire year, Happ was great after being traded to the Pirates — are the new normal and not outliers.
"Mediocre pitching is $30M minimum," said one executive to Ken Rosenthal, and the Estrada and Happ deals back that up. Go back to previous offseasons and you have guys like Jake Peavy ($24M), Bronson Arroyo ($23.5M), and Scott Feldman ($30M) in that salary range. That's just the market now. The game is flush with cash and the players are getting their piece of the pie. Heck, you can argue they're getting less than they deserve.
Anyway, the Yankees could use some rotation help this offseason, if nothing to add innings and more certainty. Right now they have a lot of bodies but I'm not sure you can count on anyone to take the ball and pitch well every fifth day 30+ times in 2016. There are too many health concerns, not mention high variance performances. This is the quintessential boom or bust rotation. No doubt about it. It's not hard to see this group as a dominant strikeout staff or a bottom ten staff.
The Yankees didn't have much money come off the books after the season, meaning they're not going to shop at the very top of the market. I wouldn't ever rule out a David Price or Zack Greinke signing, but I don't expect it either. The team has been scouring the trade market, offering up guys like Brett Gardner and Andrew Miller for young arms, but so far nothing has come from it. Getting pitching is hard, even in this low offense era.
Those early Estrada and Happ contracts show that if the Yankees avoid the top of the market and don't trade some of their good players for controllable arms, they're going to get stuck paying inflated prices for middling free agent arms. Inflated probably isn't the right word, the market is the market, but they'll end up paying a price that doesn't really fit their payroll. They had $20M come off the books and Happ types are running $13M annually.
There's also the multi-year aspect of this. Everyone is looking forward to next offseason, when Mark Teixeira and Carlos Beltran come off the books and the Yankees have some more money to spend in free agency, but going two or three years for a guy like Happ chews up some of that money. Heck, Happ's salary would have essentially replaced Beltran's. That's the cost of meh pitching nowadays.
Without a payroll increase, the Yankees look to be best off trading for cheaper arms than paying a premium for a middling starter. If payroll's not going up, then veteran depth arms on one-year contracts are probably the best free agent targets outside of Price or Greinke. I'm not quite sure whom that could be — Doug Fister? Mat Latos? Bartolo Colon? — but not many of those guys really move the needle. Hiroki Kuroda was the exception.
Maybe the market will come down a bit later in the offseason. That's usually how it works. A few players are left unsigned in January and end up signing smaller contracts than expected. It happened to James Shields last year, and to Matt Garza and Ubaldo Jimenez the year before. (Three cautionary tales, eh? Probably wasn't a coincidence they were unsigned in January.) There are usually some bargains to be found in the weeks leading up to Spring Training. Perhaps a depth arm can be found there.
Either way, the Estrada and Happ signings are a reminder the inefficiency of free agency covers everyone, not just the top tier players. The second and third tier guys — Estrada and Happ are firmly third tier guys, right? — aren't cheap either. Getting pitching won't come cheap, but if the Yankees are going to go out and get some, they're better off paying big for top free agent or giving up valuable pieces in a trade. Giving a lot of cash to a low-end arm sounds so very unappealing.