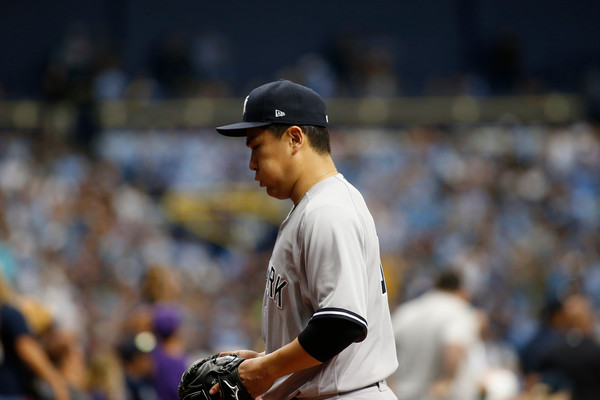 Masahiro Tanaka has been one of the worst starting pitchers in Major League Baseball this year. That isn't hyperbole, either – Mike went into great detail about his struggles earlier this week. And he seems to be getting worse, with a 10.50 ERA/9.36 FIP since he shut out the Red Sox on April 27. Tanaka is ostensibly healthy, and he was one of the best pitchers in baseball these last three seasons, so it stands to reason that he will turn it around at some point. It would be nice if it happened sooner rather than later, though.
Tanaka will face a subpar A's lineup tonight, one that is without its best hitter as Yonder Alonso will sit-out with a wrist contusion. The Yankees lineup this evening will be:
Brett Gardner, LF
Aaron Hicks, CF
Matt Holliday, DH
Starlin Castro, 2B
Aaron Judge, RF
Didi Gregorius, SS
Chase Headley, 3B
Chris Carter, 1B
Austin Romine, C
The first pitch is scheduled for 7:05 PM EST, with WPIX handling the television broadcast.