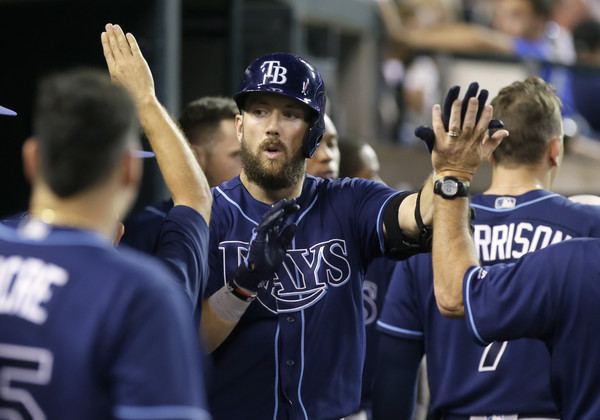 The Yankees have won three in a row, and five of their last six since an ugly series loss to the Twins. Things finally seem to be clicking (again), but the Rays will provide a serious test – heading into this series, they are just 1.5 games back of the Yankees for the Wild Card, and just 2.5 games out of first in the division.
The Last Time They Met
This will be the fourth series between these teams this year, with the Yankees leading the season series 5-4. The Rays won the last series, though, taking two of three in Tampa back in May. Here are some tidbits from that series:
The Yankees bullpen wasted a strong effort by Luis Severino in the first game, with Adam Warren surrendering three runs in the seventh, and the recently departed Tyler Clippard giving up the winning run in the eighth.
Game two was somehow worse, largely due to a horrendous Masahiro Tanaka start, and the ejections of Joe Girardi and Larry Rothschild. Though, to be fair, those ejections are kind of funny in hindsight.
Aaron Judge won our hearts all over again in the final game of the series, a 3-2 Yankees win, when he robbed Evan Longoria of an extra-base hit and started a double play.
Check out Katie's Yankeemetrics post for more on the series.
Injury Report
Tampa has dealt with several serious injuries this season, with four would-be everyday players, a few bench/platoon players, a couple of starting pitchers, and several relievers spending time on the DL. They're just about as healthy as they've been right now. That's a loaded phrase, though, as SP Matt Andriese, RP Xavier Cedeno, IF Matt Duffy, CF Kevin Kiermaier, SP Jake Odorizzi, and IF Daniel Robertson are all on the disabled list, and none will be back in time for this series.
And, while it's not an injury, OF Colby Rasmus decided to "step away from baseball" in June, and is no longer with the team.
Their Story So Far
With yesterday's victory over the Orioles, the Rays improved to 53-49 on the season, with a +13 run differential. They're within striking distance of both the AL East and the Wild Card, and they have made it clear that they will be buyers at the deadline. Their moves for Adeiny Hechavarria and Sergio Romo may not move the needle all that much, but they're said to be in on Lucas Duda, Addison Reed, and others.
The Rays offense is the key to their success. It's among the best in the game, ranking fifth in the majors in wRC+, sixth in BB%, and tenth in ISO. Logan Morrison (140 wRC+), Steven Souza Jr. (140 wRC+), and Corey Dickerson (133 wRC+) form the heart of the order, alongside the declining but still good Evan Longoria (106 wRC+). It's a group that's capable of hitting the ball out of any park at most any time.
Pitching, however, is an issue – particularly in the bullpen. More on that in a bit.
The Lineup We Might See
Stop me if you've heard this one before, but the Rays love to mix-and-match lineups on a game-to-game basis. Manager Kevin Cash seems to take after Joe Maddon in that respect, and it has worked out well for his club this year. That being said, their ideal lineup will look something like this:
Mallex Smith, CF
Corey Dickerson, LF
Evan Longoria, 3B
Logan Morrison, 1B
Steven Souza, RF
Brad Miller, DH
Wilson Ramos, C
Tim Beckham, 2B
Adeiny Hechavarria, SS
The Starting Pitchers We Will See
Thursday (7:05 PM EST): LHP CC Sabathia vs. RHP Chris Archer
This will be Archer's third time facing the Yankees this year. He had a very good outing against them on Opening Day (7 IP, 7 H, 2 R, 1 BB, 5 K), and a quality start in a losing effort back in May (6.1 IP, 7 H, 3 R, 2 BB, 12 K). That's the norm for Archer, as the 28-year-old has a 2.73 ERA in 15 starts (102.1 IP) against the Yankees.
Last Outing (vs. TEX on 7/22) – 7.0 IP, 4 H, 4 R, 1 BB, 11 K
Friday (7:05 PM EST): RHP Masahiro Tanaka vs. TBA
Odorizzi would have made this start, but he was put on the disabled list yesterday. Austin Pruitt is rumored to be getting his turn in the rotation, having been scratched from his own Triple-A start on Tuesday for no real reason. He's been an up-and-down guy for the Rays this year, serving as a swing man and long reliever in his first big league season. He has a 6.25 ERA (67 ERA+) in 31.2 IP.
Despite his struggles, Pruitt is a legitimate four-pitch pitcher. He throws a fastball in the low-90s, a cutter in the upper-80s, a mid-80s change-up, and a low-80s curveball. His cutter is often confused with a slider, though some would say it's a slider that gets mislabeled as a cutter.
Last Outing (vs. BAL on 6/23) – 3.0 IP, 3 H, 0 R, 0 BB, 1 K
Saturday (1:05 PM EST): LHP Caleb Smith vs. LHP Blake Snell
Snell made his major league debut against the Yankees last year, and fared quite well – he went 5 innings, allowing 2 hits, 1 run, and 1 walk, while striking out 6. He last faced the Yankees on April 12 of this year, getting chased in the fifth inning due to an elevated pitch count. And that's been the story of his year, as his inefficiency sees him leave way too many games after just five innings. He's still just 24, though, and the Rays are being cautious with his development (he spent a bit over a month in the minors working on his pitch sequencing and control).
Last Outing (vs. BAL on 7/24) – 7.0 IP, 6 H, 3 R, 1 BB, 4 K
Sunday (1:05 PM EST): LHP Jordan Montgomery vs. RHP Jacob Faria
The 23-year-old Faria was called-up on June 7, and has been a member of the Rays rotation since then. He was the team's tenth-round pick back in 2011, and was a lightly-regarded prospect – the sort that was slapped with a "fifth starter" label from the outset. He's been quite good for the Rays so far, though, pitching to a 2.67 ERA (156 ERA+) in 57.1 IP.
Faria is basically a three-pitch guy, with a low-90s four-seamer, a low-80s change-up, and a mid-80s slider. He'll throw a curveball every now and then, but it's more of a show-me pitch than anything else.
Last Outing (vs. BAL on 7/25) – 7.1 IP, 7 H, 3 R, 2 BB, 5 K
The Bullpen
The Rays bullpen has been its weak point this year, ranking in the bottom-ten in the majors in park-adjusted ERA and K%, and in the bottom-five in WPA, meltdowns, and blown saves. There have been some improvements as the season has progressed, but they nevertheless took two losses against the Rangers last weekend (including a blown save on Sunday). They still have kinks to work out.
Alex Colome is the closer, with Tommy Hunter serving as his primary set-up man. Chase Whitley and Danny Farquhar have settled into 6th and 7th inning roles, and former closer Brad Boxberger is still in search of a role. With the possible exception of Hunter (who somehow has a 1.93 ERA and 10.5 K/9), the Rays don't have a dominant reliever in the bunch.
Who (Or What) To Watch
These teams have had their fair share of dust-ups over the last several years, and that always bears watching. The fact that they're also jockeying for position in the playoff race with the trade deadline rapidly approaching should only exacerbate that, so I wouldn't be shocked if we see a few kerfuffles this weekend. I'd actually be kind of shocked if we didn't.
Other than that, Jacob Faria is an interesting pitcher, with a legitimately plus change-up and a bit of potential. He's also tiny for a pitcher, checking in at 5'11" and around 175 pounds, which always makes for some interesting chatter from the play-by-play guys.