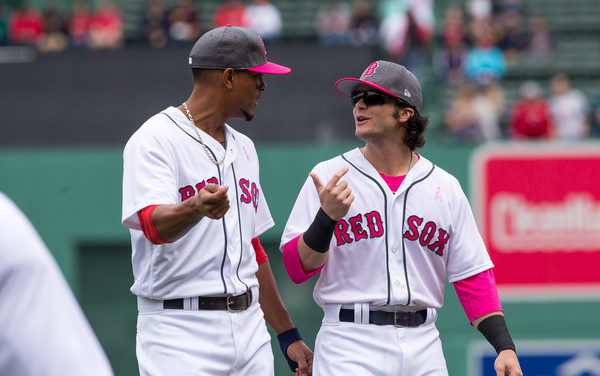 After a much-need day off, the Yankees are back to the AL East grindstone this evening. This is their third of four straight series against divisional opponents, and it will also determine who is in first place by the time the weekend rolls around. The Yankees are currently two games ahead of the Red Sox, with two games in hand.
The Last Time They Met
The Yankees swept a two-game series in Boston on April 26-27; it was meant to be a three-game set, but the first game was rained-out (the first of three rainouts the Yankees have had thus far). Some notes:
Luis Severino was dominant in the first game, going 7 scoreless innings and striking out 6, while allowing just 3 hits and 2 walks. It was the longest scoreless outing of his career through that date (it was since surpassed, though, because he's been awesome this year).
Aaron Judge celebrated his 25th birthday in that same game, and did so with a two-run home run and diving catch into the stands.
Pitching was the story in the second game, as well – Masahiro Tanaka tossed a complete game shutout, allowing 3 hits and no walks, striking out 3. It was a Maddux, as well, as he only needed 97 pitches. A two-to-one groundball to flyball ratio and 72% first-pitch strikes helped that effort quite a bit.
The Yankees and Red Sox combined for just twelve base-runners in that game, and all reached base via single.
Injury Report
The Red Sox are still injury-riddled, as has been the case since Opening Day. Brock Holt, Dustin Pedroia, Eduardo Rodriguez, Robbie Ross, Carson Smith, Tyler Thornburg, and Steven Wright are all on the disabled list, and none are expected to return during this series. Those last two are the worst cases by far, with Thornburg's persistent shoulder injury leaving him with no clear timetable for return, and Wright being out for the year, having underwent season-ending knee surgery in May.
Their Story So Far
Boston was a .500 team as recently as May 21, on the heels of dropping three out of four to the lowly A's. They've won 10 of 14 since then, outscoring their opponents 87 to 48 in that stretch. They're currently 31-25 on the season, with a +38 run differential.
Injuries have been the story of their season, as one may suspect. The current disabled list only tells half the story – Jackie Bradley Jr., David Price (who didn't pitch until May 29), and Pablo Sandoval spent time on the DL, too, and Xander Bogaerts, Sandy Leon, and Hanley Ramirez have dealt with nagging injuries for most of the year. We've yet to see this team at full-strength as a result.
For more specifics about the Red Sox, check out Over the Monster.
The Lineup We Might See
The Red Sox have settled into a mostly consistently lineup of late, though that's largely due to Pedroia's injury. Manager John Farrell has used the same one-through-six for three games in a row, and the bottom three is dependent upon who's filling in for Pedroia and who's catching for the day. We'll probably see something like this:
Mookie Betts, RF
Andrew Benintendi, LF
Xander Bogaerts, SS
Mitch Moreland, 1B
Hanley Ramirez, DH
Jackie Bradley Jr., CF
Pablo Sandoval, 3B
Christian Vazquez, C or Sandy Leon, C
Deven Marrero, 2B
The Starting Pitchers We Will See
Tuesday (7:05 PM EST): RHP Masahiro Tanaka vs. LHP Drew Pomeranz
It's been something of a rough 2017 for Pomeranz, as the 28-year-old southpaw had a late start to the season due to a flexor strain, and left a start early in mid-May with triceps tightness. He only missed a start or two overall, but it has taken him awhile to right the ship. That being said, he currently sports an elite strikeout rate (11.3 K/9, 29.0 K%) and a solid walk rate (7.7%), and his 3.58 FIP/3.25 xFIP suggest that his 4.24 ERA (106 ERA+) should come back down.
Pomeranz is basically a two-pitch guy, as his low-90s four-seamer and big breaking curveball account for over 90% of his pitches. He throws a mid-80s cutter and a low-80s change-up every so often, but those are little more than show-me pitches.
Last Outing (vs. CHW on 5/31) – 7.0 IP, 7 H, 1 R, 0 BB, 8 K
Wednesday (7:05 PM EST): LHP CC Sabathia vs. RHP Rick Porcello
Porcello struggled in April, closing out the month with a 4.75 ERA/4.40 FIP. He has pitched better since the calendar flipped to May, but he still doesn't look like the guy that won the Cy Young last year. As of this writing he has the lowest groundball rate of his career (37.9% against a previous low of 43.1%), and he's allowing a 42.7% hard contact rate (a career-worst by 9.9 percentage points). That hard-hit percentage is the second-worst in the majors right now.
His pitch selection hasn't changed all that much this year, as Porcello is still throwing his four-seamer, two-seamer, slider, curve, and change-up; his velocity is similar across the board, as well. That being said, his fastball and change-up have been hit hardest as per PITCHf/x, so there could be something going on with his mechanics.
Last Outing (vs. BAL on 6/2) – 6.0 IP, 8 H, 3 R, 1 BB, 5 K
Thursday (7:05 PM EST): RHP Michael Pineda vs. LHP David Price
An elbow injury in Spring Training kept Price out of action until last week, which was far and away his longest stint on the disabled list. He showed little rust in his first two starts, though, with his velocity being higher than it was last season on all of his offerings. There's not much else I can tell you about Price that you aren't already overwhelmingly familiar with, given that he's thrown 1460 IP for AL East teams.
Price throws three fastballs (mid-90s four-seamer, low-90s two-seamer, high-80s cutter) and a mid-80s change-up, mixing all four pitches extremely well. He'll throw a knuckle-curve once or twice a game to change a batter's eye level, but he's mostly a fastball/change-up guy.
Last Outing (vs. BAL on 6/3) – 7.0 IP, 3 H, 1 R, 1 BB, 7 K
The Bullpen
Relief pitching has been a strength for the Red Sox, even with Smith and Thornburg sitting on the DL since Opening Day. Closer Craig Kimbrel is having what may be the best season of his career, with staggering strikeout (53.3%) and walk (4.4%) rates, and a sparkling 1.07 ERA (423 ERA+) in 25.1 IP. Set-up man Joe Kelly (1.48 ERA in 24.1 IP) and LOOGY Robby Scott (1.42 ERA in 12.2 IP) have been brilliant in their roles, and middle relievers Fernando Abad, Matt Barnes, and Heath Hembree have been effective, as well.
Thanks to Monday's off day, the Red Sox bullpen is fairly well-rested.
Yankees Connection
As was the case last time these two met, Chris Young is the only former Yankee on this Red Sox team. Let's remember the good times, shall we?
Who (Or What) To Watch?
The Yankees have owned David Price for the better part of his career – he has a 4.55 ERA in 221.1 IP against the Yankees, and a 3.01 ERA in 1462.1 IP against everyone else. That doesn't make me excited to see him, given that he's a legitimate ace – but it almost always adds an interesting narrative to the match-up at hand.