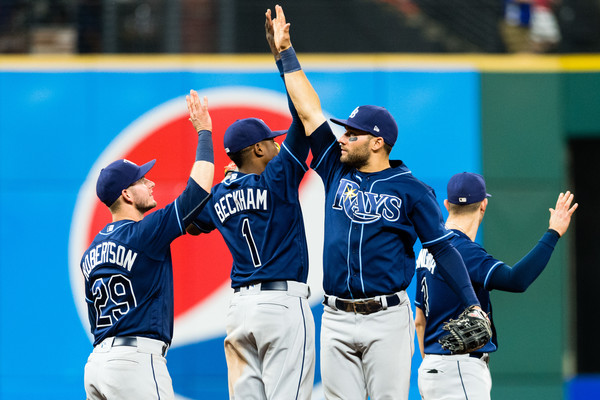 Tampa Bay is stop number two in the Yankees' twenty games in twenty days tour, and the second series of said stretch against sub-.500 teams. The Rays, interestingly enough, are coming off of an unforgiving twenty-in-twenty run of their own – yesterday was their first day off since April 27.
The Last Time They Met
The Yankees hosted the Rays for a three-game series from April 10 through April 13, earning the sweep. It was their first series victory of the season, and it put them above .500 for the first time this year, as well. There are too many firsts to recount here, given that it was the third series of the year, but some interesting tidbits include:
Michael Pineda took a perfect game into the seventh in the home opener, retiring the first twenty batters he faced. He finished the day with 7.2 IP, 2 H, 1 R, 0 BB, and 11 K.
The Yankees hit six home runs in the series – two apiece by Aarons Judge and Hicks, and one each from Chase Headley and Starlin Castro.
Jordan Montgomery made his big league debut in the second game, and pitched to the following line: 4.2 IP, 5 H, 3 R, 2 BB, 7 K.
Hicks hit both of his home runs in game three, and was responsible for all of the team's runs in a 3-2 victory.
The Yankees starting pitchers (Pineda, Montgomery, and Luis Severino) combined to strikeout 29 batters in 19.1 IP.
Check out Katie's Yankeemetrics post for more on this series.
Injury Report
The Rays currently have quite a bit of talent on the disabled list. Brad Boxberger, Xavier Cedeno, Matt Duffy, Tommy Hunter, Brad Miller (placed on the DL just yesterday, after being listed as day-to-day for most of the week), Wilson Ramos, and Shawn Tolleson are all on the DL, and none are expected to return this weekend. That accounts for their would-be (or should-be) starters at catcher, second, and short, as well as four relievers. That's less than ideal.
Their Story So Far
Tampa Bay is currently 21-22 with a +17 run differential, and they wrapped-up that twenty-in-twenty stretch by taking two of three from the Indians. Despite their record, the Rays have the statistical profile of an above-average team; they're fifth in the majors in wRC+, eleventh in adjusted ERA, fourteenth in adjusted FIP, and third in defensive runs saved. So what gives?
The Rays bullpen has already blown nine saves, and the team lost 7 of those 9 games. They've also been outscored 71 to 52 from the seventh inning forward. That ability to come back in the later innings can make a big difference on a team's record, and the Rays have largely been unable to do so this year. Some of it is undoubtedly luck, but the injuries to four would-be bullpen pieces haven't helped, either.
The Lineup We Might See
Manager Kevin Cash has used thirty-one lineups this season, and has a propensity to ride the hot hand. Several players (notably Kevin Kiermaier, Brad Miller, and Logan Morrison) have moved up and down the lineup as their production dictates, and Cash also attempts to give players fairly regular rest. My best guess as to what the lineup will look like would be this:
Corey Dickerson, DH
Kevin Kiermaier, CF
Evan Longoria, 3B
Logan Morrison, 1B
Steven Souza Jr., RF
Colby Rasmus, LF
Tim Beckham, SS
Daniel Robertson, 2B
Jesus Sucre or Derek Norris, C
The Starting Pitchers We Will See
Friday (7:10 PM EST): RHP Luis Severino vs. RHP Erasmo Ramirez
Ramirez has bounced between the rotation and the bullpen throughout his major league career, accumulating 64 starts and 93 relief appearances in parts of six seasons. He's been a roughly league-average pitcher in doing so, posting a 95 ERA+ in 485.1 IP. Surprisingly, Ramirez has been better as a starter, with superior marks in ERA, FIP, K%, K-BB%, and HR/9. He spent nearly all of 2016 in the bullpen, making just one start, and he opened this year as the long man. He made a spot start on April 20, though, and he has now (at least temporarily) replaced the demoted Blake Snell in the rotation.
The 27-year-old righty throws a trio of low-90s fastballs (mostly a two-seamer and a cutter, but he'll sprinkle in a four-seamer), a mid-80s slider, and low-80s change-up. He pounds the bottom of the zone with all of his offerings, and he keeps the ball on the ground at a well above-average rate as a result (55.2% this year, 52.5% in 2016).
Last Outing (vs. BOS on 5/14) – 2 IP, 0 H, 0 R, 0 BB, 4 K
Saturday (4:10 PM EST): RHP Masahiro Tanaka vs. RHP Matt Andriese
Yankees fans may know Andriese best as the pitcher that gave up back-to-back home runs to Aaron Judge and Tyler Austin last summer, in what may have been the most memorable moment of their 2016 season. He has been a solid pitcher in parts of three seasons, though, pitching to a 98 ERA+ in 238.2 IP, including a 125 ERA+ through eight starts this season. He entered 2017 as a perceived placeholder for top prospect Jose De Leon, but he's earning his keep thus far.
Andriese is basically a three-pitch guy, featuring a low-90s cutter, low-80s curve, and mid-80s change-up. He'll mix in a four-seamer and a slider every so often, but those are relatively rare.
Last Outing (vs. BOS on 5/14) – 5 IP, 4 H, 2 R, 4 BB, 5 K
Sunday (1:10 PM EST): LHP CC Sabathia vs. RHP Chris Archer
Archer has been viewed as an ace-in-waiting for half a decade now, and it isn't difficult to see why. The 28-year-old boasts great stuff, strikes out hitters in bunches (career 25.1 K%), keeps the ball on the ground (career 46.3 GB%), and walks batters at a league-average rate (8.1 BB% for his career). He backslid a bit last year, though, posting a league-average ERA as his home run rate (1.34 per 9) soared and his velocity dipped. Archer did improve in the second half, and his velocity has recovered this season – but his walk, strikeout, and home run rates have trended in the wrong direction, and he has been more good than great on the whole.
His stuff isn't really in question, though. Archer throws a mid-90s fastball with good movement, a wicked slider in the upper-80s, and a mid-80s change-up. About 90% of his offerings are fastballs and sliders, and the league may simply be adjusting to that approach. That may well be the difference between good starter and top of the rotation arm.
Last Outing (vs. CLE on 5/15) – 5 IP, 5 H, 7 R, 6 BB, 6 K
The Bullpen
The Rays bullpen has been hit hard by injuries and poor performances. Scrap heap pick-up Jumbo Diaz and 27-year-old rookie Austin Pruitt have been pressed into duty for 35.2 IP as the team scrambles for depth, producing a 7.13 ERA, and the need for Ramirez in the rotation leaves the cupboards a bit more bare. Closer Alex Colome (2.37 ERA in 19.0 IP), set-up man Danny Farquhar (3.00 ERA in 18.0 IP), and old friend and middle reliever Chase Whitley (1.53 ERA in 17.2 IP) have done their job in keeping the bullpen afloat, but they've been leaned on heavily already.
As a group, the bullpen has a 4.02 ERA (99 ERA+), and the worst – by far – strikeout rate in baseball. The Rays' 17.1% strikeout rate is 1.2 percentage points behind the next worst team, and significantly below the MLB-average of 23.1%. Allowing that many balls in play can be a real problem, particularly against more potent offenses.
Yankees Connection
The Yankees let Chase Whitley walk when he was recovering from Tommy John Surgery, and the Rays picked him up on the cheap. He made his way back to the majors last September, producing a 2.51 ERA in 14.1 IP. The Rays called him up in mid-April this year, and he has been a steadying presence in a mediocre bullpen since then.
Diego Moreno left the Yankees as a free agent after the 2016 season, and he's also in the Rays bullpen right now. He was called up last week, and was hit hard in his first two outings (2 IP, 5 H, 5 R, 2 BB, 2 K). He had a one-two-three inning his last time out, though.
And Nathan Eovaldi followed the Chase Whitley path over the winter; he's on the Rays 60-day DL, and isn't expected to be back in action until 2018.
Who (Or What) To Watch
Kevin Kiermaier has misplayed a few balls in the early goings of 2017, but he is nevertheless the best or second-best defensive outfielder in the game today. Watching him run down balls in center is worth the price of admission, if you're into that sort of thing, as he has seemingly limitless range and a strong, accurate arm. He's also been heating up with the bat in May, posting a 110 wRC+ in the first seventeen days of the month.
The patience of the Yankees lineup against the lack of strikeout ability in the Rays bullpen should be interesting, too.