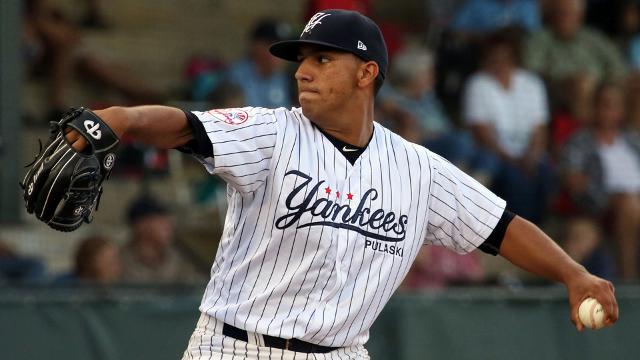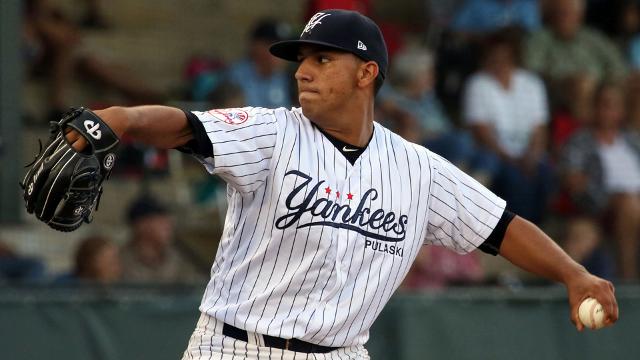 Nestor Cortes | LHP
Background
Cortes (22-years-old as of December 10) was born and raised in Hialeah, the sixth-largest city in the state of Florida. He attended Hialeah High School, which is at least semi-well-known for winning back-to-back state titles in baseball in 2001 and 2002, and for being the alma mater of former Yankee Bucky Dent, the knuckleballing Charlie Hough, and Gio Gonzalez (who transferred after his junior season). Cortes was no slouch in high school, and was named a Louisville Slugger Pre-Season High School All-American and a Florida All-Region 1st Teamer by Perfect Game USA heading into his senior year, and winning the Most Outstanding Player award in the prestigious Sunshine Classic a few months later.
The Yankees drafted Cortes in the 36th round (1094th overall) in the 2013 draft, and bought him out of a commitment to Florida International. The best player drafted at that position is probably Mark Johnson, who batted .232/.338/.402 (95 wRC+) over parts of seven seasons, amassing 1.4 fWAR along the way.
Pro Career
Cortes made his professional debut at the Rookie-Level Gulf Coast League, and performed fairly well. He pitched to a 4.42 ERA (2.26 FIP) in 18.1 IP, allowing 22 hits and 5 walks while striking out 20. Cortes returned to the GCL in 2014, and improved across the board to the tune of 31.2 IP, 35 H, 5 BB, 38 K, and a 2.27 ERA (2.09 FIP). He appeared in just 21 games (five of which were starts) over those first two years, as the Yankees brought him along slowly.
It was in 2015 that Cortes first sprung into the consciousness of the more prospect-inclined Yankees fans, as he was borderline dominant in the Appalachian League. His 2.26 ERA was fourth among pitchers who tossed at least 30 IP, and his 63.2 IP were third in the league. He also racked up 9.3 K/9 against just 1.4 BB/9 and 6.8 H/9. As a result of his strong production, Cortes was named an Appalachian League All-Star after the season.
Cortes had what some would call a breakout season in 2016, splitting his season between Low-A and High-A, and making cameo appearances at Double-A and Triple-A. He made short work of the South Atlantic League, posting a 0.79 ERA (2.48 FIP) and 5.00 K/BB in 68.1 IP. The brilliance continued at High-A (albeit in just 28.0 IP), as he managed a 3.21 ERA (2.25 FIP) and 7.75 K/BB. All told, Cortes threw 108.1 innings of 1.53 ERA ball, with 4.79 K/BB.
Cortes also spent time in the Arizona Fall League in 2016, appearing in 6 games and throwing 7.2 IP. His 4.70 ERA and 7.04 BB/9 were ugly, but he struck out 10 batters in those innings, and didn't allow a home run in the bandboxes and dryness of the desert.
Scouting Report
I won't bury the lede here: Cortes is optimistically listed at 5'11" and 190 pounds. He is a solid, strong, and athletic 5'11" and 190 pounds – but it's difficult for many to overlook his comparatively slight build.
Cortes works with a four-pitch arsenal, and is generally described as a 'pitchability' or 'finesse' southpaw as a result. His fastball sits in the upper-80s to low-90s range (reaching 93 at its best), and he has strong command of the offering. The difference between his fastball and his mid-70s change-up helps him pick up whiffs, as he does a good job of repeating his delivery and release point on both pitches. He also throws a low-to-mid 70s curve and a slider in the upper-70s.
It's largely a command and control profile, but his fastball and change-up play up a bit due to the natural deception in his delivery. Cortes hides the ball well in his wind-up, which helps to alleviate the issues presented by his shorter frame. Preventing batters from picking up the ball for an additional split second or two mitigates the extra distance between his release point and home plate when compared to the average 6'2″ or 6'3″ starting pitcher.
2017 Outlook
Cortes will probably open the season back at High-A Tampa, though I wouldn't be shocked if he was give a shot at Double-A; it may well depend on how he performs in the Spring. The Yankees willingness to bounce him to Double-A and Triple-A in times of need and his time in the Arizona Fall League may indicate that they're going to be aggressive. Barring an injury or poor performance, he'll end up at Double-A by the time the Summer roles around.
My Take
There have been some strange comparisons made with Cortes already, ranging from Manny Banuelos (both are short lefties, get it?) to Ramiro Mendoza (as he, too, bounced between starting and relieving – though Mendoza was a sinkerballer, and Cortes … isn't). The truth is that Cortes is going to face an uphill battle finding success in the Majors, if only because the track record of success for pitchers of his build and stuff is minimal.
That being said, the Yankees are always in need of left-handed specialists, and prefer those that could handle righties in a pinch. Cortes's deception should make him a nightmare to face for lefties, and his command and fringe-average stuff could help him be competent against opposite-handed hitters. The bullpen feels like his ultimate role, in short – but they should give him a chance to ply his trade against upper-level hitters nonetheless.