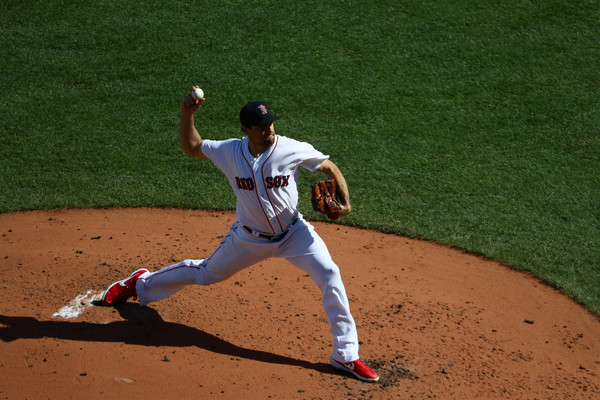 Nathan Eovaldi has faced the Yankees three times since joining the Red Sox, and he has been nothing short of dominant. His overall line in those games is 16.0 IP, 6 H, 1 R (0 ER), 3 BB, and 13 K, and it may well have been better had he not been pulled after two effective innings on September 29 (it was effectively a means to keep him stretched-out in a meaningless game). We saw flashes of this sort of dominance before, but it was sporadic at best – and the fact that this has come with the Red Sox makes it even more maddening. But I digress.
Let's take a look at this new and improved version of Eovaldi.
When Eovaldi last pitched for the Yankees in 2016, all of the talk was about maximizing his newfound splitter. The pitch was, for all intents and purposes, born in 2015, accounting for 9.4% of his offerings; the usage more than doubled in 2016 to 22.9% … and then his elbow went 'boom.' To that point, Eovaldi was basically a three-pitch guy, with his four-seamer, slider, and splitter. This year, however, we've seen the unveiling of another new-ish pitch: a cutter.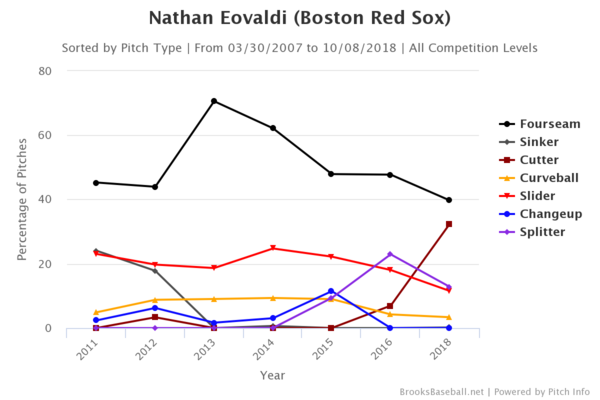 As per Brooks Baseball, Eovaldi threw a total of 220 cutters from 2011 through 2016; he threw 577 this year. His cutter represented just under a third of his offerings this year, and he threw fewer fastballs and sliders than ever before. And while batters are hitting .252 against the cutter, his four-seamer (.206) and slider (.219) have been at their most effective this year – and that may be attributed to the increased use of a pitch that essentially splits the difference between a four-seamer and a slider.
Eovaldi's velocity remains elite, too. His four-seamer averaged 97.6 MPH this year, his cutter sat just over 93 MPH, and both his slider and splitter sit in the upper 80s.
So what, if anything, does he do differently against the Yankees?
Eovaldi's splitter usage jumps out the most. He threw 213 pitches against the Yankees in his three Red Sox appearances, and just 9 of those (or 4.2%) were splitters. Compare that to an average of 12.8% overall, and it seems like a conscious decision by Eovaldi and/or the coaching staff. Those splitters were almost entirely replaced by cutters, which represented 39.0% of his offerings against the Yankees. Between that and his four-seamer, Eovaldi is throwing roughly 80% of his pitches at 93-plus MPH against the Yankees – and it's been working.
It's also worth noting that, by FanGraphs' model, the Yankees are one of the worst teams in baseball at hitting the cutter. They ranked 25th in baseball against cutters, losing 7.2 more runs than the average team against it. And by that same metric, Eovaldi had the 9th-best cutter among starting pitchers, just behind CC Sabathia.
All that being said, it's worth noting that Eovaldi's approach in his lone start against the Yankees as a member of the Rays was largely the same – and the Yankees knocked him around for 8 hits and 5 runs in 7.1 IP. He improved as the season wore on, to be sure, and that was his fourth start after a nearly two-year layoff, but it hasn't been all doom and gloom for the Yankees with him on the mound. And he hasn't yet faced this fully operational offense in playoff atmosphere Yankee Stadium, either.