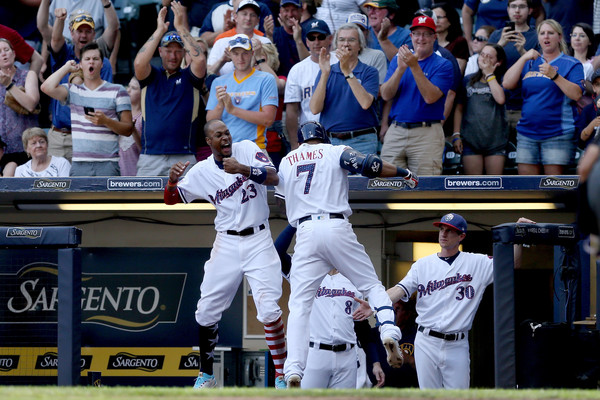 With injuries and poor performances aplenty, the All-Star break cannot come soon enough for the Yankees. All that stands in their way between four much-needed days off are the (surprisingly good) first-place Milwaukee Brewers.
The Last Time They Met
The Yankees visited Milwaukee for a three-game set in May of 2014, losing two of three. Both losses came by one run, with the series finale coming in walk-off fashion. Some points of interest:
Yangervis Solarte went 4-for-10 with 1 R, 1 HR, 5 RBI, and 1 BB in the series. By the time it was over he was leading the Yankees regulars in batting average (.315), OBP (.394), and RBI (20).
The Yankees bullpen was responsible for both losses, with Alfredo Aceves losing game two, and Matt Thornton, Dellin Betances, and Adam Warren combining to blow game three.
Of the players that suited up for the Brewers, only Matt Garza is still in the organization. Ryan Braun was on the team at that time, as well, but he was on the disabled list.
Injury Report
Chase Anderson – the team's best or second-best starter depending upon your metric of choice – went down with a strained oblique on June 29, and is unlikely to return until sometime in August. He was just joined there by utility man and 'Face of Baseball' Eric Sogard, who suffered a left ankle strain on Wednesday. Wily Peralta is out, as well, but, given his production thus far, the Brewers may be better for it.
Their Story So Far
The Brewers are currently in first place in the NL Central by 4.5 games, with a 48-40 record and a +40 run differential. They've won four in a row, and are 15-8 since falling back to a game above .500 on June 13. Their success seems to be a product of average-ish performance across the board, as their offense (13th in wRC+), pitching (8th in park-adjusted ERA, 12th in park-adjusted FIP), and defense (14th in DRS, 16th in UZR/150) are all right around the middle of the pack.
Eric Thames has been the team's biggest story, as the 30-year-old "busted" prospect turned South Korean superstar returned to MLB, and tore the cover off the ball for the first month of the season (11 HR and a 218 wRC+ in April). He's cooled off considerably since then, with a 107 wRC+ in May and a 68 wRC+ in June, but the threat of his power still looms.
Their pitching shouldn't be overlooked, though, as the aforementioned Anderson and Jimmy Nelson have been a formidable one-two punch in the rotation, and Garza has been surprisingly competent. The remainder of their staff has been mostly average – and that alone is a surprise.
Check out Brew Crew Ball for more news and notes about the Brewers.
The Lineup We Might See
Third-year manager Craig Counsell has tinkered with his lineup throughout the year, riding the hot hand as often as possible. Sogard was raking prior to his injury, for example, so he was hitting leadoff for a couple of weeks, while the struggling Jonathan Villar was dropped in the order. Nevertheless, I suspect we'll see something like this:
Jonathan Villar, 2B
Eric Thames, 1B
Ryan Braun, LF/DH
Travis Shaw, 3B
Domingo Santana, RF
Stephen Vogt, DH/C
Manny Pina, C
Keon Broxton, CF
Orlando Arcia, SS
The Starting Pitchers We Will See
Friday (7:05 PM EST): LHP Jordan Montgomery vs. RHP Junior Guerra
Guerra bounced around the minors and independent leagues for over a decade before getting a cup of coffee with the White Sox in 2015. He then spent most of the 2016 season in the Brewers rotation, putting up a 2.81 ERA (152 ERA+) in 121.2 IP as a 31-year-old rookie. His peripherals suggested he was something closer to a league-average pitcher, but he didn't appear to be a complete and utter fluke. This season has been a different story, though, as he sports a 4.93 ERA/7.10 FIP (!) in 45.2 IP. Guerra also missed nearly two months with a calf injury.
In 2016, Guerra was a three-pitch guy, throwing a mid-90s four-seamer, a mid-80s splitter (with a 20% whiff rate), and a low-80s slider. He introduced a low-90s sinker this year, to mixed results. Guerra's overall velocity has dropped in 2017, with 2 MPH disappearing from the fastball, and 1-plus MPH coming off of his splitter and slider.
Last Outing (vs. MIA on 7/2) – 4.0 IP, 8 H, 4 R, 3 BB, 7 K
Saturday (1:05 PM EST): RHP Luis Severino vs. LHP Brent Suter
The 27-year-old Suter has served as an up-and-down guy/long-reliever/spot starter for the Brewers over the last two years, with mostly strong results (albeit in just 42.2 IP). He has a 3.16 ERA (139 ERA+) as a big-leaguer, with league-average strikeout (19.6%) and walk (6.7%) rates. He took what would have been Anderson's last turn in the rotation, and he stands to get an extended look.
Suter is a finesse lefty, with a mid-80s fastball, low-80s change-up, and mid-70s slider making up the bulk of his offerings.
Last Outing (vs. BAL on 7/3) – 6.0 IP, 4 H, 1 R, 1 BB, 8 K
Sunday (1:05 PM EST): RHP Masahiro Tanaka vs. RHP Jimmy Nelson
If Anderson isn't the Brewers ace, it's because of the 28-year-old Nelson, who has been borderline dominant at times this season. He has a 3.20 ERA (139 ERA) in 104.0 IP, with comfortably above-average strikeout (26.1%), walk (5.8%), and groundball (49.3%) rates. He was a top-100 prospect heading into his rookie season, so this may well be a legitimate breakout.
Nelson is a four-pitch pitcher, with a low-to-mid 90s four-seamer, a low-to-mid 90s sinker, a slider in the upper-80s, and a mid-80s curveball. He draws praise for sequencing his pitches well, and keeping hitters off-balance with power stuff and movement.
Last Outing (vs. BAL on 7/4) – 7.0 IP, 6 H, 1 R, 0 BB, 8 K
The Bullpen
Closer Corey Knebel is the only truly dominant pitcher in the Brewers bullpen, with a 1.11 ERA (403 ERA+) and 43.3% strikeout rate in 40.2 IP. He took over as closer when Neftali Feliz earned his release, and he hasn't disappointed. Jared Hughes and Jacob Barnes handle the 7th and 8th inning on most nights, and both are solid-average by most metrics. Beyond those three, however, it's something of a crapshoot.
The bullpen has been taxed of late, as the Brewers have played 22 games in the last 22 days, with a double-header on June 13 somewhat negating their June 26 off-day.
Yankees Connection
This is a bit of a stretch, but Thames was drafted by the Yankees way back in 2007. He was the 1191st overall pick that year, and he elected to return to Pepperdine for his senior year instead of signing.
Who (Or What) To Watch
Keon Broxton was one of my favorite non-Yankees prospects for a while, and he has finally begun to make good on his hyper-athletic promise over the last season and change. He's hitting .239/.306/.473 (97 wRC+) with 14 HR and 15 SB on the season, and he plays strong defense in center field. He's something of a hacker, but he's a fun player to watch nonetheless.
Seeing Nelson pitch could be a treat, as well – particularly the day after we see the soft-tossing Suter.