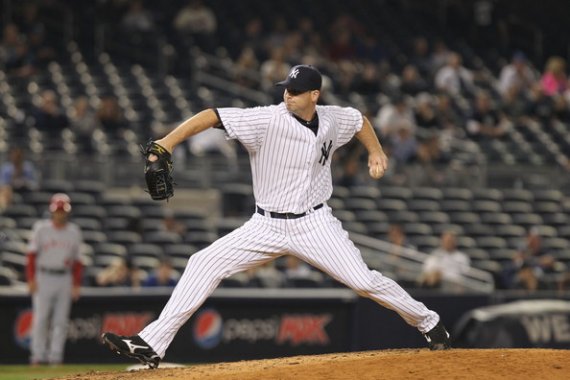 It was a year of two halves for Boone Logan, the Yankees' polarizing southpaw reliever.  As a founder of the Boone Logan fan club on Twitter and a frequent defender of his, I believe I might be of service in this discussion.  I have always viewed Logan as useful bullpen piece: lefties with his power fastball-slider combo don't grow on trees, and at times he is not entirely useless against opposite-handed hitters.  He doesn't have the consistency or command at this stage in his career to be a Matt Thornton type who is deadly against both righties and lefties, but he is a solid contributor in the Yankee 'pen.  In the first half of 2012, Logan at times looked like he was taking the next step and becoming the kind of shutdown lefty that the Yankees have been fruitlessly seeking for many years.
Logan got off to a strong start to 2012, giving up just one run in the first month of the season, and striking out about 13 batters per nine innings (though with a walk rate approaching 5/9 innings).  May was a rougher month ERA-wise as he gave up five runs in 9 2/3 innings, but his peripherals were vastly improved — he walked just one batter the entire month.  June saw him give up just two runs, though his strikeout rate dropped somewhat.  Overall in those first three months of the season, Logan's line was: 28 innings, 37 strikeouts, eight runs (2.57 ERA), 11 walks, and two homers allowed while being used very heavily by manager Joe Girardi.
In a post I wrote earlier in the year for TYA, I wondered what was the cause for Logan's early success.  One area that I highlighted was a change in Logan's pitch mix, where he was throwing more sliders than in previous years, and fewer fastballs.  He was also getting vastly improved whiff rates on the slider, indicating that he was not losing effectiveness by throwing it more often. There was some tangible evidence suggesting that the big first half was legitimate improvement and not a small sample size fluke.
While it was only three months, Logan's first half performance was very important for the Yankees.  Their bullpen depth was shortened due to injuries/ineffectiveness of several guys ahead of him on the depth chart.  He often worked in a setup role rather than just as a specialist, and he handled himself quite nicely.  While the Yankees obviously still missed Mariano Rivera and Joba Chamberlain, Boone's early effectiveness did help to cushion the blow.  Logan's heavy workload in the first half (where he was among the league leader in relief appearances) may have taken a toll on him later in the season, but there is no question that he answered the bell when the team needed him early on.