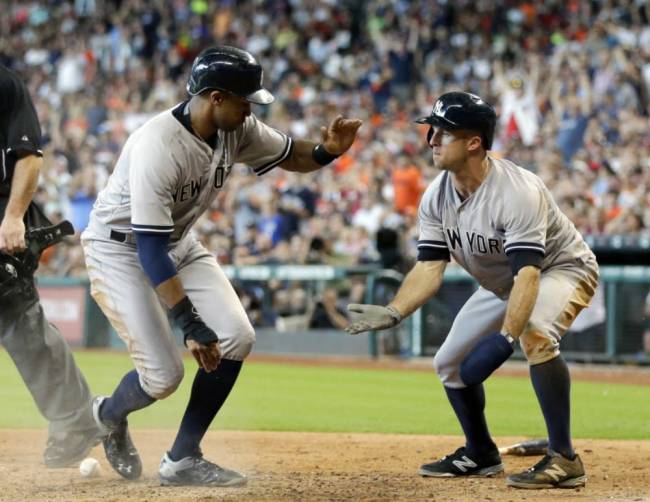 Keuchel'd?
The Yankees finally ran into an ace they couldn't beat on Thursday night. Dallas Keuchel threw a six-hit shutout against the Yankees, striking out 12 in a performance that Alex Rodriguez called "complete domination."
Keuchel is the first pitcher with at least 12 strikeouts in a shutout against the Yankees since Chris Carpenter on Sept. 4, 2001, and the first lefty to do it since the Angels' Chuck Finley on May 23, 1995 (a game better known as Mariano Rivera's major-league debut!).
The Astros southpaw, who also went the distance in his first game against the Yankees last season, is the first pitcher to pitch a complete game in each of his first two appearances against the Yankees since Teddy Higuera did so for the Brewers in 1985.
Adam Warren gave up three runs (two earned) before being pulled with two outs in the sixth inning — yet of course he was a hard-luck loser again. Following the game, he had a 2.87 ERA in his five losses, the lowest ERA in games lost by any pitcher with at least four losses this season.
Forever Young
For the first couple hours of Friday's game, it looked like one of the more remarkable streaks in baseball might come to an end. The Yankees had not been shut out in consecutive games since May 1999, the longest streak in MLB history, yet had just three hits and were being blanked by the Astros through six innings.
That is until … Chris Young happened. The Houston native drilled a three-run homer to erase a 2-0 deficit and the Yankees bullpen held the Astros scoreless to preserve the win. It was his third go-ahead homer in the seventh inning or later as a Yankee; since he joined the team last September, no other player on the team has more than one such homer.
Another guy from Texas, Nathan Eovaldi, had a sweet homecoming as he threw six innings of two-run ball to earn his career-high seventh win of the season. Eovaldi had all four of his pitches working and showed a ton of confidence in his splitter, which he threw 25 times and netted him seven outs while yielding just one hit.
Six is not enough
A 6-0 lead in the second inning with your ace on the mound? Sounds like a good time to go mow the lawn and wait for the recap and highlights in a couple hours, right? Wrong.
Masahiro Tanaka struggled for the second start in a row, coughing up six runs on seven hits — including three home runs — in five innings. He is joins Orlando Hernandez (2001) as the only Yankee pitchers to give up at least six runs and three homers in back-to-back games over the last 100 years.
Mark Teixeira saved the Yankees from their worst loss of the season with a two-run, tie-breaking double in the eighth inning. It was his first go-ahead RBI in the eighth inning or later in more than three years — since a double in the top of the 14th inning on June 16, 2012 against the Phillies.
Brian McCann gave the Yankees an early 4-0 lead with his 11th career grand slam. His 10 grand slams hit as a catcher (one came as a DH) are tied with Johnny Bench for the third-most in the last 75 seasons, trailing only Mike Piazza (14) and Gary Carter (11).
Big Mike is back
It might be hot down in Texas, but the Yankees bats were once freezing cold in Houston in Sunday's 3-1 loss, as they were held to a season-low two hits by former Met Collin McHugh.
McHugh, who also struck out eight Yankees, is the third starter with at least eight strikeouts and two or fewer hits allowed against the Yankees this season, along with Anibal Sanchez (April 23) and Joe Kelly (April 11). Since at least 1914, this is the first time that three starting pitchers have done that to the Yankees in a single season.
Michael Pineda bounced back from the worst start of his career with a strong outing (8 IP, 3 R, 2 ER, 8 K, 0 BB) but took the loss despite going the distance. He's the second Yankee with a complete game loss this season, joining CC Sabathia on April 20 against the Tigers. The only other major-league team to have two pitchers with a complete-game loss this season is the Indians.