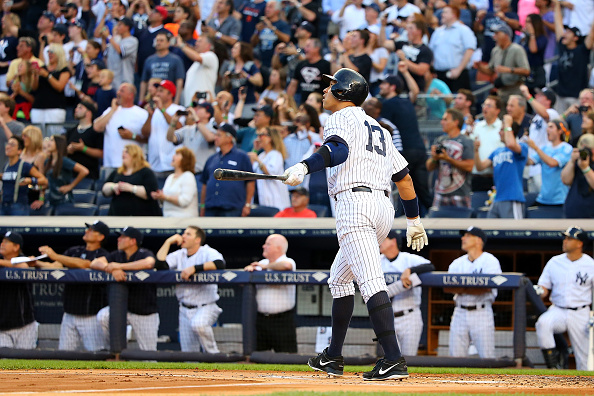 Did you actually think he'd do it any other way? Of course not. He's A-Rod, so he had to do it in style, with an A-Bomb, a home run for hit No. 3,000 on the first pitch he saw in the first inning on Friday night. The only other players to get their 3,000th hit with a homer are Derek Jeter and Wade Boggs.
Whether you love him or hate him, cheer him or boo him, think he deserves a second chance or should be banned forever, the numbers are the numbers. 3,000 hits is 3,000 hits — and that is what it says on his baseball-reference.com page (or the back of his baseball card, for you traditionalists). Regardless of how you view A-Rod, it's still history and a (not)milestone worth putting into perspective. So here we go, from the basics to the obscure …
A-Rod is the 29th player to reach 3,000 hits and the first since Jeter did it nearly four years ago. Jeter is also the only other member of the 3K hit club to celebrate the big 3-0-0-0 in a Yankee uniform. In fact no other player has done it in a uniform of any New York-based major-league baseball team — not the Mets, the Brooklyn Dodgers or the New York Giants. Four other guys in the 3,000-hit club did play for the Yankees at some point in their careers: Paul Waner, Boggs, Rickey Henderson and Dave Winfield.
Rodriguez is now a member of two of the most exclusive milestone stat groups in major-league history — the aforementioned 29-member 3,0000-hit club and the 26-member 500-homer club. But only five of them, including A-Rod, are members of both fraternities: Willie Mays, Hank Aaron, Eddie Murray and Rafael Palmeiro. If you up the homer total to 600, only Mays and Aaron match him there.
He joins an even more rare set of players if you want to include another underrated part of A-Rod's five-tool skill set, his speed. Along with A-Rod, the only other guy with at least 300 stolen bases, 300 homers and 3,000 hits is Mr. Willie Mays. But Mays can't match the 2,000-plus RBIs that A-Rod has, making Al from Miami the only major-leaguer to reach all four of those statistical marks in a career.
Of course, with all that power also comes a whole lot of whiffs. A-Rod is now the only player in major-league history with at least 2,000 strikeouts and 3,000 hits. Before him, the most career Ks by a member of the 3,000-hit club was Jeter, with 1,840.
A-Rod didn't just get hit No. 3,000 against any typical pitcher, though, it was former MVP and Cy Young winner Justin Verlander. He joins Winfield — who got his 3,000th hit off Dennis Eckersley in 1993 — as the only players to get their milestone hit against a former Cy Young winner. Jeter and Rod Carew got hit No. 3,000 off pitchers that would later win the Cy Young award — David Price and Frank Viola.
It was hardly surprising that A-Rod's 3,000th hit was a homer against Justin Verlander. He entered the game with an .821 slugging percentage vs. Verlander during the regular season, the highest mark by any player with at least 20 plate appearances against the Tigers' righty.
I bet you didn't know that one other Tigers pitcher gave up a 3,000th hit. That would be Pug Cavet, who welcomed the Indians' infielder Nap Lajoie into the 3K hit club in 1914. Or how about the fact that one other player actually got hit No. 3,000 on June 19, just like A-Rod. Paul Waner did it in 1942 against the Pirates.
And I'm sure you also really wanted to know that the only one other player with at least 3,000 hits has a first name that begins with the letter A (Al Kaline), and just two others have a last name that begins with the letter R (Cal Ripken Jr. and Pete Rose).
That's history, folks. Enjoy it.