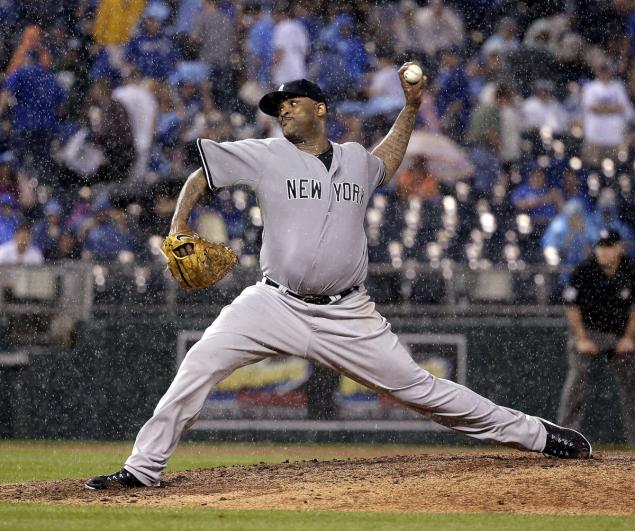 Royal crush
The Yankees' worst skid of the season continued with a 12-1 loss to the Royals on Friday night. Entering this series, they were the only AL team that hadn't given up at least nine runs in a game this season. It was the first time the Yankees opened their season with a streak of at least 36 straight games allowing eight-or-fewer runs in each game since 1981 (38 games).
Michael Pineda's first start since his 16-strikeout game on Mothers Day couldn't have been any more different than that historic one just a few days earlier.
He didn't strike out his first batter until he got Lorenzo Cain swinging in the fifth inning, and that was the only guy that got rung up by Pineda in the game. Seems improbable, right? Almost. The last pitcher to get only one strikeout (or zero) in a game after whiffing at least 16 batters in his previous start was Mark Langston in 1988.
Although he struggled to put away batters, Pineda didn't have any problems with his control, recording his fifth walk-free start of the season. Dating back to last September, Pineda hasn't walked more than one guy in each of his last 10 games, pitching more than five innings in each of those starts. The only other Yankee in the last 100 years to fashion a streak like that was David Wells, who had also had a 10-game stretch in 1998 where he gave up one or fewer walks and pitched more than five innings in each outing.
Throwback Saturday
How do you snap your longest losing streak of the season? This formula usually works: a vintage performance from your former ace pitcher and a couple longballs from the middle of the order.
CC Sabathia scattered six hits and allowed one run over seven innings, earning his second straight win after going winless in his first six starts of the season. This was the fourth time Sabathia has started a game with the Yankees on a losing streak of at least four games – and he is now 4-0 in those four starts.
Chase Headley hit a tie-breaking three-run homer in the fifth inning and Alex Rodriguez added a solo shot in the ninth inning to provide the power in the Yankees' 5-1 win. Three of Headley's five homers this season have either tied the game or given the Yankees the lead, and each of those three has come with two outs in the inning.
For A-Rod, it was his 10th homer of the season, and he joins Mark Teixeira as Yankees with double-digit homers in 2015. The only other seasons in the last 40 years when the Yankees had two players with at least 10 homers within the team's first 38 games were 2005 (A-Rod and Tino Martinez) and 2009 (Teixeira and Johnny Damon).
A first for everything
As bad as the Yankees offense has been recently, they still had not been shut out in 2015 until Sunday's 6-0 loss in the series finale. They were one of two MLB teams that had scored at least one run in every game this season, along with the Tigers and Blue Jays. It was the first time they had been blanked since September 15, 2014, snapping a streak of 51 straight games with scoring a run, which was the longest active streak among all major-league teams.
The loss was also the Yankees' first one on a Sunday this year. Entering the game they were the only team undefeated (5-0) on Sundays in the majors this season.
Chris Capuano's first start of the season was "not what you want," as he gave up four runs before he was pulled in the fourth inning. He's the first Yankee to allow at least four runs in three innings pitched or fewer in Kansas City since David Wells on August 11, 2003. Sunday (May 17) also happened to be the anniversary of Wells' perfect game against the Twins in 1998. So there's that, at least.