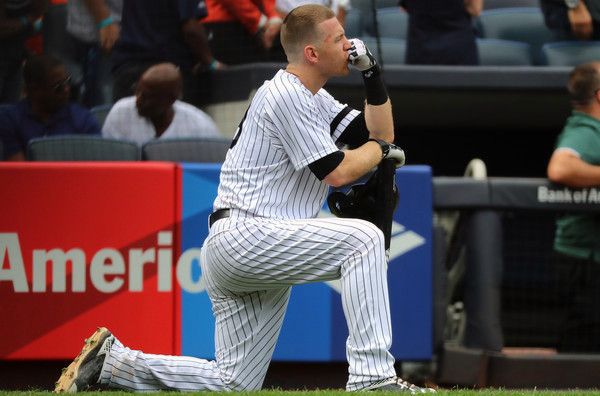 Today is the final off-day of the 2017 regular season. Pretty wild, huh? The Yankees have ten games remaining and, weirdly enough, only four of those ten are night games. Huh. One of those four is tomorrow, the opener of the final road series of the regular season. The Yankees are Toronto for three games this weekend. Anyway, I have some thoughts on stuff, so let's get to 'em.
1. Overall, the second wildcard spot is a wonderful thing for baseball. More teams get to the postseason, the Wild Card Games themselves are a ratings bonanza, and more teams are in the hunt each season. The second wildcard spot is a great thing for the game. Now, that said, wow are the Yankees getting hosed this season, assuming they don't overtake the Red Sox and win the AL East. The Astros, Indians, Red Sox, and Yankees have clearly established themselves as the four best teams in the AL. It's inarguable. The Yankees have a shot to win 90 games — they're on pace for 90.6 wins right now, and they play nothing but non-contenders from here on out — and their +186 run differential is second only to the Indians (+231) among the 30 teams. Look at this sorry excuse for a wildcard race: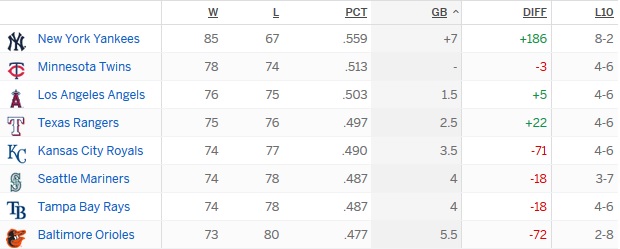 Good grief. The Yankees stick out like a sore thumb. It's a damn shame they're going to end up playing that winner-take-all Wild Card Game after such a wildly successful and fun season. But, the rules are the rules, and that's what you get when you lose four games when leading after eight innings and five others when leading after seven innings. Could be worse though. The 2015 Pirates won 98 games and had to face the sicko version of Jake Arrieta in the Wild Card Game.
2. Why are the Yankees are on pace to win 90.6 games with the second best run differential in baseball? Because they've obliterated the normal attrition rate associated with even top prospects. Aaron Judge might hit 50 home runs as a rookie. Gary Sanchez has 32 homers as a 24-year-old catcher despite missing a month. Luis Severino has performed like a legitimate ace. That's not supposed to happen! When you have three prospects like that coming up through the system, you hope to hit big on one and thank the baseball gods if you hit on two. Hit huge on all three so quickly? Come on. That doesn't happen. Young catchers usually need a few seasons to find their footing offensively. A 6-foot-7 hitter is supposed to need years to adjust to big league pitchers picking apart the holes in his swing before posting .400+ OBPs. Young starters who throw 100 mph for 100+ pitches aren't supposed to stay healthy. The Yankees hit the prospect jackpot. Judge, Sanchez, and Severino all became impact players very quickly. The veterans have helped get the Yankees where they are. No doubt. But they're all complementary players. The three homegrown All-Stars are the centerpieces of this soon-to-be officially postseason bound team.
3. Am I wrong in thinking the Yankees, if they manage to win the AL East or Wild Card Game, will be a very dangerous team in a short postseason series? I mean, any team can beat pretty much any other team in a short series in this game. That's baseball. But the Yankees would be going into a short series with a rotation top three of Severino, Sonny Gray, and Masahiro Tanaka in whatever order, a lineup loaded with power and hitters known for working long at-bats, and a bullpen deep in bat-missing power arms. Remember, the postseason is a much different animal than the regular season. The fifth starter disappears and the fourth starter get marginalized in the postseason. (Also, CC Sabathia might be the best fourth starter on any postseason team in either league. For real.) Middle relievers? Hah. They're used in emergencies and blowouts only. The high-leverage guys get all the work because there are so many built in off-days. The Yankees have shown they are a very good regular season team this year, and I think they have a chance to be a great postseason team. I love the way this roster is built for a short series. They look like a matchup nightmare for October.
4. That whole thing I just mentioned about the lineup being loaded with hitters known for long at-bats? The Yankees have really kicked it up a notch the last few weeks. It started with the Chris Sale game on ESPN, when the Yankees roughed him up for three homers in 4.1 innings. Some recent pitch counts against the Bombers:
Chris Sale: 109 pitches in 4.1 innings on September 3rd
Dylan Bundy: 98 innings in four innings on September 4th
Jeremy Hellickson: 64 pitches in 2.1 innings on September 5th
Kevin Gausman: 79 pitches in three innings on September 7th
Jake Odorizzi: 94 pitches in 3.2 innings on September 11th
Chris Archer: 92 pitches in four innings on September 13th
Jeremy Hellickson: 68 pitches in three innings on September 16th
Jose Berrios: 90 pitches in 3.1 innings on September 19th
That's 694 pitches in 27.2 innings, or 25.1 pitches per inning. Ridiculous. The Yankees have really gotten in the habit of wearing starters down lately, and even though everyone coming out of the bullpen seems to throw 97-99 mph these days, making the starter throw a ton of pitches is never a bad strategy. The more pitches he throws, the more likely he is to make a mistake. Judge and Brett Gardner obviously lead the way when it comes to working the count — they're two of the top 12 hitters in baseball in pitches per plate appearance — but adding Todd Frazier (Frazier is also top 12 in pitches per plate appearance) and getting both Greg Bird and Matt Holliday back from injury helps in that department as well. Heck, even Jacoby Ellsbury is running a career high 10.6% walk rate this season, including 14.6% in the second half. Didi Gregorius and Starlin Castro are still going to swing at everything. That's just who they are as hitters. Everyone else in the lineup is putting together long at-bats now. It's great to see. That had been missing the last few years.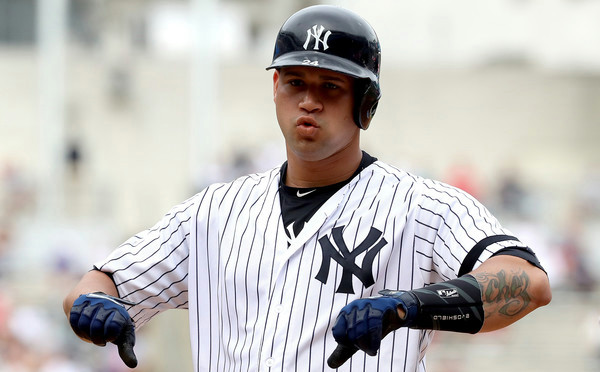 5. So we've seen the postseason lineup the last few days, right? Joe Girardi seems to have settled on this lineup during the recent 14-4 stretch:
LF Brett Gardner
RF Aaron Judge
C Gary Sanchez
SS Didi Gregorius
2B Starlin Castro
DH Matt Holliday or Chase Headley
CF Jacoby Ellsbury
3B Todd Frazier
1B Greg Bird
I suspect we'd see both Holliday and Headley in the lineup against a really tough left-hander in the playoffs, though generally speaking, that's been the lineup the last few days. And it's working. No reason to change it, right? Judge is most certainly not a typical second place hitter, but given his sky high OBP and ability to give the Yankees a quick first inning run with a homer — he did exactly that against Ervin Santana on Monday night — I like him in that spot. And Judge can run too. I love Sanchez. He's awesome. But Gary is slooow. Judge is a much better fit for the No. 2 spot now than Sanchez was earlier this year. Judge has stolen some bases and he's taken the extra base (first-to-third on a single, etc.) 46% of the time this year. The MLB average is 45%. That lineup works. When you've got Ellsbury hitting like he has in the seven spot and Frazier's .366 OBP hitting eighth, you're doing all right at doing all right.
6. The worst thing Sabathia could've done is make his dislike of bunts so public. I mean, it was no secret to us he hates bunts, but now the whole world knows it. He's been bunted on several times in his starts since making those comments following a game with the Red Sox earlier this month, and I can't imagine teams will stop bunting on him anytime soon. Heck, I'm surprised teams aren't bunting on him more. I imagine they won't be as kind come the postseason. It's something the Yankees and Sabathia will have to be ready for, because it's coming. Love CC. He's the man. But being so vocal about hating bunts probably wasn't the smartest move. He invited the entire league to bunt on him now.
7. Can the Yankees and every other team in the league please extend the netting at least to the end of the dugouts now? Pretty please? A little girl took a foul line drive to the face yesterday — Statcast says the ball left Frazier's bat at 105.2 mph — and as of yesterday evening, it was unclear whether she would need surgery, her father told Billy Witz. Go read Dan Martin's newser on the incident and look at the photos of this little girl being carried away by her grandfather with blood everywhere. It's awful. It's awful and it shouldn't be happening. It wasn't that long ago that MLB put up railings in front of the dugouts because the pros can't react quick enough to defend themselves from foul balls and flying bats. How can you expect fans to do the same? Warnings are useless. "Pay attention!" is not a real solution, as anyone who has ever gone somewhere with another human being would know. Extend the netting or someone is going to die. It's only a matter of time. Players are bigger and stronger than ever before, and the ball is flying faster than ever. Exit velocity is fun until it comes flying at you. The sight lines will be fine. Fans will still get their autographs and free baseballs. People will complain for like ten minutes and then they'll get over it, like everything else. The Yankees have said they are considering extending the netting for too long now. It's time to act. How the organization can justify putting protective netting over Monument Park during home games but not on top of the dugouts to protect fans is beyond me. If a kid taking a screamer to the face doesn't get the Yankees to act, nothing will.