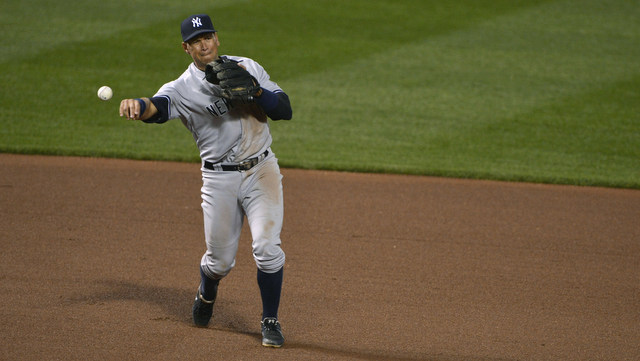 The start of the 2015 season has been less than ideal for the Yankees. They haven't excelled in any facet of the game — even the bullpen, which was really good to start the year, melted down spectacularly in the series finale against the Orioles — and they don't really have an identity. In the past they'd beat you with offense. Further back they'd beat you with pitching. This team … I dunno. They'll beat you if they catch some breaks?
The Rays are off to a fine start this season but they're very banged up. Three starting pitchers are on the DL (Alex Cobb, Alex Colome, Drew Smyly) as is the left side of the infield (James Loney, Nick Franklin) and their best reliever (Jake McGee). Tampa Bay has still been able to go 6-4 in their first ten games, including 5-1 in their last six games. The Yankees could use a run like that. Here is New York's starting lineup:
Evan Longoria, who left last night's game after taking a pitch to the hip, is in the lineup for the Rays, but at DH instead of his usual third base. Here is their starting lineup.
The temperature is in the upper-70s and it's really humid in St. Petersburg, but that doesn't matter. It'll be a climate controlled 72-ish degrees inside Tropicana Field. Tonight's game is scheduled to begin at 7:10pm ET and YES locally and, depending where you live, MLB Network nationally. Enjoy the game.
Injury Update: Brett Gardner (wrist) feels good enough to play today, but apparently Joe Girardi is giving him the proverbial "one extra day." Gardner took batting practice and expects to be in the lineup tomorrow.