Got 16 questions for you in the mailbag this week. 16! You're lucky I like you. The RABmailbag (at) gmail (dot) com email address is the best way to send us stuff.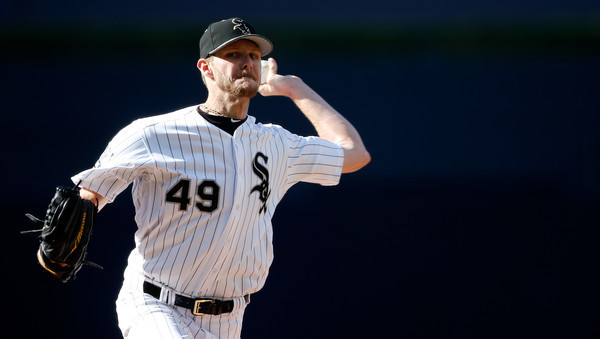 Brian asks: Currently, the Yankees can't offer the best package for Chris Sale. But if the Yankees immediately trade Chapman, Miller and Beltran for the best prospects they can get for them, and then flip some combination of those new prospects and their current prospects, do you think the Yankees could land Sale? Do you think the Yankees should do that?
Brian obviously sent this question in before the Aroldis Chapman trade, which has changed the farm system dynamic quite a bit. The White Sox are said to be seeking a package of five top prospects for Sale, which probably means they'll take four top prospects plus a fifth piece. I assume they left themselves some wiggle room to come down a bit from the initial ask.
The Yankees could make a substantial offer right now. For example: Jorge Mateo or Gleyber Torres, plus Luis Severino, Aaron Judge, Gary Sanchez, and a lesser fifth piece. That's quite an offer. An elite shortstop prospect, an MLB ready-ish starter, an MLB ready-ish outfielder, an MLB ready-ish catcher, and a fifth guy. I'm not saying the Yankees should do that, but they could put that on the table. The White Sox would have to think long and hard about that one.
As awesome as Sale is, I'm not sure it makes sense for the Yankees to do that. I'm not saying it's an unreasonable package, just to be clear. That's about what I think it'll take to get it done. It's just that, given where the Yankees are right now, they need as much young talent as possible. Sale is awesome. Top five starter in the game and he's signed cheap through 2019. The problem is that's a win now move and the Yankees aren't a win now team.
Justin asks: I keep hearing that Miller's trade value won't ever be higher… Other then one less season of control and also barring injury and performance decline, shouldn't he have similar value next season?? Relievers are always needed this time of year.
Similar value, but not the same value. These next few weeks are pretty valuable. They're the difference between getting Andrew Miller for three postseason runs rather than only two postseason runs. Should the Yankees hold on to Miller through the deadline — that's what I think will happen — he's still going to have sky high trade value in the offseason. Still more than Chapman did at the deadline. He'll just be slightly less valuable than he is right now. Getting that extra postseason run from a guy like Miller is huge. Elite relievers have more impact in the postseason than they do the regular season because the built-in off-days allow them to pitch pretty much every single game.
Anonymous asks: It seems like more and more people have recently been attacking didi up in the zone or even up out of it. Is this nothing, a problem he has always had or a new found weakness opponents are exploiting?
Hmmm, I hadn't noticed this. I remember last year when Greg Bird came up it was painfully obvious teams were attacking him with high fastballs. I haven't noticed that with Didi Gregorius. Let's look at Didi's numbers on pitches in the upper third of the strike zone and above (via Baseball Savant):
| | % Pitches | AVG | ISO | Exit Velo |
| --- | --- | --- | --- | --- |
| April | 32.7% | .238 | .143 | 88.3 |
| May | 34.1% | .148 | .000 | 84.9 |
| June | 27.9% | .250 | .200 | 89.6 |
| July | 29.9% | .333 | .095 | 84.6 |
| Didi's 2016 | 31.0% | .236 | .101 | 86.7 |
| MLB AVG | 30.7% | .227 | .145 | 86.4 |
Looks like this may be nothing. Gregorius has not seen more pitches up in the zone recently — if anything he's seen fewer, though I think that's just the normal month-to-month randomness that exists in baseball and not a sign teams are changing their approach against Didi — and his results are more or less league average. He doesn't hit for as much as power on high pitches, and that makes sense to me. Based on what I've seen the last year and a half, Gregorius definitely strikes me as a low ball hitter.
Kip asks: There has been a lot of talk previously on how great A-rod is as a coach for younger players. If the Yankees decide to sell does it make more sense to have A-rod being on your bench and helping the kids rather than cutting him and adding an additional shuttle arm or utility bench guy which doesn't really factor much when you aren't planning on being competitive this year?
Alex Rodriguez has long had a great reputation for helping young players and being a mentor. It's impossible to quantify that but I do think he has a real positive impact on the kids. Playing what with amounts to a 24-man roster stinks though. A-Rod doesn't play much and it's not like he can even play the field late in a blowout. The roster construction is so bad right now.
Rosters expand in a month, at which point the Yankees a) can more easily carry Alex, and b) figure to call up some prospects. Sanchez, Mason Williams, and Ben Gamel will be up at the very least. Maybe Judge too. I'd like to see A-Rod stick around to work with them, so yeah, I'd ride it out with the 24-man roster in August. If we were in April rather than August, then forget it. Give me the roster spot over the mentorship.
James asks: Do teams every include a conditional PTBNL when trading a rental player? Something like "if the team receiving Chapman is unable to resign him team gets x player from the Yankees"
I've never heard of that happening but I'm sure it has happened somewhere along the line. Players to be named later have to be named within six months, so if you trade a guy for one of those conditional PTBNLs at the deadline, that gives the team until January to re-sign him. But! Why wouldn't you just agree to re-sign him and not make it official until, say, February, to skirt the PTBNL agreement? I guess that could ruin working relationships.
Makaikai asks (short version): Is there a limit on how many perks teams can provide for their minor league players, such as better travel and lodgings and food?
Nope and this has long been considered a spot where a team could give themselves a possible competitive advantage. Spending a little more on things for minor leaguers such as a nutritionist or better travel or better equipment could help players develop better and improve morale. It could also help you lure minor league and international free agents, as well as tough to sign draft picks.
Why hasn't a team done this? Mostly because owners don't like to spend money. So few minor leaguers actually make it, remember. Shelling out extra cash for a nutritionist or a better bus for your Single-A team when only one or two guys on the roster will actually stick in the big leagues isn't enough of a reward, I guess. Also, the MLBPA doesn't care about minor leaguers, only their members (40-man roster players). They'd rather see the owner spend that $200,000 on a 40-man roster player than a new minor league bus. (I have no idea how much buses cost. Does $200,000 sound right?)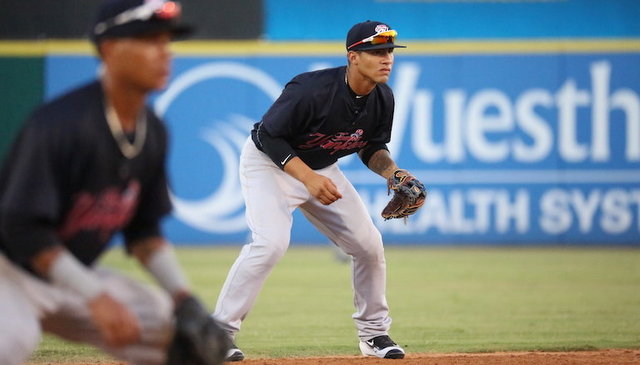 Craig asks: Ok, with Torres and McKinney, where do you think the Yankees' farm system ranks now?
The Yankees might have a top ten system right now. Back half of the top ten, but top ten. Somewhere around eighth or ninth or tenth. Maybe a touch lower. They've got five no doubt about it top 100 guys (Torres, Mateo, Judge, Sanchez, Blake Rutherford) and one other fringe top 100 guy (James Kaprielian), plus several big time risers (Miguel Andujar, Chance Adams). The 2014-15 international class is starting to arrive too. The Yankees have impact prospects at the top of the farm system and depth in the low minors. If that's not good enough to be a top ten system, I'm not sure what else it'll take.
Greg asks: With the addition of Torres at Tampa, are the Yankees creating a current logjam at SS/2B? Is there enough room at the various teams to find full-time spots for everyone?
It's definitely not ideal having so many players splitting time at shortstop and other positions, but at the end of the day, you take the talent and sort it out later. Torres has never played a position other than short in his career, and my guess is he's going to get a crash course at second base a la Mateo fairly soon. The kid just got traded and is still learning the staff and everything, so they're giving him some time to catch his breath right now.
This is more of a "problem" than a problem. In a perfect world everyone would play their natural position every day until they couldn't do it anymore. Shortstops tend to be great athletes, so moving them around to different positions isn't as big a deal. And of course, there's going to be some attrition. Players will have to share shortstop in the low minors, but they time to get to Double-A and Triple-A, there will be fewer bodies to compete with for playing time. Not everyone will make it.
Daniel asks: Do you think Hal/Levine pushed for Warren as a second piece to "stay competitive"? Could the Yankees have gotten stronger secondary pieces if they didn't insist on a major league reliever in the deal? Thanks!
That's what has been reported, that one of the reasons Hal Steinbrenner signed off on the trade was the inclusion of Adam Warren, who could step in to replace Chapman as a trusted reliever. It's silly, but it is what it is. And nah, I don't think they could have gotten better secondary pieces by not taking Warren. Warren's not a nobody. It's not like they were going to get Torres and Eloy Jimenez instead. That alternative probably would have been some other okay-ish prospect, maybe not even one as good as Billy McKinney. That trade went so much better than I ever could have imagined that I feel sorta silly wondering how it could have been even better.
Rick asks: I see the Yankees just promoted Oswaldo Cabrera to Pulaski from the GCL after just 7 games (.455/.471/.818). When can I start getting excited about this 17 year old?
Whenever you want! The Yankees signed Cabrera for only $100,000 last year, so it wasn't a high profile signing. The Yankees do have a good track record at find quality players on the cheap though. Both Severino and Mateo signed for under $300,000 back in the day, you know. Ben Badler (sub. req'd) gave a mini-scouting report on Cabrera in a chat a few weeks back:
He's a good player and a nice signing by the Yankees for $100,000 … Not super tooled-up guy, but he's a smart, instinctive player who's been a consistent performer against live pitching going back to last year with quick hands at the plate and good bat-to-ball skills. Definitely a sleeper to watch.
Oswaldo is supposedly the younger brother of Yankees farmhand Leobaldo Cabrera, though I'm not sure that's accurate. The internet tells me the hometowns listed on their MiLB.com pages are 430 miles apart. For now I'm in the information gathering phase. Cabrera's been tearing the cover off the ball for weeks now, and like I said, the Yankees have a great track record finding cheap talent internationally. And if Badler calls him a sleeper, I'm paying attention.
Brian asks: Now that we know that Prince Fielder is done for the year, do the Rangers match up at all for a trade for Beltran at DH?
Oh sure. The Rangers match up for pretty much any kind of trade. They have all sorts of talent to offer. I hadn't made the Carlos Beltran connection following the Fielder injury. That's a good fit. Fielder wasn't hitting at all (63 wRC+) so Beltran would be an enormous upgrade at DH.
Right now Texas seems content with rotating players in and out at the position, including Jurickson Profar and Joey Gallo. Shin-Soo Choo (back) is expected to return fairly soon too. Their priority has to be pitching at this point. The staff has been decimated. If they come asking for Beltran, the Yankees should be all ears even with this recent hot streak.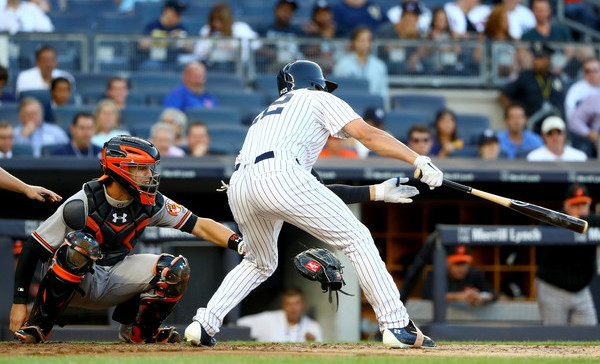 Nick asks: Assuming he didn't drastically improve down the stretch, I'm curious what Ellsbury would get on the open market as a free agent after this year. Headley type money?
Alex Gordon is roughly the same age as Jacoby Ellsbury and he signed for four years and $72M over the winter. That's coming off a season in which he hit .271/.377/.432 (122 wRC+) in 104 games around a groin injury. Ellsbury's hitting .267/.331/.372 (90 wRC+) this year, so yeah, I don't think Gordon money would happen. Chase Headley got four years and $52M. Maybe split the difference between Gordon and Headley and call it four years and $62M? That sounds about right. That's compared to the $84.4M Ellsbury will actually earn the next four years. Meh. The money itself doesn't bother me. It's all those years. Seven years for a 30-year-old speed guy!
Anonymous asks: So, yeah, Aaron Hicks. What happens next?
I'm guessing he's a goner come Monday. He's started the last six games and seven of the last eight, and I bet he starts at least two games this weekend, if not all three. This feels like a last gasp "you have to show us something now or we're getting rid of you" stretch. Based on the way he's talked about him the last few weeks, Joe Girardi has clearly run out of patience with Hicks. The Yankees have a bunch of Triple-A outfielders they could try in his place, so it's not like they're short on alternatives. Barring a huge weekend, I think Hicks gets traded somewhere by Monday's deadline, probably a rebuilding team like the Phillies or Athletics.
Casey asks: I am not entirely sure how the August trading and waivers works, but could you go through some of the Yankees that could work in an August trade. Like Mark Teixeira if he starts hitting? Chase Headley? Anybody else?
To make a trade in August, you have a put a player on trade waivers. If he gets claimed, you can pull him back, but you can only trade him to the claiming team. If he goes unclaimed, you can trade him anywhere. Every good player with a reasonable contract will get claimed. Andrew Miller? Insta-claimed. The Mets will claim Miller to block the Nationals from getting him, for example.
Guys like Teixeira and Ellsbury, who have massive contracts not at all in line with their production, will go unclaimed. If someone claims Ellsbury, I think the Yankees would let him go and stick the other team with the contract. Brett Gardner stands out as a possible August trade candidate. Maybe Starlin Castro? I think Beltran would get claimed in a block move, ditto any halfway useful arm. I wouldn't call August trades rare, but they are uncommon. I'd be against the Yankees doing something next month.
Brian asks: I've seen rumors that the Brewers are fielding calls on 31-year-old rookie Junior Guerra, who's having a good season for a bad Milwaukee team (6-2, 2.85 ERA, 1.09 WHIP). Good target for #TeamBuy? And do the Yankees and Brewers match up well for a trade?
That's an interesting one. Guerra is old even by late bloomer standards. A year ago he had a 3.39 ERA (3.11 FIP) as a swingman in Triple-A with the White Sox. This year he has a 2.85 ERA (3.80 FIP) as a starter with the Brewers. The one thing Guerra has going for him that makes me think he's not a total fluke is a nasty splitter. Check it out:
How do you value a guy like this? Guerra's a 31-year-old rookie who is suddenly pitching like a rock solid mid-rotation (or better!) starter. Yeah, he's got five years of team control left, but he's also approaching the age where you'd expect him to begin to naturally decline. Guerra had a bunch of injuries earlier in his career, and he's pitched basically non-stop since 2011.
Spring Training
to the minors to winter ball to Spring Training to the minors to winter ball to Spring Training … like that.
The Brewers are rebuilding so I'm sure they'll take prospects for Guerra — anything this guy gives them is gravy, why wouldn't they listen to offers? — and the Yankees have a lot of those. Finding a match won't be tough. The question is how do you value him. The Yankees plucked Vidal Nuno out of an independent league and traded him for a half-season of an established big leaguer, but Nuno was also 25, not 31. This is a tough one.
Chris asks: Has any player participating in the World Baseball Classic suffered a more career-altering injury than the wrist injury Teixeira suffered in 2013? Tex's 2012 wasn't up to his usual standards, but the wrist injury cost him pretty much all of 2013 and lingered through most of 2014 as well.
I will admit to not doing exhaustive WBC injury research, but I do remember ex-Yankee Luis Ayala blowing out his elbow and needing Tommy John surgery during the first WBC back in 2006. Here is the Washington Post's story on the injury:
Though doctors believe Ayala sustained the injury while making his six pitches to Team USA slugger Alex Rodriguez, he did have pre-existing elbow concerns. Ayala underwent surgery in October to remove a bone spur in his right elbow, and though he had been declared healthy by team doctors, the club twice petitioned Major League Baseball to prevent him from pitching in the tournament.
Of course it's A-Rod's fault. Anyway, Ayala had a 2.75 ERA (3.68 FIP) from 2003-05, then had a 3.19 ERA (4.37 FIP) with his new elbow ligament after coming back in 2007. He then slumped to a 5.01 ERA (4.49 FIP) from 2008-09, spent 2010 in the minors (6.42 ERA), then resurfaced with the Yankees in 2011. Ayala's still pitching, you know. He has a 3.12 ERA in 40.1 innings in the Mexican League this season.