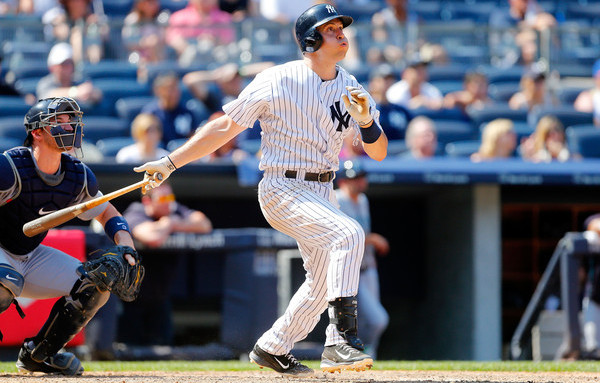 Prior to last night's win, the Yankees got some bad news about their 2015 MVP, or maybe I should say bad news that could have been a lot worse. Mark Teixeira, who left the team Monday and returned to New York to have tests on his shin, does not have any kind of fracture. His bone bruise, however, has not gotten better and he will be on crutches for at least a few days. Brian Cashman said it'll be at least two weeks until Teixeira returns.
"It just hasn't been healing in any way, shape or form, and they've ruled out any other complications. It's a timing mechanism and it's taking a hell of a lot longer than we would have expected," said Cashman to Wally Matthews. "The biggest concern was a stress fracture, but that's been ruled out. You would have expected to see some sort of improvement on the bone contusion healing process, and that has not happened. Now he'll probably be two weeks [before] we'll get him going."
Teixeira suffered the injury on a fluke play. All he did was foul a pitch into his shin, which is the kind of thing that happens countless times each season. This one just happened to catch Teixeira in the right spot — or wrong spot, I guess — and he's been out more than two weeks. The Yankees never did place him on the DL because they thought it would be a day-to-day issue. Obviously that has not been the case. (Rosters are expanded now, so there's no sense in placing him on the DL at this point.)
If nothing else, at least Tuesday's news gives us a bit of a reprieve from the daily updates and wondering whether today will be the day Teixeira returns to the lineup. He's at least two weeks away now. There is never a good time for an injury like this, but right now is an especially bad time given the AL East and wildcard races, and the fact the season ends in the month. There's a non-zero chance this bone bruise ends Teixeira's season.
Teixeira is the Yankees' most irreplaceable player because he's elite on both sides of the ball. Even with his early-August slump, he is still hitting .255/.357/.548 (145 wRC+) with 31 home runs overall, including a 155 wRC+ against righties and a 118 wRC+ against lefties. Teixeira's a switch-hitter who has an impact from both sides of the plate. He also plays a mean first base, and you never truly appreciate great first base defense until you don't get it. The only thing Teixeira doesn't do well is run. He's been great at everything else this year.
The Yankees don't have that guy anymore. Teixeira's two-way impact is gone. Greg Bird has gotten a chance to sink or swim at first base since Teixeira went gone down, and while playing the kids is exciting, Bird has been a substantial downgrade. He hasn't hit a whole lot (90 wRC+) and the drop off on defense is painfully obvious. I like Bird and have been especially impressed by his approach. He has a good chance to be the first baseman of the future. It's also okay to acknowledge he has been a detriment since being pressed into everyday duty.
So now, with Teixeira out, it's up the other veterans to pick up the slack. To me that means basically everyone in the lineup other than Bird and Didi Gregorius, though Didi has picked up the pace of late. Jacoby Ellsbury and Brett Gardner need to be gangbusters atop the lineup. Carlos Beltran and Brian McCann need to continue to produce and Chase Headley has to sustain his second half surgery. Alex Rodriguez? The longer his slump goes on the less likely it is the Yankees win the division. Pretty simple.
No one player makes a team, not even someone as good as Mike Trout, but Teixeira's injury is a significant blow to the Yankees. They rely on him heavily both defensively and offensively, in the middle of the lineup against both righties and lefties. Katie explained yesterday just how huge Teixeira has been in high-leverage spots this year. That clutch bat is gone now. Not having Teixeira is a major obstacle the Yankees will have to overcome these next few weeks to return to the postseason.