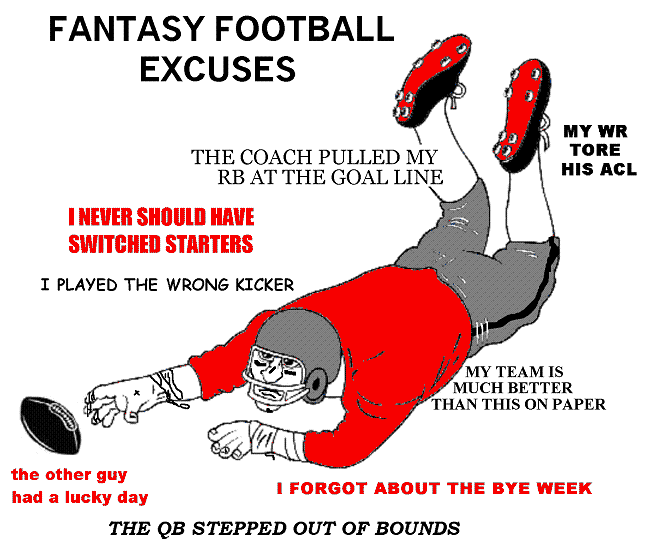 Back in August, a few of us casually brought up the idea of starting a fantasy football league, and an idea that went from "yeah, it sounds like it'll be a nice hobby" exploded into a massive 20-team league with more than enough trash talk to go around.
Having this many teams means that resources are scarce. Free agency and the waiver wire are basically barren, backup QB's are at a premium, and third string RB's are often trade targets. My original roster has undergone quite a facelift, although it hasn't helped much.
Gone are Rashard Mendenhall (injury), Kevin Faulk, Dennis Northcutt & Joe Jurevicius, replaced by John Carlson, Bobby Wade, Justin McCareins & Harry Douglas. That's how scarce decent players are. Vince Young's meltdown has forced me to start Chad Pennington, and Todd Heap's suckiness threw Carlson into a key role. San Diego's defense is sorely missing Mr. Merriman, as is my team. Michael Pittman's been a Godsend, covering for Ryan Grant, who's allergic to the endzone.
My top two players are Brandon Jacobs & Calvin Johnson, scoring 72.10 & 65.20 points, respectively. The second tier includes Pennington, Pittman, Kevin Walter & Antwaan Randle El, all of whom are in the 53-60 point range. I own exactly one of the top 52 point getters in the league, and just four of the top 65. It's shaping up to be a long season, unless VY starts performing like he's playing USC every week.
Standings after the jump. If any of the other teams want to chime in, leave your two cents in the comments (if I missed a link to someone's site, let me know).