The descent to mediocrity continues. The Yankees lost their fifth straight game and for the ninth time in their last ten games on Saturday afternoon, falling 15-4 to the Rangers. Texas straight up mopped the floor with them. The game was the exact opposite of competitive.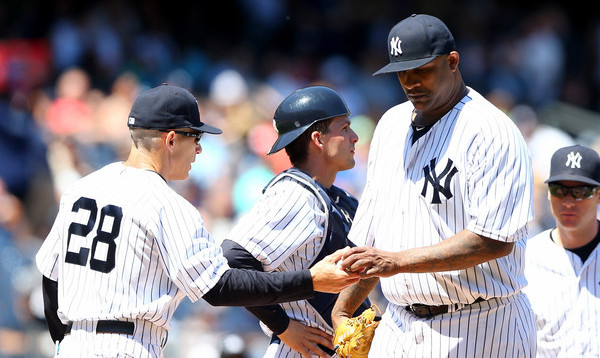 Deja Boo
Prior to Saturday's game, Joe Girardi told reporters "we need to clean it up," referring to the team's sloppy defense. So, naturally, two (more) defensive miscues contributed to the Rangers' ten-run rally (!) in the third inning. It all started with a leadoff walk to number nine hitter Jake Smolinski, which is another problem entirely, and it continued with yet another Didi Gregorius bad decision.
Didi made a nice play ranging to his left to field Delino DeShields' grounder, tried to flip it behind his back to Stephen Drew at second, but threw it away. There was no shot at a double play, DeShields is way too fast, but Gregorius appeared to have enough time to make a non-fancy flip to second to get the lead runner. But nope, another extra out gifted by the defense, which was supposedly a strength coming into the season.
The next batter, Shin-Soo Choo, lined a run-scoring single to center. Prince Fielder followed that with one-run single to right that turned into a two-run single when Carlos Beltran whiffed on the scoop, allowing the ball to get by him and go all the way to the warning track. Beltran didn't give the Rangers an extra out there — he wasn't throwing the runner out at home — but he did allow the extra run to score and Prince to advance to second. Yankees are giving up those extra 90 feet like crazy this season.
The rest of the inning is on Sabathia. I mean, most of it is on Sabathia anyway. After Fielder's single, he allowed a single to Adrian Beltre, got Mitch Moreland to pop-out to first, and gave up a two-run single to Elvis Andrus to make it 5-0 Rangers. That ended Sabathia's afternoon. Esmil Rogers came in and allowed Andrus to score, then tacked on four runs of his own, three on Choo's opposite field home run that snuck just inside the foul pole. That made it 10-0. 10-0!
The total damage: ten runs on eight hits, two walks, a hit batsman, and a sac fly in the inning. Every run was earned. Sabathia was charged with six runs on seven hits and a walk in 2.1 innings and Rogers with four runs in 0.2 innings. Esmil hung around for another two innings and change after that. The defense didn't help, but Sabathia walked the number nine hitter to start the rally and allowed four hits in the inning, including two in two-strike outs. Somehow the Yankees managed to top Friday's seven-run third inning disaster. Impressive, really.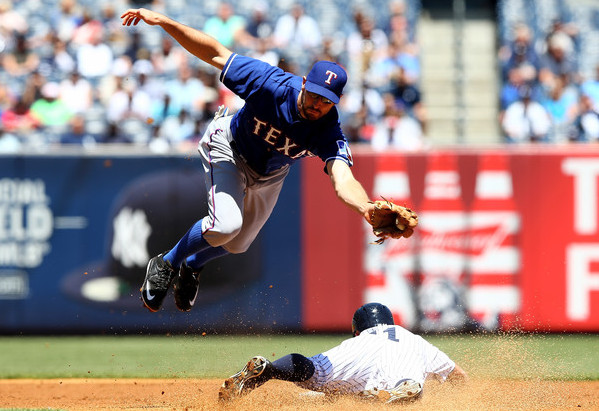 Ten-Run Deficit? Pack It In
The Yankees allowed ten runs before they recorded their first hit, an Alex Rodriguez infield single leading off the fourth. He hit it into the 5.5-hole and Andrus made a nice play to his right before throwing it in the stands. A-Rod was awarded the single (he was going to safe anyway) and Andrus was given an error, allowing Rodriguez to advance to second. It was a moral victory.
The thoroughly generic Nick Martinez retired nine of the first eleven men he faced — he walked Brett Gardner and A-Rod in the first but escaped unscathed — before Alex's single and then retired 12 of 17 batters faced after the single. The Yankees didn't have a hit to the outfield until Beltran's solo homer in the sixth. After they fell behind 10-0, the Yankees sent 30 batters to the plate and 18 swung at the first or second pitch. Seventeen of those 30 at-bats were over in three pitches or less. The offense was firmly in "let's get this over with" mode at that point. Can't say I blame them.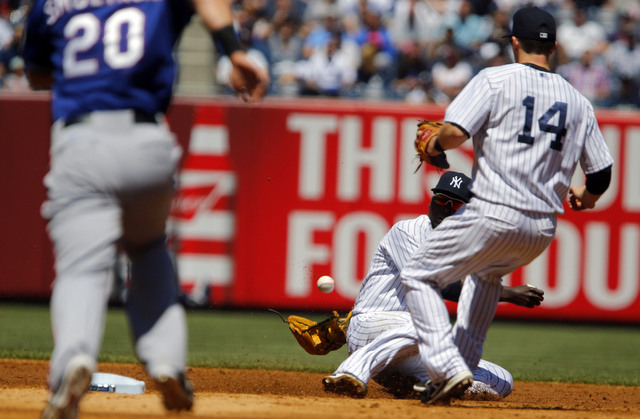 Leftovers
Part of me thinks this game was the end of the Rogers era and part of me thinks nah. Girardi left him out there to throw 59 pitches in the blowout and his results have not been good lately (seven runs in three innings Saturday). Rogers allowed four runs in his first 16.1 innings, but he's since allowed 14 runs in his last 12.2 innings. At the same time, Esmil isn't deciding games, he's just mopping them up, and having a veteran long man who can be run into the ground in games like this is useful. I dunno. We'll see.
Branden Pinder replaced Rogers in the sixth, allowed two inherited runners to score, allowed two more runs in the seventh, then soaked up four more outs. He threw 48 pitches total. I'm gonna go out on a limb and say he will be going back to Triple-A Scranton tomorrow in favor of another generic white guy a fresh arm. Bryan Mitchell is scheduled to start for the RailRiders tonight, so if he gets scratched at some point in the next few hours, that likely means he's on his way to the Bronx. Obvious call-up candidate. Scratch that, it hasn't been ten days since he was last sent down, so Mitchell can't be called up.
Just about all the offense came after the game was out of reach. Beltran and Gregorius hit garbage time solo homers in the sixth and seventh innings, respectively, while John Ryan Murphy hit a run-scoring triple in the ninth. Slade Heathcott picked up his first career RBI driving in SKJRM with a ground out. Gregorius, A-Rod, Garrett Jones, and Heathcott singled as well. That was Didi's second homer of the season and second in as many games.
And finally, Garrett Jones pitched! He walked DeShields, got Choo to ground out, plunked pinch-hitter Leonys Martin, and got Tommy Field to fly out to center. Jones was the first position player to pitch for the Yankees since Dean Anna last year.
Box Score, WPA Graph & Standings
Here are the box score and video highlights, as well as the updated standings. We have Bullpen Workload and Announcer Standings pages available as well. Here's the win (lol) probability graph:

Source: FanGraphs
Up Next
The Yankees and Rangers wrap up this three-game series on Sunday night, in yet another ESPN game. That'll be the team's fourth ESPN Sunday Night Game in seven weeks this season. Thankfully they don't play another until at least August, though I supposed they could always be flexed into that spot. We'll see. Anyway, Chris Capuano and Yovani Gallardo will be the pitching matchup.