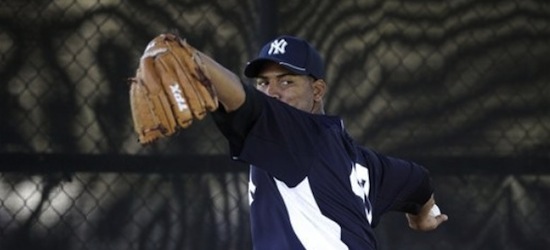 The obvious pro of Spring Training is that baseball is back! Horray! Baseball players! They are truly wonderful and amazing creatures, capable of feats none of us could ever accomplish. I once attempted to play second base in the local rec softball league, constantly mentally telling myself to just do it exactly like Robinson Cano does. As you can imagine, this did not work out, and not only did I make a total idiot of myself, but a ground ball took a funny bounce, destroyed my shin, and had me limping for the rest of the day. After that, I decided to stick to writing about and watching baseball.
Anyway, even in Spring Training, most of the players could probably whoop us, even the veteran double-A guys who don't know what else to do with themselves. They're rusty, especially the big-timers like Sabathia. And I think getting on them for having a first poor Spring Training outing is, quite frankly, a little stupid.
First of all, the whole point of Spring Training is to get back into the groove. Baseball's all timing, and when someone hasn't thrown a ~90 MPH ball of cork at you in months, it can take some time to get used to that again. Likewise, if you haven't thrown that ball in a while – not at full speed, facing a live batter, of course – it takes time to put all the parts back together. Throwing a baseball is a complex biomechanical action, and I'm not holding it against anyone who takes a few weeks to get back into the swing of things, consider the minuscule percentage of people who can even figure out what the correct swing of things is.
Secondly, one outing in any event should be treated as too small a sample to judge, and an outing of two innings should be a mere blip on the radar. If it doesn't count, that seems like it should be even more insignificant on the 'things Yankees fans should worry about from the team' checklist. Even if Sabathia had gone out and bombed two innings in a regular season game, there's simply not enough to worry about.
So, can we stop getting on Nova, Sabathia and Cano for not being able to put it together just yet? They've been playing baseball for a week. It doesn't count. They're obviously (ok, according to Girardi, not Nova) going to be in the lineup/rotation. It's not like we're dealing with scrubs who, if they don't perform in the spring, aren't going to be on the team. These guys are using Spring Training to experiment, re-adjust and recalibrate themselves to being utterly awesome. A little turbulence should be expected, in my humble opinion. So chill out.
On the flip side of this, if you do make it your goal in life to be stressed out about five Spring Training innings from your fourth place Cy Young finisher from last year, I have a better place for you to put those feelings. This feeling-adjustment fulfills all the necessary requirements of irrational Spring Training rage: A) The players in question are playing way differently than they're expected. B) The samples sizes are extremely small. C) We know if they're going to the Yankees or not.
1. Gus Molina (3-for-3)
Here we have a catcher with some potential, making very good contact and getting on base. Quite frankly, I don't even know why we bother with Russell Martin behind the plate. It's obvious Martin has all the power (he's 2-for-8 with a double and 3 strikeouts) and none of the other skills. He might work out better at first base, because while him and Mark Teixeira have similar numbers, Martin has all the power.
2. Jose Gil (2-for-3)
On second thought, let's just release Mark Texieira and put Gil at first base. He's raking in spring training, with two doubles, an RBI, and a walk. That's the making of a potential MVP right there, I think. Especially considering that he probably won't bunt as much as Teixeira has been talking about doing. No bunting allowed. Ever.
3. Dan Burawa (0.00 ERA)
Really, those shiny zeroes say it all. Here we have a genuine ace who's going to toil away at some minor league level where no one can appreciate his genius. Obviously, what the Yankees should do is demote Nova and put Burawa in his pace. While the man has given up three hits, he's also got a strikeout and generates plenty of groundballs to make a successful job in the majors. Anyone who has a 0.00 ERA is pretty good. Exhibit A: Nick Swisher.