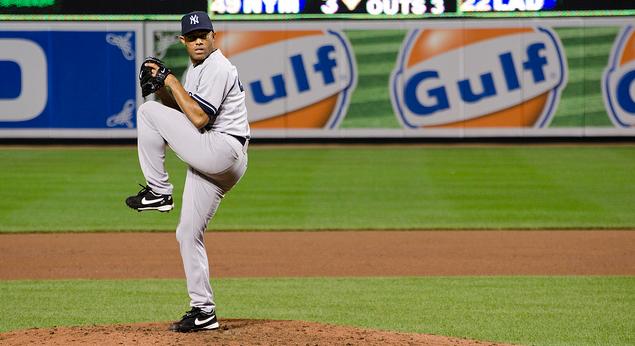 I know, it's early. But considering the internet is buzzing with excitement over Jamey Carroll, let's talk about the Bombers.
One of the strengths of the 2011 Yankees was the bullpen. Even though the team signed a big-name, big-money arm to help in the later innings, the 'pen in March was quite different from the way it ended up being in September and/or August. Baseball nerds talk a lot about the volatility of relievers, but it seemed that New York was extremely capable of figuring out how to put the pieces together in just the right way. The ERA of the bullpen in 2011 was 3.12, good for fourth in baseball, and topped by only hitting-depleted National League teams (Atlanta, San Diego, and San Francisco). They held opponents to a .239/.319/.358 with a 2.32 K/BB ratio. Last year's bullpen craziness only prove the futility of predicting baseball, but I am going to do it anyway.
Helping me on this is knowing Girardi loves a good bullpen role. I can't hold it against the guy: it makes for a great excuse when something goes wrong and eliminates most of the questions be asked about bringing in Robertson into a high-leverage situation in the fourth inning. Let's say Girardi goes with a six-man bullpen broken up as follows: Closer, eighth inning guy (EIG), seventh inning guy (SIG), one LOOGY, a fireman, and a mop-up man/long reliever/spot starter.
I don't think we need to discuss who comes in for the ninth inning, but it's fun to talk about, so there's this: Rivera continued to make time and opposing batters his bitches, putting up his usual ERA under two (1.91) for the fourth year in a row with a WHIP under one (third year in a row). He walked 8 unintentionally in 61 IP while striking out 60 with a FIP of 2.19. In the meantime, he broke the all-time saves record, cured the sick and opened the eyes of the blind. Just your usual year for the ERA+ leader min. 1000 IP.
It's in the eighth inning that we begin to see a logjam. Even if we only talk about who will be on the 25-man to begin with, there's still a conflict between Rafael Soriano and David Robertson. Soriano is being paid the money of a closer ($11M in 2012) but he's stuck as eighth inning guy for obvious reasons. Despite that, he put up his weakest year since 2002 with Seattle and was on the 60-day DL with shoulder soreness to boot. His career numbers are still great, even with his awful 2011, and he's certainly capable of EIG duties.
Our other alternative is David Robertson. The man faces arbitration this offseason for the first time, but he'll still be making relative peanuts ($1M-1.3M) to an organization like NYY. For every depressing note in Soriano's year, there's an amazing one for Robertson: His ERA+ for the season was 410, he struck out 100 in 66.2 IP, he gave up 8 ER all season, and he managed a k/9 of over 13. In 19 bases-loaded PA, he allowed one hit. In 127 high leverage PAs, he held hitters to a .129/.236/.171 slash line. He wears amazing high socks too.
If the bullpen is a year-to-year meritocracy, then Robertson obviously wins the EIG spot, of which he occupied for most of 2011 after Joba and Soriano went down. He was clearly the better of the two, despite his lack of closer experience, younger age and super cheap price tag. That being said, my gut feeling is that Soriano will probably start the year as the EIG simply because that is what he was signed to be. Robertson's best role is probably high-leverage fireman, so it's probably better for both of them if the eighth becomes Soriano's.
If Soriano becomes EIG and Robertson takes the fireman spot, then that leaves Cory Wade (team control and not up for arbitration untll 2012-13 offseason) or Phil Hughes (if he doesn't make the rotation) to man the seventh inning.
Having both a fireman and a seventh inning guy in a six-man bullpen means you're probably going to only have one lefty, and everyone knows it's gonna be Boone Logan. Despite generally being not that great – at times he was actually better against righties than lefties even though he's considered a LOOGY – number 58 seems to show up at random times for match-ups. This is the reason he'll show up in 2012: the lefty reliever free agent list. This is it: Darren Oliver, George Sherrill, Mike Gonzalez, J.C. Romero, Horacio Ramirez, Trevor Miller, John Grabow, Arthur Rhodes, and Damaso Marte. Thrilling, I know. Not only that, but the Yankees are a little empty in the farm for lefty relievers. Unless they're making Banuelos a LOOGY (which would make me tear my ponytail out), the only vaguely prospect-ish possibility is Steve Garrison, who we saw briefly in pinstripes, or maybe even Shaeffer Hall. Though only having one lefty is risky, it gives Girardi the flexibility to have a fireman with his eighth and seventh inning guys, allowing Robertson to slot into his true role and letting the binder have a man for every inning.
The last spot left to be assigned in our hypothetical bullpen is the longman/mop-up guy. Last year, Hector Noesi was here, though it seems like there's a definite possibility he will be in the rotation come 2012. AJ Burnett is a possibility, but given Cashman's repeated statements that the man will be in the rotation, it's unlikely. If Noesi does make the rotation, he might be taking Phil Hughes' job, but I don't the Yankees organization has given up on Hughes so much that they make him the mop-up guy.
The problem with being the mop-up guy is that the work is generally inconsistent and not good for a prospect. This is why Noesi occupied the spot rather than anyone else. Due to this, it's hard to say exactly who could end up here. If Cashman wants to build from within (probably safer, given the inflated reliever market), he could pick out any of the AAA guys like Whelan, Kontos, or DJ Mitchell. There's also the infinitely useful minor league deal to one of the hundreds of minor league free agents. Mitchell threw 161 IP of 3.18 ERA ball in Scranton, so he gets the spot for now.
Here are some possible combinations.
Hughes makes the rotation and Noesi doesn't.
Closer: Rivera
EIG: Soriano
SIG: Wade
Fireman: Robertson
LOOGY: Logan
Mop-up: Noesi
Neither Hughes nor Noesi make the rotation.
Rivera
Soriano
Hughes
Robertson
Logan
Noesi
Hughes doesn't make the rotation but Noesi does.
Rivera
Soriano
Hughes
Robertson
Logan
Mitchell
Both Hughes and Noesi make the rotation.
Rivera
Soriano
Wade
Robertson
Logan
Mitchell
As I said earlier, the thing abut bullpens is that they're extremely chaotic. We know that Joba will be coming back soon, though we don't know when, and we don't whose job he's taking. Alternately, Soriano could get injured, giving Joba his spot. Or, anyone else could get injured. That's what relievers do. They get hurt and are randomly unpredictable. Besides Mo. Mo will be the best and unhurt forever and ever.