It hurts to get swept. It hurts even more when it happens at your home. The Yankees have lost seven out of their last nine and are 5-9 for season. On the bright side, Luis Severino pitched a pretty nice game and the offense delivered three hits in RISP situations (3-for-11, which certainly is better than 2-for-49). But in the end, on the night that Prince passed away, the Yankees partied like it's the early-90's: getting swept by the Oakland Athletics.
Back and Forth
The Yankees had a dance with RISP situations in the second. Rich Hill walked Mark Teixeira and A-Rod to begin the frame. Chase Headley followed it up by hitting into your usual 1-4-3 fielder's choice out to put the runners second and third. Aaron Hicks snapped his 0-for-17 skid and poured some relief in the Yankee RISP drought with a bloop single to drive Tex in for a 1-0 lead. Well, Yankees had two more chances with RISP that inning and they failed to bring another one in (Austin Romine and Ronald Torreyes both K'd). Busts!
Severino got into a bit of a trouble in the fourth. He allowed a back foot slider double to Josh Reddick to start the inning. Jed Lowrie hit a low changeup into right for an RBI single, tying the game at one apiece. Stephen Vogt added more pressure with another single but Severino cleaned it up with a Chris Coghlan fly out and striking out both Khris Davis and Coco Crisp. Not too much harm done.
In the bottom of fourth with one out, A-Rod walked. As he attempted to steal second, Hill tried to pick him off at first but he badly overthrew the 1B Mark Canha, advancing A-Rod to third. The Yankees got another run in with Romine's two-out swinging bunt single that was just placed niftily. Another RISP hit! 2-1. Unfortunately, that would be the last lead that New York had for the rest of the game.
The A's tied it right back in the top of fifth. With two outs, and on a 2-2 count, Severino hung a slider up the zone that Canha reached and sent it to the right field seats for a home run. 2-2.
Severino, who had a 5.91 ERA coming into tonight, had an outing much more like himself. He pitched six innings of two-run ball while striking out four. He now has a 4.86 ERA with 3.47 FIP. I expect that ERA to keep climbing down in next few outings. Like Nathan Eovaldi last night, I feel like he pitched himself to an outing deserving of a win. However, baseball is harder than that – it certainly isn't easy when you have the Yankee offense hitting like how they have for past week or so.
The Downward Spiral
Chasen Shreve, who had been great in the young season, came in the seventh to relieve Severino. In the first two pitches, he gave up two solo homers. Khris Davis and Coco Crisp both jumped on first pitches to give Oakland a 4-2 lead. Not ideal. It also seemed quite hard to ask Yankee offense to score two.
In the next frame though, Brett Gardner led off with a walk. Brian McCann followed it up with a strikeout and Didi Gregorius flied out to make it two quick outs. Jacob Ellsbury singled to give a breathe of hope to rally and Starlin Castro followed up with an RBI single to bring it within one, 4-3. Hope!
The A's weren't done though. In the top of eighth, with Johnny Barbato on the mound, Chris Coghlan hit a two out, two-run homer to make it a three-run lead, 6-3 A's. Oakland added another run in the top ninth off Kirby Yates with a Canha sac fly, 7-3. If the game wasn't out of reach already, well, they had done it there.
Leftovers
Ellsbury has not had the best defensive display this season but he saved a run in the first inning. With speedy Billy Burns on the first, Canha hit a liner that appeared to be a gap double. Ellsbury ran a good route and dove all-out to make a highlight reel catch. He also had a good night at the plate; going 3-for-5, raising his average to .255.
Hicks showed off his cannon arm again. In the top of sixth, Jed Lowrie hit a single to left and tried to stretch it to double. Hicks threw another laser to second that got Lowrie out pretty, pretty easily. It was really not close at all.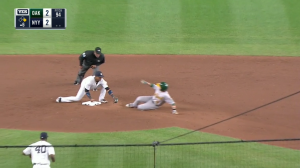 The Yankees had three relievers in the game and each of them allowed at least a run – Shreve and Barbato each allowed two and Yates, one. Sure, they are no Dellin Betances or Andrew Miller but… just not the team's night at all. But hey, at least they didn't face the same fate as the Cincinnati Reds.
Box Score, WPA, Highlights and Standings
Here's box score, updated standings, video highlights and WPA.

Source: FanGraphs
---
The Yankees welcome Tampa Bay Rays for a three-game series for this weekend. The big man CC Sabathia is going to look to turn it around for the Yankees while the Rays will send out Matt Moore.