Well, the Yankees came close to two big feats tonight: the 10,000th franchise victory and a postseason berth. I do think both will happen soon but it would have been nice to get those out of the way tonight, especially against the Red Sox in a game that should have been won. New York missed multiple chances late in the game and allowed one to slip away on a cold night in Bronx. You know what they say, the 10,000th win is the hardest.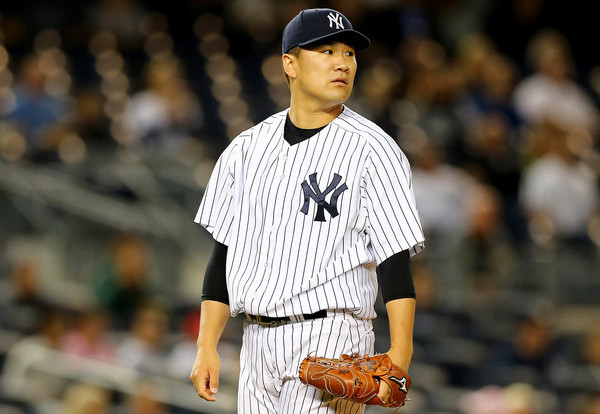 Masahiro, not a hero tonight
Masahiro Tanaka had a good beginning for the first two hitters – a strikeout of Mookie Betts and pop out of Dustin Pedroia. However, he allowed a single to Xander Bogaerts and walked David Ortiz to put two on with Travis Shaw on plate. Shaw, as you may know, has become somewhat of an unprecedented slugger in ML. His numbers in the bigs have completely surpassed the minor league ones. The Boston first baseman took a 89-mph fastball down in the zone out of the park to give his team a 3-0 lead. That went from 0 to 100 real quick.
Tanaka had an easy one-two-three second inning. In the third, however, he allowed a ground-rule double to Pedroia to start the rally. Two batters later, Ortiz drove him in with an RBI single to give Sox a 4-1 lead. Well, that's about all the damage Tanaka allowed. He had two more one-two-three innings for a mixed bag of an outing — five innings, four runs, five hits, one walk and three strikeouts. He labored and breezed at different times. Hopefully he's getting some rust off before his next start, which, possibly could be, the AL Wildcard game.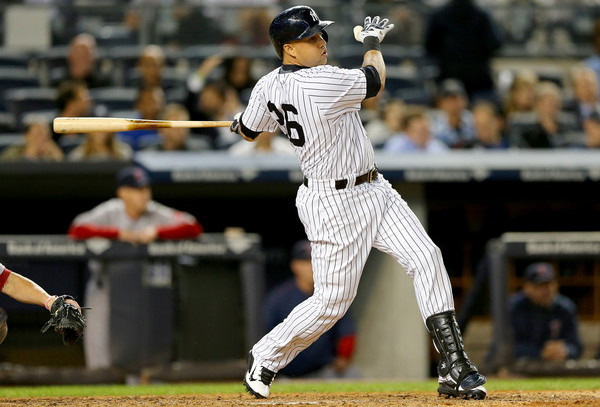 Miley, what's good?
Wade Miley had a pretty rough start to the season but he's progressed for better. Prior to tonight's game, he had a 4.39 ERA/3.80 FIP in 188.2 IP, good for a 2.5 fWAR. Not bad. The Yankee bats didn't really leave him alone though. In the bottom of second, trailing 3-0, Chris Young singled and Greg Bird walked to put two runners on with two outs. Rob Refsnyder, in the lineup as a righty bat platoon for second base, hit an outside fastball to opposite field for a ground-rule double. That was not a good break for the Yanks – had the ball stayed in the park, they would have scored two. Nonetheless, the Yankees deficit cut down to 3-1.
Fast forward to bottom of fifth (4-1 Red Sox by then), when Yankees put together a bigger rally. Jacoby Ellsbury led off with a double and advanced to third on a wild pitch. With one out, A-Rod worked a walk and Carlos Beltran drilled a ground-rule double to trim the deficit to 4-2. With one out and runners on second and third, Brian McCann hit an RBI groundout and Chris Young hit an infield single to drive in another – a 4-4 tie game. Unfortunately for New York, the team would not be as successful with runners on later in the game.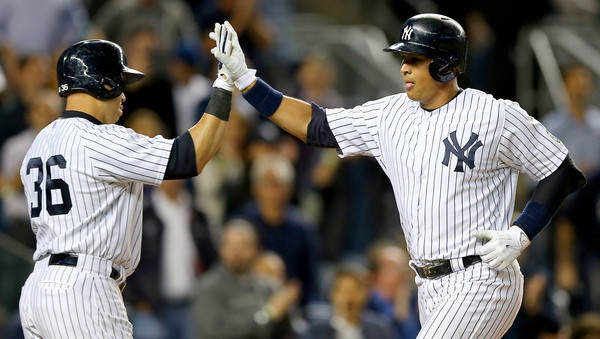 Getting the lead and spitting it back
Former UConn product Matt Barnes came in for Boston in the sixth to relieve Wade Miley. With two outs, A-Rod took his 95-mph fastball and turned it into a go-ahead home run. That was his first home run since September 15 against the Rays. Also since that game, up to tonight, he had only been hitting .147/.268/.206, which is not great. Hopefully his bat will start to get hot heading into the postseason and beyond. Oh, and Yankees took their first lead of the game, 5-4.
In the bottom of seventh, however, after Justin Wilson got the two first outs, Joe Girardi replaced him with Dellin Betances because why not? That's how things had been going. However, Dellin allowed a booming, game-tying solo homer to Mookie Betts on a 96-mph fastball right down the middle. 5-5. According to Ian Browne of MLB.com, that was 96 mph in, 105 mph out. Whoosh.
Missed opportunities
Against Heath Hembree in the seventh, McCann worked a walk and was immediately lifted for Rico Noel because, running. Noel stole second and advanced to third on a long Brett Gardner fly out. Noel did make a big turn at third for maybe a chance to get to home but he didn't bite. Boy, he's fast. In the postseason, where late-inning runs can be very, very precious, I'd love to see some Noel pinch-running heroics. Torey Lovullo switched Hembree to lefty Tommy Layne and Yankees countered the move by pinch-hitting for Bird with John Ryan Murphy.
After a 3-2 count battle, Layne got Murphy fishing with a 84 mph slider diving in. Red Sox opted to intentionally walk righty-hitting Refsnyder and face lefty-hitting Didi Gregorius. And, well, Boston's strategy worked. Didi flew out to strand two runners and kept the score tied at 5-5.
The Yankees' futile offensive attempts continued into the eighth. Ellsbury walked to lead off but got picked off by Layne. Not ideal. Chase Headley did get on base via walk and A-Rod also walked. All of sudden, here was another good scoring chance for the Yanks. Lovullo brought in the Red Sox closer Jean Machi against Carlos Beltran, who grounded into force out to make it two outs and runners on corners. With it being Brendan Ryan's turn to hit, Girardi put Dustin Ackley to pinch-hit and … he walked. Yankees had four base-runners reach in that frame by then and none of them were via hits and they did not get any run — Brett Gardner grounded out weakly to leave the bases loaded. That's 13 runners left on base.
Andrew Miller pitched a scoreless ninth to keep it 5-5. Bottom of ninth, Red Sox put Alexi Ogando to pitch and Murphy led off the frame with a single. However, Refsnyder struck out (after multiple missed bunt attempts), Didi popped out and Ellsbury flew out to waste it. In the tenth, Beltran walked with two outs to put another base-runner on (would also be lifted for pinch-runner Heathcott) but Dustin Ackley flied out to deep left to strand another Yankee base-runner. Yep, in case you haven't noticed, it's that kind of night.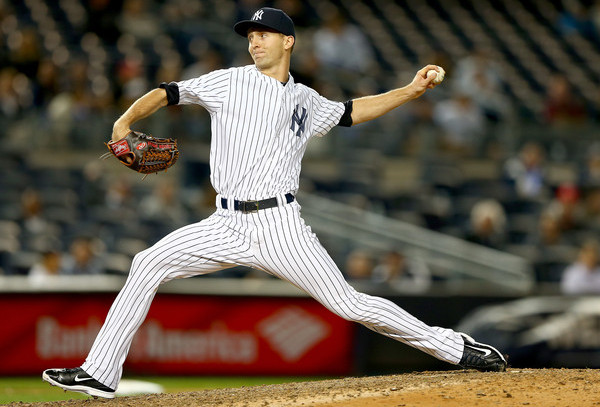 Falling apart
Andrew Miller tossed two scoreless so Yankees turned to the next option to keep the game tied in the 11th inning, so they went with Andrew Bailey, the former All-Star. Travis Shaw reached on an infield single but All-Star Brock Holt bunt popped-out for the first out. Bailey battled Swihart to the 3-2 count and allowed a single to put runners in the corner with only one out. The next hitter, Deven Marrero, hit the first pitch just out of reach of Didi and Refsnyder to give Red Sox a 6-5 lead. It was far from over — Girardi brought in Chasen Shreve, whose charm seemed to have ran out lately. With runners on corner, Jackie Bradley Jr. pulled a suicide squeeze to drive another one for a two-run lead. And Mookie Betts connected for his second homer of the game to put the nail in the coffin, 9-5 Red Sox.
Robbie Ross Jr. came into pitch in the bottom of the frame to close it out for the Sox. Gardner led off with a single to keep the hopes alive but Murphy lined out and Refsnyder GIDP'd to end the game. Yankees are stalled out at 9,999 wins for another day.
Box Score, WPA Graph & Standings
Here are the box score, video highlights, and updated standings.

Source: FanGraphs
Up Next
The Yankees and Red Sox wrap up this series Thursday night. CC Sabathia and Rich Hill will be the pitching matchup.