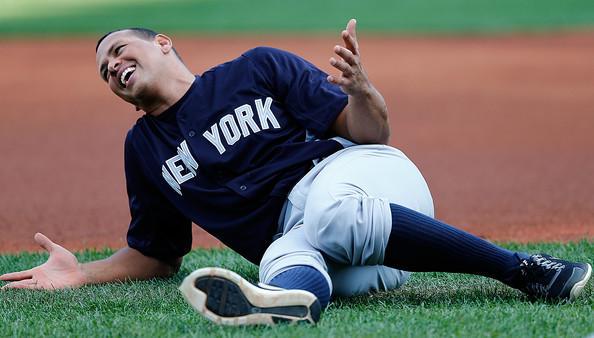 The Yankees had some ups and downs in this game but in the end, they prevailed. CC Sabathia, before unraveling in the seventh, showed more reasons why he should stay in the rotation, Greg Bird had his first RBI and multi-hit game and, of course, A-Rod's grand slam was a heck of a way for people to forget his ghastly slump before tonight's game.
Oh, and the Yanks took yet another series from the Twins, so that's that.
Birdie's first flight RBI
Neither team got much offense going until the bottom of fourth. With one out, Carlos Beltran hit a ground-rule double to left. Greg Bird, the next hitter, worked the count full against Mike Pelfrey and hit a single right by the 2B Brian Dozier to drive Beltran in – his first ML run batted in!
In the bottom sixth, Bird got another RISP opportunity – Brian McCann had reached base with one out with a walk and Beltran followed with a single. Twins manager Paul Molitor took out Pelfrey for LHP Ryan O'Rourke and, this time, Bird struck out. That strikeout had "ML experience pain" written all over it considering Bird was ahead 3-0 and allowed O'Rourke to come back and strike him out on a slider out of the zone.
In the bottom eighth, facing J.R. Graham, Bird hit a single to center to make it his first multi-hit ML game. Neat. There will be a lot more of these in the future I assume.
CC is OK
Coming into the top of the fifth, Sabathia had a perfect game going on. I mean, for the first four innings, man, he was just immaculate. His fastball velocity has been up lately and it showed tonight – sitting around 91 to 93 mph and touching 94. His command of it, along with other pitches, was on as well. You don't get through four perfect innings against a Major League lineup without good command and some stuff.
The first blemish of the start came in that frame, however. With one out, CC walked Trevor Plouffe, erasing the chance of another perfecto by a portly Yankee lefty against the Twins at Yankee Stadium (see: Wells, David). A batter later, Eduardo Escobar singled to break up the no-hitter and put the runner in scoring position. Kurt Suzuki followed it up with an RBI double to kill the shutout, but a good relay by the Yankee defense caught Escobar at the plate to keep the ballgame tied, 1-1.
The top of the seventh, however, was a different story. It just seemed like Sabathia ran out of gas – missing spots, sliders not biting as well, etc. Sabathia walked Joe Mauer to start the inning. The next hitter, Miguel Sano, cranked the first pitch, a 83 mph changeup, into the left field seats and it was a laser of a home run. 3-1 Twins. CC got Plouffe and Torii Hunter to fly out but allowed two consecutive singles to Escobar and Suzuki. Joe Girardi then took Sabathia out for Nick Rumbelow, who allowed another RBI single to get the fourth run charged to CC. Ah well – a strong start and meek finish.
If you had told me Sabathia was going to allow three runs before departing in the seventh with two outs, I would have taken it. In the end, he was tagged with four earned runs but he deserved a better fate. Tonight's start actually raised Sabathia's ERA (albeit from 5.23 to 5.24), which is a bit cruel but hey, it's math (math is cruel, by the way).
Grand slam no. 25
Heading into the bottom of the seventh, the Twins had a 4-1 lead. Chase Headley led off the inning with a single and Brendan Ryan walked (on a very close ball call on a low fastball) to get something started against the Twins reliever Ryan O'Rourke. Jacoby Ellsbury flied out but Brett Gardner worked another Yankee walk to load the bases for… Alex Rodriguez.
Molitor took out O'Rourke for righty J.R. Graham to face A-Rod. As you may know, A-Rod was really struggling at the plate for awhile. Prior to that at-bat, he had been only 1-for-27, which is as cold as a gazpacho ready to be served in the middle of a hot day.
The rirst pitch from Graham was a slider out of the zone. The second, however, was very different – a 95 mph fastball right down the middle that would look like a beach ball to any good power hitter. A-Rod didn't miss any of it and he drove the pitch out the center field fence for a grand slam. 5-4 Yankees.
That… was special. I don't know how else I'd explain that. Per FanGraphs WPA, the odds of New York winning were 24.7% before the slam and 78.7% after – I think that's a good way to get my point across.
Insurance
The Yankee offense didn't rest in the eighth versus the woeful Twins bullpen. Bird and Didi Gregorius singled to lead off the inning and Headley followed them off with an RBI double to drive both in for a 7-4 lead. I didn't have a stopwatch with me but that sequence of events took place in a hurry – it took only seven total pitches to happen!
Brendan Ryan put a sac bunt down to move Headley to third and Ellsbury drove him in with an RBI single to right, 8-4. How about Jacoby? After a long slump, his bat has found its mojo again, as it seems. He went 2-for-5 tonight, bringing his average up to a respectable .276.
Box score, standings, highlight and WPA
Here's tonight's box score, updated standings, video highlights and WPA.

Source: FanGraphs
Tomorrow, the Yanks will look for a home sweep on a 1pm game. Nathan Eovaldi will take the mound against Ervin Santana. Only two games in but this homestand's been pretty fun so far.
Oh, and here's another A-Rod photo for a good look.