Well, the Justin Verlander-Domingo German matchup seemed pretty favorable to the Astros in the first place, and that's pretty much how Monday's game went. The Yankees dropped the first game of the series 5-1, and with the Red Sox win, they are now back 2 games for the division lead. The bats were shut down for the most part and the Astros took advantage of a few mistakes by the Yankee pitchers. So it goes. Let's recap this thing.
A mixed bag outing
The Astros struck first in the top of the second. Yuli Gurriel hit an infield single to get on base. The ball took a tricky hop that Didi Gregorius couldn't handle and they ruled it a base hit rather than an error. A batter later, German walked Evan Gattis and J.D. Davis followed it up with a three-run home run. It was a fastball in a very fat part of the plate and Davis gladly took it for his first dinger of the season. And when I say fat…
In the 3-1 count, one ball from loading the bases, it was a typical fastball situation and Davis swung like it. 3-0 Astros.
Houston added another against German in the 4th inning. Gurriel reached first on a very lackadaisical throwing error by Gleyber Torres on an easy grounder. Marwin Gonzalez followed it up with a bloop single to left-center and Gattis pulled a fastball inside down the line to bring Gurriel in. Welp. That's the thing about the Astros lineup – they can hit from top to bottom. A mistake against them is more likely to come back to bite you.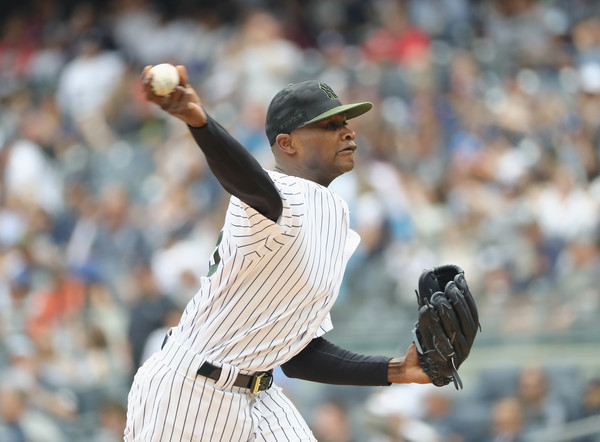 There are silver linings to German's start. Some numbers tell us that he displayed his upside today. For instance, the whiffs. Per Baseball Savant, German induced 16 whiffs in 104 pitches today, with 5 from his fastball and 9 from curveball.
It's usually a pretty good thing when a young pitcher can get hitters to swing and miss with more than one pitch. As you may recall from Eno Sarris's article from awhile back, German's pitches compare favorably to some big names in the league. Well, I'll give you a spoiler: Sarris gave a Max Scherzer comp for his four-seamer. I'll take that.
He's inconsistent with command, which is frustrating but that comes with a lot of young pitchers. A part of trying to fix that? Get him some more real game experience. There's no telling how long it would take (or if he will ever conquer that problem ever), but for someone with stuff that good, it may be a worthy endeavor. At the same time, the Yankees are right to seek starting pitching help via trade to give him less starts. Both are be true, in my opinion.
Verlander'd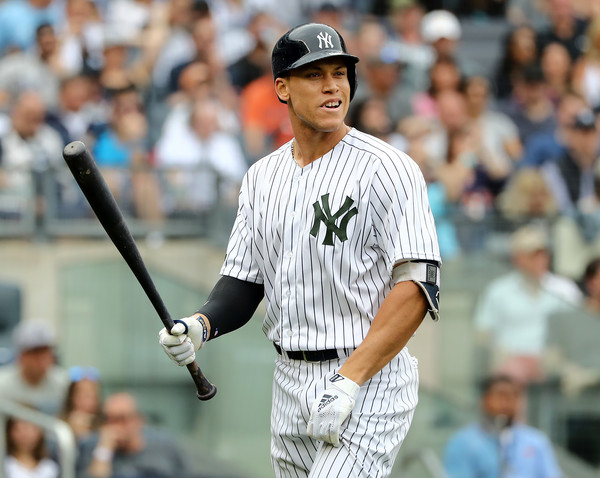 Justin Verlander is as complete a product as any pitcher could be. The only real blip in the day was the Greg Bird solo HR in the 7th. You know what's absurd? Verlander allowed 1 ER in 6.2 IP today and his ERA went up (1.08 to 1.11). If you wanted to find some kind of moral victory, well, there it is. It was also only the 2nd earned run Verlander allowed in the road this season and the first homer he gave up to a lefty hitter. Verlander is having an unreal season and that's the kind of outing he puts up.
The thing about Verlander is that he can go after hitters as aggressive as possible and come out unscathed. He may be one of the few in the league that can get away with it. Take a look at his zone today.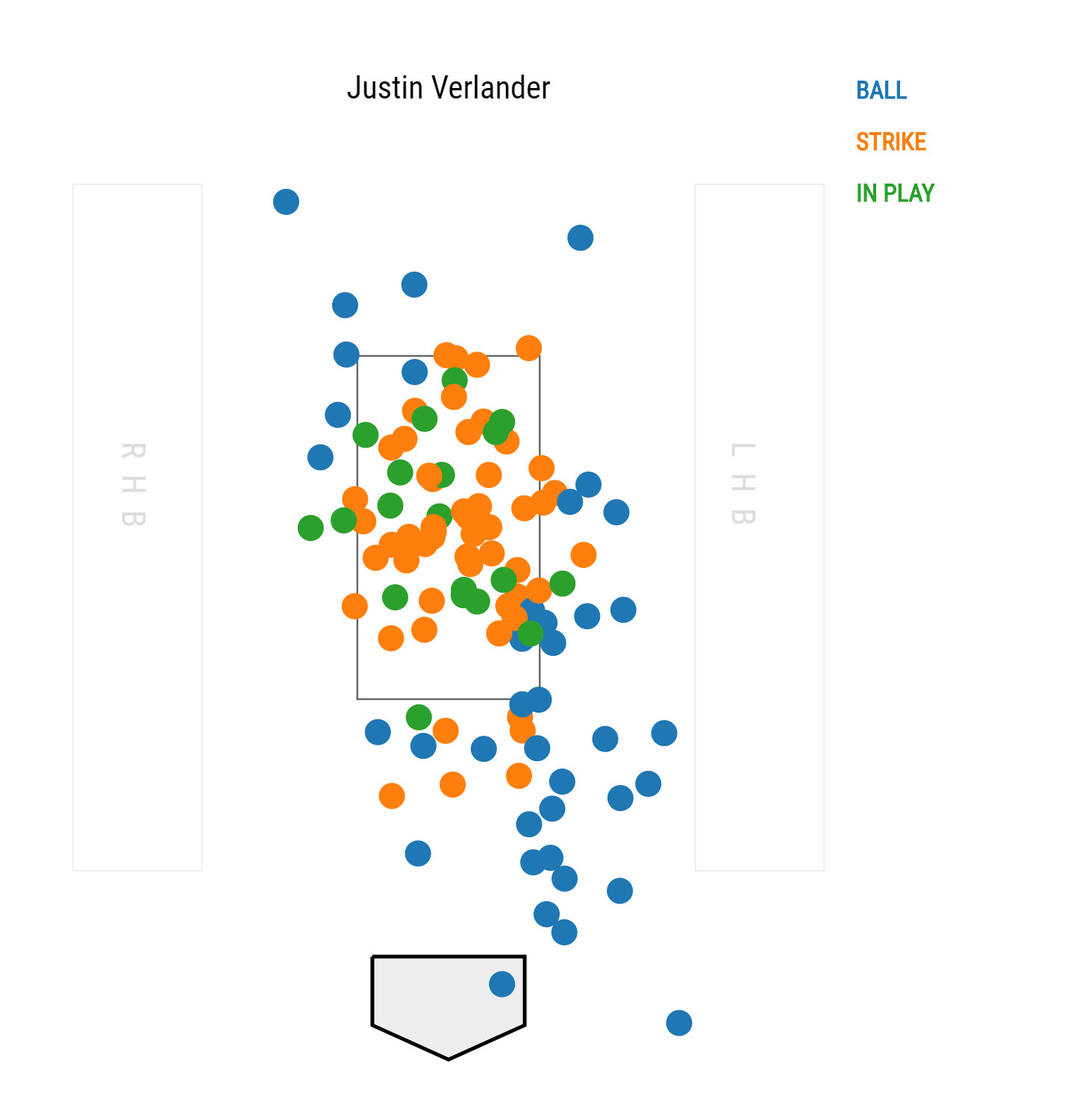 There are a lot of pitches around the middle part of the zone (and a lot outside to set them up or get whiffs). Dude just has a really powerful stuff that overpowers bats even when they don't get cheated. Let's take his fastball, for instance. He threw 59 heaters today and only got 3 whiffs. That's not really a high figure. But when you watch the game, the hitters often either late or under the ball. You can attribute it to his velocity or, more importantly, his spin rate. I think, at this point, you know the narrative with the spin rate. High RPM (revolutions per minute) gives an impression of "rise" and more life to the fastball, which results in bats getting under the pitch or being late, etc. Verlander clearly has that benefit, based on eye test and numbers.
Anyways, how about Greg Bird? He put some good swings today. His home run came on a slider right down the middle, which may have been the worst pitch that Verlander delivered today. To Bird's credit though… he didn't miss it. Also had this gorgeous swing to go with it.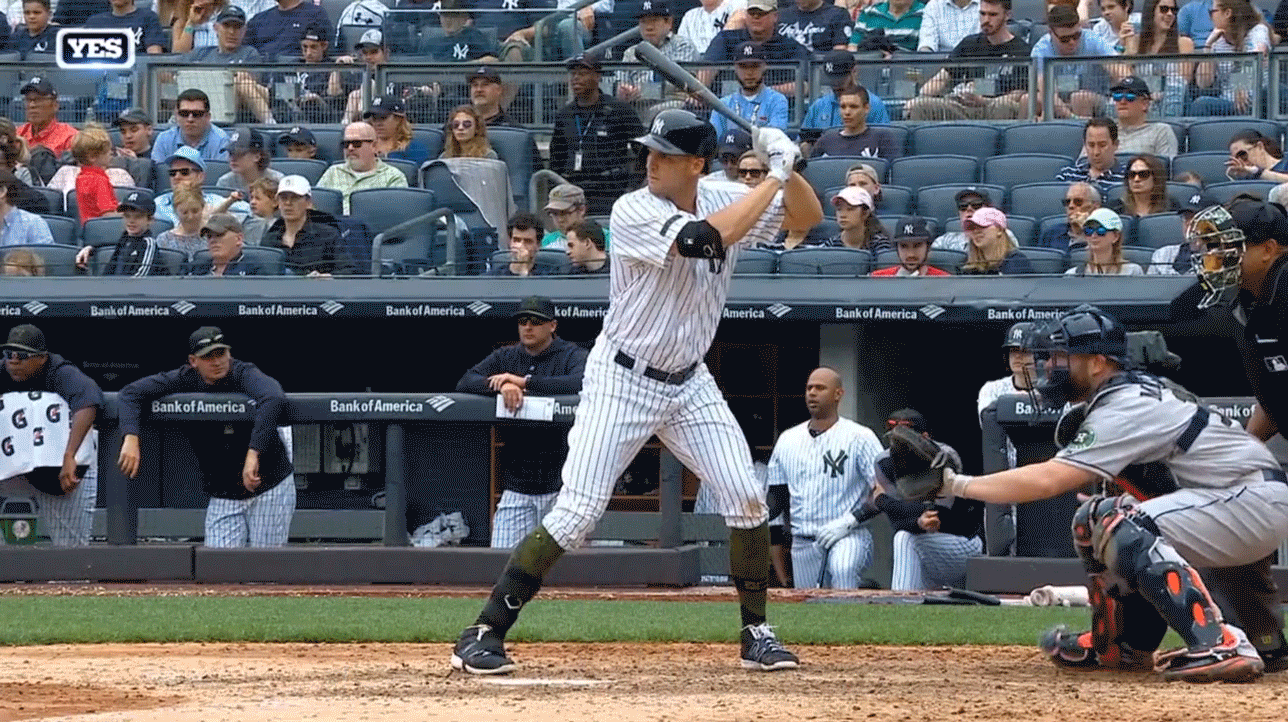 Bird struck again leading off the ninth. He took a 1-2 count Ken Giles fastball for an opposite-field single. That pitch was not a meatball. It was a 98.4 mph fastball on the outside part of the zone and he just squared up on it beautifully. It's just a glimpse of what Bird can bring to what is already a stacked lineup. Just please stay healthy.
Leftovers
A.J. Cole allowed the first run of his storied Yankee career. Jose Altuve shot a solo homer off of him leading off the top of the 8th to make it 5-1. But honestly? His tenure has been pretty solid for what it's worth. As a long-relief guy in lower-leverage situations, Cole has been what the Yankees have asked for. In 11 innings pitched with the Yanks, Cole has allowed only one run and struck out 12.
Tommy Kahnle made his second appearance after coming back from the disabled list. For what it's worth, the results were better than the first time around: 1.0 IP, 1 K and 6 strikes in 11 pitches. That definitely counts as a welcome development for what's to come.
Greg Bird and Didi Gregorius both went 2-for-4 today. The other Yankee hitters went a combined 3-for-25. Not great! There's a part of your losing formula right there. Anyways, here's a good play by Torres for your visual pleasures. There weren't a lot of it today.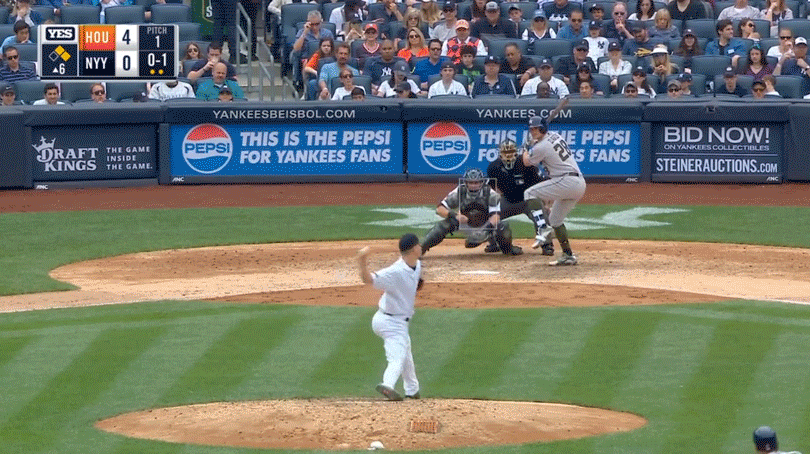 Box score, highlights, standings and WPA
Here's today's box score, video highlights, updated standings and WPA.

Source: FanGraphs
Not much to write home about from today's game. The Yankees are back at it again tomorrow in Bronx against the Astros. The big man CC Sabathia will face Charlie Morton, another one of their scary starters. Happy Memorial Day and enjoy your day off.