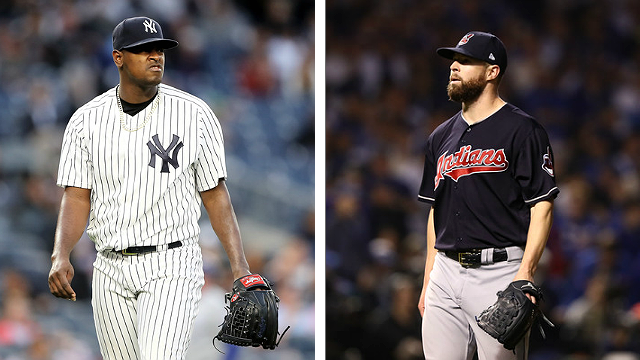 The Yankees come into tonight riding high after a pair of series wins, inching within 2.5 games of the Red Sox for the division lead. Before a four-game set with Boston, they'll have to take on AL Central leaders for three games.
You couldn't have asked for a better pitching matchup in the series opener. AL Cy Young favorite Corey Kluber toes the rubber for Cleveland while the Yankees send out their young ace, Luis Severino. While Severino has a 3.10 ERA with 10.5 K per nine, Kluber has been on another level with an AL-best 2.65 ERA to go with 12.3 K per nine.
Each starter picked up a win during the previous Yankees-Indians series, which was split 2-2 at Progressive Field. Quite the test for Severino, who has already faced off with the likes of Chris Sale, Jon Lester and Carlos Carrasco this season.
Here is Cleveland's lineup and here is the Yankees' lineup:
LF Brett Gardner
CF Aaron Hicks
C Gary Sanchez
SS Didi Gregorius
2B Starlin Castro
1B Greg Bird
DH Chase Headley
CF Jacoby Ellsbury
3B Todd Frazier
RHP Luis Severino
A rare day off for Aaron Judge, who hasn't had a game off since Aug. 3, the last time the Yankees faced Kluber.
The forecast is partly cloudy for the Bronx, but no sign of precipitation to ruin this pitchers' duel. First pitch is set for 7:05 on YES locally and ESPN for those out of market. Enjoy a fine night for baseball!