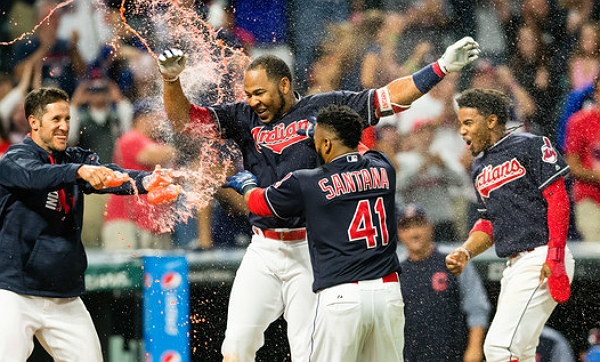 The Yankees' RISP-fail-filled series with Detroit is over and so ends a 6-3 homestand. Now they'll face the defending American League champion Indians, who lead the AL Central and seem poised to repeat with the division crown. They're coming off two losses to the Red Sox and a Wednesday rainout, which will be made up later this month.
The Last Time They Met
This is their first meeting this season, so their last meeting came around this time last year, when the Yankees took 2 of 3 at Yankee Stadium on Aug. 5-7. With the series win, the Bombers moved above .500 and stayed there for the rest of the season. It's when we first saw them reach that second gear post-trade deadline.
A few hours prior to the series opener Mark Teixeira announced he would retire following the season. Then, a few hours prior to the series finale, the Yankees announced Alex Rodriguez would be released the following week.
In the opener, the Yankees broke out for 13 runs against Josh Tomlin and co. Starlin Castro and Aaron Hicks hit home runs while Gary Sanchez got the first two RBI of his career, one on his first double and one on a walk. He also gunned down two baserunners.
 Corey Kluber held the Yanks to two runs (one earned) in eight innings and Andrew Miller picked up the save a week after the Yankees traded him.
In the finale, Masahiro Tanaka threw six innings of one-run ball while Dellin Betances picked up a four-out save in a 3-2 win. Didi Gregorius had a solo homer and Teixeira doubled in a run to give the Yankees an early 3-0 lead.
For more information, check out Katie's Yankeemetrics post.
Injury Report
Second baseman Jason Kipnis (hamstring) is currently rehabbing in Double A and is expected to return during this series. Former Yankees Andrew Miller (patella tendinitis, 10-day DL) and Boone Logan (strained left lat, 60-day DL) are both out for this series. Tomlin (hamstring) is also out.
OF Lonnie Chisenhall is on the disabled list and has yet to make a rehab appearance.
Their Story So Far
The Indians are 57-48 with a +95 run differential and they are 1.5 games up on the Royals. They were tepid buyers at the trade deadline, acquiring Blue Jays reliever Joe Smith while passing on bigger names like Yu Darvish and Zach Britton.
This is an all-around good team with very few holes. They're fifth in wRC+, fourth in BB%, second in K%, and fifth in OPS. They control the strike zone very well. Their pitching staff has the second highest WAR in baseball behind the Dodgers and are best in K-BB%. The Indians' bullpen is still one of the best in baseball despite Miller's absence for the time being and should be a menace again come October.
Lineup We Might See
As with his unconventional bullpen maneuverings, manager Terry Francona tends to mix up the lineup depending on matchup. SS Francisco Lindor (109 wRC+), 2B/3B Jose Ramirez (146 wRC+), DH Edwin Encarnacion (126 wRC+), 1B Carlos Santana (109 wRC+) and CF Bradley Zimmer (114 wRC+) are the top players you'll likely see regardless of matchup. LF Michael Brantley (111 wRC+) is a top AL Comeback Player of the Year candidate.
Here's what their lineup tends to look like vs. RHPs without Kipnis (and here's an example vs. LHPs)
CF Bradley Zimmer
SS Francisco Lindor
LF Michael Brantley
DH Edwin Encarnacion
3B Jose Ramirez
1B Carlos Santana
RF Austin Jackson
C Yan Gomes
2B Erik Gonzalez
The Starting Pitchers We Will See
Thursday (7:10 PM EST): RHP Sonny Gray(!) vs. RHP Corey Kluber
While fans will be tuned in to see Gray don the road greys for the first time, they'll also see the 2014 AL Cy Young winner. Kluber has been his dominant self, flashing his phenomenal two-seam sinker, slider and cutter with devastating results. The movement on his fastballs and slidee=rs are unreal. He's struck out at least 10 in nine of his last 11 starts and has K'd 38 in his last three games alone.
He pitches deep into games (6.74 innings per start) and has few, if any, weaknesses. He's given up four homers over his last three starts, but he typically keeps the ball on the ground when he isn't striking batters out.
Last Outing (at CHW on Jul. 29) – 6.1 IP, 9 H, 4 R, 1 BB, 12 K
Friday (7:10 PM EST): LHP Jaime Garcia vs. RHP Trevor Bauer
Bauer was supposed to start on Wednesday against Boston before the rainout, so he'll take on the other new Yankee Friday evening. The 26-year-old righty is a fastball-curveball guy, mixing in a few other pitches but sticking to that combo when things get rough. His fastball sits in the mid-90s while his curveball averages 79 mph. He tends to be hurt by his lack of control and a few too many homers, which plays into his 5.25 ERA.
Last Outing (vs. LAA on Jul. 27) – 8.0 IP, 7 H, 1 R, 1 BB, 6 K
Saturday (7:10 PM EST): LHP Jordan Montgomery vs. TBD
Friday's starter was initially supposed to be Danny Salazar while Saturday was scheduled to be Mike Clevinger. Salazar, a RHP, was dominant in two starts since returning from the DL two weeks ago, allowing just four hits and two runs over 13 innings while striking out 16.
Following his career path, he's given up a tad too many homers and can struggle with walks, but he makes up for it with a lot of strikeouts. Throws mid-90s heat with his four-seamer and sinker while playing off of it with his changeup.
Sunday (1:10 PM EST): RHP Luis Severino vs. TBD
Assuming Salazar goes Saturday, Sunday will either be Clevinger or RHP Carlos Carrasco. If you want to oversimplify things, both are four-pitch starters with mid-to-high 3.00 ERAs that strikeout more than a batter an inning. Carrasco has much more of a track record, pitching to an ERA of 3.89 or below for at least 125 innings every season since 2014.
The Bullpen
The Indians will miss Miller this series, but they still have an efficient group waiting in the wings. They are tied with the fewest meltdowns in baseball this year (38), are fifth in Win Probability Added, third in K-BB% and are second only to the Dodgers in ERA.
Francona will mix up roles, but Cody Allen is the closer while Shaw will likely be his primary set-up man with Miller out. Nick Goody, Dan Otero and Joe Smith are all solid middle relievers, as is Zach McAllister, who often pitches more than one inning. Tyler Olson is the lone lefty and can pitch multiple innings while Adam Plutko has two MLB games to his name, both in 2016.
Yankees Connection
This may be the team with the most Yankees connections.
Olson threw all of one game last year in pinstripes. Goody made 34 appearances in pinstripes before he was dealt for a PTBNL this winter. McAllister and Jackson are both former Yankees prospects that they dealt to the AL Central.
And that's just the active roster. Miller is the obvious one (Be honest: We all wanted to see Miller vs. Clint Frazier for #WhoWonTheTrade purposes). Logan is on the 60-day DL and in order to place him on the 60-day, the team claimed … Diego Moreno, the Yankee reliever they received from Pittsburgh for A.J. Burnett.
Who (Or What) to Watch?
The initial pitching matchup is dang near perfect. Gray vs. Kluber is the best way to test out Sonny in his Yankee debut. Garcia gets going a day later. At some point this weekend, Salazar and maybe Carrasco will take the hill, so it will be quite the challenge for the Bombers.
And this could be a preview of October. With the Astros way ahead of everyone, it's likely the AL Central and AL East champs will face in the ALDS, so there's a non-zero chance of Yankees-Indians this fall. Games like this could be key to determining home field for that series, or if either team even makes it there.
As a side note, I'm personally excited to see Zimmer play. While he tends to strikeout a fair amount, he does basically everything else well. In another year without Aaron Judge, he'd be a Rookie of the Year candidate.