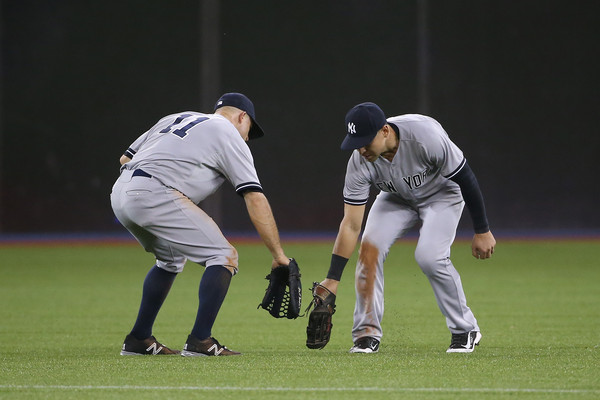 Welcome to Year 4 of Brett Gardner and Jacoby Ellsbury manning the Yankees' outfield. At the time Ellsbury signed in the 2013-14 offseason, it seemed like Gardner may quickly receive a ticket out of New York, but an extension for the speedster said otherwise. Three years of trade rumors have followed yet Gardner is still firmly planted in left field.
Including this season, there are four years left on Ellsbury's deal and two on Gardner's. With a series of outfield prospects — or shortstop prospects soon-to-be outfield prospects — slowly making their march towards the major league roster, the days of both players taking the field simultaneously for NYY is quickly dwindling.
The wrong side of 30
Within three weeks of each other late this summer, both Ellsbury and Gardner will turn 34 years old. For two players that have made their names with their speed as their No. 1 tool, it's not an ideal time in their careers. Many players like these two don't age gracefully. That presents a grim reality for a squad reliant on both their skills if it's going to be a playoff contender.
Both players have seen their stolen base numbers fall every season since 2013. They still combined for 36 in 2016, a respectable total but one each player used to eclipse individually. The duo on the base paths does have value regardless of decline. For what it's worth, it seems like they could steal fewer bases if that was mandated. Gardner had the same stolen base percentage in 2016 as he did in 2015 but had five fewer attempts. Ellsbury had one fewer steal and one fewer caught stealing in 2016 than 2015.
Beyond stolen bases, both players are about average hitters at this points in their careers. Gardner hit .261/.351/.362 (97 wRC+) in 2016. His OBP improved over 2015 (.343) but his slugging percentage fell significantly (.399). Gardner had hit 33 home runs over 2014-15 but smacked just seven last year. On the bright side, he had just five fewer hits in 22 fewer plate appearances and he sliced 29 strikeouts (135 to 106) off his total.
Gardner's average exit velocity decreased by nearly 2 mph (88.8 to 86.9) while his launch angle was slightly lower. He does still have the best eye of anyone on the team and his patience near the top of the lineup is a significant asset. Even when he makes outs, he tends to see a lot of pitches to the benefit of those who come after him.
As for his exit velocity, check out his charts from 2015 to 2016 below via Baseball Savant. His performance lagged on pitches low in the zone and inside while he greatly improved on pitches high and away.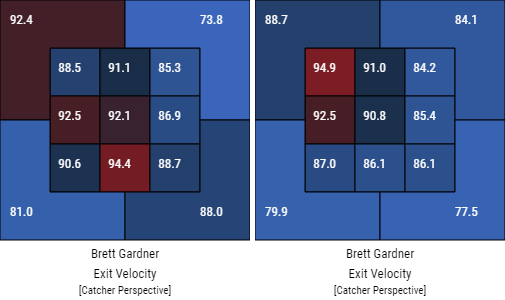 Ellsbury, meanwhile, actually saw general improvement from 2015 to 2016. That makes sense: He injured his knee midway through 2015 and his performance declined sharply after his return. He went from a .257/.318/.345 (83 wRC+) line to a still-below-average but better .263/.330/.374 (91 wRC+) mark. That's encouraging. He had 14 more extra-base hits in 125 more plate appearances in 2016 while seeing a small increase in exit velocity (87.1 to 87.4 mph)
Brian Cashman called out Ellsbury, saying the team expected more from their center fielder in 2016. That doesn't mean a return to the 32-home run season he had with the Red Sox in 2011, but the team wants him to be a force getting on base and stealing bases. Ellsbury set the catcher's interference record in 2016 but don't expect a repeat of that dubious mark in this year: Hitting coach Alan Cockrell is working with Ellsbury to move his contact more out in front. It may not make much of a difference, but hey, he does already have a home run this spring off a lefty pitcher!
Both guys played over 145 games in 2016 and that kind of durability would be a solid plus in 2017 as well. Age-wise, you may not be able to count on that, but that's why you have Aaron Hicks and general outfield depth.
Lineup questions
Since Ellsbury signed his monster deal to join the Yankees, Gardner and Ellsbury have been in the top three of the Bombers' lineup in varying orders at all times. That may change in 2017.
The reason to keep them at the top is simple: They add impressive speed and are two of the Yankees' best in on-base percentage. Who doesn't want fast players who get on base near the top of the lineup?
The duo at the top of the lineup has presented some problems for the Yankees. While they give the Yankees a speed dynamic to begin games, they are also easy targets for potent lefty relievers to take advantage late in games. Finding a way to split up the lefties would make a whole lot of sense for the Yankees, particularly if it meant moving a stronger bat like Gary Sanchez up in the lineup. Both players have also seen declines in their on-base skills recently, so there's even more logic to splitting them up.
According to Joe Girardi, the Yankees are unlikely to split them up by moving one of them (Gardner) to the ninth spot. This wouldn't really solve their problems as they'd still be back to back in the lineup after one time through. Most people have thought about the possibility of moving Ellsbury down to around sixth in the lineup.
Ellsbury batting sixth would make a lot of sense. You split up lefties, you move a declining bat down and you give yourself speed in the second half of the lineup as well. However, Ellsbury has been lukewarm at best on the lineup. It's understandable when you're a veteran so used to batting in the top three. With Ellsbury's reticence, the team may wait until later in his contract to move him in the lineup.
Still strong defensively
There are plenty of questions about Ellsbury and Gardner going into this season, but it's tough to have many doubts about them defensively. After all, Gardner is coming off his first Gold Glove. Ellsbury is six years removed from his only Gold Glove. However, according to most defensive metrics, he rebounded from a poor 2015 season (-3.2 UZR likely explained due to his knee injury) with the glove to be a better center fielder again in 2016 (0.7 UZR). Gardner (-2.7 to 3.6) had a similar bounce, which could be partly thanks to fewer games in center field thanks to a healthy Ellsbury.
That's really important for the Yankees. If the duo will continue to decline in any way offensively, they will need to at least stay viable defensively. When healthy, they both provide the speed necessary to cover at least 2/3s of the outfield and help the pitching staff. One issue, of course, is each of their respective arms. Gardner's is below average, albeit decent. Ellsbury comes from the Johnny Damon school of outfield arm strength and teams will continue to take advantage of his weak arm in center field.
At some point in the future, Ellsbury is likely to move over to left field but not this season. That's for late in his contract when his speed isn't as viable and someone, whether it be Clint Frazier or Jorge Mateo, has proven capable of taking over center. At the very least, Ellsbury has significant left field experience from his early Red Sox career.
So far this spring, Gardner has played center field when Ellsbury has been off with Hicks tending to play a corner position. This goes contrary to last season when Girardi tended to keep Gardner in left field even when Ellsbury was out. The change may be to optimize the outfield to take advantage of Gardner's extra range and superior angles to the ball. It's something to keep an eye on as the season commences.
—
Gardner was clearly on the trade block this offseason. However, until proven otherwise, it'll be Gardy and Jake again in the outfield for the Yankees. Both players may be on the downside of their careers, but they still have real value to the Yankees beyond the weight of their respective contracts. Count me among those excited to see if Gardner can bounce back in 2017 and whether Ellsbury's 2016 bump up was a sign of things to come.