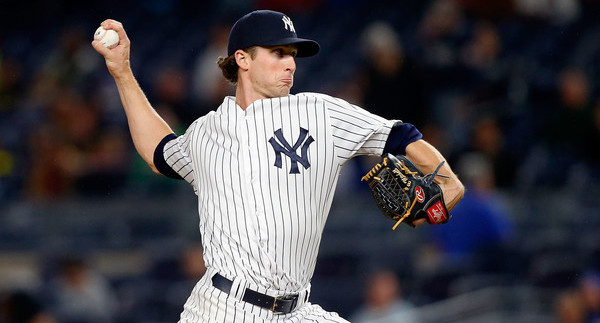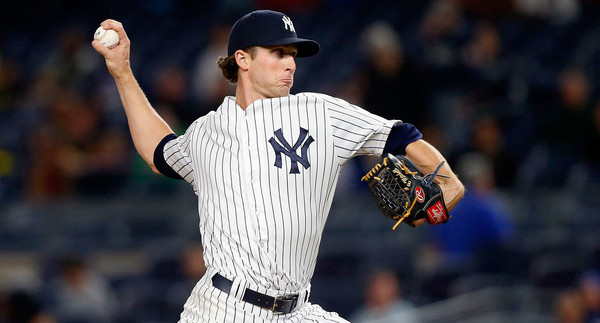 There are rarely real battles for important rosters spots in Yankees Spring Training. Sure, there's usually a race for the utility infielder spot or the last spot in the bullpen, but we don't often see a significant role up for grabs. However, from the outside looking in, it appears that the competition for the No. 4 and 5 spots in the rotation is an honest-to-goodness competition.
As Mike wrote last Wednesday, how that battle shapes up could very well shape the Yankees' bullpen. After all, you have more than two guys fighting for just two spots. That brings me to Bryan Mitchell. Mitchell very likely would have played a larger role — initially in the bullpen — for the 2016 Yankees if he didn't injure his toe towards the end of the camp. He ultimately made just five appearances, all starts coming in September. Now he could see himself on the outside looking in at a rotation spot to begin the year.
Mitchell in a lot of ways seems like an afterthought, but he's a pitcher with some real talent. After all, pitchers with a mid-to-high 90s fastball and power curveball don't grow on trees. (He has a third pitch but more on that later). While he has a 4.52 ERA in 65 2/3 big-league innings, he's shown enough stuff and performance to make me believe he can be viable MLB pitcher. The question becomes: Is he a starter or a reliever?
Case for Mitchell the reliever
Mitchell, who will turn 26 on April 19, only really has one season with bullpen experience, that being his 2015 campaign, in which he split time between Triple A and the majors. In 29 2/3 innings, Mitchell struck out 29 batters but had an ugly 6.37 ERA. That doesn't tell the whole story. Through Aug. 17, Mitchell had a 3.86 ERA over 21 innings (15 1/3 in relief) and had been effective, particularly in low-leverage multiple-inning outings.
His Aug. 11 game was his best. Coming into the 12th inning of a tied game on the road, Mitchell marched through the Indians order, struck out five, allowed two hits and two walks (one intentional) but worked himself out of trouble and kept Cleveland off the board. It was a gutsy performance by a rookie thrown into a tough situation.
And then it all fell apart his next appearance. Asked to make a spot start on Aug 17, Mitchell took a line drive from Eduardo Nunez off the face in the second inning. He somehow only missed 11 days, but his performance cratered afterward, allowing 12 runs in his last 10 appearances. He walked over a batter an inning and gave a glimpse of where his game can go wrong.
Still, though, Mitchell showed a lot before his broken nose. He can clearly give the team length, something they will need out of the bullpen with their current rotation, and he had cut down on his walks for the most part, something that has always been an issue for him. MLB.com gave his control a 40 grade prior to the 2015 season while ranking him 14th among Yankees prospects. However, they were pretty positive on his raw talent, saying he had "some of the best stuff" in the system and saying that he "should be able to carve up hitters" with his fastball and curveball.
That's where the crux of the "Mitchell should be a reliever" argument lies. Both his fastball and curveball are plus pitches and he would be able to shorten his repertoire in the bullpen, cutting out his ineffective changeup. His fastball has hit 98 in the bullpen. If he can set hitters up with his fastball, his curveball can be a nice one-two punch as his out pitch.
It's easy to make a lot of Adam Warren comparisons here, probably too easy. Warren is a definite success story for the Yankees while Mitchell hasn't proven himself yet. For 2017, Mitchell would be more likely to emulate 2013 Warren than 2014-15 Warren. That means his value in relief is likely to be maximized by his ability to produce multiple quality innings rather than needing high leverage situations that Warren excelled in over the 2014-15 seasons. The Yankees seem to be taken care of at the moment in the backend of the 'pen.
Case for Mitchell the starter
Why does Mitchell work in the rotation? Beyond a fastball that still sits in the mid-90s throughout his starts (dips to 94.6 third time through the order), Mitchell has developed his cutter as a more effective secondary pitch. He still uses his four-seamer 43 percent of the time, but he actually used his cutter more often than his curveball (24.7 to 21.4 percent) in 2016. His curveball was still his out-pitch, but Mitchell utilized his cutter as a
swing-and-miss secondary pitch
more often as the opposing lineup turned over.
The sample size is key to note: We have only 65 2/3 major league innings of data from Mitchell, about 55 percent as a starter and the rest as a reliever. His cutter, which was his best pitch by wRC+ against in 2016, showed improvement statistically from year over year in that sample, a sign that Mitchell might be more than just a two-pitch pitcher. However, it could easily be noise rather than a major breakthrough. We need to see a full season of him in the majors before you draw any real conclusions on his cutter.
If you tend to believe the 2016 number more than anything, Mitchell can be a viable back-end starter. He had two scoreless outings (with seven walks in 12 innings), two less than stellar starts and one quality start where he took the loss. The five games were against the Blue Jays (2x), Red Sox (2x) and Dodgers, so he had to face some stiff competition along the way.
Conclusion?
When I began this exercise, I thought Mitchell was best suited for relief. Part of that is definitely the Cleveland game from 2015 sticking in my mind. I still lean that way, but I'm certainly curious as to what he would do at the end of the rotation. Is his cutter a real solid weapon or is that reading too much into too few data points? Remains to be seen.
Make no mistake: Mitchell isn't a future ace. Yet in all but the best of rotations, the No. 4 and 5 pitchers are going to have some major warts. For Mitchell, it's his control. If he sticks as a starter, he'll have to conquer the ability to throw strikes more consistently. Even if that doesn't happen, Mitchell has the makings of a strong reliever who can help make up for the Yankees' lack of length from their starters.