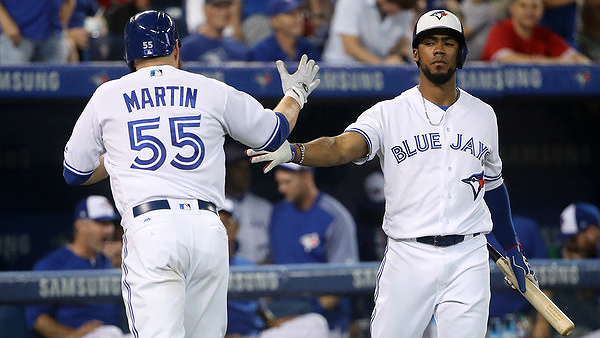 The Last Time They Met
It's been just five days since the Yankees last played the Jays. On Sept. 22-24, the Jays took two of three from the Bombers, inching the Yankees closer to the Wild Card Game and further away from the division.
Masahiro Tanaka had a rough outing, giving up eight runs over 5.2 innings. The big blows were a trio of home runs, including a grand slam to nine-hole hitter Ryan Goins.
The Yankees clinched a playoff spot in the middle game, riding Sonny Gray and a three-run homer from Greg Bird.
Jaime Garcia met a similar fate to Tanaka as the Jays took the series finale. Teoscar Hernandez hit homers in all three games, but Aaron Judge had three of his own with two on Sunday.
Since They Last Met
After handing the Yankees two costly defeats, the Jays did them a favor with two wins against the Red Sox. They led early in the third game, too, but Marco Estrada came apart and the Sox won 10-7.
Josh Donaldson had one of his best series of the year. He went 8 for 13 with two doubles and three home runs. He has eight multi-hits this month and has brought his average from .253 to .272.
Hernandez had three more homers. He now has six in his last six games after just two in his first 17 with the Jays. That's some impressive raking against playoff squads.
Their Story Right Now
The Jays have had a disappointing year that really got off the rails in April. At 75-84, they're likely to finish in fourth or fifth place. If they had been able to play closer to .500 to start the year, they'd have been in contention for that second wild card. Donaldson's late-season surge combined with efforts of Hernandez and others gives them hope for next year, especially if Aaron Sanchez is healthy. But with Donaldson's free agency looming after 2018, the team is facing some tough decisions this offseason.
Lineup We Might See
With a ton of RHHs, this team doesn't change its lineup up too often. Richard Urena could enter for Goins vs. lefties, plus this being the last series of the year could mean a lot of call-ups getting time.
1. Teoscar Hernandez, LF – (.282/.313/.667)
2. Josh Donaldson, 3B – (.272/.389/564)
3. Justin Smoak, 1B – (.272/.358/.534)
4. Jose Bautista, RF – (.204/.311/.370)
5. Kendrys Morales, DH – (.251/.309/.448)
6. Kevin Pillar, CF – (.256/.300/.404)
7. Russell Martin, C – (.221/.344/.389)
8. Ryan Goins, SS – (.237/.288/.357)
9. Darwin Barney, 2B – (.233/.276/.330)
The Starting Pitchers We Will See
Friday (1:05 PM EST): RHP Masahiro Tanaka vs. RHP Joe Biagini
It's an early start for Yom Kippur and Biagini will be taking the hill for the last time this season. The Yankees got to him on Saturday with Bird dealing the decisive blow. Despite that, Biagini pitched efficiently and had a low pitch count when taken out after five. The swingman is 3-12 this year with a 5.34 ERA but he has an FIP a run lower.
Last Outing (vs. NYY on Sept. 23) – 5.0 IP, 3 H, 3 R, 4 BB, 3 K
Saturday (1:05 PM EST): LHP Jaime Garcia vs. RHP Marcus Stroman
Stroman got the better of the Yankees on Sunday, although part of that was facing Garcia. He still allowed three runs in 5.2 innings. He has a 5.49 ERA with 11 strikeouts to 10 walks over 19.2 innings vs. the Yankees over four starts this year. Overall, he's had an impressive seaaon with a 3.06 ERA over 197 innings, outperforming his peripherals in his age-26 season.
Last Outing (vs. NYY on Sept. 24) – 5.2 IP, 5 H, 3 R, 4 BB, 2 K
Sunday (3:05 PM EST): LHP Jordan Montgomery vs. LHP Brett Anderson
Don't let the new uniform fool you: This is the same Brett Anderson that lasted just two outs against the Yankees in May when he was with the Cubs. He gave up six hits over seven batters in his final start with Chicago. Since joining the Jays, he has a 6.04 ERA over six starts, but that mostly stems from an eight-run start over 1.1 innings against the Royals.
Be on the lookout for blisters: He left after just 80 pitches over five innings on Monday vs. Boston after his blister issues flared up.
Last Outing (vs. BOS on Sept. 25) – 5.0 IP, 6 H, 3 R, 3 BB, 3 K
The Bullpen
Same bullpen, different week. Domenic summed up the Jays' group pretty well last week, so check that out.  They had a day off on Thursday, so everyone should be fresh for Friday afternoon.
Who (Or What) to Watch?
These could easily be the last three games of Bautista's career. Turning 37 in October, he's past his prime and is becoming a liability in the outfield. He'll have to hope for a team to give him a shot, likely as a platoon bat or designated hitter, but it could be a second straight rough offseason for Joey Bats.
As for the returning players, Hernandez is must-watch. He was acquired from the Astros in the Francisco Liriano trade and has raked over the last week. Can he bring his hot streak through the end of the year?