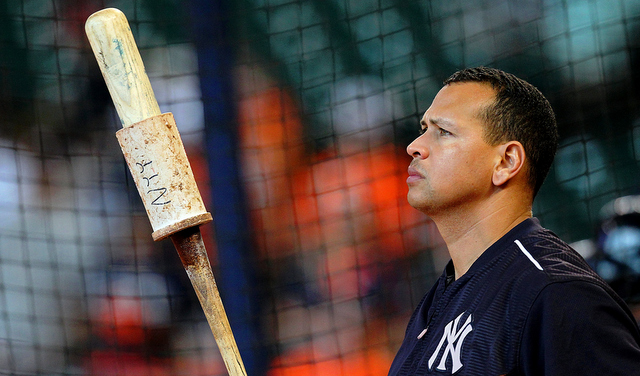 For whatever reason MLB dragged the 2015 All-Star Game rosters announcement across two nights this year, with the starters announced Sunday and the rest of the rosters announced Monday. As expected, no Yankees were selected to start the game for the first time since 1998. All the fan voting updates made it clear that was going to happen.
The reserves announcement on Monday was a little more interesting because the Yankees had five players who were, at the very least, borderline All-Star Game candidates. Dellin Betances and Mark Teixeira were selected for the game, and Brett Gardner is one of five players on the Final Vote ballot (go vote!), but Brian McCann was not one of the two extra catchers selected. So it goes.
The other snub was Alex Rodriguez, who, on merit, belongs in Cincinnati for the All-Star Game. He's hitting .284/.390/.513 (149 wRC+) with 16 home runs so far this year, and every single other healthy qualified hitter with at least an .890 OPS or a 142 wRC+ was selected to the Midsummer Classic. Not A-Rod though. The players didn't vote him in and AL manager Ned Yost cited the desire for flexibility, as if he was building a roster for a postseason series and not a one-game exhibition. From Brendan Kuty:
"We talked about A-Rod a lot," Yost said. "You look back at this five-man vote and we have three infielders, two outfielders, and we felt that it was important that we don't — we have Brock Holt that can play anywhere in the infield, but any other position we have a starter and a backup. In the outfield we have three starters and three backups. So I just felt very strongly that if we could get another infielder or another outfielder out of that five-man vote it would help us. That's what went in that decision."
It's no surprise the players didn't vote Alex into the All-Star Game — he's not exactly popular outside the Yankees clubhouse after his performance-enhancing drug issues and the fact that he, you know, sued the MLBPA last year, so I get it. Yost picked seven players for the roster according to Andy McCullough and opted for five pitchers plus Holt (token Red Sox player) and Russell Martin (third catcher), so he would have had to pick Alex over a pitcher.
Either way, Rodriguez is not going to the All-Star Game and that feels like a loss for everyone, including A-Rod himself. He said he hoped to be picked. MLB is going to miss the ratings boost because people watch this guy — his fans watch to see him mash taters and his haters watch to see him fail — and the AL team will miss having a huge right-handed bat off the bench late in the game. And spare me the PED moralization, Nelson Cruz and Jhonny Peralta were voted in as starters by the fans.
It's disappointing Alex won't be in the All-Star Game this year, he deserves to be there based on his performance, but it's also for the best in the grand scheme of things. Remember, we are talking about a player with two surgically repaired hips (and a surgically repaired knee) who turns 40 later this month. Rodriguez is a full-time DH now yet he still admitted regular days off help him stay fresh. It shows in the numbers too: Alex is hitting .392/.517/.725 in games immediately following a day off and .259/.362/.464 in all other games this season.
"I never welcome days off. I love to play. But it worked pretty well for me in (during the two interleague games in Washington). After those two days off, I swung the bat pretty well at home," said A-Rod to Wally Matthews a few weeks ago. Rodriguez has played a ton of baseball over the years — he averaged 153 games per season from 1996-2007! — and there's a lot of wear on his body. That's baseball. All those games catch up to you and extra rest is needed later in your career. That's where A-Rod is right now. In need of extra rest. Not more games and travel.
The Yankees are currently atop the AL East but that doesn't really matter at this point. The division is so tight they could be in fourth place and still be only two games out. A-Rod has gone from a total unknown in Spring Training to a core player this season. He's at the center of the offense and the Yankees will need him to continue to produce like he has in the first half to have a shot at returning to the postseason. So yeah, Alex not being selected for the All-Star Game is a bummer. But those four days off his feet next week are the best thing for him and the Yankees.