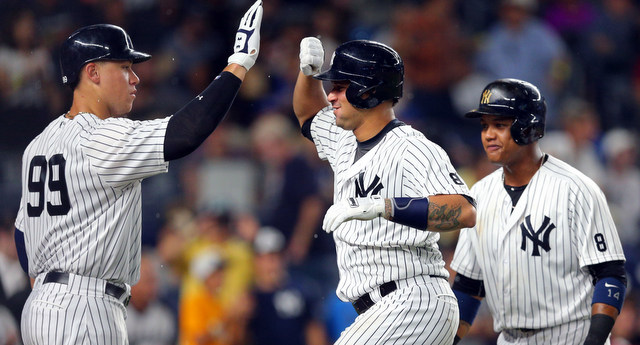 The Yankees are sending five players to the 2017 All-Star Game in Miami next week. Sunday night the two All-Star rosters were announced and Dellin Betances, Starlin Castro, Aaron Judge, Gary Sanchez, and Luis Severino will be there representing the Yankees. The Yankees haven't had as many as five All-Stars since they had eight in 2011. Here are the full rosters.
Judge will start this year's All-Star Game after receiving more fan votes (4,488,702) than any other AL player. He'll be the first Yankee to start the Midsummer Classic since Derek Jeter in 2014, his farewell season. Only Bryce Harper (4,630,306) received more fan votes among all players. Judge has also been invited to the Home Run Derby, though he's yet to announce whether he will participate.
It goes without saying Judge is very worthy of starting the All-Star Game. He's been a monster. Judge is currently hitting .327/.448/.687 with an MLB best 27 home runs this season, and he leads the league in runs, total bases, RBI, OBP, SLG, OPS, OPS+, and both versions of WAR. He is, quite simply, having one of the greatest rookie seasons in baseball history. Love that guy.
Some fun facts about Judge's All-Star Game selection:
He's the sixth position player drafted by the Yankees to become an All-Star. He joins Jeter, Brett Gardner, Don Mattingly, Thurman Munson, and Jorge Posada. (The draft has been around since 1965. Bernie Williams was signed as an international free agent, not drafted.)
He received more votes than any other player on the players' ballot. His peers gave him more All-Star Game love than any other player. I bet that means more to Judge than the fan voting.
He's the first AL rookie to be voted an All-Star Game starter since Hideki Matsui in 2003. Matsui was a veteran from Japan though, not a true rookie.
Both Betances and Castro were selected to the All-Star Game for the fourth time in their careers. Betances has made it each of the last four years. Betances, Chris Sale, Clayton Kershaw, and Max Scherzer are the only pitchers who can make that claim. Castro was an All-Star with the Cubs in 2011, 2012, and 2014. Judge, Sanchez, and Severino are first time All-Stars. Sanchez has also been invited to the Home Run Derby, though, like Judge, he's yet to decide whether to accept the invite.
The big story here is that four homegrown Yankees are All-Stars, and three of them are no older than 25. Even Castro, the non-homegrown All-Star, is still only 27. I wonder how long it's been since the Yankees had five under-30 All-Stars? Has to have been a while, right? Judge, Sanchez, and Severino did not need to be selected to the All-Star Game to be validated as cornerstone Yankees, but it sure is cool they made it.
In addition to the five All-Stars, Didi Gregorius is on the Final Vote ballot. He's up against Elvis Andrus, Xander Bogaerts, Logan Morrison, and Mike Moustakas. Royals fans are probably going to stuff the hell out of the Final Vote ballot like they do every All-Star ballot, but we've gotta try to get Gregorius there. He's fun and he's awesome. Fans all around the world need to experience the joy of Sir Didi. Here's the ballot. Go vote a few hundred times.
As for snubs, I'd say Aaron Hicks and Matt Holliday deserved serious All-Star Game consideration, but they're both currently on the disabled list. That surely worked against them. So did the numbers crunch. The All-Star Game rosters were trimmed from 34 players to 32 players this year. Either way, five (potentially six) All-Stars is pretty awesome. More than I expected.