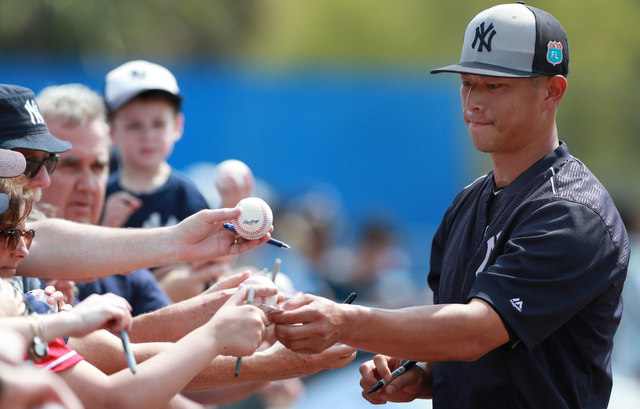 At some point during the road trip the Yankees are expected to welcome Alex Rodriguez back from the DL. He is eligible to be activated tomorrow, though following last night's game Joe Girardi admitted that won't happen. A-Rod has yet to test his hamstring by running at full speed. That's kind of a big deal.
"He is not going to be ready on Thursday. He still has some hurdles to cross and get by, and he is not by them yet. He really hasn't had a setback. We were hoping for 15 days, but it will be more than that," said Girardi to George King yesterday. The team does expect to get Alex back "sometime in Oakland" though. He'll be back soon, just not tomorrow.
Whenever A-Rod comes back, the Yankees will have to clear a roster spot for him, which almost certainly means demoting either Rob Refsnyder or Ronald Torreyes. I suppose the team could cut ties with Dustin Ackley, but that would surprise me. They could use the lefty bench bat and they wouldn't have a backup first baseman. Refsnyder or Torreyes it is.
It's easy to assume Refsnyder's stint with the Yankees will be short-term a la Gary Sanchez last week — the circumstances aren't quite the same, but you know what I mean — because, after all, Torreyes has been with the team all season and has mostly been fine. I don't think that is necessarily the case, however. Refsnyder has the better track record offensively and he's improved his versatility by playing third base and right field this year. He could stick instead.
For now both Refsnyder and Torreyes are on the roster until A-Rod comes back, whenever that may be. We're not going to learn a whole lot about these two in the coming days, especially if they ride the bench, so we know pretty much all we need to know about them right now. Which one is a better fit for the bench going forward? Let's look.
The Case For Refsnyder
Here's a challenge: try to make a case for Refsnyder that doesn't involve citing minor league stats from a year or two (or three) ago. Refsnyder is now 25 years old and he's in his third year at Triple-A. His numbers have gotten worse each season (Triple-A wRC+ from 2014-16: 137, 123, 115) and he's not a good defender at all. Refsnyder is, by all accounts, a great teammate and a hard worker. That matters. But so does everything else.
Refsnyder offers versatility in that he can play second and third bases in addition to right field, though we've seen him at second and third, and it's not pretty. Right field? I'm not so sure. I haven't seen him out there. He could be a Jason Heyward level defender for all I know. Seems unlikely though. So Refsnyder's versatility isn't as valuable as it may seem. Sure, he can play multiple positions, but if he can't play them even decently, what's the point?
That said, Refsnyder does have offensive upside, especially compared to Torreyes. He has more power — Torreyes has hit 22 home runs in over 2,600 pro plate appearances — and late last season he also showed the ability to spray the ball around a bit. And, even though his defense is below-average, it's passable. Refsnyder probably isn't someone you would be comfortable playing every day, but he can make spot starts here and there no problem.
The case for Refsnyder is built around his offense, and offense has been a problem for the Yankees much of the season. Especially against lefties too. They've hit .231/.289/.345 (78 OPS+) as a team against southpaw starters this year. We've already seen a few clubs call up lefties to make spot starts against the Yankees for that reason (Blake Snell, Cesar Ramos). Refsnyder's righty bat would help the lineup whenever a lefty is on the mound. Torreyes has started 12 of 38 games. Start Refsnyder that often and his glove won't be a huge issue.
The Case For Torreyes
Torreyes and Refsnyder are pretty much opposites. Refsnyder is bat first and glove second. Torreyes is bat second and glove first. Torreyes did get off to a fantastic start offensively, going 6-for-9 in his first three games, but that was never going to last and it hasn't. He's gone 4-for-29 (.138) since and is down to .263/.282/.342 (66 wRC+) on the season overall. Ewww.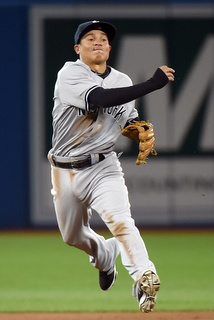 That said, Torreyes does have an elite offensive tool in his contact ability. He's struck out four times in 39 bats (10.3%) and his swing and miss rate is a measly 7.5%. Torreyes struck out in 6.2% of his minor league plate appearances, so this isn't small sample noise, this is who he is. Few players in the game can get the bat on the ball as frequently as he can. Put the ball in play and generally good things happen.
In the field is where Torreyes really makes an impact. He's an above-average gloveman who has already played the three non-first base infield positions this season, plus he's spent a few innings in right field. Girardi has said he's comfortable playing Torreyes pretty much anywhere. Offense can be hit or miss with bench players because it's easy to lose rhythm with sporadic playing time. Defense seems to be more of a constant.
(It's worth noting that if the Yankees go with Refsnyder or Torreyes, Starlin Castro would have to take over as the backup shortstop.)
Keeping Torreyes would mean prioritizing defense over offense and, frankly, the Yankees could use help in both departments. That he puts the ball in play so much means he'll occasionally run into a BABIP fueled hot streak, like he did early in the season. Zero power limits his offensive upside though. Torreyes is a classic bench guy who can play almost anywhere and control the bat.
* * *
I'm pretty sure I know how this poll is going to turn out, but I guess I'll post it anyway. Both Refsnyder and Torreyes have clear strengths and weakness and they are different strengths and weaknesses, which is why this is not an insignificant question. If they had the same skill sets, then who cares? Pick one and move on. They offer different things and the Yankees have to figure out which one fits their needs better.
Who should the Yankees keep with A-Rod returns?