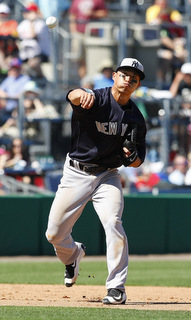 For the first time in his professional career, Rob Refsnyder played third base yesterday, and the limited look was positive. Refsnyder had to make two plays and neither was routine; both were hot shot grounders hit almost right at him. He scooped the first grounder and threw to second to start a 5-4-3 double play. He scooped the second grounder and threw to first for the out. It went as well as the Yankees could have hoped.
"How you drew it up," said Refsnyder to Chad Jennings after the game when asked about his first real game speed experience at third base. "I was talking about it yesterday. I just want a hard one … I felt good, comfortable. My goal was to kind of be aggressive, try to make a lot of plays, do a lot of different things on both sides of the ball. I just wanted to be aggressive."
Two plays do not a make a third baseman. Yesterday was nothing more than a good first step for Refsnyder, who is trying to increase his versatility and improve his chances of making the Opening Day roster. "I kind of understand my role going forward with this team," he added. "I'm just trying to do my job and help the team out as much as possible. I'm kind of all over it. I split my time, try to get reps in everywhere, wherever Joe needs me."
The Yankees intend to try other players at third base this spring as they look for a suitable backup for Chase Headley. At some point Starlin Castro will play third. Others will get a chance too. Did you notice who replaced Refsnyder yesterday? It was Ronald Torreyes, another bench candidate. He took over at the hot corner and made a tough play himself, on a similar well-struck grounder hit into his general vicinity.
Brian Cashman said over the winter the Yankees plan to use their final bench spot as something of a revolving door to give Joe Girardi whatever he needs at any given time. An extra infielder, an extra arm, whatever. It's a good idea in theory. I'm curious to see how it works in practice. Girardi, however, said yesterday the team has to take someone who can play third base, so right now it seems the Yankees are leaning in that direction.
"You have to take someone who can play third. You really have to see how this plays out. You have guys like a (Donovan) Solano, and a Castro, and a Torreyes and a (Jonathan) Diaz, who have played all over," said the skipper to George King. Refsnyder is in that mix as well, otherwise he wouldn't have started at third base yesterday. Same with Torreyes. He's a natural middle infielder who's played only 36 career games at the hot corner, yet there he was yesterday.
I know their statements sound contradictory but Cashman and Girardi are not at odds here. They're on the same page. The Yankees can use the final bench spot on a backup third baseman come Opening Day and still use it as a revolving door throughout the season. Whoever breaks camp with the team in that roster spot won't necessarily stay there. As with the bullpen shuttle, playing well doesn't necessarily mean you'll keep your big league job.
The Yankees figure to see several lefty starters in the first two weeks of 2016 — they open the season with series against the Astros (Dallas Keuchel), Tigers (Daniel Norris), Blue Jays (J.A. Happ), and Mariners (Wade Miley, James Paxton) — so perhaps Refsnyder's righty bat will be worth carrying in April. And then in a few weeks it might make sense to carry another outfielder. Or an eighth reliever. Who knows how things will shake out.
For now, Refsnyder is very early in the process of increasing his versatility. Yesterday's five innings at third base were encouraging and certainly didn't hurt his chances of making the team. I assume the Yankees will run him out there again in a few days along with Torreyes and Castro and whoever else. Refsnyder at third base is an experiment worth trying, and if nothing else, yesterday showed this might not be as far-fetched as it once seemed.