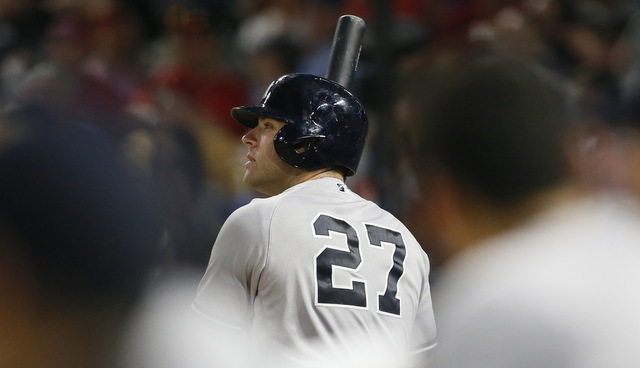 It's hard to believe that only a year ago, Austin Romine went unclaimed on waivers and seemed to be nearing the end of his time with the Yankees. Heck, it was only seven months ago that he looked like a candidate to lose his 40-man roster spot whenever the Yankees needed room. Romine's time in the organization was about to come to an end after nine seasons.
Except it didn't come to an end. The Yankees managed to hang on to Romine over the winter and he came to Spring Training as a backup catcher candidate. No one seemed to think he would actually win the job after Gary Sanchez's monster 2015 season, but the Yankees insisted he was in the mix, and eventually he did indeed win the job. Sanchez struggled in camp, Romine raked, and that was that.
"There was a lot of talk that (Sanchez would) be the backup, and we were encouraged with how he played last year, but it's probably a guy trying too hard and trying to do too much," said Joe Girardi last week when asked about Sanchez's spring. "That happens all the time. The key is that you learn from that — like an Austin Romine did — and that you just go out and relax and be yourself."
Six weeks into the regular season, it's hard to think that decision could have worked out any better. The 27-year-old Romine is hitting .303/.324/.424 (104 wRC+) in limited time as Brian McCann's backup while Sanchez remains in Triple-A, playing every day to continue his development, especially defensively. Sanchez owns a .297/.345/.550 (163 wRC+) batting line with the RailRiders.
We spent so much time talking about keeping Sanchez down in the minors long enough to delay his free agency. Thirty-five days. That was the magic number. Thirty-five days in the minors in 2016 meant team control of Sanchez's age 29 season in 2022. That's a very long way off and no one has any idea what will happen between now and then, but 35 days? It was worth keeping Sanchez in the minors that long this year to gain that extra year of control.
Those 35 days have come and gone, and Romine has not given the Yankees a reason to make a change at backup catcher. On day 33 Romine went 3-for-4 with two doubles against David Price and the Red Sox while leading Nathan Eovaldi through eight innings of two-run ball. A few days later he started at DH because he's been hitting so well. Romine was going to have to hit to keep his job. He's credited his success to a change in his mental approach.
"I went home in the offseason and said I'm done not doing the best that I can," he said to Laura Albanese last week. "You get passed up (for a job) by another catcher … It just makes me step back and realize what I needed to do, and that was hit. It comes down to the same thing. I've got to hit. I've got to show them I can hit up here, show them I can hit off big league pitchers and continue to show them I can catch."
Romine has hit well and he has seemed to work well with the pitching staff, so much so that he's essentially become Eovaldi's personal catcher. The hitting success very well might be small sample size noise. That stuff happens. But Romine was going to have to hit in Spring Training to win a job and hit early in the regular season to keep that job, and he did just that. This is one of those cases where a small sample means a whole lot.
"Just being able to slow the game (down)," said Romine to Chad Jennings when asked what has made him successful this year. "I've been here. I've been in this situation before. I know how to prepare for hitting every four, five days. Being the backup catcher you get to play once a series, maybe. Being able to prepare myself to hit, going on a couple days now, it's a hard thing to do. But it's just being able to slow the game down."
So now, with Romine emerging as serviceable backup catcher (if not more) rather than settling in a stopgap, the Yankees have some options. First and foremost, they have the option to remain patient with Sanchez and leave him in Triple-A. Not for service time reasons, but for developmental reasons. Sanchez is still only 23, remember. He's 23 and still in need of refinement behind the plate. He can play everyday in Triple-A and work on things.
Also, Romine's combination of strong play, cheap salary ($556,000), and years of team control (through 2019) means he may have some actual trade value. A year ago this guy slipped though waivers unclaimed. Any team could have had him and they all passed. Now, a year later, Romine is a productive big leaguer who seems to have turned a corner with his mental approach and preparation. And it helps that he plays the most premium position of all.
The Yankees have made a habit of trading backup catchers in recent years. They sent Chris Stewart to the Pirates for Kyle Haynes two years ago, Francisco Cervelli to the Pirates for Justin Wilson one year ago, and this past winter John Ryan Murphy went to the Twins for Aaron Hicks. Can Romine bring back a Wilson or a Hicks in a trade? Nah, probably not. Cervelli was an established big league backup catcher and Murphy had a full year as a productive backup to his credit and is three years younger.
Romine for all we know is a guy who just had the six best weeks of his career. He's appeared in 15 games and has 35 plate appearances. That's it. I do buy his change in approach because he does look different at the plate. Romine is swinging at way fewer pitches out of the zone this year than he did in 2013 (36.3% to 31.4%), his only other extended trial in MLB, and his hard contact rate is up too (29.4% to 37.0%). For the first time, he looks like someone who knows he belongs.
For now, Romine has performed better than anyone could have reasonably hoped in the early going this season, and that's great news for the Yankees. I get that people are eager to see Sanchez, I am too, but Romine has given the Yankees no reason to make a change. Two quality backup catchers is better than one, after all. At some point the Yankees will have to pick between the two. Right now they can be patient. There's no urgency to make a decision because Romine had made himself in an asset.