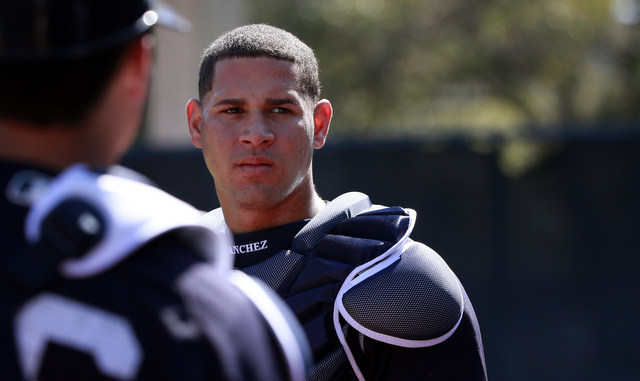 Over the years the Yankees have been known to stage Spring Training competitions. Competition is healthy and they try to foster it in camp whenever possible, even if it means saying a job is up for grabs when we all know it really isn't. The fifth starter competition in 2010 always stands out to me. If it was truly based on spring performance, Sergio Mitre would have gotten the job. Instead, it went to Phil Hughes, who was going to get it all along.
This spring the Yankees do have some true competitions, mostly in the bullpen but also on the bench. That last bench spot is up for grabs and it sounds like it will go to a backup third baseman. The Yankees must also pick a backup catcher from a group that includes top prospect Gary Sanchez, post-hype youngster Austin Romine, and veteran journeyman Carlos Corporan. From the sound of it, the race is between Sanchez and Romine.
"In evaluating Sanchez and Romine you want to give them equal starts and see how they do and how they adapt to the different pitchers … They re going to play," said Joe Girardi to George King over the weekend. Player usage can be telling during Spring Training, and it's worth noting Sanchez started Sunday's game behind the plate with Masahiro Tanaka on the mound. Romine came off the bench to catch the Triple-A guys.
"I think it has shown how much he has grown, that he is getting starts now as opposed to coming in and backing up and (catching) guys he knew from the minor leagues. Now he is getting guys he doesn't know and you want to see how he adjusts," said Girardi. Sanchez started and caught Ivan Nova last week, another big league pitcher he's not too familiar with. Romine's only start this spring came with Bryan Mitchell on the mound, and those two know each other from Triple-A last season.
Romine is out-hitting Sanchez very early in Grapefruit League play — he's 4-for-8 with three booming doubles, Sanchez is 0-for-3 with two walks and a hit-by-pitch — and while that doesn't mean much in the grand scheme of things, it's not going to hurt Romine's case. He said it himself the other day. To make the Opening Day roster, he's going to have to hit all spring. Another .171/.216/.200 showing like last spring won't cut it. Romine has to force the issue.
The Yankees have been going young whenever possible over the last 16 months or so, and handing the backup catcher reins over the Sanchez is an obvious move. He's their top catcher prospect, he had success at Double-A and Triple-A last season, and he put an exclamation point on his season in the Arizona Fall League. Sanchez has reportedly matured over the last year and his defense improving. Giving him the job makes sense. At the same time, more time in Triple-A is justifiable.
"I think you have to see where his game is as we go through Spring Training," said Girardi. "Sometimes you talk about players who have high ceilings and sometimes people say, 'Let's finish (his development) off in the minor leagues before we call them up.' I think Gary does have a high ceiling but he is a guy who might be able to help us a lot, too. If you think he is ready then you have to weigh that. Is he better off playing every day and really finish everything off? Or do you see if he can help you out and make a difference."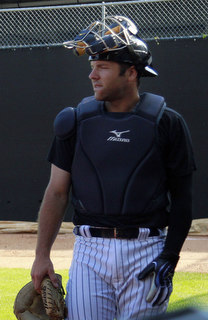 Beyond the on-field development — Sanchez is improving defensively but he's still not great back there — there's also roster and service time considerations. Thirty-five days in the minors pushes Sanchez's free agency back a year. Romine, meanwhile, is out of options and has been outrighted before, which means if the Yankees want to send him to the minors, they have to pass him through waivers. And even if he clears waivers, he can elect free agency thanks to the prior outright.
If the backup catcher competition is truly between Sanchez and Romine — Corporan is a bystander who was brought in as depth, in that case — then the decision seems pretty obvious to me. The Yankees should go with Romine and keep him around a little longer. (I assume he'd elect free agency if outrighted to find a better opportunity.) That allows them to maintain some catcher depth and, more importantly, push Sanchez's free agency back. That almost feels like the top consideration here, not his on-field development.
Sanchez and Romine are not oblivious to the situation. Sanchez reached the big leagues as a September call-up last year and said over the winter his goal is to make the team for good this year. Romine is basically fighting for his career. I don't think that's an exaggeration. This might be his last chance at a big league roster spot. If this doesn't work out, he's in danger of becoming a journeyman teams pick up to fill Triple-A roster holes. That's one hell of a motivator, don't you think?
"It doesn't feel different," said Sanchez to Bryan Hoch when asked about the general belief he is the favorite for the backup catcher's job. "To me, I'm just focusing on my job. I've got to keep working hard every day, call a good game and whatever decision is up to them. It's exciting to be in the mix. For us, all players, we want to make it to the big leagues. But that's not my decision."
Whoever the Yankees pick to be their backup catcher, that player doesn't figure to actually play much early in the season. Brian McCann is going to start most games, and all the April off-days mean it'll be easier to keep him in the lineup. That's another reason to send Sanchez down. He won't actually start much in April. Going with Romine as the backup catcher is not so much about having Romine on the roster. It's about trading a handful of games now for an extra season of Sanchez later, and that's an easy call.