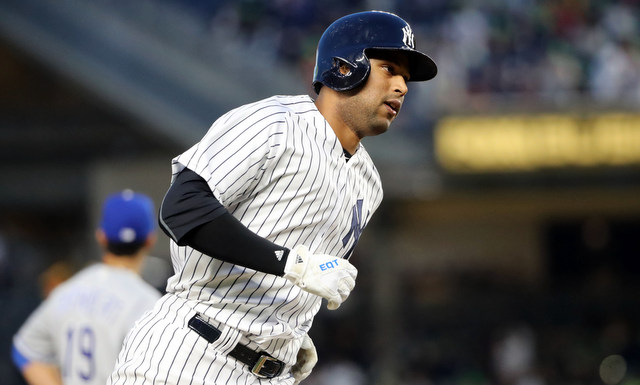 Over the winter the Yankees and Twins got together for an old school baseball trade. My young player for your young player, my surplus for your surplus. It was pretty cool. John Ryan Murphy went to Minnesota for outfielder Aaron Hicks as the Yankees looked to add athleticism to their outfield and the Twins sought to improve their catching situation.
Early on this season, neither team was getting what they wanted out of the trade. Murphy had a poor Spring Training and struggled so much the first few weeks of the regular season that the Twins shipped him to Triple-A. Hicks, meanwhile, started his Yankees career with two singles and two walks in his first 28 plate appearances. Those 28 plate appearances were spread across 24 games.
Going from playing every single day to playing part-time, as Hicks did this year, can be a really tough adjustment, and it sure seems Hicks had trouble with it. Lately though, he's been able to play regularly thanks to Alex Rodriguez's injury, which allowed the Yankees to slide Carlos Beltran into the DH spot and play Hicks in the outfield. Jacoby Ellsbury's recent hip problem has pushed Hicks into his natural center field too.
Since A-Rod's injury Hicks has started eight straight games, and during those eight games he's gone 9-for-25 (.360) with a double, two homers, and two walks. Last night he was one of the few bright spots in the loss to the Royals, going 3-for-4 with a single to right field, a single to left field, and then a single to center. The night before he went 2-for-3 with a homer to right and a double to left, all from the left side of the plate.
"For me, it's just the opportunity that I'm getting to play every day, and I've been able to get consistent at-bats and I've been able to just relax, just swing and just play," said Hicks to Fred Kerber yesterday. He told Chad Jennings, "I feel like the more at-bats I get, the more comfortable I'm going to be. To be able to see the ball more often is definitely helping out, especially when it comes to having a solid approach."
A-Rod's disabled list stint doesn't expire until one week from today, so Hicks has at least another week's worth of starts coming to him. (Ellsbury is due back this weekend, but he'll take Ben Gamel's playing time, not Hicks'.) That's more time to get comfortable and more time for Hicks to show the Yankees he deserves to get more than 28 plate appearances every 25 games when the team is at full strength.
No one thinks Hicks is a true talent .360 hitter like he's hit the last eight games. That .077 average he put up while playing sparingly the first few weeks isn't him either. We've seen that when he is comfortable at the plate, Hicks has power and can spray the ball around a little a bit, and part of keeping him comfortable at the plate is giving him more playing time. And there's his defense too. He's an upgrade in the field, especially thanks to him arm.
Once A-Rod and Ellsbury are healthy — knock on wood — the Yankees would be smart to continue giving Hicks regular at-bats to keep him locked in and productive. He can legitimately be a building block going forward as a 26-year-old switch-hitting center field. I mean geez, how do you not make playing time for that guy? It won't be easy, the at-bat are going to have to come from somewhere, but it's for the best both this year and the future.