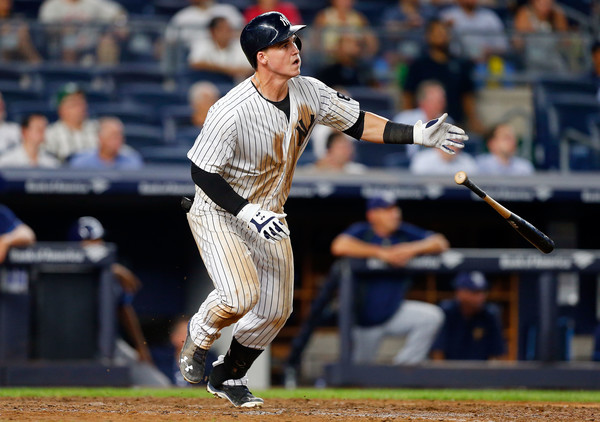 When Spring Training opens in a little under the a month, the Yankees are going to have to sort out a few positions, and for once, it's not because there's a veteran guy in camp trying to make the team. The Yankees have several young players vying for two rotation spots, a bunch of bullpen spots, right field, and also first base. Brian Cashman insists right field and first base are wide open.
Of course, if you give Cashman a truth serum, he'd tell you he wants Greg Bird to take the first base job and run with it. Bird completed his shoulder surgery rehab and got some at-bats in the Arizona Fall League last year, but the Yankees know he might be all the way back to his 2015 form come Opening Day. A stint in Triple-A is entirely possible. Hopefully not, but if it's necessary, what can you do?
Bird's primary competition at first base is Tyler Austin, who reemerged as a prospect last season and made his big league debut in August. He did some cool things, like sock some clutch opposite field home runs at Yankee Stadium, though he had his difficulties as well. Austin's strikeout (40.0%) and contact (62.0%) rates weren't much better than Aaron Judge's (44.2% and 59.7%), whom many seem to think will strike out his way to the prospect graveyard.
Also in the mix at first base will presumably be the recently signed Ji-Man Choi as well as Rob Refsnyder, who saw time at first last year. And the thing is, it's entirely possible — if not likely — two of these players will make the Opening Day roster. Would a Bird-Austin platoon at first base surprise you? Not me. Same goes with Bird-Refsnyder. A Choi-Austin or Choi-Refsnyder platoon could happen too. (Austin-Refsnyder would be weird.)
Barring Spring Training injuries or surprises, the four-man bench going into the season figures to include a backup catcher (Austin Romine), a backup infielder (Ronald Torreyes), and a backup infielder (Aaron Hicks). That assumes Hicks isn't needed to play right field because Judge gets sent down to Triple-A. I feel like that would be the ideal bench, with the fourth spot still to be determined.
Bird winning the first base job would make carrying Choi on the bench sorta silly. I mean, yeah, Choi can play a little outfield, but not really. Carrying two left-handed hitting first baseman doesn't make much sense. Austin or Refsnyder would be the best candidates for that fourth bench spot, especially with the Yankees trying to go young. What's the advantage of carrying, say, Ruben Tejada over those guys? I don't see one. Let's make cases for Austin and Refsnyder on the bench, shall we?
The Case for Austin
In his limited big league time last year, Austin annihilated left-handers, hitting .348/.444/.652 (195 wRC+) against them even though three of his five homers came against righties. (Austin had a 62 wRC+ against righties). His split was far less pronounced in Triple-A: .365/.459/.698 against lefties and .304/.394/.609 against righties. Austin was a man among boys in Scranton. I'm not sure how useful his Triple-A splits are.
One thing we know for sure is Austin has more power than Refsnyder. A lot more. Refsnyder hit two home runs in 405 plate appearances last year. Two. Both in Triple-A. Austin hit five homers with the Yankees on top of the 17 he hit in the minors. He hit nearly as many homers in 2016 (22) as Refsnyder hit from 2014-16 (27). Austin's right field pop is a fun fit for Yankee Stadium. He'll unquestionably give New York more thump.
Defensively, Austin is limited to first base and the two corner outfield spots. He has minor league experience at third base (35 total games), but he's not good there, so I wouldn't consider him anything more than an emergency option at the hot corner. Furthermore, Austin is not a good defensive outfielder. We saw him take some weird routes and pull up short of the wall a few times last year. At first base he was fine enough. Not great, not terrible.
Austin has long been a bat-first player, which is why his prospect stock took a big hit when he didn't do much at the plate from 2014-15. Put him on the bench, and Joe Girardi can use him as a platoon option at first as well as occasionally in the outfield and at DH. He gives them some legitimate power to use against all those AL East southpaws (Chris Sale, David Price, Eduardo Rodriguez, J.A. Happ, Francisco Liriano, Blake Snell, Wade Miley).
The Case for Refsnyder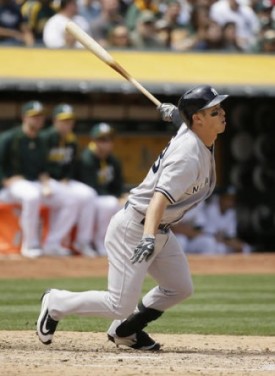 For long stretches of time last season Girardi used Refsnyder as a platoon bat against righties, often batting him second in the lineup. Refsnyder responded with a .274/.370/.355 (94 wRC+) batting line against southpaws, which, while short on power, is nice from an on-base point of view. Not making outs is cool. Austin has the advantage in power while Refsnyder boasts the better plate discipline numbers:
Austin in 2016: 40.0 K% and 7.8 BB% in MLB (25.2 K% and 13.7 BB% in Triple-A)
Refsnyder in 2016: 17.1 K% and 10.3 BB% in MLB (13.0 K% and 7.4 BB% in Triple-A)
One thing we saw out of Refsnyder last year — and even the year before, really — was consistently quality at-bats. He didn't jump out of his shoes flailing at pitches out of the zone and he wasn't afraid to hit with two strikes. The results weren't always there, but have quality at-bats and the results will come eventually. Hopefully. Anyway, Austin has more swing and miss in his game.
Refsnyder's lack of defense makes him a bat-first player as well, though based on what I saw last year, which admittedly isn't much, Refsnyder is much more refined in the outfield than Austin. He won't win Gold Gloves or anything, but he takes good routes and seems to be in control out there. Austin was a bit more … chaotic. Also, we know Refsnyder can play second if necessary, and last year the Yankees had him learn first and third base. As with Austin though, third seems like an emergency only option.
With Refsnyder on the bench, Girardi could continue using him as a platoon bat who will make a pitcher work, though he doesn't figure to hit for much power. Right field is probably his best defensive position, but he can also play first and second bases if necessary, so there's another layer of versatility there. Neither guy will set land speed records, so baserunning isn't a tiebreaker.
* * *
Ultimately, this comes down to Austin's power against Refsnyder's contact skills and ability to play second base. Being able to play second is not nothing. With Torreyes and Austin on the bench, the Yankees can only rest one regular non-first base infielder at a time. With Torreyes and Refsnyder, Girardi will be able to rest two at the same time. At the end of a blowout or whatever.
In all likelihood both Austin and Refsnyder are going to spend time in the fourth bench spot next season. They both have minor league options remaining, and depending on the team's needs at the time, they might find themselves going up and down. And you know what else? When injury strikes — and it inevitably will — chances are both will be on the roster at the same time. Baseball has a way of making these situations go away. Anyway, this question is ripe for a poll, so let's get to it.
Who should get the final bench spot?