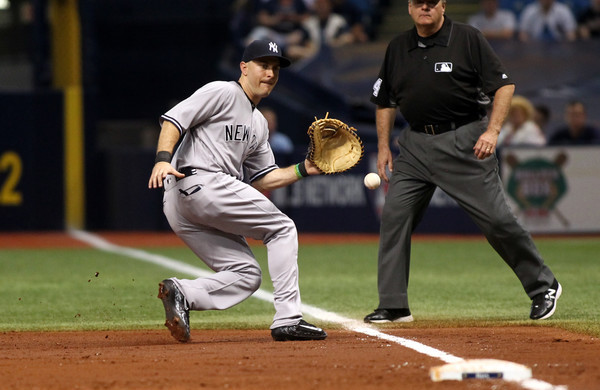 Last season the Yankees were able to qualify for the postseason largely due to the tremendous production they received from their first basemen. Led primary by Mark Teixeira and Greg Bird, New York's first sackers hit .248/.336/.516 (114 OPS+) with 43 homers. Only the Orioles got more dingers from their first basemen (44) thanks mostly to Chris Davis.
So far this season the lack of production from first base is a huge reason why the Yankees have been unable to keep their head above .500. Teixeira is hitting .195/.291/.286 (62 wRC+) with three homers and Dustin Ackley, his primary backup, owns a .143/.248/.143 (11 wRC+) line. All together, New York's first basemen are hitting .168/.261/.246 (36 OPS+) with three homers this season. They rank dead last in homers and OPS+ at the position.
Teixeira returned to the starting lineup last night after missing five games with a nagging neck issue that also kept him on the bench for a few games last month. During Teixeira's absence Ackley managed to suffer what is likely a season-ending injury when he dove back into first base on a pickoff throw and tore his labrum. Ouch. The team's backup first baseman for the time being is backup catcher Austin Romine, and that is hardly ideal.
As we've learned in recent years, replacing a backup first baseman ain't all that easy. The days of carrying a pure backup first baseman are over. James Loney? He made no sense. He provides no power, no speed, no versatility, and these days iffy defense as well. Either the primary first baseman or the backup first baseman has to be able to play somewhere else in the world of four (and sometimes three) man benches, and since Teixeira can't, the backup has to for the Yankees.
Ackley wasn't hitting at all. That doesn't mean replacing him on the roster will be easy. The Yankees need to come up with a backup first baseman who can handle another position or two and hopefully be more than a zero at the plate. What option do they have at this point of the season? A few and none are great. Let's look.
Stick With Romine
First base is obviously not Romine's primary position, but it's not completely foreign to him either. He started ten games at first base in Triple-A last year once Gary Sanchez was promoted, for example. All told Romine has 206 career regular season innings at first between MLB and the minors, plus whatever he did in Spring Training, which is better than nothing.
Using your backup catcher as your backup first baseman really limits flexibility though. You can't pinch-hit or pinch-run for either when they both start the same game because that means someone has to play out of position at first. Well, I mean you could pinch-hit or pinch-run, but most managers won't. They seem to be collectively terrified of not having a second catcher available in case of injury. Romine as the backup first baseman figures to be a temporary measure.
Torreyes Or Headley?
Ronald Torreyes has never played first base as a professional, so forget about him. He might be too short for the position too. I'm being serious! The guy is about 5-foot-8, so he doesn't present much of a target over there. Chase Headley's played some first base in his career but not much (58 innings). His best position is third base. "I think I would be more inclined to put Headley at first and Torreyes at third," said Girardi to Chad Jennings yesterday. It doesn't seem like Headley (or Brian McCann, for that matter) is much of a consideration at first, which is the right move in my opinion. He's an emergency option only.
What About Refsnyder?
It would behoove Rob Refsnyder to pick up a first baseman's mitt and start working out at the position. Take grounders, start to learn the footwork, that sort of thing. Refsnyder has to give the Yankees a reason to keep him on the roster and learning first base would be a big help. I'm not saying it'll be easy, but if he wants to make himself as valuable as possible, trying to become a viable option at first would go a long way. Unless the Yankees explicitly tell Refsnyder to not work out at first — Girardi said he's thought about, but the team hasn't talked about it yet — he should put in some extra work there. That's his best way to stay on the roster, and he just might be the team's best option at the position.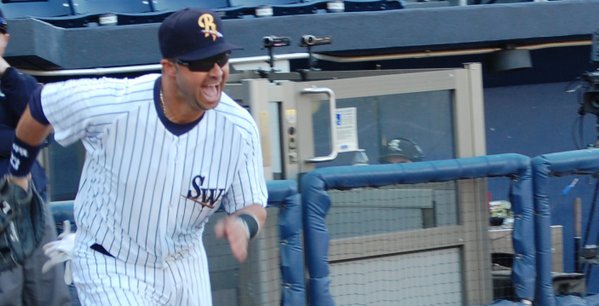 Swisher Or Parmelee?
Bird had his shoulder surgery in early-February, which didn't give the Yankees a whole lot of time to find a replacement depth option. The timing really sucked. First the team picked up Chris Parmelee as a minor league free agent, then, a few weeks later, they added Nick Swisher after the Braves cut him loose. Here are their Triple-A numbers to date:
Swisher: .244/.263/.366 (77 wRC+) with four homers in 137 plate appearances
Parmelee: .246/.333/.435 (125 wRC+) with six homers in 159 plate appearances
I get whey everyone asks about Swisher, but he's not hitting in Triple-A, he didn't hit in the big leagues the last two years, and his knees are pretty shot. It's pretty obvious his days as a productive player are behind him. About the only thing he offers over Parmelee at this point is experience and the ability to switch-hit, and what good is the latter if his bat has lost its punch?
Parmelee, on the other hand, has put up decent numbers in Triple-A this season and he does have quite a bit of outfield experience in his career. More than I realized. He's played over 300 games in right field in the minors plus another 127 in the show. It adds up over to 3,600 total innings at the position. Yankee Stadium in right field is tiny. The Yankees could hide Parmelee out there for a few innings if necessary. (He's also played some left field too.)
No one wants to hear it, but between Swisher and Parmelee, Parmelee is the better bet at this point. He's younger (28) and he's healthier, and he's putting up better numbers at the same level as Swisher. I love Swisher. He was awesome from 2009-12. It is now 2016. He is no longer awesome. Getting old (in baseball years) sucks.
The Trade Market
The only trades going down at this point of the season are really small. Loney for cash. Brian Matusz (and a draft pick) for salary relief. That sort of thing. Maybe the Marlins will give up Chris Johnson for cash or a player to be named. He seems like a realistic trade candidate. That type of player. Triple-A options around the league include, uh, Casey McGehee? Is he any better than Parmelee? The Yankees aren't going to want to give up much for a new 25th man on the roster nor should they. I wouldn't hold my breath for a meaningful trade. A trade like the Ackley trade represents the best case scenario. Young-ish and versatile players are hard to get.
Free Agenchahahah
Here is the list of current free agent first basemen, via MLBTR:
Jeff Baker (35)
Corey Hart (34)
Justin Morneau (35)
Mike Morse (34)
Hart's knees are shot and he hasn't faced live pitching since last June. Morneau had elbow surgery in the offseason and won't be able to swing a bat until next month, according to LaVelle E. Neal. Baker hasn't hit much the last few seasons and he literally handed out clown noses in the clubhouse to make fun of the Marlins front office last year. Good luck getting a job after that.
Then there's Morse, who went 0-for-8 with the Pirates last month before being released. He was traded from the Marlins to the Dodgers to the Pirates last year, so I'm not sure who is paying what percentage of his $8.5M salary, but it doesn't really matter. Because he was released, the Yankees (or any other team) can sign him for the pro-rated portion of the league minimum. Someone else is paying the rest of that $8.5M.
Morse did not hit last year (83 wRC+), not even against lefties (93 wRC+), and he's 34 and only getting older. That said, he can play first base and handle right field in an emergency. He's not the best free agent option. He's the only free agent option. Oh, and by the way, he hasn't faced live pitching in nearly two months now, so yeah. Morse is not exactly game ready. Free agency doesn't offer much help.
* * *
Swisher reportedly has an opt-out date in his contract sometime in June and that could very well play a role in the team's decision. Would the Yankees call up Parmelee knowing they could lose Swisher in a few weeks? That would leave them with no true Triple-A first baseman. Parmelee is likely the better player right now, but he might be the least roster and depth friendly option too.
My guess is the Yankees are going to roll with Romine as the backup first baseman for a few weeks and hope Teixeira's neck doesn't act up. Refsnyder will probably start working out at first too because, really, what do the Yankees have to lose? Taking grounders and throws before games only makes sense. Swisher could force the Yankees to make a decision with his opt-out, though his production doesn't scream "call me up!"
Make no mistake, the Yankees aren't going anywhere unless Teixeira starts hitting and soon. If they have to turn to their backup first baseman regularly at any point from here on out, they're in big trouble. That was true even if Ackley stayed healthy. Expect them to scour the waiver wire these coming weeks for a potential backup at first. Chance are the best possible solution is already in-house.