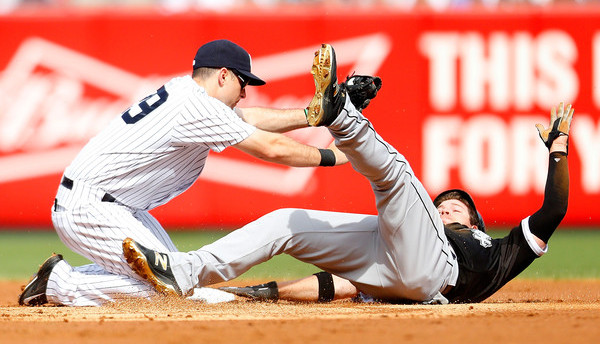 Last year the Yankees made it no secret they wanted to give their starters extra rest whenever possible. That meant not using off-days to skip the fifth starter and inserting a spot sixth starter whenever possible. Almost all of their projected starters had some kind of health concern, none bigger than Masahiro Tanaka's elbow, and the Yankees were trying to prevent further injury.
It's difficult to say whether the plan worked. The foursome of Tanaka, CC Sabathia, Michael Pineda, and Nathan Eovaldi combined to make 107 starts, including 63 on extra rest (59%). All four got hurt at some point — Tanaka and Pineda had forearm problems, Sabathia's knee acted up, and Eovaldi's elbow barked in September — and only Tanaka was comfortably above-average.
Overall, the Yankees rotation had a 4.25 ERA (4.04 FIP) last season and maybe things would have been worse had they not given their four main starters extra rest. The Yankees had good intentions. Whether they got the desired results is another matter. Either way, it seems likely the team will again try to give their starters extra rest in 2016. New health concerns exist, plus Luis Severino will presumably have some sort of innings limit.
"I think there's depth there but there's questions about health … I think our guys are capable of getting it done," said Joe Girardi when asked about his rotation at the Winter Meetings last month. "But the thing is, you have to keep them out there for 30 to 32 starts. I think our rotation has a chance to be good, but we've got to keep them out there."
Teams are using pitchers less and less these days, and it feels like only a matter of time until the six-man rotation is widespread. Several teams, including the Dodgers and Phillies, used a six-man rotation for part of September last season, when it was easier to pull off thanks to expanded rosters. That's the tricky part of a six-man rotation: you either need a short bullpen or a short bench to make it work.
The Yankees right now have the kind of bench that can make a six-man rotation work. They'll have a backup catcher, presumably Gary Sanchez but possibly Austin Romine, plus Aaron Hicks as the backup outfielder and Dustin Ackley as the utility guy. Starlin Castro is currently slated to back up Didi Gregorius at second and Chase Headley at third, with Ackley filling in at first and second. They have every position covered, at least in theory.
Castro's ability to play third is the X factor. If he can play the position on occasion, a three-man bench and six-man rotation could actually work. If Castro can't play third though, the Yankees will need to carry a fourth bench player to back up the hot corner, blowing this whole plan up. It'll be interesting to see how the Yankees use Castro in Spring Training. That's the time and place to give him reps at third base if they're serious about using him there.
It's also possible the six-man rotation would lead to a revolving bullpen or bench spot. The Yankees can carry six relievers or three bench players depending on their needs at the time. Bullpen's taxed? Call up an extra reliever and send down a bench guy. Position player banged up? Carry the fourth bench player and only three relievers. That plan involves having optionable relievers and bench guys. We know the Yankees have the former. The latter? Yeah, but not as much.
"We could have an open bench spot. Maybe we use that with a revolving door with position players and/or pitching, depending on what our needs are," said Brian Cashman to Chad Jennings earlier this week. Sounds like we might see a bench player shuttle in addition to a bullpen shuttle next season. That would make it a bit easier for the Yankees to employ a six-man rotation, though it would still create a roster headache. That's unavoidable.
I don't think the Yankees will use a true six-man rotation next season. I think we're still a few years off from that, thankfully. I do think the team will try to get their starters extra rest whenever possible though, again by using a spot starter on occasion. Ivan Nova could be that guy if he stays stretched out as the long man, or the job could belong to Bryan Mitchell or Luis Cessa. Plans like this have a way of being thrown out of whack though.
If the Yankees do decide to use a six-man rotation at some point in 2016, even temporarily during a long stretch of games with no off-day, the current bench could allow them to do so with relative ease. It all depends on Castro's ability to play third base. His ability to do so would give the Yankees a ton of flexibility and roster possibilities.