How do you rebound from a tough loss? With a shutout win the next afternoon. The Yankees beat the Mets 5-0 in a not so quick yet well-played game Saturday afternoon. It was their fourth shutout and 81st win of the season. Hooray for clinching a .500 record.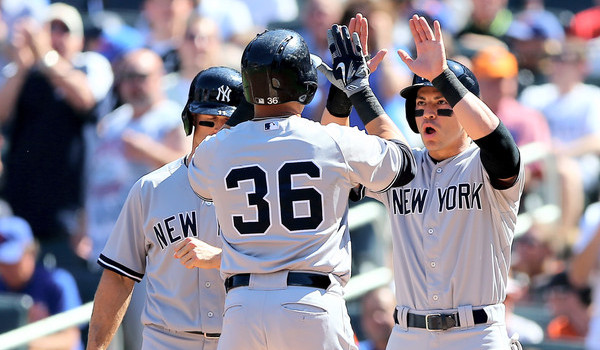 More Early Runs
Once again, the Yankees scored in the first inning. They lead baseball with 117 first inning runs this season — the Rockies are next with 107 — and they scored three within the first three batters Saturday afternoon. Jacoby Ellsbury and Brett Gardner led the inning off with back-to-back bloop singles — they were eerily similar; same arc, same spot, the whole nine — then Carlos Beltran followed with a no-doubt three-run homer into the second deck in right. Quick 3-0 lead.
Both Gardner and Beltran recorded their hits in 0-2 counts and I was hopeful that was an indication Noah Syndergaard was off his game a bit. Instead, he settled right down and retired the next 12 batters he faced. The Yankees didn't have another base-runner until Dustin Ackley smacked a leadoff triple in the fifth. The run didn't score though. Didi Gregorius and Michael Pineda struck out, and Ellsbury grounded out. The run felt doomed to be stranded as soon as Didi struck out. Can't count on the pitcher and the current version of Ellsbury to get the run in there.
The Return of Big Mike
Pineda's first four starts off the DL were pretty crummy. He allowed 14 runs in 21.2 innings in those starts, and the Mets have been tearing the cover off the ball of late, so Saturday afternoon was going to be a big test for Big Mike. The Yankees are going to need him to be better these last two weeks, and Pineda aced Saturday's test, throwing 5.1 shutout innings. He struck out four, walked one, and allowed four singles. That's all.
Joe Girardi went to his bullpen surprisingly early (more on that in a sec) even though Pineda appeared to have plenty left in the tank. Either way, this was Pineda's best outing since his forearm injury by far. I remember two hard-hit balls: Chase Headley made a fabulous diving grab to his right on Wilmer Flores' ground ball in the second, then Ellsbury ran down a line drive in the right-center field gap later in the game. I don't remember who hit it, I just remember Ellsbury chasing it down. Pineda was pretty awesome. More of this Big Mike going forward, please.
Insurance Runs
Like I said, Syndergaard handled the Yankees very well after giving up Beltran's home run, at least until the sixth inning rolled around. Beltran laced a one-out single to center and Brian McCann followed with a mammoth two-run home run in the bullpens. It was a very aesthetically pleasing home run. Syndergaard threw a fastball right into McCann's bat path and the follow through left zero doubt the ball was gone. McCann put a great swing on that pitch. It looked good and it gave the Yankees a 5-0 lead in the sixth.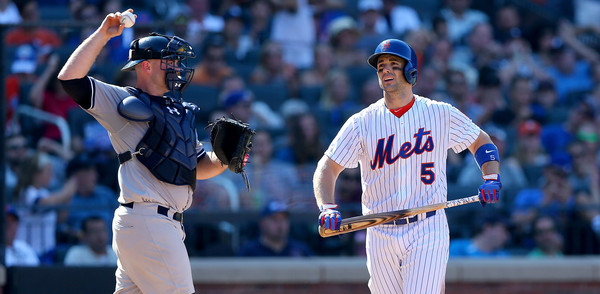 Panic Time
I think we reached peak Girardi panic mode in the bottom of the sixth. Pineda was cruising along, then he allowed two soft singles — Kelly Johnson hit a grounder to beat the shift and Curtis Granderson blooped a ball to left — leading off the inning, and Girardi had the bullpen working. Pineda rebounded to strike out Yoenis Cespedes on three pitches … and that was it. Afternoon over at 86 pitches.
Know what the weird thing was? I totally expected it. I did not, however, expect Stephen Drew to be double switched out of the game literally one out after replacing Ackley. Seriously, Drew came in for defense with a five-run lead after Ackley struck out to end the top of the sixth, which made total sense, then he was out of the game on the double switch. So weird. Anyway, Justin Wilson replaced Pineda, walked the lefty Daniel Murphy to load the bases after maybe getting squeezed, then struck out David Wright and Juan Uribe with his patented "fastball after fastball after fastball" approach.
All things considered, it worked. The Yankees need every win possible and Girardi opted for a fresh Wilson over a fatigued-ish Pineda with men on base, and Wilson escaped the jam. Was it was a curious move to pull Pineda with his pitch count so manageable and the bullpen struggling so much lately, possibly because they're out of gas late in the season after getting 12 outs a game day after day earlier this season? Yes, of course. But clearly Girardi trusts like three guys in the bullpen and these games are too important. Whatever.
Anyway, Wilson went back out for the seventh and struck out the first two batters of the inning. He struck out four in a row — you could argue five in a row considering he was squeezed against Murphy — then gave way to Caleb Cotham, who struck out Kevin Plawecki. Dellin Betances struck out two in a perfect eighth — Yankees relievers struck out seven in a row at one point — and of course Andrew Miller had to come in for the ninth after Chris Martin made a minor mess. He allowed two infield singles, which was enough for Girardi to go to Miller. He got Travis d'Arnaud to ground out to end the game.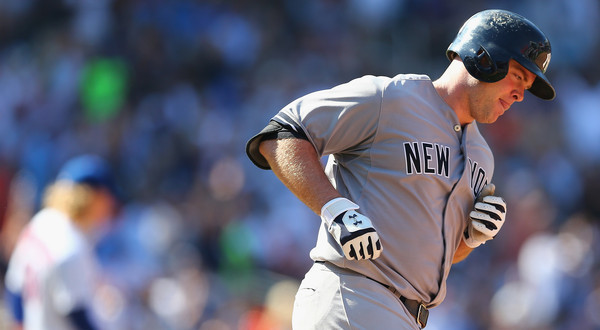 Leftovers
The first four spots in the lineup did all the damage. Ellsbury, Gardner, Beltran, and McCann went a combined 5-for-15 (.333) with two homers and both scored and drove in all five runs. The bottom five spots in the order went 2-for-19 (.105) with ten strikeouts. Ackley tripled and Greg Bird ground-rule doubled. Ackley, Drew, Brendan Ryan, and Rob Refsnyder all played second base in the last four innings.
Pineda and the various relievers combined to strike out 12 Mets on the afternoon. It was the team's 54th game with double digit strikeouts this year. Only that sicko staff in Cleveland has more. They have 55. The Yankees lead the AL with 28 games with at least ten strikeouts and no more than two walks. They did that this game, because duh. Why else would I mention it?
And finally, for some reason the Citi Field crowd broke into a "Let's Go Blue Jays!" chant after McCann's homer. What the hell was that about? The Mets are in first place! Don't worry about the Yankees, root for your own team. That's way more fun.
Box Score, WPA Graph & Standings
Here are the box score and video highlights, and here are the updated standings and postseason odds. The magic number to clinch a playoff spot is down to eleven. Here are our Bullpen Workload and Announcer Standings pages, and here's the win probability graph:

Source: FanGraphs
Up Next
The Yankees and Mets wrap up the 2015 Subway Series with the ESPN Sunday Night Game. Blah. CC Sabathia and Matt Harvey will be the pitching matchup in the sixth game of the nine-game road trip.