The 2015 Subway Series begins tonight. Unlike the last few years, when the Mets and Yankees played a four-game home-and-home series, they're playing three games at Yankee Stadium this weekend and another three games at Citi Field in September. I like that. It gives you a winner for each series. Both teams are playing well right now, so this should be the most exciting Subway Series we've seen in years.
What Have The Mets Done Lately?
Unless you've been completely unplugged from the baseball world, you know the Mets are riding an eleven-game winning streak coming into the series. All eleven wins came against the Braves, Phillies, and Marlins, but hey, you can only play who the schedule says you have to play. The Mets outscored their opponents 57-31 in the eleven games, though seven of the eleven were decided by two runs or less (five by one run). The Amazin's have baseball's best record at 13-3.
Offense & Defense
Manager Terry Collins has an offense that has been a tick better than average in terms of runs per game (4.56) but basically average in terms of wRC+ (99). Timing is everything. They're getting hits at opportune times. The Mets are currently without both 3B David Wright (hamstring) and C Travis d'Arnaud (fingers), two of their three best position players, and they're not due to return for a few weeks now. Big losses.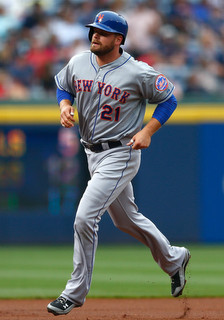 With Wright and d'Arnaud out, the Mets' best player is 1B Lucas Duda (179 wRC+), who may be getting over his career-long inability to hit lefties thanks to some help from current Mets hitting coach and ex-Yankees hitting coach Kevin Long. It's too early to say definitively though. OF Michael Cuddyer (125 wRC+) is off to a nice start and ex-Yank OF Curtis Granderson (93 wRC+) hasn't hit (.200 AVG and .020 ISO), but he leads baseball with a ridiculous 21.9 BB%. Betcha the Grandyman hits at least one homer in the Bronx this weekend.
SS Wilmer Flores (128 wRC+) is getting hot at the plate and 2B Daniel Murphy (46 wRC+) has generally looked lost. UTIL Eric Campbell (109 wRC+) and C Kevin Plawecki (102 wRC+) are filling in at the hot corner and behind the plate, respectively. OF Juan Lagares (61 wRC+) had a huge Spring Training but a small regular season so far. OF John Mayberry Jr. (183 wRC+) platoons against righties and joins C Anthony Recker, IF Daniel Muno, IF Ruben Tejada, and OF Kirk Nieuwenhuis on the bench.
With Wright and d'Arnaud injured, Lagares is the only clearly better than average defender on the field for the Mets. He's a stud in center. The scouting reports say Plawecki is strong behind the plate but he's only played two games, so we haven't seen him much. Flores and Murphy are a brutal double play combination, maybe the worst defensively in baseball, and Duda is no great shakes at first. To his credit, he's worked hard to go from abysmal to playable. Cuddyer is below-average in left and Granderson is average at best in right, but he can't throw. Just don't hit it to Lagares, basically.
Pitching Matchups
Friday: RHP Michael Pineda (Career vs. NYM) vs. RHP Jacob deGrom (Career vs. NYY)
The 26-year-old deGrom is the reigning NL Rookie of the Year, and he actually made his MLB debut against the Yankees at Citi Field last season. (Chase Whitley also made his MLB debut in that game.) deGrom has a 0.93 ERA (2.45 FIP) with good strikeout (21.8%) and ground ball (44.4%) rates to go with excellent walk (3.9%) and homer (0.47 HR/9) rates this year. He's been much stingier against righties (.256 wOBA) than lefties (.298 wOBA) so far in his young career. When he's on, deGrom has maybe the best fastball command in baseball, sitting in the mid-90s with both his two and four-seamers, and locating both pitches flawlessly. His array of secondary pitches include an upper-80s slider, a mid-80s changeup, and a low-80s curveball. The curve is his fifth pitch but he still uses it regularly, about 10% of the time or so. deGrom is a late bloomer who played shortstop in college, yet he has developed into one of the best starters in the game right now.
Saturday: LHP CC Sabathia (Career vs. NYM) vs. RHP Matt Harvey (Career vs. NYY)
Harvey has allowed seven runs in 18 innings in his first three starts back from Tommy John surgery (3.50 ERA), but his underlying performance has been insane. He's struck out 24 (32.0%) and walked just one (1.3%), leading to a 2.34 FIP. Harvey's ground ball rate is about average (40.0%) and he's served up two homers, both in his last start to the Phillies. He has a reverse split both this year and throughout his MLB career — lefties have a .228 wOBA against Harvey in his career while righties have a .274 wOBA. Weird. Elbow reconstruction has not sapped any of Harvey's stuff. The 26-year-old still sits mid-to-upper-90s with his heater and has a devastating upper-80s slider. He'll also throw quality mid-80s changeups and low-80s curveballs. Harvey is one of the very few pitchers who legitimately takes four out pitches to the mound on his best days. He and Felix Hernandez are pretty much the only guys who can say that. Harvey's shown he's an adrenaline junkie, so expect him to be amped up Saturday.
Sunday: RHP Nathan Eovaldi (Career vs. NYM) vs. LHP Jon Niese (Career vs. NYY)
Compared to deGrom and Harvey, the 28-year-old Niese is a bore. He has a 1.50 ERA (4.79 FIP) in 18 innings so far this year with strikeout (12.9%) and walk (9.4%) rates that are a little too close together in the early going. Niese is getting a ton of grounders (58.1%) and he's traditionally been a bit better against lefties than righties throughout his career. Some arm injuries — both elbow and shoulder — have sapped Niese's velocity in recent years, so he now sits in the upper-80s with his two and four-seamer and mid-80s with his cutter. Low-80s changeups and upper-70s curveballs are his go-to secondary pitches. Niese has been a really good pitcher for several years now. Just because he's not deGrom or Harvey doesn't mean he isn't a tough draw for the Yankees.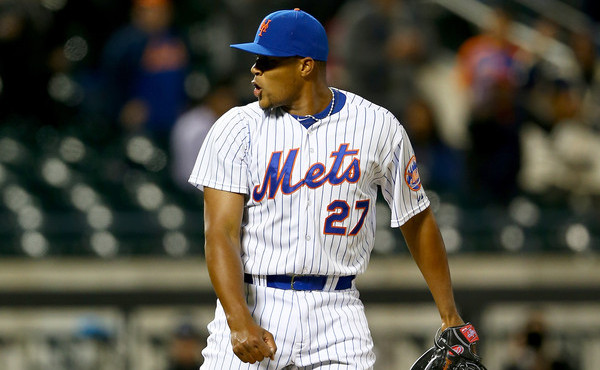 Bullpen Status
Injuries have really decimated the Mets bullpen. They're without closer RHP Bobby Parnell (Tommy John surgery), backup closer RHP Jenrry Mejia (elbow), setup man RHP Vic Black (shoulder), lefty specialist LHP Jerry Blevins (forearm), and secondary lefty specialist LHP Josh Edgin (Tommy John surgery). That's a lot of quality relievers out of action for extended periods of time.
So, with all those guys hurt, Collins is using RHP Jeurys Familia (2.86 FIP) as closer and RHP Buddy Carlyle (1.57 FIP) as the setup man. Carlyle spent some time with the Yankees in 2011. He and Familia have each pitched in the last two games, by the way. LHP Alex Torres (3.07 FIP) is now the team's go-to lefty and RHP Carlos Torres (2.91 FIP) does a little of everything. Setup work, middle relief, long relief, you name it. Rule 5 Draft pick LHP Sean Gilmartin (6.07 FIP), RHP Erik Goeddel (5.32 FIP), and RHP Hansel Robles round out the bullpen. Robles was just called up and has yet to make his MLB debut.
Head over to our Bullpen Workload page for the status of Joe Girardi's relievers. Then head over to Amazin' Avenue and Metsblog for everything you need to know about New York's fourth most historically relevant baseball franchise.