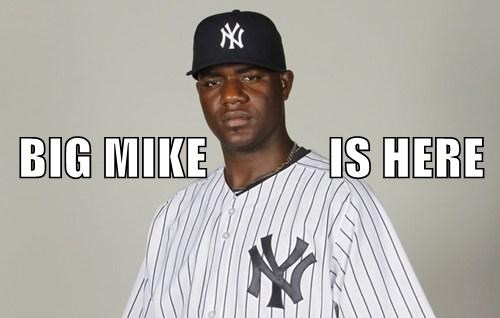 The Subway Series opens at Yankee Stadium this weekend. Three games in the Bronx now, then three games in Flushing in September. That's better than the four-game home-and-home series we've had the last two years. Believe it or not, this is the very first time both teams are heading into the Subway Series at least tied for first place in their division. The Mets have the best record in baseball (13-3) while the Yankees are tied for first in the AL East with the Blue Jays and Red Sox (9-7).
Michael Pineda is on the bump tonight and is making his first start of the year on regular rest. It's the same deal as Masahiro Tanaka yesterday — Big Mike made all his Spring Training and regular season starts with an extra day of rest by design. Tanaka pitched very well yesterday, so hopefully Pineda does the same. He's coming off a stressful 92-pitch outing against the Rays. Here is the Mets' lineup and here is the Yankees' lineup:
It's been pretty cold and windy in New York today and the weather will be the same tonight, only colder. Yuck. It's been more than a week now since the Yankees last played a game outdoors in nice weather. First pitch is scheduled 7:05pm ET and you can watch on YES and WPIX locally as well as MLB Network nationally. Enjoy the game.