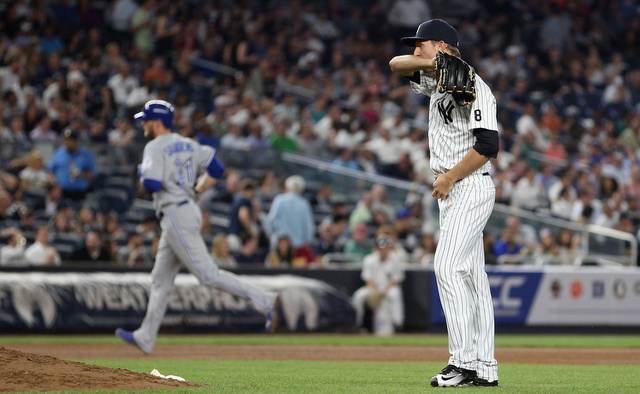 For six innings plus two outs last night, the Yankees and Blue Jays played a tight game that really could have gone either way. Toronto led 3-1 at the time but a two-run deficit in Yankee Stadium is far from insurmountable. Ivan Nova then hit Edwin Encarnacion with his 103rd pitch, ending his night with two outs in the seventh. It was a rock solid performance from Ivan.
Joe Girardi went to Chasen Shreve for the left-on-left matchup with Michael Saunders after Nova was lifted. It did not go well:

Three batters after Nova was removed, the 3-1 deficit had turned into a 7-1 deficit. Shreve allowed two home runs and a double off the wall, and all three hits came in two-strike counts. He went back out to start the eighth and got a line out to right field and a long fly ball to the warning track in left. Four of the six batters Shreve faced hit the ball to at least the warning track. Yikes.
Unfortunately, this was not just one bad outing for Shreve. He has now allowed seven home runs in 19 innings this season — all seven have come in his last 13.2 innings! — and, if you go back to last August and September, Shreve has been taken deep 14 times in his last 36.2 innings. I mean, holy crap. No other reliever has give up more than eleven homers since August 1st of last season and only four have allowed as many as ten (J.J. Hoover, Steve Geltz, Joel Peralta, Carlos Villanueva).
It goes without saying allowing 14 homers in the span of 36.2 innings is a huge problem, even if those 36.2 innings are split across two seasons. Nine of those 14 home runs have come on fastballs, three have come on splitters, and two have come on sliders, so it's not like one pitch is consistently hurting Shreve. Hitters are putting good swings on everything. Remember, he gave up the double off the wall and the fly ball to the warning track last night too. Even the non-homers have been loud.
"Early in the year, I think it was just them jumping on fastballs early in the count," said Shreve to Chad Jennings following last night's game. "Tonight it was just falling behind. Small ballpark, and if you make mistakes, they're going to hit them. Especially this team. They hit a lot of home runs."
Shreve was very good for the Yankees early last season, and especially when Andrew Miller was on the DL for a month. He had a 1.77 ERA (3.16 FIP) in 40.2 innings from April though July last year and he pitched his way into the Circle of Trust™. Shreve struggled big time in August and September, and everyone chalked it up to fatigue. It was totally believable too. He was great in Spring Training and very good the first few weeks of the season. Then, the dingers. Oh the dingers.
It's reached the point where the Yankees have to consider sending Shreve down to Triple-A for two reasons. One, to hopefully help get Shreve back on track and effective. Two, to get a more reliable reliever in the big league bullpen. I don't see how you could trust a pitcher that homer prone in anything other than pure mop-up duty, and Girardi still uses Shreve in semi-important spots. There's no real indication he'll slide down the pecking order either.
Who replaces Shreve in the bullpen? The Yankees have some options. Tyler Olson, James Pazos, and the recently signed Neal Cotts are available if the team wants a left-on-left matchup guy for the middle innings, something they lack right now. (Shreve has had a sizeable reverse split throughout his big league career.) Johnny Barbato is primary right-handed option. I guess they could always try Chad Green in relief too, or maybe scrap heap pickups J.R. Graham and Layne Somsen.
I'd probably go with Cotts myself — he held lefties to a .178/.243/.330 (.251 wOBA) batting line with a 23.9% strikeout rate last season — but you could make a case for Olson or Pazos or Barbato or whoever. Heck, they could replace Shreve with a shuttle spot and cycle in relievers as necessary. Either way, the point is Shreve is struggling far too much — especially with the home run ball — to remain on the roster. He's been an ongoing problem.
I thought Shreve's performance early last season earned him a chance to show August and September was a fluke, and now we're seeing it's not. He's still giving up a ton of home runs and Girardi can't rely on him right now. Shreve's a liability. No other way to put it. Pitchers who give up seven homers in their last 13.2 innings and 14 homers in their last 36.2 innings tend to find themselves in the minors. I think it's time to make the move for Shreve, both to help the bullpen and help Shreve figure out whatever the hell is going wrong.