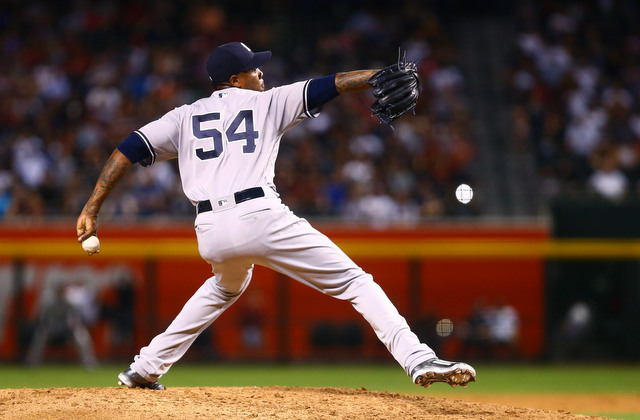 Two nights ago Nathan Eovaldi was removed from a start after only six innings despite retiring 18 straight batters (!) and throwing only 85 pitches. He held the Diamondbacks to one run on one hit and no walks. They hit two balls out of the infield. It was the kind of start the Yankees have been getting far too infrequently this season. Eovaldi was cruising and he looked as good as he's looked at any point since coming to New York.
Rather than send Eovaldi back out for the seventh inning, Joe Girardi pulled the plug and went to Dellin Betances, opting to turn the game over to his dynamic bullpen. Andrew Miller and Aroldis Chapman handled the eighth and ninth innings. Giving the ball to Betances is never a bad move — he did walk the first two batters, which was pretty unnerving — but it seemed like Eovaldi had earned another inning.
"I thought I was going to go out there, but I wasn't disappointed with those three guys coming in," said Eovaldi to George King after the game. Girardi added, "If I got them set up and they are rested, I am going to go to them. I could have (sent Eovaldi back out), but I am going to take my chances 99% of the time with Betances, Miller and Chapman."
The Yankees had a two-run lead at the time and Eovaldi was preparing to face the 2-3-4 hitters for the third time, so with the team in need of a win, Girardi played it safe. Again, it's hard to blame him given the bullpen he has at his disposal. The move was first guessed as much as any pitching change can be first guessed, and the second guessing was rampant as soon as Betances walked the first two batters.
Then, last night, Girardi did it again. Ivan Nova held to Athletics to one run in six innings and he had thrown only 62 pitches. 62 pitches! Rather than stick with his starter, Girardi again went to his big three relievers, who did the job and closed out the eventual 4-1 win. "There's a reason we put them together down there and it's for games like today and yesterday," said Girardi to Billy Witz afterward.
I wanted to write something about the bullpen and bullpen management in general, but I couldn't come up with a coherent format. I'm just going to list some thoughts using Wednesday's and Thursday's game as jumping off points. Got it? Good.
1. Betances needs regular work. Betances is rather unique for many reasons. He's physically huge, he has unbelievable stuff, the results are historically great, yadda yadda yadda. Dellin has also had well-documented trouble keeping his mechanics in check, which is why it never worked out as a starter. The bullpen agrees with him because, as Betances has said, the regular work allows him to keep his mechanics tight. Yes, he throws fewer innings as a reliever, but he works more often, and that helps.
Betances had two days off prior to Wednesday and giving him three days off between appearances is when it starts to get tricky. He's a guy who needs regular work to remain effective. It's a tough thing for Girardi to balance, the need to get Dellin work and keep him rested for the long season. Is it really a surprise Betances came out and walked the first two batters — he had walked three batters all season going in Wednesday's game, and two of the three walks were on Opening Day — after having two days off? Not really. The man has to pitch.
2. Assigned innings can complicate things. Girardi loves loves loves to assign his relievers set innings. It makes bullpen management simple and it allows players to settle into a routine. Ask relievers and they'll tell you they like knowing exactly when they'll be used. They like having a set innings. Players are creatures of habit, and when they have an unpredictable schedule, it's tough to have a set routine.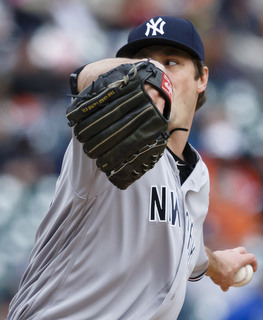 As expected, Betances has settled in as the seventh inning guy and Miller the eighth inning guy since Chapman returned. Girardi simply bumped everyone back an inning. Most nights this is no big deal, but we've already seen some instances in which Dellin warmed up in the seventh, did not pitch, then Miller came in for the eighth. That's the formula. Eighth inning guys pitch the eighth inning.
Girardi had Betances warming in the sixth inning Wednesday even while Eovaldi cruised, and since he was warming up, chances are he was going to pitch. The Yankees would have had to really break the game open for Dellin to sit down. So, in that case, why not let Eovaldi go out for the seventh, and if he gets through it clean, use Betances in the eighth rather than Miller just because it's his inning? There should be wiggle room with those assigned innings.
(Betances was not warming up during the sixth inning Thursday, probably because he had thrown 31 pitches Wednesday. Girardi had to back off a little bit.)
3. The batter to batter strategy. By far, my least favorite Girardi move is going batter to batter with a starter. You know what I'm talking about. When the starter appears to be nearing the end of the line, he goes back out to start the next inning anyway, then is lifted after allowing a leadoff base-runner. It happens all the time — how many times do you think a starter got through an inning clean when his leash was one base-runner? — and all around the league.
Sending Eovaldi and Nova back out for the seventh and hating the whole batter to batter approach seem like conflicting ideas. There should never be a blanket one size fits all strategy though, right? It's one thing to send Eovaldi back out when he's retired 18 straight — or Nova when he's getting ground ball after ground ball and had thrown only 62 pitches — and another to send, say, CC Sabathia back out when he's already allowed three runs and a bunch of right-handed hitters are due up. There's a certain feel to each game that has to be considered.
4. What happened to only using two of the big three per games? This sort of relates to point No. 2 and the answer is simple: the Yankees need every win they can get right now. They don't have the luxury of picking and choosing relievers each game with an eye on tomorrow. If they have a lead in the late innings, they have to nail it down, and the best way to do that is with Betances, Miller, and Chapman. Perhaps the Yankees can climb back into the race in a few weeks, allowing Girardi to use only two of the three each night. Until then, it's all hands on deck.
* * *
I would have sent Eovaldi and Nova back out for the seventh inning. I was actually really surprised when Betances came running out of the bullpen last night. I didn't think Girardi would pull Nova with his pitch count so low. Girardi spent most of April talking about the need to get more length from his starters, and here he was gifted back-to-back very good outings, and he pulled the plug early each time.
It worked these last two days. I don't think this is something that can continue all season though. When you've got a starter on a roll like Eovaldi and Nova last night, sometimes you have to let them handle that seventh (and eighth) inning to preserve the bullpen. Betances, Miller, and Chapman can't pitch in every single win. They'll be toast by August. Using the big three is mighty tempting. There also has to be some sense of bullpen preservation, and starts like the ones turned in Eovaldi and Nova give Girardi an opportunity to take his foot off the gas.