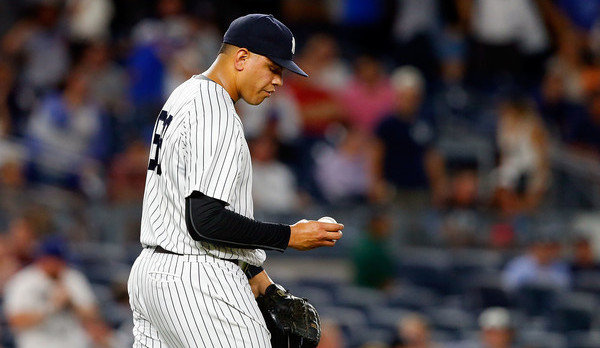 After five excellent months, Dellin Betances has hit a wall in September and hit it hard. He's allowed 13 runs in 8.1 innings this month while also putting 19 guys on base. Two nights ago Dellin faced three batters and didn't retire any of them before giving way to Tommy Layne. Opponents have hit .282/.404/.385 against Betances in September. Bad. Bad bad bad.
The biggest problem with Betances, as it often is, are the walks and an overall lack of control. He's walked eight in 8.1 innings this month after walking 20 batters in his first 63.2 innings of the season. The other night Dellin threw three strikes out of eleven total pitches, and he wasn't exactly missing just off the plate. It wasn't a bunch of borderline calls going against him. From Brooks Baseball: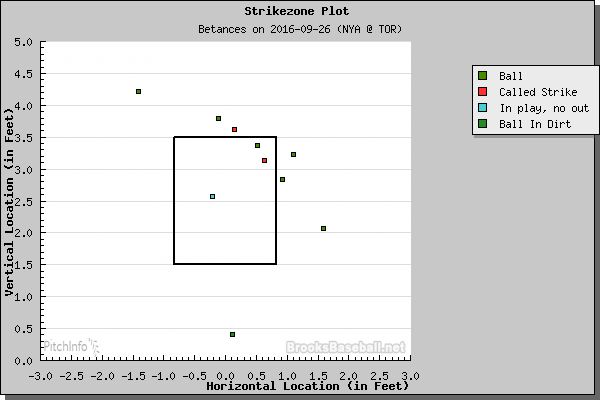 "Honestly, right now I just feel like my mechanics are off," said Betances to Chad Jennings following's Monday game. "I'm yanking a lot of pitches and falling behind; that's what's hurting me. I've said it all along. Earlier in the year, I wasn't walking guys. Later part of this year, I've been walking a lot of guys and that's what's been hurting me."
Control problems — extreme control problems at that — are nothing new for Betances, who flamed out as a starter in the minors because he couldn't throw strikes. I don't mean paint the corners. Basic get the ball over the plate stuff. Dellin walked 69 batters in 74.2 innings as Triple-A starter in 2012, then another 16 in 24 innings in 2013 before being moved to the bullpen full-time.
Why have Betances' mechanics fallen out of whack? There are a million possible reasons. It could be fatigue. Maybe it's because he's 6-foot-8 with long limbs and isn't the most athletic guy in the world. Or maybe he's a mental wreck because the pressure of closing for the New York Yankees is just too much to take. I highly doubt it that's last one, Dellin's been getting huge outs for the Yankees for three years now, but you never know.
Whatever it is — my guess is it's a combination of fatigue and being prone to mechanical lapses — this is something the Yankees and Betances have to figure out, and that process should start right now. Not next year. I understand wanting to shut him down for the season, I totally get it, but as long as he's healthy, he should pitch and work on getting himself right. There are five games left this season. There's no reason he can't pitch in two or three of them.
"No, I don't think (shutting him down is) a good thing to do. I think he needs to get out on some good notes," said Joe Girardi to Brendan Kuty following Monday's game. "I think he's a little frustrated. But we'll get that ironed out. He's been through this before. I know I've said that, but he's been through this. We'll get it ironed out. We'll give him a day off and we'll get him back out there. "
Now, if Betances goes to the Yankees and says he's running on fumes, then yeah, shut him down. Pitching is inherently risky. Pitching while fatigued is even riskier. The Yankees want to get Betances right but they're not going to risk injury in the process. If he's dealing with nothing more than normal late-September fatigue, then fine, let him pitch. Learning to be effective when less than 100% is part of being a big leaguer.
Either way, Betances is a total mess right now, and to me it seems to be mechanical more than anything. He's just out of sorts and needs to get himself back on track. It's not the first time he's gone through this — it's the first time he's done at the MLB level, but not in his life — and chances are it won't be the last. He's worked his way out of it before. Betances knows how this works.
I don't see shutting down a struggling player as a way to deal with the problem. That's avoiding the problem. As long as Dellin is healthy, get him out there on the mound and use these last five game as an opportunity to work on things and hopefully get him back on track.