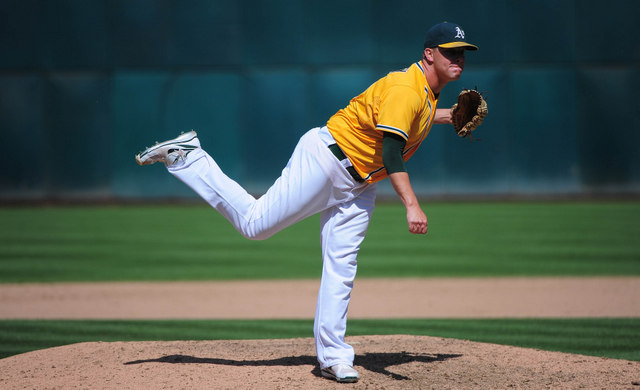 Only five pitchers threw at least 50 innings for both the 2013 Yankees and 2014 Yankees, and, already this offseason, four of them have left the team one way or another. David Robertson departed as a free agent, Hiroki Kuroda returned to Japan, and both Shawn Kelley and David Phelps were traded away. The lone holdover is long man turned setup man Adam Warren.
Needless to say, the pitching staff will have a new look next year, especially the bullpen with Robertson, Kelley, and Phelps gone. Andrew Miller and Dellin Betances will be expected to handle the high-leverage spots while Warren and southpaw Justin Wilson provide backup. Esmil Rogers is versatile enough to be anything from the long man to another one-inning reliever, basically the role Phelps filled the last three years.
The last two bullpen spots are up for grabs with the caveat that the Yankees could always sign or trade for someone. They have no shortage of internal options, with holdovers Chase Whitley, Jose Ramirez, and Bryan Mitchell joining newcomers Gonzalez Germen and Jose DePaula. Then there's Jacob Lindgren, Branden Pinder, and Danny Burawa. Manny Banuelos, even. My guess is we will see all of these guys at some point in 2015.
A wildcard for next year's bullpen is rehabbing right-hander Andrew Bailey, who Brian Cashman has said is expected to be ready to pitch in Spring Training, according to Brendan Kuty. Bailey didn't pitch at all this past season following shoulder capsule surgery, and that plus a thumb injury have limited him to 44 mostly ineffective (4.91 ERA and 4.68 FIP) innings from 2012-14. The last time he was actually good was 2011, his final season with the Athletics.
It goes without saying the Yankees can't count on Bailey for anything next year, and his new minor league contract shows they aren't. The team signed him last offseason to a contract that included a club option for 2015, but, after rehabbing him all year, they opted against a guaranteed deal for next year. He's a lottery ticket. If Bailey is healthy enough to pitch at some point next summer, great. If not, well no big loss. Not like he's soaking up a roster spot or significant cash.
Shoulder capsule surgery is very serious — no one has ever come back from the procedure and returned to their previous level of performance — so I think the upside with Bailey is not the dominant late-inning reliever he was with the Athletics from 2009-11, but instead the pitcher Kelley has been for the Yankees these last two years. The guy with great peripherals but an inflated ERA because he serves up homers and is prone to the big inning. Someone who is the fourth best option in the bullpen, not the first or second. Bailey replacing Kelley would be a big win in my opinion.
In this hypothetical world where Bailey returns and is a reasonably effective pitcher, he's someone who could take over the ninth inning and close while Miller and Betances handle the seventh and eighth innings. Bailey has closer pedigree — let's not kid ourselves, that sort of thing influences roster decisions — and having an assigned inning might be best for his warm-up routine after the injury. He might not be someone who can get up and quickly get ready at a moment's notice after having his shoulder rebuilt. Having a set inning would allow Bailey to prepare to enter a game at his own pace since he'll know exactly when he's going to pitch.
Either way, Joe Girardi's bullpen is going to have a much different look next year now that Robertson and Kelley are gone. Bailey could be in the mix at some point, especially if he truly does get healthy enough to pitch in Spring Training, but he's not looked at as likely contributor. These injured reclamation project guys tend not to work out — Octavio Dotel or David Aardsma, anyone? — which is why he's nothing more than a lottery ticket. If healthy though, Bailey could give the bullpen and nice and unexpected boost.