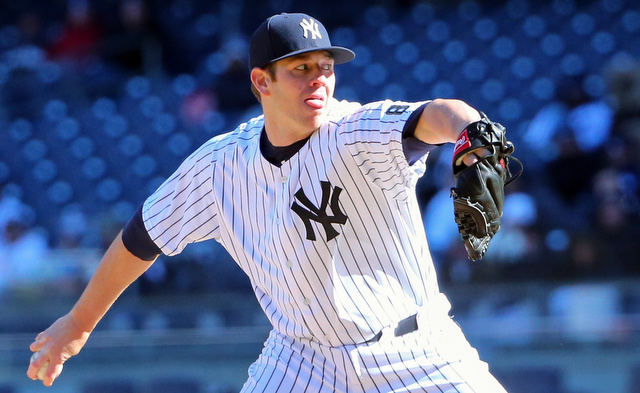 Coming into Spring Training, Johnny Barbato was an afterthought in the competition for an Opening Day bullpen spot. At least I thought so. The Yankees had a ton of bullpen candidates in camp, many of them with big league experience, and I figured they would get first dibs. Instead, Barbato out-pitched them all in camp, and won a spot on the roster.
Seven games into the season, Barbato already looks like a power reliever with some staying power, not someone who will spend his summer tracking mileage between Scranton and the Bronx. (Expense reports are such a pain.) His regular season numbers (3.1 IP, 1 H, 0 R, 1 BB, 5 K) are great, but they're also still meaningless because the sample is so small. Barbato's stuff and ability to locate is what makes him look so promising.
"First pitch was 95-96 mph. Second pitch was a buckler and I usually don't buckle on breaking balls. Next pitch ground ball to first. Three pitches. Not a fun at-bat," said Chris Colabello to George King when asked about facing Barbato following Wednesday's game. Barbato allowed a two-out walk in an otherwise clean inning that night, and because the Yankees scored in the next half-inning, he picked up his first career win. That's always cool.
New York acquired Barbato from the Padres for Shawn Kelley last offseason. He was a pretty big deal as a prospect back in the day — San Diego gave Barbato a $1.4M bonus as a sixth rounder in 2010 — because of his live arm, but he never did pick up a changeup, so he had to move to relief. Here is Baseball America's scouting report (no subs. req'd) following the trade:
He pitches with mid-90s velocity and verve, attacking hitters with a live fastball that sinks and runs as it nears the plate. He throws a true curveball in the high 70s that features extreme break through the zone, and he locates and mixes his two pitches well enough to boast a career strikeout rate of 9.2 per nine innings.
That matches up with what we've seen from Barbato early this season and in Spring Training, right? The fastball is lively and his curveball has some very nice bend to it. (Here's the GIF.) And he has verve. Verve is always good. The scouting report refers to Barbato as a two-pitch pitcher, however. There is no mention of his slider, a slider we've seen this year. To the action footage:
I do enjoy the little bunny hop following the release. Nice touch. I guess that's the verve the scouting report was talking about.
Anyway, that's a slider. Fight me if you think otherwise. I guess maybe it could be a cutter, but it's no mid-90s four-seamer and it for sure is not a 70-something mile an hour curveball. That's a pitch that is unaccounted for in the scouting reports. (There's no mention of the slider in Baseball America's write-ups over the years.)
That pitch also did not exist until this year according to PitchFX, albeit in limited looks. The Padres hold Spring Training in Arizona, and several Cactus League ballparks are outfitted with PitchFX. Barbato also pitched in the Arizona Fall League a few years back. Here is the very limited PitchFX data we have on Johnny Boombatz, via Brooks Baseball: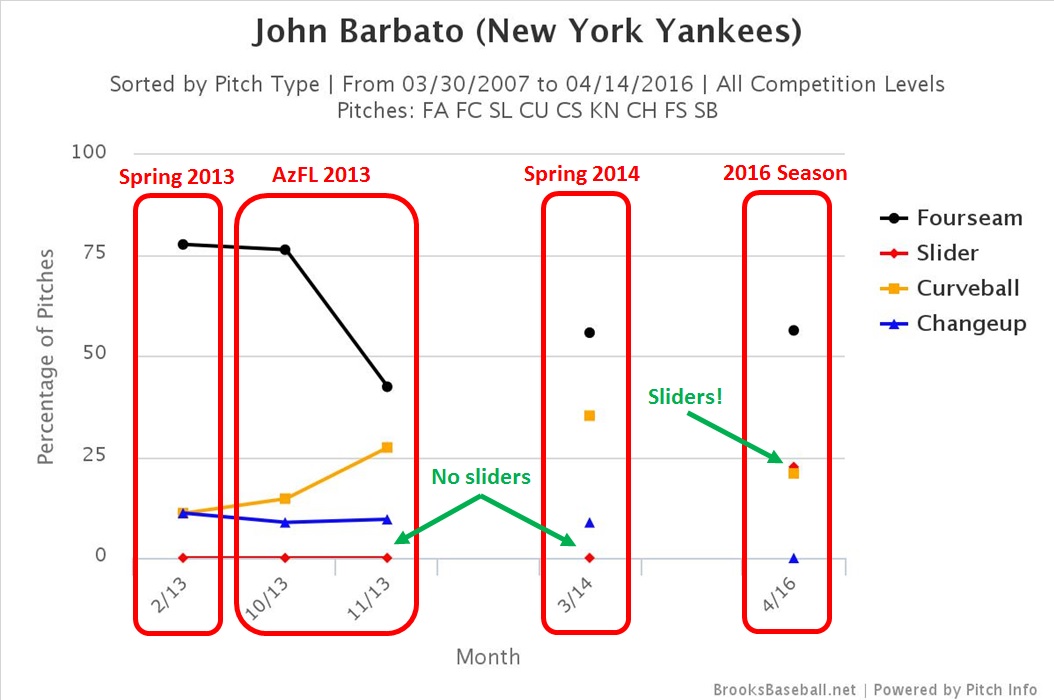 See? The slider has come out of nowhere. It's very possible Barbato was throwing it in the minors last year, but I can't find any record of it. This appears to be a new pitch Barbato has added at some point since the trade, and that's pretty cool. The Yankees are known to teach cutters — David Robertson is the best example, but others like Ian Clarkin and Manny Banuelos added the pitch as well — so it wouldn't be unprecedented if Barbato added a similar pitch since the trade.
Right now Barbato is coming out of the bullpen with a mid-90s four-seamer, his trademark upper-70s curveball, and this new cutter/slider (slutter?) thing at 88-89 mph or so. He throws all three pitches regularly — he's thrown 21.0% curves and 22.6% slutters so far — and his swing-and-miss rate is a healthy 15.7% in the super duper early going. Joe Girardi seems to trust Barbato too; he brought him into the sixth inning of a tie game against the Blue Jays on Wednesday. The first batter he faced was Troy Tulowitzki.
Last season the Yankees shuttled young relievers in and out of the bullpen every time a fresh arm was needed. And, for the most part, none of the shuttle relievers did anything to distinguish themselves. It's a tough job, I get that, but no one came out throwing fire and left you wanting to see more. They came up, threw a few innings, then were sent back out and no one really cared. None of those guys did enough to impress the brain trust and stick around.
Barbato has already stood out in a way none of the shuttle relievers did last season. He took advantage of an opportunity in Spring Training and he's carried that performance over into the regular season. He's throwing strikes — it's not uncommon for even the most polished minor leagues to lose the zone a bit early in their MLB careers — and missing bats. It's early, but so far Barbato looks like someone who should stick around and not ride the shuttle.