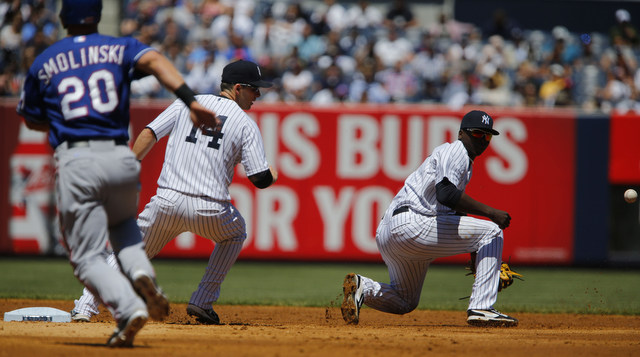 Yesterday's blowout win notwithstanding, the Yankees are in the middle of a really bad stretch, having lost ten of their last 12 games. A stretch that awful features bad everything — bad pitching, bad hitting, bad defense, bad base-running, bad everything. More than one-quarter of the way through the season, we're still left wondering what exactly the Yankees do well other than hit homers.
During the offseason the Yankees focused on improving their team defense — specifically the infield — as well as the bullpen, essentially trying to copy the model the Royals used to surprise the world a year ago. On paper it all made sense. We saw firsthand how good Chase Headley and Stephen Drew are in the field last year, and Didi Gregorius came with a strong defensive reputation, plus the team brought in power relievers by the bushel. The pieces were there, in theory.
So far this season neither the bullpen nor the defense have been strengths. Far from it, really, and this latest stretch of awful play has made it plainly obvious. The bullpen as a whole has a 3.23 ERA (3.51 FIP) compared to the 3.54 ERA (3.71 FIP) league average, but the relief crew is top heavy — Dellin Betances and Andrew Miller have been fantastic, combining for a 0.42 ERA (1.62 FIP) in 43.1 innings. The Yankees have a lot of problems. Those two aren't among them.
The rest of the bullpen, however, has a combined 4.36 ERA (4.02 FIP) in 107.1 innings, which is just turrible. David Carpenter has been a massive disappointment and is beyond untrustworthy after allowing at least one run in six of his last eight appearances. I feel like Justin Wilson has been better than his 5.79 ERA (3.22 FIP), but what I feel doesn't matter, those runs are scoring. Esmil Rogers leads all MLB relievers with 29 innings and has allowed 14 runs in his last 12.2 innings. Yikes.
The Yankees made minimal bullpen changes through the first 45 games, doing nothing more than shuffling fresh arms in and out of the last spot as necessary until calling up Jacob Lindgren on Sunday. Lindgren might actually be a solution to the middle relief problem, but that remains to be seen, and besides, he is just one reliever. Carpenter hasn't given anyone a reason to think improvement is coming and Wilson's career-long strike-throwing problem suggests he'll never be truly reliable.
The non-Miller/Betances portion of the bullpen has been a major eyesore, though we all understood that was a possibility this year. Bullpens are like that. Relievers are so unpredictable. The defense though? Those issues were completely unexpected. Headley's had trouble throwing and getting caught in between hops on more than a few occasions, so while he hasn't been a total disaster, he hasn't been as good as the Yankees have needed him to be defensively.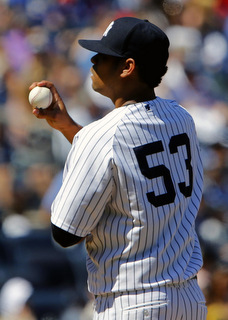 Gregorius' defensive problems are almost entirely related to decision making. He clearly doesn't lack physical tools — Didi has a quick first step, good range, and an effortless rocket of an arm — but he has a knack for really poor decisions, whether it's trying to flip the ball behind his back the other day or taking his time underhanding the ball on that potential double play in Detroit. The bad decisions seem to come at inopportune times too. I suppose the good news is that this is ostensibly correctable, but it hasn't been corrected yet.
Drew has been fine at second base — the other second basemen, Jose Pirela specifically, have not — and of course Carlos Beltran has been a total negative in right field. Beltran actively hurts the team with his defense. He's worse than a zero in the field. Even Brian McCann has not been up to snuff, mostly because he's struggled to keep balls in the dirt in front of him. Only the Blue Jays have allowed more passed pitches (wild pitches plus passed balls) than the Yankees this year and Toronto has a full-time knuckleballer on the staff.
Outside of benching Beltran (never gonna happen), the Yankees don't have any ways to improve their defense. Even doing something drastic like, say, sending Gregorius to Triple-A, just shifts the defensive problem to second base, where Pirela or Rob Refsnyder would take over with Drew moving to short. The Yankees can't do much more than wait for Headley and Didi to correct their issues. I'm far more confident in Headley doing it than Gregorius, but that's just me.
The bullpen is another matter because the Yankees don't have to wait for anything. Carpenter has been given time yet has shown no improvement, so we're at the point were finding someone else has to be considered. Rogers is the very definition of replacement level but the long man isn't really deciding games. He's just soaking up outs. Still, it's a sore spot and if a better option comes along, so be it. Maybe Chris Capuano is the answer when Ivan Nova or Masahiro Tanaka gets healthy. Who knows.
The Yankees have bullpen options in the minors. Lindgren was just one. Bryan Mitchell — another long man candidate — and Nick Rumbelow are two of the most notable, though Danny Burawa and Tyler Webb should be considered options as well. Chris Martin is inching closer to a return from his elbow issue and that may also solidify things. He showed flashes of being useful earlier in the season and didn't lose effectiveness until his elbow started barking.
Right now, the middle of the bullpen and defense has been disappointments, massive ones compared to expectations coming into the season. They were supposed to be strengths and they've been anything but. This recent 2-10 strength is the result of the defense giving opponents extra outs and the middle relievers either blowing leads or failing to keep games close. Those are things that are not supposed to happen and yet it's happened game after game.
The Yankees were going to have a hard enough time contending this season, even if the bullpen and defense were performing as advertised. Now that they've developed into a problem, well, something like ten losses in the span of a dozen games happens. This stuff is fixable, at least I think it is, and it's not going to fix itself overnight. For now the Yankees just need to see things start to improve and move in the right direction to remain competitive.