Heading into the season, there was probably no major-league team that had more question marks than the Yankees. Can the starting rotation remain healthy and be effective? Can A-Rod be an everyday player after being out of baseball for a year? How will Didi Gregorius handle the pressure of replacing Derek Jeter? Can the middle-of-the-order bats (Carlos Beltran, Mark Teixeira, Brian McCann) bounce back? Who will be the closer? And the list goes on and on and on …
If there was one thing that Yankees fans did not have to worry about – and a reason to be optimistic about the team's chances to be a playoff contender – it was the expectation that the Yankees would have one of the league's best defensive lineups in 2015. One of the key factors in that projection was that they'd get a full season of Chase Headley at third base. No player accumulated more defensive value at the hot corner last year than Headley, who also seemingly passed the eye test as one of the league's best-fielding third baseman.
*********
Six weeks into the season, the consensus is that Yankees defense has failed to live up to those lofty preseason expectations. Whether you prefer the traditional stats or the advanced metrics, the Yankees are one of the worst defensive teams in baseball, and their sloppy play has probably cost them at least a few wins already. They rank 24th in both Defensive Runs Saved (DRS) and Ultimate Zone Rating (UZR), 22nd in fielding percentage and 19th in defensive efficiency.
While he's not the only Yankee underperforming on defense, Headley's poor stats so far are perhaps the most surprising. His struggles in the field are puzzling given his stellar defensive reputation, and history would suggest that this stretch of poor defense is just a short-term slump rather than a real decline in skill. Although defensive stats can be unreliable in small samples, they are still hard to ignore right now when all of them are in agreement that Headley has performed well below average this season.
The advanced metrics have not been kind to Headley this season. He's already cost the team five runs with his glove, according to DRS, and UZR has him as the third-worst defensive player at the hot corner. Both of those numbers are also the worst among all Yankees at any position (min. 40 innings played).
Looking at the traditional fielding stats, Headley already has as many errors this season (8) in 39 games as he did all of last year in 127 games at third base, and six of those have been throwing errors – twice as many as he made in 2014.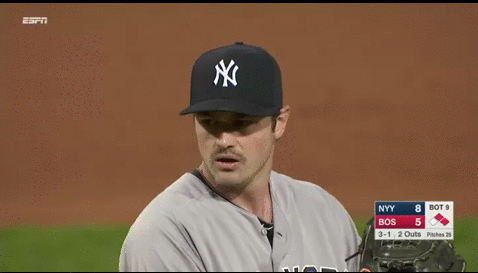 It's not just the errors that have been piling up. Baseball Info Solutions (BIS) tracks every batted ball fielded by a defender, and flags certain ones as "Defensive Misplays" — plays that were not scored an error but where the fielder clearly squandered the opportunity to make an out or allowed a baserunner to advance. Headley has seven Defensive Misplays this season, putting him on pace for nearly 30, which would be more than double his total from last year (13).
*********
Digging deeper into the numbers, we can see the types of plays that have been the most troublesome for Headley. One of the reasons that Headley was so good at the hot corner was his ability to make a lot more plays down the line than the average player. Balls hit to that location are typically more damaging than others if they get past the defender, because they often scoot into the outfield corners or reach the wall and likely end up as extra-base hits. According to BIS, Headley made 13 more plays to his right than the average third baseman last season. That's good! This year, he's been essentially an average fielder on those same balls hit down the third-base line. Uh, not as good.
As we know, defensive stats are not perfect, and there a couple possible explanations for the regression in these numbers. It could be due to a change in positioning (though they do not include any balls in play where the infield is shifted); or Headley could be struggling to make plays because the balls he's fielded have been hit really hard towards him (the average velocity of ground balls fielded by Yankee third baseman ranks fourth-highest in the majors this season).
So what does all this mean going forward? Given Headley's excellent defensive reputation, the fact that he's historically rated above-average in the advanced metrics, and the unreliability of defensive stats over a short time period, we can't make any definitive statements about his defense right now. It's hard to believe that his true defensive talent has declined in a sample of fewer than 40 games, so you have to expect that his numbers will eventually normalize over an entire season.
Headley himself said that he's not worried about his defense. "I'll get it cleaned up," he told the media on Sunday. Let's hope he's right.