Once again, the Yankees were out-hit, out-pitched, and out-defended by the Blue Jays. That's been happening since literally Opening Day. Toronto won Monday night's series opener 4-2 and is now 12-5 against the Yankees in 2015. They've outscored New York 77-50. Total domination.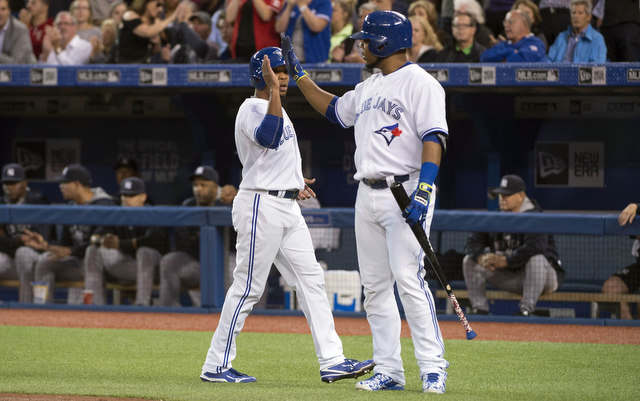 Over Early
The Blue Jays can score in a hurry, and it didn't take long for the Yankees to fall behind 3-0 on Monday. Adam Warren gave up a single to Ben Revere and hit Josh Donaldson with a pitch — more like he grazed Donaldson's jersey, but it is what it is — to set up the first inning rally. Jose Bautista slapped a singled back up the middle to score the first run, a wild pitch advanced the runners, then Edwin Encarnacion hit a grounder to short to score the second run.
Up to that point, Warren did not allow a hard-hit ball. Well, I guess Revere made solid contact, but it's Ben Revere. It was a fliner more than a liner. That all changed when Justin Smoak scalded a double over Carlos Beltran's head in right to drive in the third run of the inning. A non-Beltran right fielder might have been able to make the catch, but it's not like it was a routine play. Smoak crushed it. Warren needed 19 pitches to get one out, which was very bad because he was on an 80-85 pitch limit.
To his credit, Warren did settle down after the three-run first inning, at least until he hit his pitch limit in the fourth inning. He retired nine of the final dozen batters he faced and one of the three base-runners was an infield single. (Chase Headley made yet another throwing error, allowing the runner to go to second.) Too bad that first inning happened. With David Price on the mound, that three-run deficit was a huge hill to climb.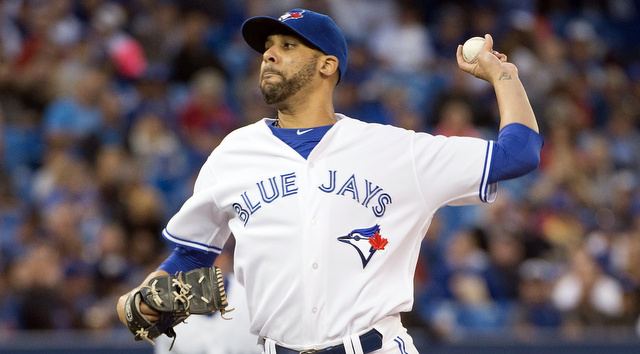 One Chance Against Price
The Yankees had four base-runners in seven innings against Price and three of the four came in the third inning, which was by far New York's best chance to get back into the game against the southpaw. After a quick ground out by Didi Gregorius, the Yankees loaded the bases on a Cliff Pennington error (Dustin Ackley reached), a single (Jacoby Ellsbury), and a walk (Brett Gardner). Bases loaded with one out and the three-four hitters due up? Perfect!
Runs did not happen though. Alex Rodriguez put up a real good fight against Price before striking out on the ninth pitch of the at-bat for the second out of the inning. The eighth pitch of the at-bat was a little weak pop-up that landed juuust foul on the right field side. We're talking an inch or two from a two-run bloop single. Maybe even three runs. Check it out: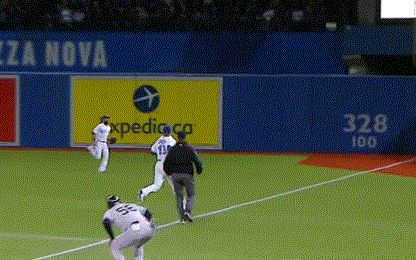 A game of inches, man. Game of inches. Brian McCann followed A-Rod's strikeout with an inning-ending fly ball to center field. The Yankees got nothing out of their best chance against Price, who, predictably, got locked in and dominated the rest of the way. Following the walk to Gardner to load the bases, Price retired the final 14 batters he faced. He's allowed five runs in 26.1 innings against the Yankees as a Blue Jay. Pretty much the difference in the AL East race right there.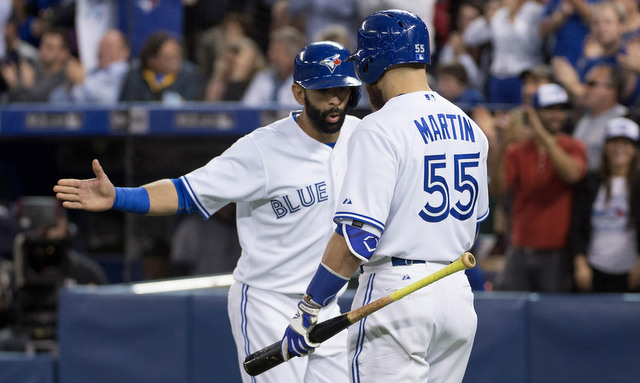 Bullpen on Parade
Once Warren was out of the game, I set the over/under at 5.5 relievers the rest of the night. It was under, surprisingly. First up: James Pazos. He retired Pennington and Revere to close out the fourth inning. It was Caleb Cotham's turn next, and he cut through Donaldson (strikeout), Bautista (fly out), and Encarnacion (fly out) in order in the fifth. That was cool. Cotham started the sixth, got the first two outs, then gave way to Chasen Shreve. Nice work, Caleb.
Shreve, on the other hand, continued to look nothing like the guy who was so excellent earlier this season. He allowed an infield single to Ryan Goins, which, whatever, kinda dopey, but then Shreve walked Kevin Pillar (!) and Matt Hague (!!) to load the bases. Not good! Thankfully Revere flew out loudly to Beltran in right field to end the inning. Shreve threw seven strikes out of 16 total pitches. He has allowed 22 of the last 45 batters he's faced to reach base (.489 OBP). What a downturn.
Anyway, whenever you use six pitchers in a game, it's only a matter of time until you run into someone who doesn't have it, and that someone was Branden Pinder (and Shreve, I guess). Pinder walked Donaldson leading off the seventh, gave up a double to Bautista, then was ordered to intentionally walk Encarnacion for some reason. Second and third with no outs against the best offense in baseball wasn't bad enough, so the Yankees did the Blue Jays a solid and gave them a free base-runner. Not sure I like that move.
Andrew Bailey, reliever No. 5, inherited the jam and was able to limited the damage to just one run, which I guess was the best case scenario. Ex-Yankee Russell Martin lifted a two-strike sac fly to center to score Toronto's fourth run of the evening. Bailey then tossed a perfect eighth as well. He looked really sharp. Easily the best he's looked since coming up. Bailey might now be in the Circle of Trust™ by default. Joe Girardi definitely needs one more reliable reliever.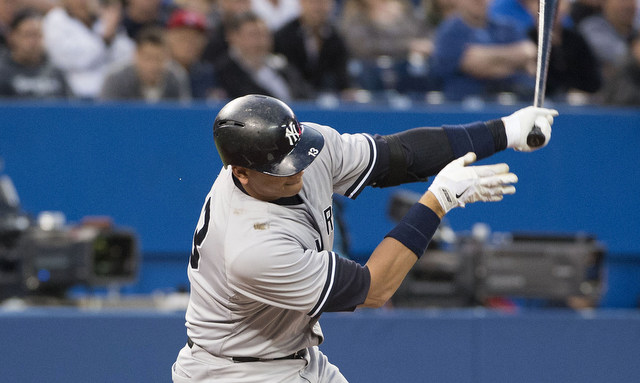 Last Chance
The Yankees had their last chance to get back into the game in the eighth inning, when they scored their first run. Aaron Sanchez gift-wrapped them a leadoff walk, then Ackley poked a single through the left side to put runners at the corners. That was it for Sanchez. His night was done. Blue Jays skipper John Gibbons went to lefty relief ace Brett Cecil, who allowed a run-scoring single to Ellsbury. I have no idea how Ellsbury hit that pitch. It was at the shoestrings and he slapped it up the box.
The Yankees were in business, with one run in and runners at first and second with the 2-3-4 hitters coming up. Rather than rally, Cecil struck out Gardner, A-Rod, and McCann on 15 total pitches. Those three took ten swings and missed four times. Cecil did get a favorable called strike three on Gardner — the breaking ball sailed in high (strike zone plot) — but I'm not sure it would have changed the outcome anyway. Cecil was dominant. A-Rod and McCann were completely overmatched. Those two came up empty not once, but twice Monday night in huge spots.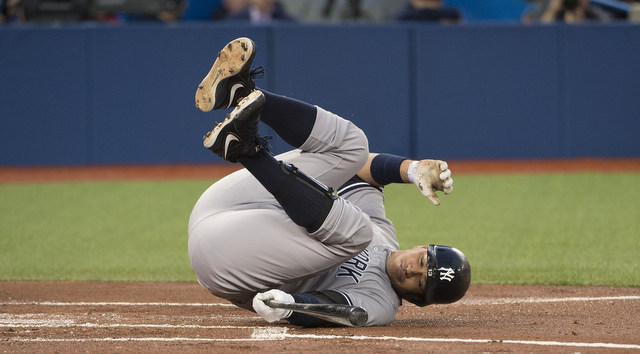 Leftovers
Greg Bird launched a solo home run to dead center off Roberto Osuna with two outs in the ninth, but by then it was too little, too late. The Yankees had just five hits — Bird's homer and singles by Ellsbury (two), A-Rod, and Ackley — and two walks in the game. This was their 30th game with no more than five hits in 2015, sixth most in baseball.
The five relievers combined: one run on three hits and four walks (one intentional) in 4.2 innings. That's pretty good! I think we all would have signed up for that when Warren walked off the mound in the third inning. The middle relief has been crazy shaky of late but they kept the Yankees in Monday's game. Couldn't ask for any more.
Box Score, WPA Graph & Standings
Here are the box score and video highlights for the game, and here are the updated standings and postseason odds for the season. The magic number to clinch a postseason spot remains eight. Make sure you check out our Bullpen Workload and Announcer Standings pages as well. Here's the loss probability graph:

Source: FanGraphs
Leftovers
The Yankees and Blue Jays play the middle game of this three-game series Tuesday night. The pitching matchup will be Luis Severino and Marco Estrada. Severino's two worst big league starts have come against Toronto. He's allowed nine runs in 8.1 innings against the Blue Jays and seven runs in 35 innings against everyone else. Hopefully Severino can reverse that trend Tuesday.