Well that was an ordeal. After 346 total pitches and three rain delays totaling one hour and 34 minutes, the Yankees beat the Rays 7-5 on Friday night for their sixth straight win. With the Orioles losing to the Tigers, the Yankees are now one game back of the second wildcard spot. What a time to be alive.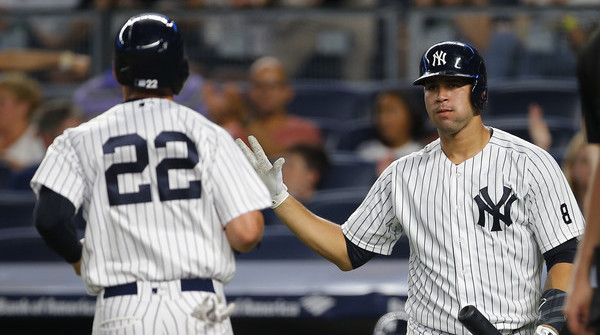 Snell Ya Later
Man, was a rough outing for Rays rookie Blake Snell. He only allowed three runs, but it would have been worse had the Yankees not had a runner thrown out at the plate in the first, and if Snell hadn't thrown out his glove and knocked down a surefire run-scoring single in the second. The Yankees forced the poor kid to 88 pitches (!) in 2.2 innings. The first three innings took about an hour and 20 minutes. Snell threw lots of pitches and had a brutal pace.
The game's first run scored because the Rays don't seem to care about defense anymore. They seemed to forget about it last year. Jacoby Ellsbury started the game with a single, then Rob Refsnyder stroked a line drive to left field that probably would have been caught by an average defensive outfielder. Luckily Corey Dickerson was out there, and he took a weird route to Refsnyder's ball, allowing it to get by him and roll all the way to the wall. Ellsbury scored from first for the 1-0 lead.
There are two reasons Refsnyder was thrown out at home on Starlin Castro's single to center later in the inning. One, third base coach Joe Espada made a terrible send. Kevin Kiermaier has a great arm and Espada waved Refsnyder in anyway. And two, Refsnyder hesitated twice. Once off the bat to make sure it wouldn't be caught, and again as he rounded third base. It seemed like he was surprised Espada sent him. The play at the plate was not close.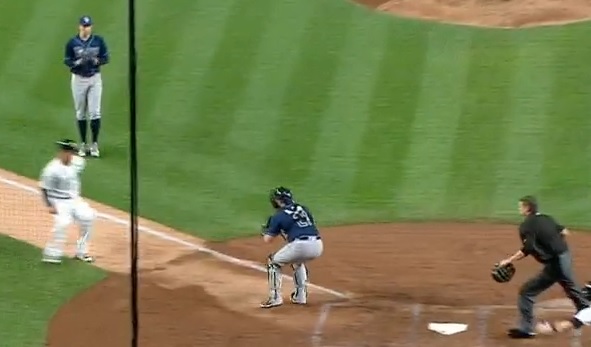 It always sucks having a runner thrown out at the plate, especially in the very first inning, but at least the Yankees had a run on the board. Snell looked beatable too. Back-to-back two outs walks by Aaron Judge and Ellsbury gave New York another rally in the second inning. Refsnyder ripped a line drive after working the count full, so he had a quality at-bat. Unfortunately Snell threw his glove out and knocked it down. Nothing you can do there. Straight up bad luck. Snell stopped the ball from going into center field and scoring a run. The lead remained 1-0.
By that point the Yankees had really worn Snell down. He threw 60 pitches in the first two innings, and the slumping Gary Sanchez started the third with a solo home run into Monument Park. Sanchez will be fine. His at-bats have been good and he hasn't been chasing out of the zone. Just a slump. It happens. Snell left a fastball up and Sanchez clobbered it. A Mark Teixeira double, a fielder's choice, and a wild pitch made it 3-0 Yankees later in the inning. That was it for Snell. Night over.
A Little of Good Pineda, A Little of Bad Pineda
Michael Pineda came out of the gate throwing fire. His slider was falling off the table and he even threw some quality changeups in the first inning. Pineda's stuff looked very good in the first three innings, during which he struck out six of 12 batters while allowing two soft singles and a walk. He got 13 swings and misses in his first three innings. Thirteen is good number for a full start. He did it in three innings.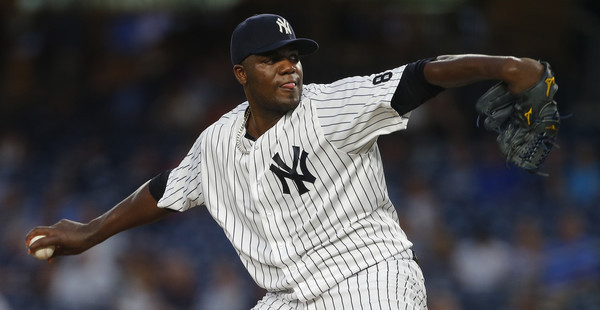 But, of course, Pineda did not carry that stuff through the rest of the game. Logan Morrison and Steven Souza combined for back-to-back solo homers in the fourth inning — Morrison's was a bomb into the suite level, Souza's hit the foul pole in left — to turn that 3-0 lead into a 3-2 lead. The homers came on consecutive pitches too. It goes from good to bad so quickly for Pineda. Dominant for three innings, then boom, it's a one-run game.
Crew chief Mike Everitt jumped the gun a bit in the fourth and called for the tarp, though it stopped raining only a few minutes later. It was a 21-minute delay. Pineda came back out for the fifth inning because the delay was so short, and after a quick first out, he walked Logan Forsythe and allowed an infield single to Kiermaier. Castro got to the ball but couldn't reel it in. Longoria beat the throw on a potential inning-ending double play to extend the inning.
Joe Girardi was taking no chances. The Yankees had stretched the lead to 7-2 (more on that in a bit), but the Rays had runners on the corners, and Pineda has simply earned zero trust this season. Girardi yanked him at 77 pitches and Pineda didn't even look at him on the mound before walking off. He was pretty annoyed at the quick hook. Went right to the clubhouse too. Didn't wait for the inning to end. (He returned to the dugout a few minutes later.)
Chasen Shreve struck out Brad Miller to strand the two runners, so Pineda was charged with two runs on six hits and two walks in 4.2 innings. He struck out seven and got 19 total swings and misses despite only throwing 77 pitches. That's his third highest swing-and-miss total of the season. Pineda got 21 whiffs on 113 pitches against the Orioles in July, and 20 on 96 pitches against the Tigers in June. Still though, not a great outing for Pineda despite those first three innings. Same ol' Mike.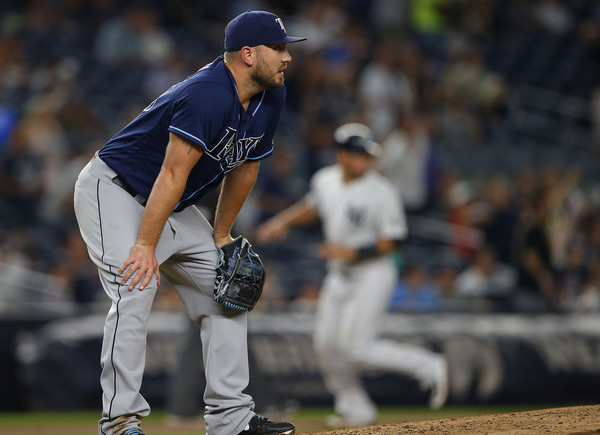 Blown Open
At the time of the first rain delay, the Yankees had a runner on first with two outs in the fourth inning. Kevin Jepsen came in when the game resumed, and he immediately allowed a ground ball single to Sanchez and a walk to Castro. When you walk Starlin Castro, you deserve whatever comes next. In this case that was a grand slam. Teixeira hit a ball off the top of the bullpen wall in right-center that hopped over for a four-run homer and a 7-2 lead.
The Yankee Stadium crowd called Teixeira out for a curtain call and he obliged. That was cool to see. His career is coming to a close and the fans showed their appreciation for eight productive years. Every home run from here on out could be the last of Teixeira's career. That's kind of weird. Hopefully that one wasn't it. The grand slam was the third of the season for the Yankees, by the way. Chase Headley hit one against Jon Gray in June, and Castro hit one against Josh Tomlin last month. I don't remember either.
More Rain, And Even More After That
Man, what a terrible job by Everitt. Because one unnecessary rain delay was not enough, he called for the tarp a second time in the sixth inning. It stopped raining a few minutes later (again) and the second delay lasted 22 minutes. Sigh. Before that, Shreve was charged with two runs in the sixth, then after the delay things got kinda dicey in the eighth. Tyler Clippard got out of the two on, no out rally in the most Tyler Clippard way possible: with three infield pop-ups.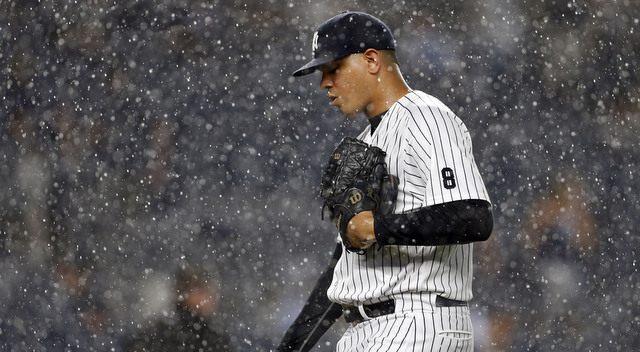 Dellin Betances started the ninth with a 7-4 lead, allowed back-to-back singles to Kiermaier and Longoria with one out, and then it started raining again. Much heavier this time. Everitt again called for the tarp. Three rain delays, only one of which was actually necessary. The worst.
The third delay lasted 51 minutes, yet despite that, Betances remained in the game. He said he wasn't going to let Girardi take him out. I don't blame him. The Yankees have crummy luck with rain delays this year. Dellin did allow a single to Morrison to cut the lead to 7-5, but was able to fan both Miller and Souza to end the game. Thank goodness. You won't see this one on Yankee Classics anytime soon.
Leftovers
In addition to his solo home run, Sanchez also made an unreal snap throw from his knees to pick Dickerson off second base in the fourth inning. Look at this throw. Just look at it:
Man, what a throw. Sanchez had a single, a homer, a walk, and he picked a runner off second. Pretty nice night for him. The other kids had good nights too. Refsnyder went 2-for-4 with a walk, and both
Tyler Austin
and Judge went 0-for-2 with two walks. The Yankees drew eleven walks as a team, their most in a nine-inning game since April 2014. Position player Mike Carp walked five that night.
Teixeira, in what has become a rare spot start, went 2-for-4 with a double, a grand slam, and two walks. Really nice night off the bench for him. Teixeira seems to be genuinely enjoying the last few weeks of his career. If he's upset about not playing more, it's impossible to tell. He's become a quality role player for a suddenly contending team.
Shreve (two outs), Adam Warren (four outs), Tommy Layne (one out), Clippard (three outs), and Betances (three outs) all pitched out of the bullpen. Seems like the bullpen will be short again tomorrow, at least in the sense that the big end-game guys may not be available. Good thing there are 13 relievers on the roster.
And finally, Pineda is up to 179 strikeouts on the season. He has a chance to be the first Yankee right-hander with 200+ strikeouts since Mike Mussina and Roger Clemens both did it in 2001. Yeah, it's been a while. The last Yankee with 200+ strikeouts regardless of handedness was CC Sabathia in 2011. He had 230.
Box Score, WPA Graph & Standings
Head on over to ESPN for both the box score and updated standings. MLB.com has the video highlights. Don't miss our Bullpen Workload and Announcer Standings pages as well. Here's the win probability graph. This game was weird. It felt like the Yankees were up big, but Tampa had the go-ahead run at the plate in the ninth inning:

Source: FanGraphs
Up Next
The Yankees and Rays will be back at it Saturday afternoon with the third game of this four-game series. That's a 4:05pm ET start. Masahiro Tanaka and Chris Archer will meet in a matchup of Opening Day starters. There are only eleven home games left this season, so head on over to RAB Tickets if you want to catch any of them live.