Winning two of three is an acceptable outcome in any series, but man, I really wanted the sweep this weekend. The Yankees dropped the third and final game of this series with the Blue Jays by the score of 3-1 Sunday afternoon. The Bronx Bombers went 3-3 on the six-game road trip.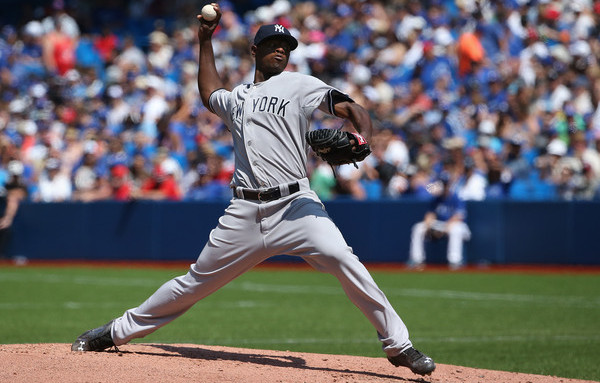 Fastball Only
Luis Severino's fastball was excellent on Sunday. He was throwing serious gas, but his secondary pitches seemed to be lacking early on and it cost him. The first hit he allowed came on a two-strike changeup out over the plate to Justin Smoak, then a pair of bad sliders led to three runs in the third.
The three-run rally started with two quick outs and then a Carlos Beltran misplay — he lost a ball in the sun and allowed a routine fly ball to fall in for a Troy Tulowitzki double. I mean, it happens, outfielders will lose a ball in the sun on occasion. That's baseball. Tulo was on second with two outs, so Severino had a chance to escape the inning without the error hurting.
Instead, Severino left a two-strike slider up to Josh Donaldson, and Donaldson poked it to right field for an RBI single. Fine, whatever. Sucks the misplay cost them a run. Sucks even more Severino couldn't stop the bleeding there. He spun a cement mixer slider to Jose Bautista and Bautista clobbered it for a no-doubt two-run homer. It was an awful, awful pitch.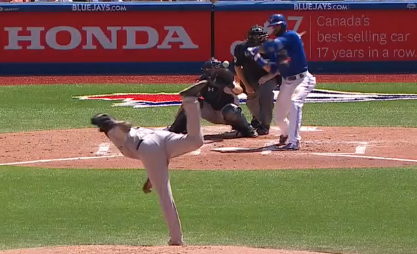 Yeah, that is not a good location. Severino allowed five hits in six innings and all five came on offspeed pitches — one on a changeup and four on sliders. His fastball was electric! He averaged 96.5 mph and got eight swings and misses out of 62 four-seam fastballs (12.9%), but you can't live on fastballs alone. Especially not against this Blue Jays lineup.
The misplay stunk, absolutely, but Beltran didn't leave the slider up to Donaldson and he sure as hell didn't give up the homer to Bautista. All three runs were earned — the Beltran misplay was originally called an error and later changed to a double — and four of the six batters immediately following the misplay reached base. It would have been five of six if not for a great diving grab by Chase Headley to rob Kevin Pillar of a hit leading off the fourth.
All told, Severino struck out nine — eight on fastballs and one on a slider — and walked three, retiring seven of the last eight batters he faced. The third inning totally stunk. Severino got the would-be third out on a routine fly ball, but it fell in, and he couldn't stop the bleeding. The two mistake sliders to Donaldson and Bautista ruined an otherwise impressive start. Hard not to be excited about Severino's future. Can't really blame him for the Yankees being 0-3 in his three starts.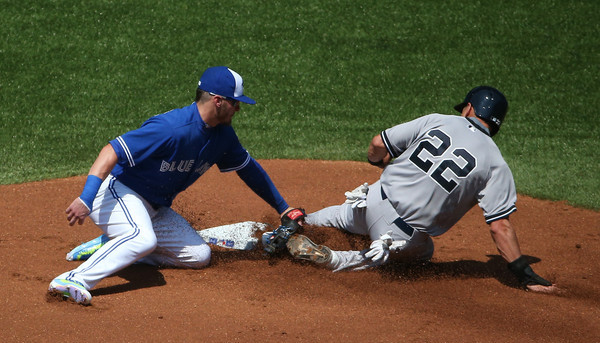 SeveriNo Run Support
Of course, it didn't matter what Severino did on the mound. It could have been David Price or Johnny Cueto or Cole Hamels or Cy Young. Wouldn't have mattered. The Yankees were held to one run and you can't realistically expect that to stand up. They've scored seven runs total in Severino's three starts and only two when he was actually on the mound. Luis is getting that Hiroki Kuroda run support.
The Yankees scored their one run on Jacoby Ellsbury's sixth inning solo home run off the facing of the second deck in right field. Pretty standard homer — Drew Hutchison missed his spot by a decent margin and Ellsbury put a good swing on it. Not sure what else to say. About as generic as homers come. Hutchison had the Yankees beating the ball into the ground all afternoon. He came into the game with a 39.9% ground ball rate and, naturally, got nine of his 20 outs on the ground. (Five others were strikeouts.)
Ellsbury singled leading off the game and was later thrown out trying to steal second to end the inning, which I hate. I'd rather just let Mark Teixeira hit with a man on base that early in the game. Their second base-runner was Alex Rodriguez's two-out walk in the fourth and their third was Brian McCann's leadoff hit by pitch in the fifth. A-Rod was stranded and McCann was erased on Beltran's double play ball.
McCann blooped a double with two outs in the seventh — it was a bloop single that hopped over the diving Pillar and standing Bautista thanks to the turf — and Brett Gardner singled with one out in the ninth. They were New York's only base-runners after Ellsbury's homer. Ten of the final dozen batters they sent to the plate made outs. At the end of the day, the Yankees lost because they didn't score, not because Severino put some sliders on a tee in the third inning.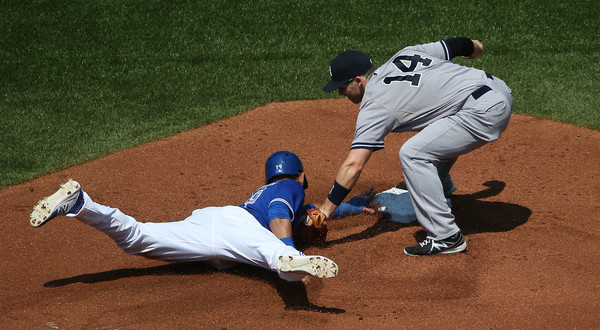 Leftovers
Chasen Shreve and Adam Warren had an adventurous seventh inning. Shreve walked Ryan Goins, gave up a single to Pillar, then got the force out at third on Ben Revere's bunt. I didn't think he had a chance to get the runner at third on that play. Warren came in to strike out Tulo and get Donaldson to ground out. He tossed a scoreless eighth as well.
Ellsbury (two), McCann, and Gardner had the team's four hits. McCann was also hit by a pitch and A-Rod drew the only walk. Six base-runners in nine innings? Not good! The offense has been a bit better these last few games but it's still not all the way back to where it was even two weeks ago.
And finally, the Yankees held the Blue Jays to 17 runs in six games these last two weekends, which I would have signed up for in a heartbeat. Too bad they went 2-4 in those six games. Gross.
Box Score, WPA Graph & Standings
Here are the box score and video highlights for the game as well as the updated standings and postseason odds for the season. Also make sure you check out our Bullpen Workload and Announcer Standings pages, because I made them and do update them daily, and I'd hate for all that effort to go to waste. Here's the loss probability graph:

Source: FanGraphs
Up Next
The six-game road trip is over and the Yankees are heading home for a ten-game homestand. First up: three games with the Twins. CC Sabathia and Kyle Gibson will be on the mound in Monday night's opener. RAB Tickets can get you in the door if you want to attend any of those ten games in person.