You guys, the Yankees are good now. The Bronx Bombers hit five (five!) home runs — all five came with two outs too — to beat the Rays 11-5 in their series opener at Tropicana Field on Monday night. The Yanks have won 18 of their last 24 games. It's early, but they have a four-game lead in the AL East for the first time since August 26th, 2012.
Liners & Homers
It started right in the very first inning with
Alex Rodriguez
's monster solo home run off Alex Colome. It was absolutely smoked. The Yankees seemed to hit nothing but rockets off Colome all night, scoring eight runs on eleven hits in six innings against the righty. All eight of those runs scored on dingers:
A-Rod
's solo homer,
Chase Headley
's three-run homer,
Carlos Beltran
's solo homer, and
Brett Gardner
's three-run homer.
Headley's home run was probably the biggest in the grand scheme of things. The score was tied 1-1 in the fourth, and the Yankees had two runners on base with two outs. Brian McCann popped up on the infield for the second out and was unable to score Beltran from third, but Headley picked him up with a first pitch homer. That was dangerously close to a scoreless inning with two runners stranded. Instead, it was a three-run frame to give the Yankees a 4-1 lead.
Gardner's homer turned this game into a laugher. It was another two on, two out situation in the sixth inning, and Colome gave Brett a meatball 2-0 fastball that Gardner drove out to dead center field. Gardner doesn't hit too many homers to center. He tends to pull them to right field. That one was crushed right back up the middle and it gave the Yankees an 8-1 lead. For good measure, Mark Teixeira went opposite field for a two-run homer in the ninth.
The Yankees hit five homers for the first time this year after doing it twice last year and just once the year before. This game was about much more than the homers though. The Yankees ripped line drive after line drive it seemed. There were no soft hits. Even after Colome left the game, they were hitting line drives. Just a great night for the offense. Everyone seemed to be on every pitch.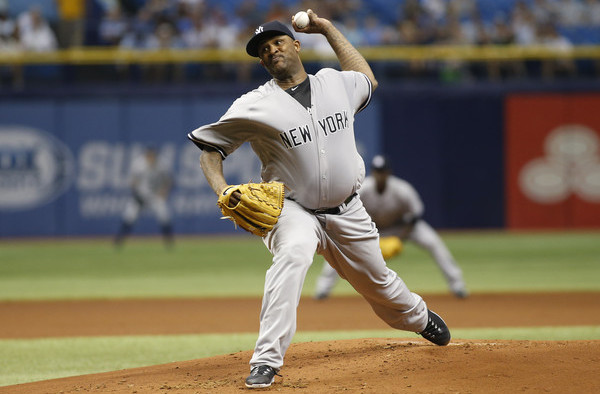 The First Win
It took the combination of a big night for the offense and (arguably) CC Sabathia's best start of the season for the big lefty to get his first win of 2015. Four runs in seven innings doesn't really tell you how well Sabathia pitched — he was in cruise control until giving up a bunch of garbage time runs in the seventh inning, when he appeared to run out of gas. At one point Sabathia retired 15 of 17 batters faced, and the two hits were a bloop and an infield single.
The first inning started pretty poorly for Sabathia, who walked the first two batters and gave up a booming double to the wall to the fourth batter. Two runs should have scored on Logan Forsythe's two-bagger — Chris Young missed the cutoff man on Evan Longoria's fly ball, allowing both runners to advance a base — but Steven Souza Jr. did a funny base-running thing and got thrown out at the plate. Souza tagged up like three times at second base on the double for some reason.
After the double, Sabathia used a combination of changeups and sinkers to keep the Rays off balance and strike out a season-high nine. Five of the nine strikeouts were looking. He really did a good job locating both in and out, I thought. Back-to-back solo homers and an outfield-aided run — Young misplayed a rolling ball and turned it into a triple — uglified Sabathia's final line in that seventh inning. CC pitched very well, as well as he has at any point this season or last, and he earned that first win of the year.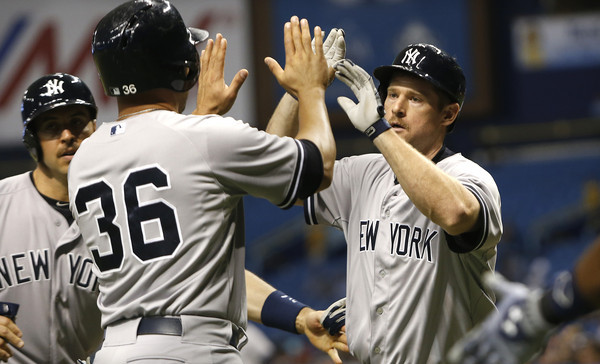 Leftovers
David Carpenter allowed a stupid run in the eighth — he hit a batter, threw away a pickoff throw to allow him to go to second, then gave up a ground ball single just out of the reach of Didi Gregorius to score the run. He still struggled — two of his three outs were line drives that were caught — but this was exactly the kind of game Carpenter needs to pitch. They've got to get him straightened out. Branden Pinder got the final three outs, including the last on a pop fly off one of the catwalks.
The Yankees scored their only non-homer run on a Headley sac fly in the seventh. Beltran (single homer), A-Rod (single, homer), Teixeira (two singles, double, homer), and Headley (single, homer) all had multiple hits. Everyone in the starting lineup had at least one hit except for Gregorius, who drew a walk. Teixeira went from .212/.336/.567 (137 wRC+) to .239/.353/.615 (154 wRC+) with his big game.
Erasmo Ramirez came out of the bullpen to throw the last two innings for the Rays, which more or less confirms he will not start Thursday's game. (Tampa's starter is listed at TBA.) Guessing it'll be right-hander Matt Andriese instead.
And finally, Erasmo plunked A-Rod with a pitch in the top of the ninth. It didn't look intentional, but Alex wasn't happy, so he immediately stole second base. (They scored it defensive indifference for some reason.) That was the most "eff you" stolen base I've ever seen.
Box Score, WPA Graph & Standings
Here are the box score, video highlights, and updated standings. Also make sure you check out our useful Bullpen Workload and useless Announcer Standings pages. Now here is the win probability graph:

Source: FanGraphs
Up Next
The Yankees and Rays will be back at it Tuesday night, in the second game of this four-game series. Nathan Eovaldi and Chris Archer will be the pitching matchup. One of those guys is 18 months younger than the other. Guess who?