The Yankees faced the Rangers four times and they actually split the series. Heck, if it weren't for rain on Monday, they could've taken 3 out of 4. Michael Pineda allowed a leadoff HR to start the game but that was just about all the damage he allowed. Didi Gregorius' HR tied it and bullpen held on to keep it 1-1. New York won in the bottom of ninth on a passed ball with runners on second and third. The final score Thursday afternoon was 2-1 Yankees.
Pineda allowed three hard hit balls to start the game. Lovely. They resulted in a HR (by Shin-Soo Choo), a line out to Aaron Hicks (by Ian Desmond) and a single (by Nomar Mazara).
The next sequence, however, was a bit different. Pineda struck out Adrian Beltre and walked Prince Fielder, but ended the frame with a strikeout of Rougned Odor. Pineda had a sublime second inning. All three batters he faced – Jurickson Profar, Mitch Moreland and Robinson Chirinos – struck out swinging. The strikeouts continued to pile up in third, as he punched out Choo and Desmond. Mazara followed up with a first-pitch ground out so the K streak ended at six. Bum!
All in all Pineda had a superb outing, striking out 12 in 6 IP while allowing only one run. He has a 2.75 ERA in last 6 starts, which is good! I know his overall season basic stats are still not great (3-7 with a 5.24 ERA) but some of his peripherals are pretty darn great. For instance: He leads AL in swing-and-misses, per James Smyth of YES Network. He's behind guys like Clayton Kershaw, Jose Fernandez, and Noah Syndergaard for the ML top swing-and-misses, which is something. When Pineda's on, he can absolutely blow hitters away. Just frustrating that he's much more prone to mistakes than those guys.
One dinger, not much else
The Yankees faced A.J. Griffin earlier in the year and, well, they didn't do much. He pitched eight innings of one-run ball en route to a 10-1 Rangers win back in April 26. Overall, they didn't do much today either, scoring one off him in five inning while striking out eight times. That one run, by the way, came in a form of red-hot Didi Gregorius solo dinger.
In the bottom fifth, with Rangers still leading 1-0, Griffin struck out Chase Headley to begin the frame. Gregorius worked the count full and got a 85-mph slider on the inner part of the zone. Didi hit it high and the ball eventually sailed out to the right field seats for a solo tater. Statcast had the batted ball velocity of 93 mph, which is not exactly the hardest-hit ball for a homer but still, it had the distance. 1-1 tie.
With June almost over, let's look at Didi's nice month. Prior to today's game, he's hit for a .337/.369/.510 line with 10 XBH's in 98 AB's, which is great. His overall slash line? .290/.320/.435, good for a 100 wRC+. I'll take that from him all season long.
A walk-off… passed ball?
The Yankees had a leadoff runner on to start the ninth after Headley drew a walk versus Tony Barnette. The next hitter, Didi Gregorius, last night's walk-off HR hero, proceeded to bunt him over for a sacrifice. Many watchers, including David Cone in the broadcast booth, weren't a fan of that move. I wasn't a fan of it either – Barnette seemed to be having a hard time throwing strikes so yes, let's give away an out! Anyways, Hicks also worked a five-pitch walk against Barnette, setting up a one-out, runners on first and second situation for Starlin Castro.
Castro followed it up with a weak ground out to first, which at least pushed both runners up to second and third. Next up was Jacoby Ellsbury. Most Yankee fans were praying for a base hit of sorts to end the game. However, it was Rangers catcher Chirinos' mistake that won it for New York.
On a 1-1 pitch, Barnette threw a slider that was meant to catch the strike zone on a backdoor but it just missed slightly. Chirinos, in effort to frame it, kept his glove a bit high and closed it as the ball passed right below. As I mentioned, Barnette had some trouble throwing strikes in the inning and probably needed all the helps to get some calls. However, this particular pitch ended up like this …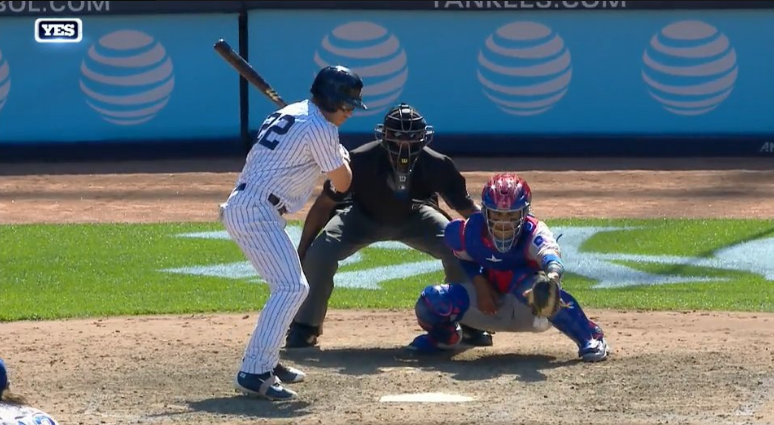 … and it trickled to the back. Headley immediately bolted home and was called safe by the HP ump Alan Porter. 2-1 Yankees. What an ending. Also, pretty notably, the Yankees faced a team with best AL record and earned a split. Now they are back to the seemingly-inevitable .500 mark (39-39).
Leftovers
After Pineda's outing, Girardi plugged in the No Runs DMC equation to keep the game at 1-1 tie. Dellin Betances, Andrew Miller and Aroldis Chapman each tossed a scoreless inning, striking a total of four in three innings while allowing two hits. Ho-hum. I know it's very much an acceptable outcome but why am I a bit underwhelmed?
Carlos Beltran actually played today! After being shelved Tuesday with a hamstring tweak, Beltran came off the bench in the seventh inning to pinch hit for Ronald Torreyes with two outs and a runner on. Jake Diekman ended up walking him and Ellsbury to get the bases loaded. That would've been a nice situation for Gardner to come through but he grounded out to second to end the frame. Oh well.
Box score, highlights, WPA and standings
Here's today's box score, video highlights, WPA and updated standings.

Source: FanGraphs
Up Next
The Yankees play at San Diego tomorrow so there will be no DH, which also lowers the chance of Beltran being in the starting lineup, as Girardi said in postgame. Oh well. But with a 39-year old guy, better safe than sorry.