Is this team not awesome? This team is awesome. The Yankees erased a four-run deficit Wednesday night for an 8-6 win over the Blue Jays in the series finale. Just keep winning series, baby. That's the name of the game. The Yankees are now 17-9 with a +45 run differential through the first 26 games of the season. Last year they were 9-17 with a -28 run differential through 26 games. Also, the Yankees are now 92-70 in their last 162 games. YUP.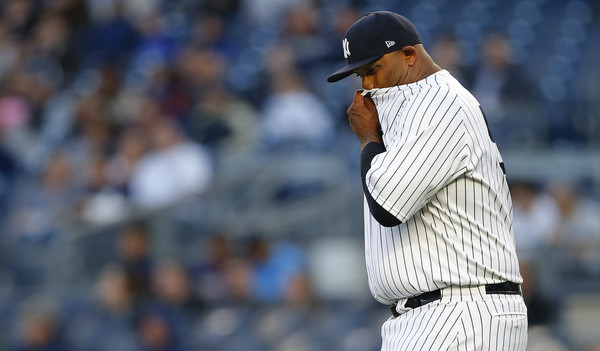 Strugglin' Sabathia
CC Sabathia started his season with three very good starts, allowing four runs (three earned) total in 18.1 innings. He's since followed those three very good starts with three very bad starts. Four runs in five innings against the Pirates, seven runs in 5.2 innings against the Orioles, and now six runs in four innings against the Blue Jays. It hasn't all been bad luck either, even though Sabathia seems to have a knack for giving up ground balls with eyes.
The Blue Jays struck for four runs in the first inning Wednesday night, putting the Yankees in an early hole. The first two runners reached base and Sabathia nearly escaped the inning unscathed, but Justin Smoak was able to punch a ball back up the middle for a two-out RBI single. Fine. Whatever. One run isn't the end of the world. But Sabathia couldn't stop the bleeding. He served up a three-run home run to Steve Pearce, the next batter. Six batters into the game, the Yankees were down 4-0.
In the second inning Sabathia allowed two more runs, including one on a bases loaded walk to Russell Martin. He had runners on the corners with one out and Jose Bautista down 0-2 in the count, but he walked him. Sabathia had a 2-2 count on Martin after that and walked him too. The put-away pitch just wasn't there. He threw 44 pitches in the first two innings and only one resulted in a swing and a miss. The Blue Jays looked mighty comfortable in the box.
To Sabathia's credit, he settled down a bit and got through the third and fourth inning scoreless. He was removed from the game after starting the fifth inning with a walk and a single. (Adam Warren escaped that jam.) The final tally for Sabathia is six runs on seven hits and four walks in four innings plus two batters. He did strike out five. His location was really poor early on. There were lots of pitches over the plate. At least Sabathia was able to figure out it for a few innings there, but yeah, this is three bad starts in a row. No mas, CC.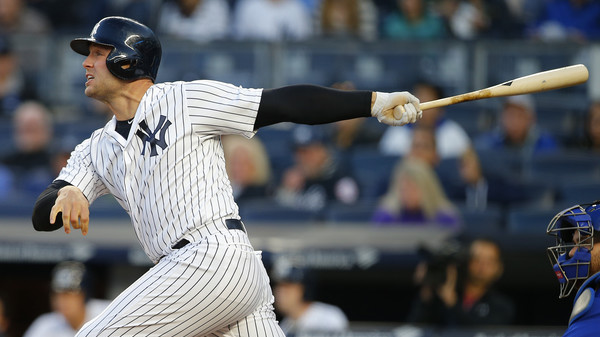 Answering Back
Trailing 4-0 before you bat is daunting! The Yankees have Fighting Spirit though. They put three runs on the board in the bottom of the first inning to answer right back. Single (Brett Gardner), walk (Aaron Hicks), three-run home run (Matt Holliday) is how Marcus Stroman, who is really short and went back to college to get his degree while rehabbing his torn ACL two years ago (just in case you hadn't heard), started his evening. The home run was the 300th of Holliday's career. Congrats to him.
The Yankees put two on with one out in the second inning, but were unable to score. Then, in the third, Starlin Castro planted a single into center field and Aaron Judge clobbered his Planet Earth leading 13th home run of the season. No player at any level of professional baseball has more home runs than Judge in 2017. This one landed in Monument Park and had the crack of a no-doubt home run. You can close your eyes and tell when this guy goes deep just based on the sound. That two-run home run got the Yankees to within 6-5.
Luck Biagini Tonight
Oblique/lat tightness forced Stroman out of the game after three innings, which meant the Yankees were going to get plenty of cracks against Toronto's shoddy bullpen. And for a few innings there, they wasted a bunch of prime scoring opportunities. Runners on first and second with one out in the fourth? Holliday bangs into a double play. Bases loaded with two outs in the sixth? Kyle Higashioka stared at strike three. Sucks.
It wasn't until the seventh inning that the Yankees rallied to both tie the game and take the lead. It all started with a Joe Girardi ejection. Home plate umpire Bill Welke had a pretty generous strike zone all night — Gardner, Hicks, and Holliday all struck out looking on borderline pitches in the sixth — and Girardi snapped after Castro took a pitch inside and off the plate for the called strike. He gave Welke the business and was ejected.
After the ejection, the strike zone did truly seem to tighten up. Welke was no longer calling those borderline pitches strikes, and the Yankees took advantage. Judge started the rally with a one-out single to left, and Chase Headley really made things interesting with a double into the right field corner. Now the Yankees had runners on second and third with only one out. An out could have tied the game.
The strikeout prone Chris Carter came to the plate, and rather than strike out, he dunked a broken bat bloop over the shortstop's head into shallow left field to tie the game. Carter's been piling up singles lately. What's up with that? Didi Gregorius pinch-hit for Ronald Torreyes and gave the Yankees the lead with an infield single. It was a chopper back to Biagini, who looked home before throwing to first. That hesitation was long enough for Didi to beat it out, giving the Yankees a 7-6 lead. Hicks stretched the lead to 8-6 with a bases loaded walk. The strike zone plot of the Hicks walk, via Brooks Baseball: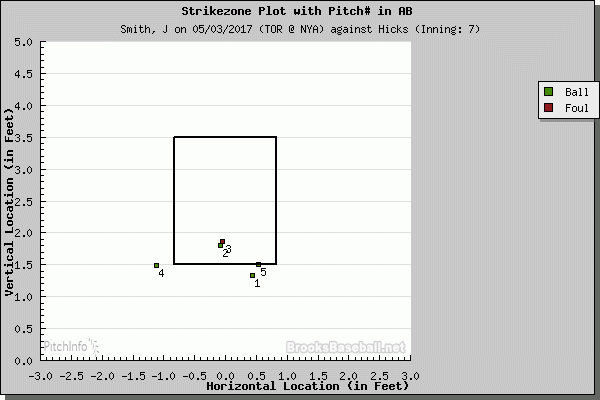 Yep, the strike zone definitely tightened up after Girardi's ejection. A bloop tied the game, an infield single gave the Yankees the lead, and a bases loaded walk plated an insurance run. That had to be the most annoying game-losing rally to watch as a Blue Jays fan. I, personally, loved it.
The Unsung Heroes
Big ups to the bullpen. The Yankees have an off-day Thursday, so Girardi didn't have to hold back. Warren replaced Sabathia in that fifth inning and escaped the two-on, no-out jam with a fly ball, a strikeout, and a ground ball. Usually you'd expect Warren to remain in the game in that situation, but he was warming up alongside Sabathia since the second inning. He wasted a lot of bullets in the bullpen, hence only one inning of work.
Tyler Clippard got five outs — he put two on with one out in the sixth, then escaped in part by blowing a fastball by Bautista — before giving way to Dellin Betances, who got four outs. Aroldis Chapman closed it out in the ninth and ended the game in the best way possible: by striking out Martin twice. Martin swung and missed at a pitch that hit him, but the umpires incorrectly ruled it a foul ball and the at-bat continued. Chapman struck him out again anyway. Perfect.
All told the four relievers combined to allow one hit and one walk (both by Clippard) in five scoreless innings of work. They struck out six. Great, great work by the bullpen. They held the Blue Jays down and gave the offense a chance to get back in the game. Sabathia needed a pick-me-up after that four-run first inning and he got it from the bullpen and the offense. What a satisfying win.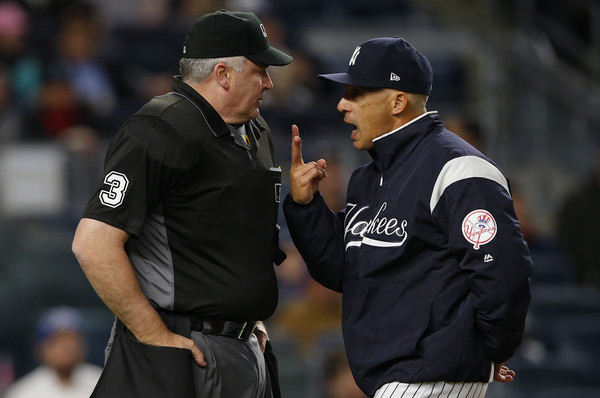 Leftovers
Judge went 3-for-5 with the home run and is now hitting .330/.433/.818 (240 wRC+). That'll do, kid. The Yankees are a perfect 11-0 when Judge homers this year, and he's also the youngest player in baseball history to hit 13 home runs in his team's first 26 games. If you've read RAB long enough, you know I've been a Judge believer for a long time. Never in a million years did I expect this.
As for the rest of the offense, Gardner had two hits and two walks to raise his season batting line to .247/.354/.435 (124 wRC+). Remember when everyone wanted to put him on a rocket to the sun? Good times. Hicks drew three walks and is up to .288/.433/.615 (190 wRC+) on the year. Castro had two hits and it dropped his batting line from .360/.402/.550 (169 wRC+) to .362/.402/.543 (167 wRC+). Love this offense. It's fun to know they're never truly out of a game.
The Yankees showed some emotion in this one! Girardi got ejected, Sabathia let out a roar after striking out Bautista to end the fourth inning, and Gardner went all Paul O'Neill on a trash can after striking out looking on one of Welke's borderline strikes in the seventh inning. The Yankees can be pretty uptight at times. It's good to see some emotion every once in a while.
And finally, with Gary Sanchez expected to come off the disabled list Friday, this game was Higashioka's last chance to get his first MLB hit before being sent down to Triple-A. He went 0-for-3 with a walk, two strikeouts, and a tough luck line drive at the third baseman. Keep your chin up, Higgy. You'll get the first big league knock soon.
Box Score, WPA Graph & Standings
For the box score and updated standings, go to ESPN. MLB.com has the video highlights. We have a Bullpen Workload page, which you may or may not find useful. Here's the comeback probability graph:

Source: FanGraphs
Up Next
An off-day and a six-game five-game road trip through Chicago and Cincinnati. The Yankees will get a breather Thursday before opening their weekend series with the defending World Series champion Cubs — it will never not be weird typing that — on Friday afternoon. That's a 2:20pm ET start because that's how they roll at Wrigley Field. Gonna be kinda cool to see Starlin back at his old stomping grounds. Michael Pineda and Kyle Hendricks are Friday's scheduled starters.