That was a satisfying series. Stressful, but satisfying. The Yankees, led by two young pitchers, shut out the high-scoring Blue Jays 2-0 on Wednesday night. This is their first three-game sweep of the season, believe it or not. This team is fun as hell right now, aren't they? Nothing to lose, everything to gain.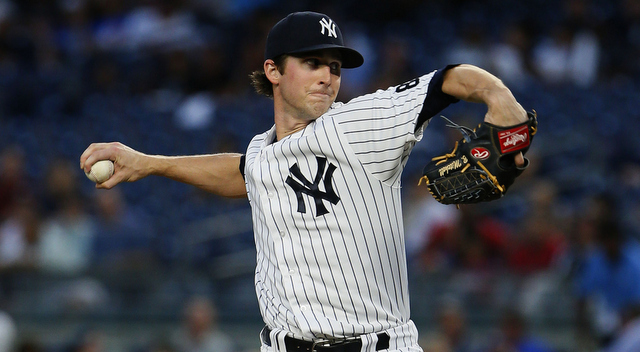 Mitchell Returns
Welcome back to the big leagues, Bryan Mitchell. Go face the Blue Jays in homer happy Yankee Stadium with only 21 minor league tune-up innings under your belt. It sounds like a recipe for disaster, and truth be told things did come close to unraveling a few times, but Mitchell was able to bear down and escape each jam he faced. The result: five scoreless innings. Five! Who expected that? No one, that's who.
The Blue Jays had their best chance to score against Mitchell in the third inning, which he started by walking No. 8 hitter Melvin Upton and No. 9 Kevin Pillar. That generally leads to bad things. Luckily Devon Travis smashed a hard-hit ground ball to Chase Headley, who started the 5-4-3 double play. A ground out by Josh Donaldson ended the inning. Mitchell's only 1-2-3 inning was his last, the fifth.
All told, Mitchell allowed four hits and two walks in his five innings, and it could have easily been only two hits had Tyler Austin not come down with a case of the Trumbos in right field. Mitchell used mostly fastballs to keep the Blue Jays in check — his 80 pitches were broken down into 64 fastballs and 16 curveballs — including a filthy cutter that averaged 93.4 mph. Also, he got ten ground outs and only three air outs. What more could you want from the kid? Way to go, Bryan.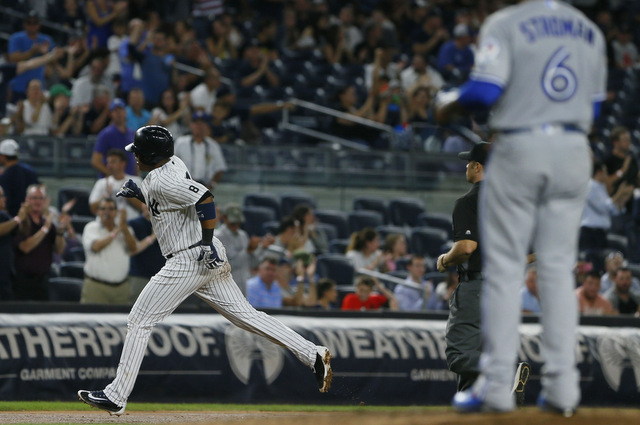 Two Runs Are More Than Enough
The Yankees had a chance to score in the very first inning thanks to a Brett Gardner single and an error by Travis. It was a tough error; Didi Gregorius hit a hard grounder up the middle, Travis ranged to his right to field it, but his flip to second for the force out was wide of the base. Very difficult play. Should have been a hit. Mark Teixeira struck out to end the inning, so the Yankees couldn't capitalize. Blah.
Both runs scored in the third inning and they scored in very different ways. Starlin Castro started the scoring with a solo home run, his career-high 20th. Marcus Stroman left a slider up and bam, dinger time. Stroman was shook after that, because the next three Yankees reached base. Gregorius poked a double to left, Teixeira worked a walk after falling behind in the count 0-2, and Brian McCann pulled a run-scoring single through the shift. All of that happened with two outs. All of it.
After the homer, five of the next eight Yankees to bat reached base. They very nearly scored a third run in the fourth inning, but Jacoby Ellsbury's opposite field double barely hopped over the wall, forcing Gardner to stop at third. He would have scored from first base easily on the play, especially with two outs. Heck, replays showed he was rounding third when the ball hopped over the wall. Alas. Two runs was all the Yankees got and it was one more than they needed.
Bullpen Ace
As soon as Mitchell walked Upton and Pillar in the third inning, Joe Girardi had Luis Severino up in the bullpen. His plan was clear. Whenever Mitchell was done, Severino was coming in. He wasn't needed until the sixth, after Mitchell allowed a leadoff double to Troy Tulowitzki. Severino retired Donaldson (fielder's choice), Edwin Encarnacion (ground out), and Jose Bautista (strikeout) to strand the runner. The Bautista strikeout if GIF-worthy: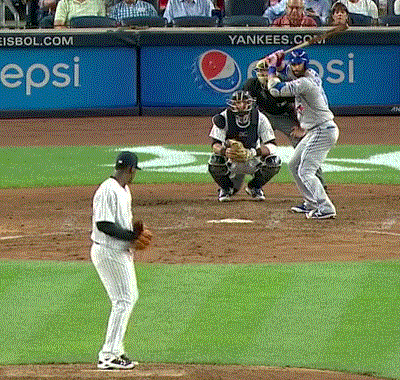 Severino remained in and threw scoreless seventh and eighth innings as well. Once the Yankees got the lead, that was the plan all along. Get whatever you can out of Mitchell, the ride Severino as long as possible. He allowed one hit and one walk in his three scoreless innings of relief, striking out three. His final out was the scariest; Encarnacion flew out to the right field warning track with a man on base in the eighth. That was the tying run right there.
In six total games as a reliever, Severino has faced 51 batters and allowed two hits. Two! Two hits and four walks in 14.1 innings equals a 0.42 WHIP, which is decent. Severino has struck out 17 of those 51 batters, or 33.3%. The kid should absolutely be given a chance to start next season, but if the rotation doesn't work it, it sure looks like he can be a dominant reliever. Closer du jour Tyler Clippard stuck out two in a perfect ninth. What a nice game on the mound.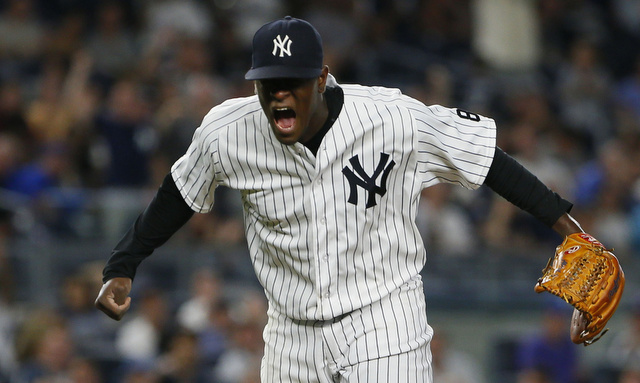 Leftovers
The Yankees had nine hits total, including two each by Gardner and Ellsbury. Every starter had a hit except Teixeira and Austin Romine, and Teixeira drew a walk. Romine was the only one who failed to reach base. It was not a great night for the bats, but the pitching staff was able to pick them up. That has to happen from time to time.
The Orioles, Tigers, and Astros all lost on Wednesday, which means the Yankees gained ground on each of the three teams ahead of them in the wildcard race. Awesome. The Yankees are 2.5 games back with 24 to play. If nothing else, this team looks poised to play meaningful baseball for a few more weeks. I'll take it.
Box Score, WPA Graph & Standings
ESPN has the box score, MLB.com has the video highlights, and ESPN has the updated standings. Don't miss our Bullpen Workload and Announcer Standings pages either. The first one is actually kinda useful. Here's the win probability graph.

Source: FanGraphs
Up Next
One AL East rival leaves the Bronx and another comes in. The Rays will be in town for a four-game weekend series starting Thursday night. CC Sabathia and Alex Cobb, who just returned from Tommy John surgery, are the scheduled starters for the series opener. RAB Tickets can get you in the door for that game or any of the other 12 home games left on the schedule.