Well, the winning streak was bound to end eventually, and it ended Sunday afternoon with a 4-2 loss to the Rays. Seven wins in the last eight games is still pretty awesome. Shake it off and start a new winning streak tomorrow.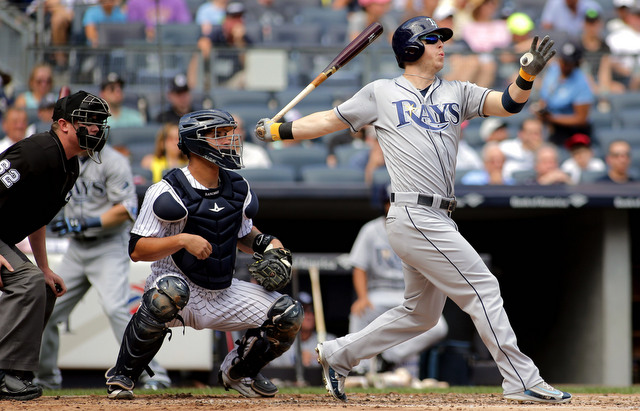 Cessa's Home Runs
Despite his general effectiveness, Luis Cessa's home run problem is very real right now. That doesn't mean dingers will be a problem forever, but right now, keeping the ball in the yard is a challenge. Cessa served up three home runs in 5.2 innings Sunday, giving him 13 home runs allowed in 48 big league innings overall (2.44 HR/9). It's eight home runs in 29 innings as a starter (2.48 HR/9). Can't blame the short porch for all that.
The three home runs accounted for all four runs the Rays scored Sunday. To be fair, the first one was not the result of anything Cessa did wrong. It wasn't a mistake pitch or anything like that. Corey Dickerson somehow tomahawked a high fastball into right field for a two-run shot in the second. Look at the pitch location:
That's ridiculous. Fastballs up in the zone are very effective swing-and-miss pitches, and Dickerson's not exactly a contact machine, so Cessa did what he wanted to do. He executed the pitch. Dickerson just went up and hooked it out. Crazy. Can't be mad about that. Give Dickerson credit.
Tampa's other two homers came in the the sixth. Logan Forsythe hammered a mistake fastball out to left field, and two batters later Brad Miller golfed a breaking ball into the short porch. Those were two solo shots and gave the Rays a 4-1 lead. Cessa retired ten of eleven batters between the Dickerson and Forsythe homers, and he retired 15 of the first 18 batters of the game overall. That'll work.
The end result was four runs on five hits and no walks in 5.2 innings. Cessa struck out five. Despite the extreme home run problem, Cessa has a 3.72 ERA (5.97 FIP) in five starts and 29 innings. Everything about him has been good except the homers, and unfortunately that's kind of a big problem. Such is life with young pitchers.
One Run Ain't Enough
The offense was unable to get much going against Rays righty Matt Andriese. Back-to-back two-out singles in the first inning were wasted, as was Brett Gardner's one-out double in the third. Only three of the 15 Yankees to face Andriese in the first four innings reached base. Keep in mind Andriese came into the game having allowed 31 runs on 47 hits (ten homers!) and six walks in his last six starts and 30 innings. Blah.
The Yankees scored their first run on Chase Headley's fifth inning solo homer, and man, that inning could have been much bigger. Headley's homer led off the inning, then Aaron Judge followed with a single to left. Ronald Torreyes beat out a potential double play ball, giving the Yankees a runner on first with out one. He was then thrown out trying to steal second and I dunno about that decision. Headley and Judge hit the ball hard, it was only the fifth inning, and the top of the order was due up. Maybe let the guys swing away and not worry about the extra 90 feet?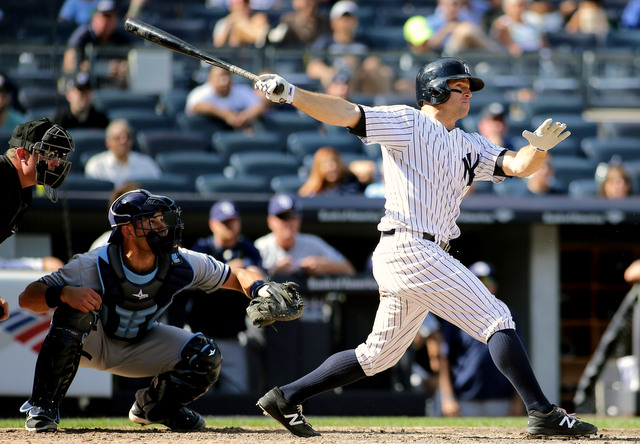 Anyway, Torreyes was thrown out and Gardner followed with a single to right, so three of the first four batters of the inning reached base, but there were still two outs. Jacoby Ellsbury flew out for the third out. Sigh. That inning had some potential. It wasn't until the seventh inning that the Yankees put together another serious rally, and by then Andriese was out of the game and ex-Yankee Chase Whitley was on the mound. This was Whitley's first big league appearance since having Tommy John surgery last year. Good for him.
A one-out walk by Headley and a two-out error by Evan Longoria on pinch-hitter Starlin Castro's hard-hit ground ball gave the Yankees runners on the corners with two outs. The tying run was on base and one pitch later, it was in scoring position. Gardner stole second with ease on the first pitch. It was his first steal — and first attempt! — since July 17th. Alas, Ellsbury flew out to end the inning, stranding the tying run at second. That was their last best chance to make it a ballgame.
Leftovers
Solid work by the bullpen overall. Luis Severino threw 2.1 scoreless innings — he pitched out of a bases loaded jam in the seventh — before Tommy Layne and Blake Parker combined for a scoreless ninth. Those three did their job. They kept the Rays at bay and gave the offense at chance to get back into the game. The bats never obliged. So it goes.
Gardner had three of the team's seven hits. Headley, Judge, Gary Sanchez, and Brian McCann had the others. Headley drew the only walk. The Yankees have 38 games with no more than one walk this season, eighth most in baseball. They had 28 such games last year. Their most this century is 43 in 2001. This team has a chance to beat that, sadly.
And finally, the Orioles beat the Tigers to take over sole possession of the second wildcard spot again. That's good. Detroit has a bunch of games left against weak AL Central teams and the Yankees need them to lose as much as possible. The O's have a far tougher schedule, and, most importantly, three games remaining with the Yankees. The Yankees have some control over what the Orioles do. They have zero control over the Tigers.
Box Score, WPA Graph & Standings
Head on over to ESPN for the box score and updated standings, and MLB.com for the video highlights. Check out our Bullpen Workload and Announcer Standings pages too. The Yankees are two games back of the second wildcard spot with 20 games to play. Here's the win probability graph:

Source: FanGraphs
Up Next
This four-game series is finally over but the homestand is not. The Dodgers are now coming to town for three games. Rookie Jose De Leon and technically no longer a rookie Bryan Mitchell are the scheduled starters. There are only nine home games left this year. RAB Tickets can get you in the door for all nine.