That was a much-needed win. Much-needed and really important. This is the final series of the season with the Red Sox and the last chance for the Yankees to control things in the AL East race. The Yankees won Thursday's series opener 6-2. They'll do it all over again Friday.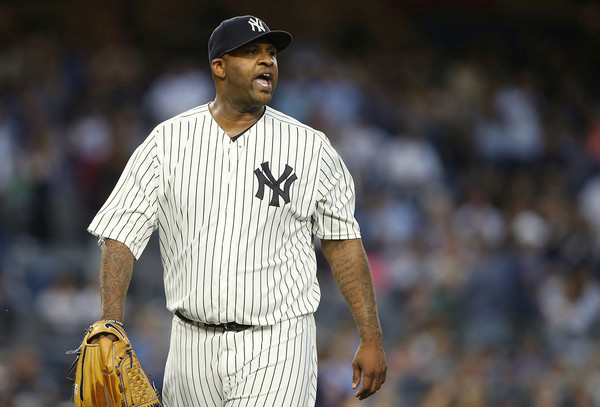 The Big Man Does Big Things
Was it an easy start for CC Sabathia? No way. He had to grind. The big man still turned in yet another quality outing Thursday night, holding the Red Sox to one run on four hits and five walks in six innings. He struck out six. The run was kinda dopey too. Mookie Betts was narrowly safe at second base on what would've been an inning-ending double play. Alas. (He was originally called out, but the play was reviewed and overturned.)
The difference between this game and the three games against the Indians? The first inning. The Indians scored in the first inning in all three games. The Yankees were playing from behind all series. On Thursday, the Red Sox loaded the bases with one out in the first inning on an error — Sabathia's throw on Eduardo Nunez's bunt pulled Greg Bird off the bag — and two walks, so it looked like another first inning lead for the other team.
Fortunately Sabathia escaped with two strikeouts. He caught Xander Bogaerts looking at a perfect backdoor slider, then got Rafael Devers to swing through a slider to end the inning. Sabathia had words with Nunez after the inning because he didn't like the bunt. Not the first that's happened this year. The Red Sox are testing Sabathia and his balky knee with bunts and he keeps yelling at them. Me? I think if you're healthy enough to pitch, you're healthy enough to be bunted against.
Anyway, Sabathia made four starts against the Red Sox this season, and in those four starts he held them to three earned runs in 26 innings. That's a 1.04 ERA. Also, Sabathia has a 2.73 ERA in his last 15 starts and 83.1 innings. And when he starts after a Yankees loss this season, Sabathia has a 1.45 ERA and the Yankees are 9-1 in those ten games. My man. Give this dude one-year contracts until he hangs up the spikes.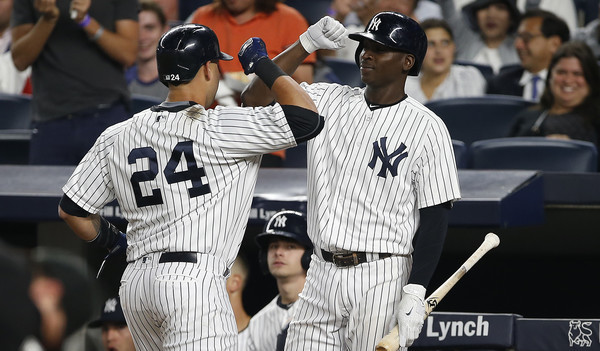 The Kids Shall Lead Them
After the Red Sox took their 1-0 lead in the third inning, it was the young building block players who helped the Yankees fight back. Gary Sanchez answered Boston's run in the top of the third with a solo homer the other way to right field in the bottom of the third. Even with the short porch, it's not often you see a right-handed hitter hit a ball to right field and know right away it's gone. Sanchez's power is unreal.
Two innings later Sanchez gave the Yankees a 2-1 lead with one of those "it's a line drive in the box score" base hits. Singles by Brett Gardner and Aaron Hicks put runners on the corners with one out, and Sanchez's pop-up should've been caught for the second out. It barely left the infield. Instead, Nunez overran it a bit, and had to reach back to catch the ball. Catch the ball he did not. It fell in for a charitably scored base hit and Gardner scored the go-ahead run.
Sanchez did some big things on the other side of the ball too. For all the bitching and moaning about the passed balls, Sanchez has an elite arm behind the plate, and he used it to throw out Andrew Benintendi trying to steal second base to end the top of fifth. It was a strike 'em out, throw 'em out double play. Love those. And as much as I love Sanchez singers, I could watch that man throw lasers to second base all damn day.
In no universe was a 2-1 lead going to stand up in a Yankees-Red Sox game, so the Yankees added a bunch of an insurance runs, which is always appreciated. Bird swatted his second home run in as many days in the sixth inning, this one a two-run shot to right field. Eduardo Rodriguez's first pitch of the inning: Chase Headley double. Eduardo Rodriguez's second pitch of the inning: Bird homer. Efficient!
The Yankees added another insurance run on a Didi Gregorius single in the sixth, and yet another insurance run on a Bird single in the seventh. That gave them a 6-1 lead. The Yankees did blow a bases loaded, no outs opportunity in the seventh inning, and that stunk. Gardner lined into a double play and Hicks flew out. That was annoying. At least the Yankees added four insurance runs after taking a 2-1 lead.
Lock It Down
I am completely and totally cool with the way Joe Girardi used his bullpen Thursday night. This is a very important game and although 6-1 is a nice lead, it's not insurmountable. Girardi used David Robertson for the seventh and eighth innings — he pitched around a leadoff walk and his own error when he fumbled a potential 1-6-3 double play ball in the eighth — and he tossed two scoreless innings on 24 pitches. Robertson used to throw 24 pitches in one innings. He's gotten more efficient.
In the ninth, Girardi went to Dellin Betances with the 6-1 lead for two reasons. One, he wanted to nail down the win. And two, Betances had not pitched since last Saturday, and when Dellin goes too long between appearances, his control vanishes. Sure enough, he loaded the bases with no outs in the ninth inning on a walk and two hit batsmen. Never easy. Betances also walked in a run with one out, allowing the Red Sox to bring the tying run to the plate.
Thankfully Betances popped up Betts and got pinch-hitter Mitch Moreland to hit a harmless fly ball to left field to end the game, stranding the bases loaded. Never easy. But! It had been a long time since Betances last pitched, and if you're going to use him after a long layoff, you'd prefer it to be in a game like this, with a big lead. You know those walks and free baserunners are coming. Anyway, I have zero problem with Girardi using Robertson and Betances the way he did in this game. Exactly what I would've done.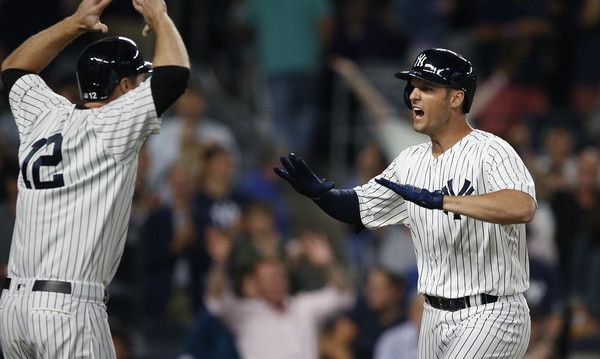 Leftovers
Great night for the offense. The Yankees had 14 hits and four walks, and every starter reached base twice. Two hits for Gardner, two hits for Hicks, two hits for Sanchez, two hits for Starlin Castro, two hits for Headley, two hits for Bird. Aaron Judge had two walks and Gregorius and Frazier each had a hit and a walk.
The Yankees went 5-for-15 with runners in scoring position, which means a) they hit .333 in those situations, and b) they also didn't get The Big Hit ten times. Stupid RISP stats. The two biggest RISPFAILs were leaving the bases loaded in the fifth (Judge flew out) and in the seventh (Gardner line drive double play and Hicks fly out). Put 18 men on base and you're bound to strand some.
Bird went 2-for-4 with the home run and is now 6-for-18 (.333) with two home runs in six games since coming back from the disabled list. He was 6-for-60 (.100) with one homer in 19 games before the injury. Bird swung through some hittable fastballs in the first two games of the Indians series, but he looks awfully dangerous at the plate right now. Calm, confident, disciplined. A productive Greg Bird would be so, so huge the rest of the way.
Good night for the defense. Sanchez threw out Benintendi trying to steal, and both Hicks and Judge had outfield assists. Hicks threw out Benintendi trying to stretch a single into a double, and Judge deked Devers on Hanley Ramirez's single in the sixth. The deke got Devers to hold thinking Judge would catch the soft line drive, then Judge threw to second for the force. Very nice.
Brutal night for second base umpire Greg Gibson. He had two calls reviewed and overturned in the same inning, and it appeared he would have another call overturned later in the game, but the replay crew said it was inconclusive. I think it was a mercy call to avoid embarrassing Gibson. New rule: if an umpire has two calls overturned in one game, he has to go back to umpire school for a crash course and an eye exam.
Box Score, WPA Graph & Standings
Got the box score and updated standings, head over to ESPN. MLB.com has the video highlights and we have a Bullpen Workload page. Here's the win probability graph:

Source: FanGraphs
Up Next
This four-game set is just getting started. The Yankees and Red Sox will be back at it Friday night in the second game of the series. Sonny Gray and Doug Fister are the scheduled starting pitchers.