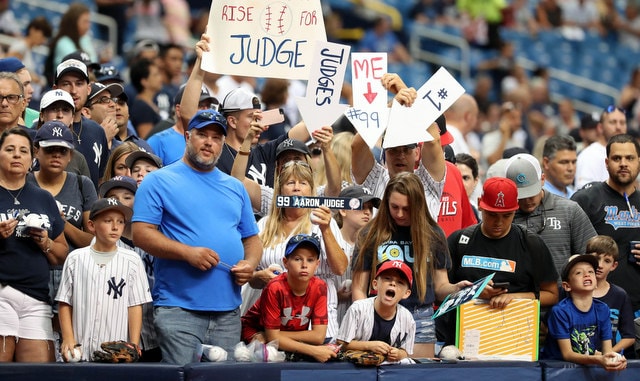 The last two days haven't been fun, mostly because of the offense. The pitching has been fine. The bats have been silent since that four-run first inning against James Paxton on Thursday. Every team goes through offensive funks like this — this probably won't be the last time the Yankees score one run in 25 innings this season — and the Yankees are too talented for it to last. Doesn't mean it hasn't been frustrating though.
Today the Yankees are trying to avoid the three-game sweep in Tropicana Field and their "no three-game losing streaks" streak is on the line. The Yankees are the only team in baseball without a three-game losing streak this season. That is a pretty cool badge of honor, if you ask me. I'd like to keep it going today. Win a game, salvage the series, then head on to the next one. Here are today's lineups:
New York Yankees
1. LF Brett Gardner
2. RF Aaron Judge
3. SS Didi Gregorius
4. DH Giancarlo Stanton
5. C Gary Sanchez
6. CF Aaron Hicks
7. 3B Miguel Andujar
8. 1B Neil Walker
9. 2B Gleyber Torres
RHP Domingo German
Tampa Bay Rays
1. CF Kevin Kiermaier
2. DH Matt Duffy
3. 1B Jake Bauers
4. 3B Joey Wendle
5. RF Carlos Gomez
6. LF Mallex Smith
7. SS Adeiny Hechavarria
8. C Jesus Sucre
9. 2B Willy Adames
RHP Matt Andriese
Hot, humid, and rainy in St. Petersburg today. Typical Florida. It's a cool 72-ish degrees inside Tropicana Field. Today's series finale will begin at 1:10pm ET and you can watch on YES. Enjoy the game.
Injury Update: Masahiro Tanaka (hamstrings) threw his bullpen session as scheduled today and all went well. He's going to stay behind in Tampa to continue his rehab. Tanaka is on track to throw another bullpen session Tuesday, then pitch in a simulated game Friday.
Rotation Update: The Yankees have listed Luis Cessa as Wednesday's scheduled starter for the series finale against the Phillies. He isn't stretched out beyond 50 pitches or so, but the Yankees have an off-day Thursday, so Aaron Boone will be able to use his bullpen aggressively behind Cessa. This move pushes CC Sabathia back into the Red Sox series next weekend. I'd bet on the Yankees using Thursday's off-day to push Jonathan Loaisiga back a day so they can start Luis Severino (on normal rest) against the Red Sox next Sunday.