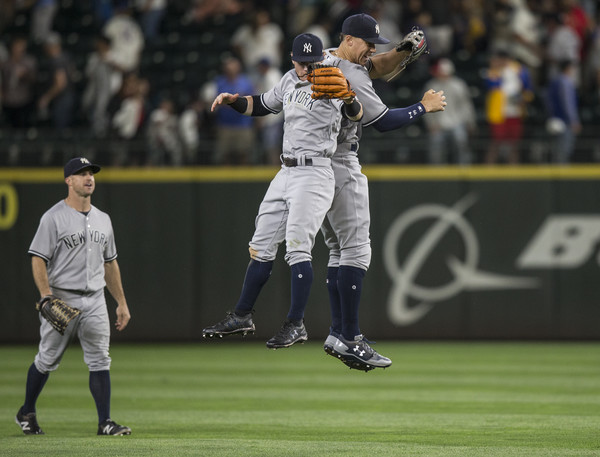 The Yankees have won the last two games in convincing fashion, with strong performances from the starting pitching, the bullpen, and the lineup (for the most part, at least). A win tonight would give them their first three-game winning streak since they won six in a row from June 7 through 12, and their first series victory since that same stretch (they swept the Orioles). They'll look to do so with a reasonable approximation of their 'A' lineup, and the maddeningly inconsistent Masahiro Tanaka on the mound.
I say "reasonable approximation," because Starlin Castro is back on the disabled list, meaning we'll be treated to more Ronald Torreyes. Tyler Wade has been recalled to take his spot on the roster for the time being.
If you care about such things, it might be worth noting that Tanaka has dominated the Mariners in five starts, pitching to the following line – 37 IP, 26 H, 4 BB, 38 H, 1.95 ERA. Here's the lineup that he'll face tonight; the Yankees will counter with this:
Brett Gardner, CF
Clint Frazier, LF
Aaron Judge, RF
Matt Holliday, DH
Gary Sanchez, C
Didi Gregorius, SS
Todd Frazier, 3B
Garrett Cooper, 1B
Ronald Torreyes, 2B
Tonight's game is slated to start at 9:10 PM EST, and it'll be broadcast on YES.