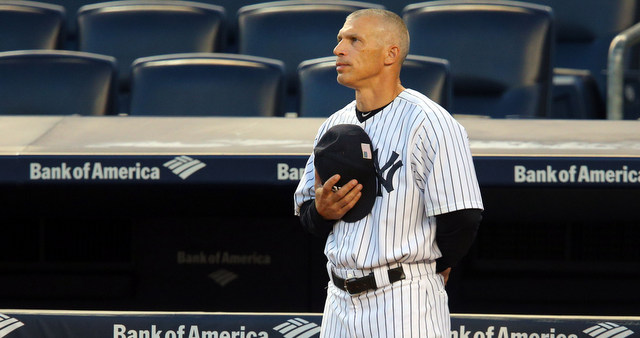 So yesterday sucked. That was men against boys. Thankfully, they play again today. Two games, in fact. The Yankees and Blue Jays will play a single-admission doubleheader this afternoon — there's some rain in the forecast tonight and they want to get the second game over with as soon as possible — and if they want to win the division, the Yankees kinda have to sweep today. One win is an absolute must. It's not a stretch to call this the most important day of the season.
Michael Pineda is on the mound in the first game this afternoon and he started the only game the Yankees have won against the Blue Jays in Yankee Stadium this season. The Yankees are 1-6 against the Jays in the Bronx this year, and the one win was the result of a fluky rally. Not good. Gotta come up big this afternoon. These are two monumental games. Here is Toronto's lineup and here is New York's lineup for the first game of the doubleheader:
It's cloudy and on the cool side in New York right now. Like I said, there is rain in the forecast, but not until this evening. It won't impact this game. The second game? Maybe. We'll have to see. This game will begin at 1:05pm ET and you can watch on FOX. We're going to use this thread for both games, by the way. I'll update this post with the lineups and whatnot prior to the second game. Enjoy the games.
Roster Moves: The Yankees have called up both Slade Heathcott and Gary Sanchez, the team announced. The Triple-A season ended last night. This is Sanchez's first taste of MLB. Every player on the 40-man roster is now in the big leagues, either on the active roster or the DL. The Yankees have 39 active players right now. They could slide Mark Teixeira to the 60-day DL, call someone up, and carry 40 players on the active roster.
Update (5:59pm): The start time for Game Two will be approximately 6pm ET. There has been some light rain in New York and the heaviest stuff is still a few hours away. Hope for a lead after five innings then lots and lots of rain, everyone. Here is the Blue Jays' lineup and here is the Yankees' lineup for the second game of the doubleheader:
CF Jacoby Ellsbury
LF Brett Gardner
RF Carlos Beltran
DH Brian McCann
3B Chase Headley
SS Didi Gregorius
2B Brendan Ryan
RHP Ivan Nova
This game will air on both YES locally and MLB Network nationally. Try to enjoy.