The following is a guest post from longtime reader Tarik Shah, who wrote about the Yankee fandom in his family.
As a new baseball season is upon us, I like many Yankee fans am excited. For the first time in a long time, the franchise seems to be building the roster by developing its own young talent, and augmenting it with other young players who have yet to fulfill their potential. Though it's been repeated ad nauseum, the fact that the Yankees did not sign any major league free agents this past winter is staggering. These aren't your father's Yankees. But for me, no Yankees are "my father's Yankees" because he doesn't like baseball, or any sport for that matter. Still, his son became a devout fan, which is equally staggering to me. How did that happen?
My father immigrated here from Pakistan, and his relationship to professional sports can generously be described as ambivalent. He, like many immigrant parents, was more interested in making sure that his children succeeded in school, so they could go on to become doctors, lawyers, or engineers. Even if he had a greater interest in sports, Cricket and Men's Field Hockey are the dominant sports in Pakistan, and they aren't exactly featured on SportsCenter's Top 10 Plays. Assuming we spent Saturdays playing catch in the backyard, I'm not sure it would have helped much, as I was terrible at baseball. Ultimately, he was probably playing to his and my strengths at the time, by focusing on academics.
In many ways, my Yankee fandom stems from my maternal grandfather, whom I never had the opportunity to meet. My mother's family immigrated to the Bronx from France and Eastern Europe. Long before the "Core Four" or the Bronx was burning, the Yankees were steamrolling the league in the 1930s and 1940s with players whose names are memorialized in Monument Park and Cooperstown. The Yankees were on top and it's easy to see why they became so interwoven in the fabric of the city. You'd think that my grandfather's devout fandom would have sparked generations of Yankee fans in my family, but team allegiances aren't as hereditary as it might seem.
My uncle famously tells a story about how when he was a kid my grandfather asked him where he'd like to go for his birthday, and my uncle said he wanted to go to Coney Island (or out for Chinese food, depending on which version of the story he decides to tell that day), but my grandfather instead took him to Yankee Stadium. In fact, a recurring theme in my uncle and grandfather's relationship was that whenever my uncle wanted to go anywhere, my grandfather would take him to Yankee Stadium. Predictably, as young boys rebel against their fathers, my uncle rebelled in the most visceral way he could, by becoming a Mets fan.
Somehow, my mom was not forced to go to Yankee Stadium anytime she wanted to ride the Cyclone or eat Chinese spare ribs, and as a result, she never held the same resentment towards the Yankees that my uncle did. Even though my mom never cared too much about baseball growing up, she recognized that being from the Bronx meant passing down to your children a love of the Yankees, and that this was as fundamental as passing down any religious or cultural tradition. In fact, that's as important of a cultural tradition that has been passed down to me as anything else.
My mom would take my sister and I to games, and pulled us out of school to go watch the ticker tape parade in 1998. As it turns out, watching Paul O'Neill fist pump on Broadway is a healthier and more educational experience than learning about the Nitrogen cycle or getting teased in middle school gym class. Even as a young adult my mom got my family tickets through her job to go to see a few games. I remember we went to a game on a sticky August afternoon, and wouldn't you know it, some intrepid young third baseman named Al Rodriguez hit a home run that day, his 500th I'm told. My sister and I cheered and hugged. And while I'm not sure what my brother-in-law's reaction was at the time, I can imagine it fell somewhere between suspicion and disinterest.
You see, my brother-in-law is a good husband and a great dad, but he suffers from a major character flaw in that he's a Red Sox fan. My sister and his jockeying over how to raise my 18-month-old niece plays out quite publicly on Facebook. One parent dresses my niece in preferred team apparel and posts about it, while the other is off running errands, and vice versa. I would be remiss in my duties as a proud uncle if I failed to mention that my niece smiles and giggles in her Yankee gear, and reacts with a look that says "Mommy is not going to like this," when donning her Red Sox cap. In an effort to ease tensions, my brother-in-law's mother, a highly skilled seamstress, bought both Yankees and Red Sox toddler sized jerseys, cut them in half and sewed two of the halves together. We won't know for some time where my niece's allegiances lay, and ultimately she may not end up liking or caring about baseball at all.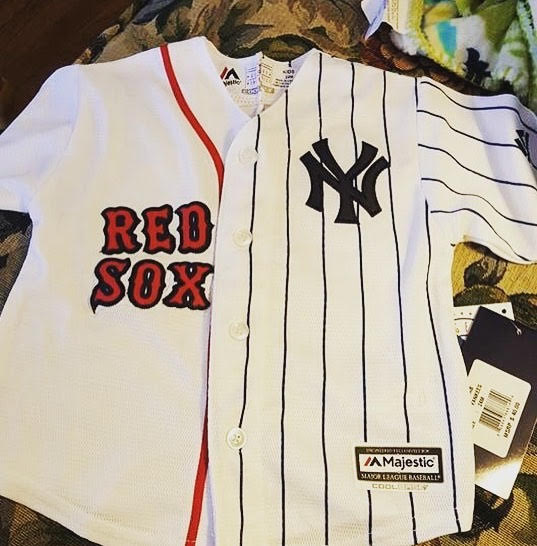 As it turns out, ambivalence towards the sport isn't exactly unheard of in my family. Not only is my uncle a die-hard converted Mets fan, but my aunt is from the Dominican Republic, which might be the most baseball-rich place on Earth. Her love for Robinson Cano is absolute and transcends team affiliations, and I think, is seconded only by her love of Marc Anthony, at least according to recent conversations. Nevertheless, their son, my cousin, has almost no interest in baseball whatsoever. It's no surprise he'd much rather focus on swimming, a sport at which he excels.
I'm not sure my aunt and uncle did anything specific to turn him off of the sport. And, as much as "you can't predict baseball"™ neither can you predict whether children will have the same allegiances as their parents or any interest in the sport at all. I have one parent who doesn't like sports and another who doesn't particularly care about them, and yet I turned out to be a rabid Yankee fan.
As this new season starts, I think about what it would have been like to talk to my grandfather about those great Yankees teams of the 30s, 40s and 50s, what it was like to watch the Bambino, the Mick, and Joltin' Joe. I hope that one day I'll get to talk about the baseball giants that I saw. "What do you mean he only threw one pitch, Grandpa?" "But wait, why would the shortstop even be positioned up the first base line for a relay through to the catcher?" Or maybe after this season, a story about the most improbable of Didi Gregorius playoff home runs. Hopefully, they don't look at me as a senile elderly man, embellishing old stories, or worse, become Mets fans.