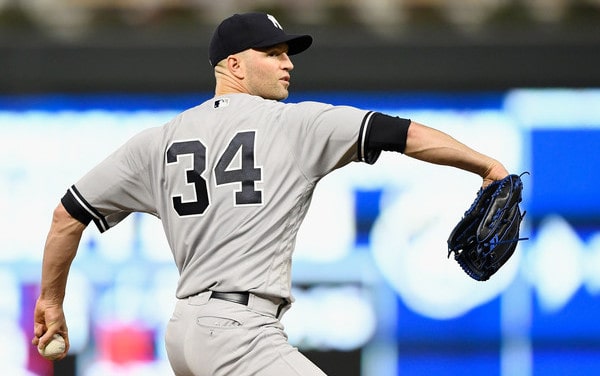 10:48pm ET: Bob Nightengale says the contract will be worth $34M to $36M, which is probably broken down into $15M or $16M per year plus the buyout of the option. We'll find out eventually.
8:30pm ET: After some confusion, it appears the Yankees and J.A. Happ have agreed to a reunion. Mark Feinsand reports the Yankees and Happ have agreed to a two-year contract with what sounds like a third year vesting option based on innings and starts. There's no word on the money or terms yet. Joel Sherman says the deal could be announced tomorrow.
As I wrote earlier today, I didn't like the idea of a guaranteed third year at all, so I'm glad the Yankees and Happ were apparently able to compromise with a vesting option. Happ turned 36 a few weeks ago and guaranteeing multiple years to a pitcher that age is always risky. At least the Yankees were able to mitigate that risk somewhat.
Once this deal is official the Yankees will be slated to go into next season with Happ, Luis Severino, CC Sabathia, James Paxton, and Masahiro Tanaka as their five-man rotation in whatever order. That's a rock solid rotation with upside in Severino and Paxton (and Tanaka). The Yankees still have Sonny Gray too, though I get the sense he'll be gone before Spring Training.
This past season Happ threw 177.2 innings with a 3.65 ERA (3.98 FIP) between the Yankees and Blue Jays, and his 26.3% strikeout rate was a career high by 3.3 percent points. His 27 home runs allowed were also a career high (by five). Happ had a 2.69 ERA (4.21 FIP) in eleven starts and 63.2 innings with the Yankees after the trade.
With Happ back in the fold the Yankees can now focus on a Didi Gregorius replacement and the bullpen, plus general depth. A better sixth starter than Domingo German and Luis Cessa would be cool given Paxton's and Sabathia's injury histories. Will the Yankees pivot and go after Manny Machado or Bryce Harper? I sure hope so.