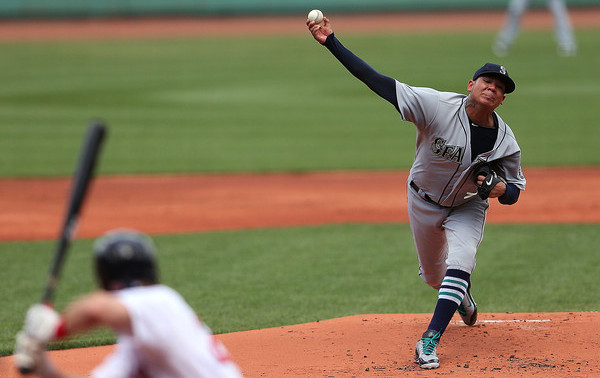 A new month has arrived, so it is time once again to look back through the MLBTR archives. We're now in April 2011, meaning the offseason is over. The Yankees lost out on Cliff Lee that winter, which was a big deal. You may have heard about it. They also signed Rafael Soriano, re-signed Derek Jeter and Mariano Rivera, and lost Andy Pettitte to retirement. They needed rotation help and didn't get it, or so we thought.
April is not a great month for trade and free agent rumors because it's so early in the season. Teams are still in the process of evaluating what they have and figuring out what they need. There's a lot of speculation in April. As a reminder, the purpose of this series is to have some fun looking back at what we were talking about five years ago. We're not looking to make fun of the MLBTR crew or any of the reporters. Rumors are no fun if you look at them once then forget they exist, after all. Let's dive on in.
April 2nd, 2011: Lame Duck General Managers
Brian Cashman, Yankees – The third longest-tenured GM in the game would seem to be on rocky ground after being over-ruled by ownership on the Rafael Soriano signing, but we heard afterwards that he still has the "full backing" of the Steinbrenners.
The Yankees won the World Series in 2009 and went to the ALCS in 2010, yet there were questions about Cashman's job security heading into the 2011 season. Kinda crazy, huh? The Yankees lost out on Lee and ownership went over Cashman's head to sign Soriano, leading to those questions. In fact, there was talk Cashman was ready to move on and find a new challenge himself.
Eventually Cashman signed another three-year contract — and then another three-year contract after that one — and even though the Yankees have played one postseason game in the last three years, his job seems as secure as ever. He's pulling off this rebuild on the fly thing so far. Cashman is under contract through next season and I have a hard time thinking the Steinbrenners would put him in charge of this retool and not let him see it through.
April 2nd, 2011: East Notes: Simon, Red Sox, Feliciano, Mets
Yankees GM Brian Cashman said that Pedro Feliciano was "abused" by the Mets' use of him in recent years, tweets Jim Baumbach of Newsday.
Gosh that was such a silly thing to say. Any schmuck with an internet connection could log onto Baseball Reference and see Feliciano appeared in 86 (!), 88 (!!), and 92 (!!!) games the three years prior to his free agency. That doesn't count all the games Feliciano warmed up but did not pitch. Yes, he was only a lefty specialist, but that's an awfully heavy workload.
And yet, the Yankees signed him anyway. Cashman knew the risk and it blew up in the team's face. It happens. To turn around and say it was because the Mets abused him made him sound like a sore loser. The Yankees didn't get what they wanted so Cashman was looking for someone to blame. Lame. Feliciano was abused by the Mets. That's fair to say. It's not their fault the Yankees signed him anyway.
April 4th, 2011: New York Notes: Feliciano, Reyes, Harris
Pedro Feliciano told Wallace Matthews of ESPNNewYork that he was upset to hear that Mets pitching coach Dan Warthen suggested he was overworked last year (Yankees GM Brian Cashman says he was "abused."). Feliciano maintains that he likes to pitch a lot and predicts he'll strike out Ike Davis when the Yankees face the Mets this year. Feliciano says he didn't sign with the Mets because they weren't willing to offer a multiyear deal.
What a sentence: "Feliciano maintains that he likes to pitch a lot and predicts he'll strike out Ike Davis when the Yankees face the Mets this year." That was back when Davis was the new hotness — .264/.351/.440 (115 OPS+) with 19 home runs as a rookie in 2010! — and Feliciano still had a functioning shoulder.
April 6th, 2011: New York Notes: Pavano, Posada, Mets
Yankees manager Joe Girardi confirmed to Spencer Fordin of MLB.com that the Yankees were considering Pavano last offseason, despite his injury-riddled stint with the club from 2005-08. "He's resurrected his career," Girardi said. "He's pitched well for the Twins, and he's given them innings. When we've faced him in the playoffs, he's pitched well. The guy knows how to pitch. The big thing for Carl is he's been healthy."
The Yankees did briefly show interest in Carl Pavano during the 2010-11 offseason because a) they needed pitching, and b) he was coming off a season with a 3.75 ERA (4.02 FIP) in 221 innings. He was going to cost the team a draft pick though, which ultimately was the sticking point. That's how desperate the team was for rotation help after losing out on Lee (and Pettitte) though. They were considering a reunion with Pavano. He went on to have a 4.30 ERA (4.10 FIP) in 222 innings for the Twins in 2011, by the way.
April 8th, 2011: Heyman On Marlins, White Sox, Jenks, Glaus
Before the Yankees signed Rafael Soriano, GM Brian Cashman told Bobby Jenks that he wasn't offering any setup man $8MM. The Yankees signed Soriano for $35MM over three years, though Cashman advised against it.
I remember reading somewhere that Cashman said he told J.J. Putz's agent he would not give multiple years or big money to a setup man that offseason, which is why he came out and said he was against the Soriano signing. He told all these agents he wouldn't do exactly what ownership did, so he had to make sure it was clear it was his superiors, not him. Cashman had relationships to maintain.
April 9th, 2011: Yankees Sign Carlos Silva
The Yankees have signed Carlos Silva, according to Jon Heyman of Sports Illustrated (via Twitter).  It is a minor league deal, tweets Joel Sherman of the New York Post.  The Yankees will be responsible only for the major league minimum if he is added to the big league roster, says Ken Rosenthal of FOX Sports (via Twitter).
There were a lot of folks clamoring for Silva that offseason. He was only 31 and he had a 4.22 ERA (3.75 FIP) in 113 innings for the Cubs in 2010. Silva looked like he could help someone, especially a team with rotation questions like the Yankees. Instead, he sat out there in free agency drawing little interest. The Yankees signed him to this minor league deal, he threw 36 innings in the minors, then blew out his shoulder and never pitched again. (Not true: He threw two innings in winter ball in 2014. That's it.) I have to think his medicals scared the crap out of teams that offseason.
April 9th, 2011: Quick Hits: Pedro, Martin, Archer, David, D'Backs
Pedro! He was 39 at the time and he had not pitched at all since the 2009 World Series, yet he wanted to make a comeback in 2011. It didn't happen though. No one signed him and a few years later he was inducted into the Hall of Fame. Pedro's very last act on a baseball field was getting Brett Gardner to line out to second base to end the fourth inning of Game Six of the 2009 World Series.
As for Doug Davis … yikes. He made eight starts with the 2010 Brewers and managed to allow 36 runs and 79 base-runners in 38.1 innings. Davis was 35 and his PitchFX says his fastball averaged 84.4 mph in 2010. That was not going to fly in Yankee Stadium. The Cubs scooped him up and he allowed 38 runs and 87 base-runners in 45.2 innings in 2011. He never pitched again after that. The Yankees were desperate for pitching, but not that desperate.
April 13th, 2011: Heyman On Hamilton, Young, Felix, Royals
A rival GM says he'd trade Felix Hernandez to the Yankees for Ivan Nova, Dellin Betances, Manny Banuelos and Jesus Montero if he were running the Mariners.
You're my kinda guy, rival GM. Remember, this was back in 2011, and heading into the 2011 season, Felix was 24 years old and he had just won the damn Cy Young thanks to 249.2 innings of 2.27 ERA (3.04 FIP) ball. Not only that, he had just signed a long-term extension in April 2010, so he was owed a total of $68M total from 2011-14. Felix was maybe the most valuable commodity in the game back then.
At the same time, that was a hefty prospect package. I am going to use this image once again:

Montero was a super-elite prospect. Everyone knew he was going to hit. But hey, guys like Felix don't come cheap, right? Baseball America (no subs. req'd) also ranked Banuelos (No. 41) and Betances (No. 43) as top 100 prospects heading into that 2011 season, so yeah. Nova was not a standout youngster or anything, but he was cheap and had a promising MLB debut in 2010. That package was three great prospects and a cheap young starter.
Needless to say, that trade would have been incredible for the Yankees and a total disaster for the Mariners even with Betances becoming one of the two or three best relievers in the world. Don't forget to trade your prospects, folks.
April 13th, 2011: Quick Hits: Feliciano, Twins, Rendon, Oswalt
The Yankees were frustrated that the Astros never made them fully aware that Roy Oswalt was available last summer, according to Joel Sherman of the New York Post. Credit Phillies GM Ruben Amaro Jr. for acquiring Oswalt quietly and later denying the Yankees their primary offseason target, Cliff Lee.
The Phillies traded Anthony Gose, Jonathan Villar, and J.A. Happ for Oswalt at the 2010 trade deadline, and Happ was the headliner. He was only 27 and up to that point he had a 3.11 ERA in 217 big league innings. Of course, he also had a 4.50 FIP, and following that trade he pitched much closer to the FIP than the ERA.
A comparable package at the time would have been something like Nova, Eduardo Nunez, and Slade Heathcott. A cheap and servicable big league starter plus tooled up shortstop and center field prospects. Heathcott was only a year removed away from being a first round pick at the time though. Oswalt was pretty great for the Phillies after the trade and very good in 2011 before fading. If the Astros didn't make it clear to everyone Oswalt was available, it's a bad move on their part. You've got to create a bidding war.
April 14th, 2011: Yankees Will Look For Relief; Move Unlikely
Pedro Feliciano has a capsular tear in his left shoulder and may require significant surgery, Yankees GM Brian Cashman confirmed to reporters. There's a strong possibility that the Yankees' $8MM free agent signing won't throw a pitch for them in 2011. Cashman says he'll look for another left-handed reliever, but according to Jack Curry of the YES Network, the GM's expectations are low (all Twitter links).
Boone Logan emerged as the primary lefty in 2010 — he held lefties to a .190/.286/.215 (39 OPS+) batting line with 33.0% strikeout rate in 40 innings that year — and the Yankees wound up cycling through a ton of scrap heap options to find a second lefty during the 2011 season. Aaron Laffey, Raul Valdez, Steve Garrison, the works. None stood out. Now they have Andrew Miller and Chasen Shreve, with Aroldis Chapman on his way back. And James Pazos in Triple-A. Once upon a time the Yankees struggled to find quality lefty bullpen help. Now they have it in spades.
April 14th, 2011: Minor Deals: Mattingly, Mariners, Yankees
The Yankees have signed 24-year-old right-hander Reinier Casanova.  The Cuban-born hurler defected following the 2009 season.
Casanova allowed 12 runs and 31 base-runners in 19 minor league innings in 2011. He was released after the season and has not pitched anywhere since as far as I can tell. Lots of Cuban guys are coming over and getting really nice contracts. Lots more leave their families behind in Cuba and never get very far in baseball.
April 14th, 2011: Yankees Notes: Marte, Pinto, Torre
Speaking of the Yankees bullpen, Cashman says that the overuse of relievers under the watch of Joe Torre was not his fault, writes Ian Begley of ESPNNewYork.com.  In fact, the GM says that he told relievers to be truthful with Torre and his staff when they were asked about their availability to pitch.
That was doomed to fail. You want players to be truthful but they never are. They all want to play tired and hurt and whatever. That's just the way these guys are wired. Leave it to the players to tell the manager they need a day to rest and most of them won't say anything. It's up to the manager to make those decisions. Joe Girardi has shown he is very good at that with his bullpen. Now they're going to ramp up the rest for the position players.
April 17th, 2011: Yankees Notes: Millwood, Hughes, Martin
Earlier today, Yankees skipper Joe Girardi told the press that the club had planned to send Phil Hughes to Triple-A to work through his troubles, tweets Wallace Matthews of ESPNNewYork.com.  Hughes ultimately convinced the Yankees that that wouldn't be the best course of action for his "dead arm".
Hughes was awesome as a setup man in 2009 and solid as a starter in 2010. He had a 4.19 ERA (4.25 FIP) in 176.1 inning that season and was only 24, so he looked like a guy who was emerging as a rotation fixture. Phil's velocity was way down early in that 2011 season …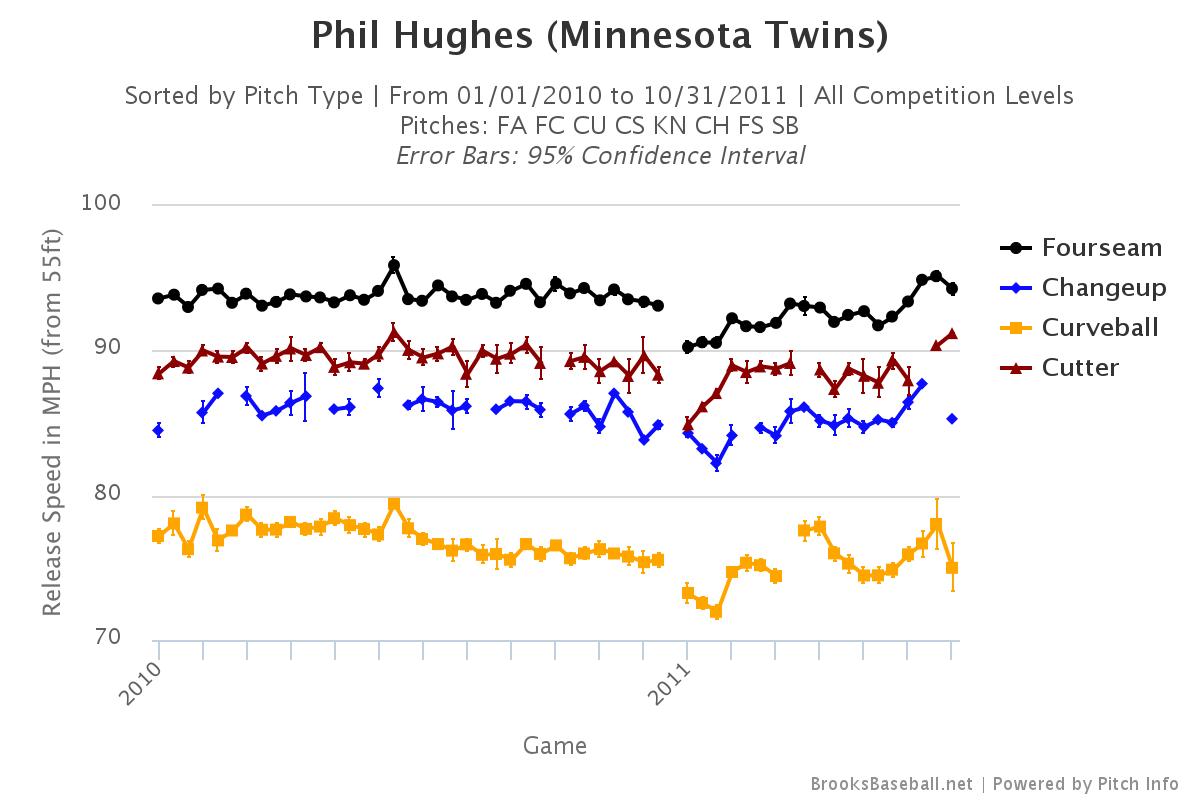 … and there was talk of sending him to Triple-A, especially with Bartolo Colon looking so good in long relief and forcing his way into the rotation conversation. The Yankees put Hughes on the DL with what they called arm fatigue shortly after this report, and he was on the DL until mid-July, so it was not a short-term stay. His velocity never really did get back to normal the rest of the season either. (He was in the bullpen at the end of the season, hence the late-season bump in velocity in the graph.)
Looking back, this seems like a classic example of a pitcher feeling a bit of a hangover following a huge bump in workload the year before. Hughes threw 111.2 total innings in 2009 then 176.1 innings in 2010, so it was an increase of 64.2 innings. His career high was 146.2 innings way back in 2006. Hughes rebounded and had a nice 2012 season, but that 2011 campaign was a lost cause.
April 18th, 2011: Heyman On Young, Emaus, Rays, Wilson, Melky
Alex Rodriguez worked out with Melky Cabrera this offseason and "begged" the Yankees to sign the outfielder to no avail.
This was a pretty big deal for a while because Melky had a good start with the Royals — and ultimately a strong full season — after being released by the Braves the year before. The Javy Vazquez reunion didn't work out and it hadn't yet become clear Curtis Granderson was truly #cured and a legit power hitting monster, so people wanted Melky back. The cries for Melky were even louder during his time with the Giants in 2012, but then he got popped for performance-enhancing drugs, and everyone lost interest. It's pretty clear now keeping Gardner and trading Cabrera was the right move.
April 20th, 2011: Minor League Signings: Lawrence, Place, Salome
Right fielder Jason Place, released by the Red Sox in Spring Training, was signed by the Yankees.  Place was drafted 27th overall in 2006, one spot ahead of Daniel Bard.  18 of the 44 first-rounders from that draft have yet to play in the Majors, Place among them.
Place was a pretty big deal back in the day — aren't all Red Sox prospects big deals at some point? that's the way it goes — but he wasn't much of a prospect by time the Yankees signed him. They needed an outfielder for the lower levels and he was available. Place hit .178/.210/.317 in 27 minor league games in 2011 and has been out of baseball since.
April 23rd, 2011: Quick Hits: Figueroa, Mock, Martin, Mets
Yankees GM Brian Cashman told ESPN New York's Andrew Marchand that the Yankees tried to acquire Russell Martin via trade in each of the last three seasons (Twitter link). Cashman got his man this winter, signing him as a free agent after the Dodgers non-tendered him.
At some point word got out the Yankees offered Frankie Cervelli for Martin during the 2010-11 offseason, but were declined. The Dodgers then non-tendered Martin and got nothing in return at all. Not ex-Dodgers GM Ned Colletti's finest moment. Cervelli, if nothing else, was a cheap backup option at that point of his career. Los Angeles instead cut Martin loose for nothing. I do not understand.
April 25th, 2011: Quick Hits: Bautista, Jeter, Clevlen, Astros
Yankees GM Brian Cashman to Derek Jeter in a November 30th meeting: "You said all you wanted was what was fair. How much higher do we have to be than the highest offer for it to be fair?" That's from Ian O'Connor's source; the ESPNNewYork.com writer has a new book out next month on Jeter.
The Jeter-Cashman barbs were slowly starting to leak out around this time. Heck, they're still leaking out. Last year we learned Cashman told Jeter he'd rather have Troy Tulowitzki. Cashman was the bad cop during contract talks, it seems. Hal Steinbrenner and Randy Levine were the good cops.
April 28th, 2011: Heyman On Lincecum, Cano, Votto, Weaver, Dodgers
Similarly, there's no reason to think the Yankees would let Robinson Cano leave in the prime of his career.  The Bombers have options for 2012 and '13 at $14MM and $15MM, respectively, and will obviously exercise them. Look for the Yanks to get a deal done with the second baseman, but only after the Scott Boras client files for free agency.
Yeah the Yankees would never let a homegrown superstar leave as a free agent. What a silly thing to think.