The final month of the regular season has arrived, which means it's time for another trip through the MLB Trade Rumors archives. We're now in September 2011. September usually isn't a big month for rumors. Both the trade deadline and the August 31 deadline to acquire postseason eligible players are in the rear-view mirror, so September usually features a lot of speculation and looking ahead to the offseason.
The Yankees entered September 2011 with an 81-53 record despite the season long concerns about their rotation. They were 1.5 games back of the Red Sox in the AL East and 7.5 games up on the Rays for the wildcard spot. That was the last season of the single wildcard system. The Yankees made no notable moves at the trade deadline in 2011, and all they did in August was add some scrap heap relievers. Let's dig into the MLBTR archives.
September 1st, 2011: List Of Teams Interested In Yu Darvish
Yu Darvish apparently intends to pitch in the Major Leagues next year and it would be surprising if he doesn't draw interest from ten-plus teams … Here's a list of which teams have been linked to Darvish in the last calendar year:

The

Yankees

have scouted him heavily.
It's easy to forget now given all the success he's had, but there were a lot of questions about Darvish back in the day. There were concerns about his slider and how it would translate to MLB with the different baseballs, things like that. The fact Hideki Irabu and Daisuke Matsuzaka fell so short of expectations didn't help matters either. Darvish was viewed as a potential ace but not a sure thing.
The Yankees did reportedly place a bid for Darvish, though obviously they did not win. It was reported at the time that the Rangers blew everyone else out of the water. Whatever the Yankees bid, it wasn't close. In hindsight, going hard after Darvish and letting CC Sabathia leave via his opt-out was the right move. It was not so obvious at the time. Darvish was an unknown and Sabathia had a Cy Young caliber season in 2011.
September 1st, 2011: Yankees Designate Ryan Pope For Assignment
The Yankees designated Ryan Pope for assignment, according to Mike Ashmore of the Hunterdon County Democrat (on Twitter). The 25-year-old right-hander was not on the Yankees' active roster; the club had to designate him to create 40-man roster space for Jesus Montero and Scott Proctor.
Ryan Pope! He was the team's third round pick in 2007, and the Yankees made him the first player ever drafted out of the Savannah College of Art & Design. (SCAD has had two other players drafted since then.) Pope flamed out as a starter in the minors but showed enough in relief to be protected from the 2010 Rule 5 Draft. Eventually the bullpen didn't work out either. Pope became a minor league free agent after the 2013 season and has been out of baseball since. He has a 4.34 ERA in 512 career minor league innings, and he did make it as far as Triple-A.
September 3rd, 2011: Front Office Notes: Beane, Cubs, Epstein, Friedman
Three AL East general managers will likely be staying put, says FOX Sports' Ken Rosenthal (video link).  The Yankees and Brian Cashman are mutually interested in continuing their relationship
For a while in 2011 there was talk Cashman would either leave the Yankees because he was fed up with ownership going over his head — they panic signed Rafael Soriano during the 2010-11 offseason — or ownership would let him go for whatever reason. Whenever Cashman's contract is up, there's always talk he could leave or be let go, though I think that 2011 season was the first time I believed it was really possible. Before that it always seemed like pointless sports radio talk. It seemed possible then, but nope, he signed another three-year contract. And another one after that.
September 3rd, 2011: MLB Voids Contract Of Yankees' Paniagua
THURSDAY: Major League Baseball has voided the $1.1MM contract of Yankees pitching prospect Juan Carlos Paniagua and suspended the right-hander for one year, according to Ben Badler of Baseball America. MLB hasn't specified — even to the Yankees — why Paniagua has been suspended, but "one-year suspensions are usually reserved for a player who presents false information to teams about his age or identity," writes Badler.
The Paniagua saga went on for several years. He initially signed with the Diamondbacks for $17,000 in 2009, but MLB voided the deal and suspended him for a year because of falsified paperwork. While suspended, Paniagua added like 10 mph to his fastball, so the Yankees gave him $1.1M. Except that deal was voided and he was again suspended for a year after MLB found he was still using falsified documents. Once that suspension was over, the Cubs gave him $1.5M. The paperwork was legitimate that time. Paniagua was a significant prospect at one point, but not any more. He's 26 and has a 3.75 ERA (4.06 FIP) in 62.1 relief innings for Chicago's Double-A affiliate. Meh.
September 6th, 2011: Yankees Designate Lance Pendleton For Assignment
The Yankees designated right-hander Lance Pendleton for assignment, according to MLB.com's Bryan Hoch (on Twitter). Though active roster spots are plentiful this time of year, the move opens up a spot on New York's 40-man roster for George Kontos, whose contract was selected from the minors.
Pants Lendelton! I saw him make his MLB debut at Yankee Stadium wearing No. 42 on Jackie Robinson Day. Three scoreless innings too. Pendleton was lost on waivers to the Astros in September 2011 but he only threw 4.2 innings for them. He spent the next season in Triple-A with the Rays and that was it. Out of baseball after 2012. Pendleton was a fringe prospect who kinda got hyped into something more, somehow. It was weird. He was like the Brady Lail of 2011.
September 7th, 2011: New York Notes: Cano, Johan, Reyes
Yankees GM Brian Cashman explained to John Harper of the New York Daily News why he was "very comfortable saying no" to the Mariners' request to include Ivan Nova or Eduardo Nunez along with Jesus Montero in his offer for Cliff Lee last summer.  Montero's stock is higher right now, but the debate remains open as to whether the Mariners should have chosen him over Justin Smoak.
To bad they can't get a redo on that one, huh? The Yankees were a legitimate World Series contender in 2010 and Lee could have very well put them over the top. He would have changed everything. Remember, the Yankees lost to Lee and the Rangers in the ALCS. Imagine if they had him instead?
David Adams' ankle supposedly threw a wrench into the trade, prompting the Mariners to ask for Nova or Nunez instead. There's been speculation Smoak was the guy Seattle wanted all along, and once the Rangers put him on the table, they used Adams' injury to back out of the deal with the Yankees. Who knows. Letting Nova or Nunez stand in the way of a Lee trade was not Cashman's finest moment.
September 10th, 2011: Quick Hits: Red Sox, Iannetta, Santana, Willis
Andruw Jones has been playing all season with a small tear in his left knee, reports Marc Carig of the Star-Ledger.  The Yankees discovered the injury during Jones' physical but signed the veteran outfielder anyway  (both Twitter links).
Andruw was awesome with the Yankees in 2011. He was their designated southpaw mashing fourth outfielder, and he hit .247/.356/.495 (132 wRC+) overall that season, including .286/.384/.540 (152 wRC+) against lefties. And he did this too:
Getting
Mark Teixeira
's face to do this …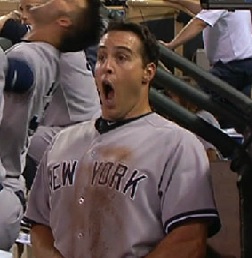 … was Andruw's finest moment in pinstripes. He really was the perfect complement to Brett Gardner and Curtis Granderson. The 2012 season didn't go too well. But 2011? That was awesome. Pretty amazing Jones played the entire year with some sort of tear in his knee.
September 11th, 2011: Yankees Designate Steve Garrison For Assignment
The Yankees have cleared a 40-man roster spot for Austin Romine by designating Steve Garrison for assignment, tweets Mark Feinsand of the New York Daily News.
Another blast from the past. I forgot all about Steve Garrison. The Yankees claimed him off waivers from the Padres during the 2010-11 offseason and he spent most of 2011 in Triple-A. Garrison did get to pitch in the big leagues that year though. He faced Smoak and Franklin Gutierrez on July 25th, and got them both to fly out. That's it. That's his entire MLB career. Nine pitches. Garrison spent last season in an independent league but does not seem to be active anywhere this year.
September 12th, 2011: Pedro Feliciano's 2012 Season, Career In Question
Pedro Feliciano underwent surgery on his left rotator cuff last week, a procedure that will threaten the southpaw's 2012 season, reports MLB.com's Bryan Hoch and Taylor Soper.  Yankees manager Joe Girardi said he "would be surprised if [Feliciano] pitched next year" and also noted that it would be difficult for Feliciano to recover from such an operation at age 35.
Blah, what a disaster the Feliciano signing was. At least it was only $8M, I guess. Feliciano did actually pitch in the Yankees' organization in 2012 though. He was on a minor league rehab assignment following shoulder surgery and was preparing to join the big league roster in September, but he rolled an ankle covering first base in the minors, and that was that. Feliciano never threw a meaningful pitch for the Yankees. He did appear in 25 games for the 2013 Mets though, then spent 2014 in Triple-A with the Cardinals. Hasn't pitch since.
September 16th, 2011: Martin Expressed Interest In Staying With Yankees
A month ago, Ben Nicholson-Smith identified Russell Martin as a non-tendered player who was contributing with a new team. If Martin gets his way, he'll be with that new team in 2012 as well. The backstop told George A. King III of The New York Post that he's interested in staying with the Yankees beyond the season.
Was non-tendering Russell Martin a thing? I don't remember that being a thing. Keeping him seemed like a no-brainer. I guess the thinking was non-tender Martin and make Jesus Montero the starting catcher, but nah. Martin hit .237/.324/.408 (100 wRC+) with 18 homers in 2011 and he was great defensively. Non-tendering him would have been silly, even if the Yankees had Buster Posey v2.0 waiting in Triple-A. They could have tendered and traded him, if anything.
September 21st, 2011: Rosenthal On Moneyball
Yankees GM Brian Cashman admits that the Red Sox "were having a great deal of success with players of lesser ability," adding, "I studied what they were doing to some degree, adjusted accordingly, brought the Yankees up to speed, brought us into the 21st century."
I remember Cashman saying this was the reason they hired Joe Kerrigan as bullpen coach in 2006. Kerrigan had been Boston's pitching coach for a number of years and Cashman wanted to pick his brain. After all their success in the late-1990s, the Yankees fell behind the times a bit in the early-2000s. A lot changed during the 2005-06 offseason. Kerrigan was hired and Billy Eppler's pro scouting department was created, most notably.
September 23rd, 2011: Cashman We Tried To Drive Up Crawford's Price
When the Yankees wined and dined Carl Crawford during last December's winter meetings, most assumed he was their backup plan to Cliff Lee. Crawford agreed to a deal with the Red Sox before the end of the meetings and Lee eventually went back to the Phillies, but GM Brian Cashman told ESPN New York he was never really interested in signing the outfielder in the first place…

"I actually had dinner with the agent to pretend that we were actually involved and drive the price up," said Cashman. "The outfield wasn't an area of need, but everybody kept writing Crawford, Crawford, Crawford, Crawford. And I was like, 'I feel like we've got Carl Crawford in Brett Gardner, except he costs more than $100 million less, with less experience.'"
The Yankees were connected to Crawford heavily during the 2010-11 offseason — there were even reports Cashman had dinner with Crawford's agent at the Winter Meetings — and it never really did make sense. Gardner was coming off a very good first full season and they had Granderson and Nick Swisher as well. They didn't need another high-priced outfielder. Turns out they were just trying to make sure the Red Sox or whoever else were going to pay top dollar for Crawford.
Cashman & Co. drove up the price for Jacoby Ellsbury the same way during the 2013-14 offseason too. Wait … dammit!
September 25th, 2011: AL East Notes: Reyes, Rays, Francona, Montero
The Yankees should give Jesus Montero a chance to catch the season's last few games to see if he's a viable option behind the plate, argues Filip Bondy of the New York Daily News.
I agreed with Mr. Bondy's sentiment. The Yankees made it very clear that was not going to happen though. They called up Montero on September 1st in 2011 and he caught three games the rest of the season. He was lifted for a defensive replacement in two of the three games too.
Gary Sanchez, meanwhile, has caught three games this week alone, and 13 of the team's last 16 games overall. That tells you all you need to know about how the Yankees feel about Sanchez as a catcher compared to Montero as a catcher. Sanchez is not Yadier Molina or anything like that, but he is way better than Montero ever was behind the plate.