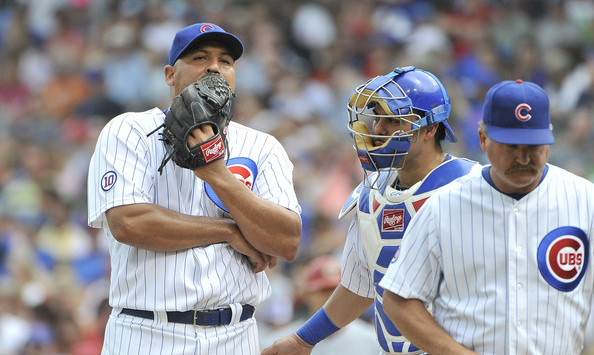 We are now in June and that means it's time for another edition of our MLBTR Archives series. All we do each month is look back at the rumors we obsessed over five years ago. So many things that sounded silly back then make total sense now, and vice versa. As a reminder, we're only posting this stuff for fun, not to embarrass the reporters or the MLBTR crew. They're all cool in my book.
Alright, so back in June 2011 it was starting to become clear the Yankees hit the scrap heap lottery with Bartolo Colon and Freddy Garcia. They lost out on Cliff Lee over the winter and everyone was panicked about the rotation, both those two filled in nicely. It helped that Ivan Nova started to come into this own as well. The Yankees went into June with a 30-23 record and a one-game lead in the AL East, but they still had some pitching needs. Let's dive into MLBTR's June 2011 archives.
June 3rd, 2011: Yankees To Explore Deals For Starting Pitching
Though it may seem like the Yankees' rotation is a strength, it has been solid rather than spectacular to this point in the season. The Yankees aren't assuming Bartolo Colon and Freddy Garcia can continue pitching this well, so, according to Joel Sherman of the New York Post, they will be looking for ways to bolster their starting pitching depth this summer.

"Overall, the pitching is going to be the defining thing for us," GM Brian Cashman told Sherman. "The pitching has excelled, but it is not wise or prudent to sit back and try not to reinforce and improve on it."
Here is a complete list of starting pitchers traded during the 2011 season: Rodrigo Lopez, Felipe Paulino, Tommy Hunter, Jason Marquis, Erik Bedard, Doug Fister, Ubaldo Jimenez, and Edwin Jackson. Fister had not really come into his own yet while Lopez, Marquis, and Bedard were nearing the end of the line. Hunter was at the point where it was beginning to look like his future lied in the bullpen, and, sure enough, it did.
Jackson and Ubaldo were the two big names at the deadline. Jackson was coming up on free agency and the White Sox were bad, so flipping him made sense. He went to the Cardinals in a three-team trade that sent Colby Rasmus to the Blue Jays. Jimenez pitched like an ace from 2009-10 (3.17 ERA and 3.23 FIP in Coors Field) but struggled in 2011 (4.46 ERA and 3.58 FIP), and no one was really sure which one was the real Ubaldo. Turned out to be the 2011 version. The Yankees were in on him but were unwilling to trade their top prospects, namely Jesus Montero and Manny Banuelos, so to the Indians he went. I remember being open to trading Montero for Jimenez. Zoinks.
June 3rd, 2011: Quick Hits: Orioles, Danks, Athletics, Yankees, Mets
The Mets are open to talking trade with the Yankees, writes David Lennon of Newsday.  Even though there are obvious hurdles, Lennon wonders if the two could be a match in a deal involving Carlos Beltran.
There was no real fit for Beltran on the 2011 Yankees. That team had Brett Gardner, Nick Swisher, and Curtis Granderson in the outfield, and the worst of those players (Gardner) was in his second full season the year after posting a .383 OBP. Jorge Posada was struggling at DH but the Yankees were never going to replace him.
The Mets were in sell mode at the time — they traded Beltran and Francisco Rodriguez that deadline, but did hold onto impending free agent Jose Reyes — and they had a few pieces who might have been able to help the Yankees. I don't think Brian Cashman or Mets GM Sandy Alderson would have any problem making a crosstown trade if they believe it's the best thing for their team. I think that's true today and I think it was true in 2011. The two ownerships might be a little more squeamish. Potentially losing a trade to your crosstown rival is a bad look.
June 6th, 2011: Quick Hits: Zambrano, Stewart, Reds, Hall
Levine and Haugh each cite the Yankees as a potential trade partner, though it's hard to imagine the Yankees taking on a high-priced pitcher with such baggage.  It's even harder to imagine New York parting with a significant player like Joba Chamberlain or Brett Gardner in exchange for Zambrano, as Levine suggests.
The Cubs were quite bad in 2011 and Carlos Zambrano's crazy guy act was starting to wear thin. He was only 30 at the time but he was starting to slip, enough that the Cubbies sent him to the bullpen in 2010. Zambrano had a 4.82 ERA (4.59 FIP) in 145.2 innings in 2011 and he was owed $18M in 2012, so yeah, not many clubs wanted him. The Yankees needed an arm, but not that badly.
The Cubs ended up eating that $18M and sending Zambrano to the Marlins following the season. He had a 4.49 ERA (4.47 FIP) with Miami in 2012 and then made seven minor league starts with the Phillies in 2013. That was it. He hasn't pitched since. Today is Zambrano's 35th birthday, you know. Hard to believe he's still only 35.
June 7th, 2011: Quick Hits: Pettitte, Harper, Gordon
Andy Pettitte said on the Michael Kay Show on ESPN New York 1050 that he is "loving" being home and that he doesn't expect to play ever again. "If I missed it so much and I felt in my heart like that was the thing I need to do, I would try to start thinking about it and start considering it again," he said. "But I'm just telling you right now, I don't think I will ever pitch again." Andrew Marchand of ESPNNewYork has the quotes from Pettitte.
Hey guys, remember that time Pettitte retired, said he was "loving" being home and didn't expect to play again, then came back to pitch two more years? Good times. Don't get me wrong, Andy coming back was awesome. It was just so absurd. There was the non-stop "will he or won't he retire" non-updates during the 2010-11 offseason that, frankly, got to be annoying. Then Pettitte sat out a year before coming back and pitching to a 3.49 ERA (3.64 FIP) from 2012-13. Crazy.
June 7th, 2011: Stark On Montero, Athletics, Phillies
Though the Yankees never officially offered Jesus Montero to the Royals for Joakim Soria last year, executives around baseball are convinced GM Brian Cashman would have parted with the top catching prospect to acquire the Royals' reliever.
This report was basically a bunch of executives guessing Cashman would have traded Montero for Soria, which I don't buy. It's a good thing he didn't either. Michael Pineda hasn't worked out as hoped, but in 2011 Soria had what was by far the worst year of his career up to that point (4.03 ERA and 3.49 FIP), then he blew out his elbow and needed his second career Tommy John surgery in 2012. He left as a free agent after that season. Montero for Soria in 2010 would have worked out horribly based on everything we know now, even with Montero turning into a dud.
June 8th, 2011: Yankees Claim Jeff Marquez
The Yankees claimed pitcher Jeff Marquez off waivers from the White Sox, MLBTR has learned.  The 26-year-old righty had been designated for assignment by Chicago on Sunday.  The move will require the Yankees to open up a spot on the 40-man roster; Marquez will be in uniform for tonight's game against the Red Sox.
Jeff Marquez! The random former prospects are easily my favorite part of the MLBTR Archives series. The Yankees selected Marquez with the 41st overall pick in the 2004 draft — that was the compensation pick for losing David Wells to the Padres as a free agent — and he was one of their better prospects for a few years. He eventually went to the White Sox in the Nick Swisher trade.
Marquez made his MLB debut with the 2010 ChiSox, allowing two runs in one inning. The Yankees grabbed him off waivers in 2011 and he ended up appearing in three games with them that summer, allowing a run in four innings. Marquez hurt his shoulder and he spent most of that season on the DL. The Yankees cut him loose after the season. Marquez is still out there slingin', you know. He was in an independent league last year, and this year he has a 3.08 ERA in ten starts and 52.2 innings for a team in Mexico.
June 10th, 2011: Heyman On Yankees, Red Sox, Twins, D'Backs
Yankees GM Brian Cashman doesn't expect elite starting pitching to be available this summer. "I just don't see a No. 1 pitcher you can pinpoint," Cashman said. 
Ubaldo was the closest thing to a No. 1 pitcher available at the time, and like I mentioned earlier, he did indeed pitch like a true No. 1 from 2009-10. Didn't last though. Fister ended up being the guy who was moved at the deadline and provided ace-caliber production.
June 10th, 2011: Olney On Yankees, A's, Moustakas
The Yankees have lost reliever after reliever to the disabled list this year, but that doesn't mean they're about to rush top pitching prospects like Manny Banuelos to the Bronx. GM Brian Cashman told ESPN.com's Buster Olney that he'll try to strengthen the team's bullpen in other ways. Here are the rest of Olney's rumors:

Triple-A reliever Kevin Whelan could be an option for the Yankees, who have a depleted bullpen instead of the dominant one they expected after the offseason.
Rafael Soriano (elbow), Pedro Feliciano (shoulder), and Joba Chamberlain (elbow) were all on the DL on the date of this report. Also, Phil Hughes was on the DL with a tired arm, forcing Colon into the rotation. David Robertson emerged as David effin' Robertson that year and had taken over as the eighth inning guy. Luis Ayala was pitching in the seventh and Boone Logan was in his first year as the primary lefty. The rest of the bullpen was up in the air.
Whelan, who came over in the Gary Sheffield-Humberto Sanchez trade many moons ago, had a 2.75 ERA (3.28 FIP) in 52.1 Triple-A innings in 2011. It was one of those "hey, this guy who never threw strikes is throwing strikes!" situations. Whelan did get called up that summer, and he promptly walked five in 1.2 innings. He spent the 2012-15 seasons bouncing around Triple-A, and he did make it back to MLB briefly with the 2014 Tigers. Whelan's out of baseball now, as far as I can tell.
June 13th, 2011: Yankees Sign Greg Smith, Cory Wade
The Yankees have signed southpaw Greg Smith and right-hander Cory Wade to minor league contracts, according to the International League's transactions page.  Both pitchers will report to Triple-A Scranton.
Smith was nothing more than Triple-A roster filler. All those injuries depleted the team's depth. Wade ended up being pretty damn awesome for the 2011 Yankees. He was called up a few days after signing and he gave the team 39.2 innings with a 2.04 ERA (3.76 FIP) despite an 88 mph fastball. Wade had that Bugs Bunny changeup. He was awful in 2012 though, and wound up getting cut loose after the season. He's been out of baseball since 2014. We'll always have the summer of 2011, Cory.
Also, the Yankees signed Wade because oft-injured bullpen prospect Tim Norton blew out his shoulder. Norton had a 1.50 ERA (2.31 FIP) with 46 strikeouts and 30 innings split between Double-A and Triple-A that year, I remember reading the club was preparing to call Norton up before the injury. They had to sign Wade instead. Norton never pitched again after the 2011 injury and he's been coaching in the farm system the last few years. He is currently High-A Tampa's pitching coach.
June 14th, 2011: Yankees To Sign Brian Gordon
Brian Gordon has opted out of his contract with the Phillies and will sign with the Yankees, according to to Ken Davidoff of Newsday (via Twitter, courtesy Bob Brookover of The Philadelphia Inquirer). There is a condition in Gordon's contract that stipulated he be added to an acquiring team's Major League roster should he opt out, as Davidoff recently reported.
Ah yes, remember Brian Gordon? I remember the outrage when he was called up to make a spot start because the Yankees went with Gordon over a young Triple-A kid with good numbers named David Phelps. Anyway, Gordon made two starts with the Yankees, one of which was not awful. He asked for his release a few weeks later to pursue an opportunity in Asia. Gordon actually returned to the Yankees and spent some time in Triple-A in 2014. He's been out of the game since.
Phelps, meanwhile, never recovered emotionally from getting passed over for the spot start and now sells homemade wicker baskets roadside in Missouri. Sad.
June 15th, 2011: Quick Hits: Bautista, Brian Gordon, Kuroda
Sherman also discusses Hiroki Kuroda, who he feels could be a target for the Yankees if the Dodgers want to dump his salary and the righty is willing to waive his no-trade clause.
Man I was all over Kuroda at the 2011 trade deadline. I wanted the Yankees to go after him so bad, though I'm pretty sure Kuroda eventually told the Dodgers he wouldn't waive his no-trade clause, so it was a moot point. Plenty of folks told me I was an idiot because Kuroda was just an NL pitcher. Hah! Who's wrong now mofos? I'm wrong all the time but I was right about Kuroda, so excuse me while I live it up. Anyway, here's a much needed #HIROK video.
Miss that guy so much.
June 15th, 2011: Rosenthal On Reds, Nunez, Edwin Rodriguez
The bright side of Derek Jeter's injury is that it gives the Yankees a look at Eduardo Nunez, their possible shortstop of the future.  Rosenthal also notes that Nunez could be a potential trade chip.
The "Eduardo Nunez, Shortstop of the Future" era was a weird one. The tools were there. Nunez could make contact with ease and he had a rocket arm, but man, he was so error prone. They were hilarious errors too. There are hilarious errors and sad errors. Nunez made hilarious errors. He hit .265/.313/.385 (87 wRC+) in over 300 plate appearances while filling in for injuries during that 2011 season, which was kinda sorta promising for a 24-year-old middle infielder. Nunez never built on that though and his defense became unplayable. He's managed to carve out a role with the Twins as utility player. Good for him.
June 16th, 2011: Scott Kazmir Rumors: Thursday
Yankees GM Brian Cashman said he hasn't looked into the possibility of acquiring Kazmir but will eventually, tweets MLB.com's Alden Gonzalez.  Cashman commented, "I know he's struggled."
The Angels flat out released Scott Kazmir about a week before this report, eating his $12M salary. He was hurt and he had a 5.54 ERA (5.12 FIP) in 299 innings from 2009-11. Yikes. I remember some folks wanted the Yankees to sign him because they needed pitching and he was a big name, but no one bit and he went unsigned. Kazmir had to work his way back to the big leagues through the independent leagues. He's had a very nice second phase to his career as a sinker/changeup pitcher after starting his career as a flame-throwing fastball/slider guy.
June 16th, 2011: Yankees Release Amaury Sanit
The Yankees released righty Amaury Sanit to open a 40-man roster spot for Brian Gordon, tweets Newsday's Ken Davidoff.  To clear a spot on the 25-man roster, Lance Pendleton was optioned to Triple-A.
Sanit was one of those lower profile Cuban players. The Yankees signed him cheap in 2008 and he spent a few years in their farm system before getting a chance as an up-and-down guy in 2011. He had a bullpen saving long relief appearance in his MLB debut. Sanit made only three big league appearances after that before hurting his elbow and getting released. He's been pitching in Mexico ever since.
June 17th, 2011: Cubs Rumors: Zambrano, Dempster, Soriano
Some of the Yankees top evaluators have more interest in Ryan Dempster, reports Levine, as you might expect.  They'll get a look at him Saturday afternoon at Wrigley Field.  Dempster has $7.7MM remaining on his contract this year, as well as a $14MM player option for 2012.  He also has full no-trade rights and strong ties to Chicago.
The Cubs never did trade Dempster that season, probably because he had a 4.80 ERA (3.90 FIP) and another year on his contract. Why sell low when the team is going nowhere and you can afford the contract? Those innings aren't going to pitch themselves. The Cubs ended up sending Dempster to the Rangers for two young players at the 2012 trade deadline, one of whom is righty Kyle Hendricks, who's been a rock solid fifth starter for Chicago. That worked out for them. The Yankees? I thought they were smart to pass then and still think that now.
June 17th, 2011: Gammons: Yankees, Others Tampered With Miller
The Red Sox announced today that Andrew Miller will make his season debut against the Padres on Monday after calling him up from Triple-A before his opt-out clause became an issue. However, in an appearance on WEEI's Mut & Merloni Show today, Peter Gammons said that the Yankees and several other teams tried to get Miller to opt-out of his deal. WEEI.com's Jerry Spar has the transcript.

"I know this," said Gammons, "There were a lot of teams that tampered and tried to get him to do the opt-out, including the New York Yankees. A lot of teams wanted him to opt out on Wednesday. Because of his trust for the Red Sox and how much they've invested in him — not in terms of money but in terms of effort to just get his delivery back and be patient with him, he stayed. In some ways, they're fortunate. Because I think he could have gotten twice as much money if he had left."
Huh, I don't remember hearing about this at all. This probably happens all the time, right? When a guy has an opt-out date coming up, doesn't his agent send out some feelers and gauge the market? That seems prudent.
June 22nd, 2011: Minor Deals: Lamb, Tiffee, Periard
The Yankees have signed Mike Lamb and Terry Tiffee to minor league deals, reports Donnie Collins of The Scranton Times-Tribune. Both infielders were playing in the independent Atlantic League, Lamb with the Camden River Sharks and Tiffee with the Lancaster Barnstormers. They will head to Triple-A.
Lamb and Tiffee were just Triple-A roster filler, though Lamb is a notable footnote in Yankees history. The Yankees acquired him from the Rangers in the minor trade back in 2004 after Aaron Boone tore his ACL playing basketball, and he was going to be their starting third baseman that season. Then the Yankees went out and acquired American Hero Alex Rodriguez to play the hot corner. New York flipped Lamb to the Astros for a minor leaguer at the end of Spring Training. That 2011 stint with Triple-A Scranton was Lamb's last hurrah in pro ball.
June 23rd, 2011: Cashman: Reyes To Yankees 'Not Going To Happen'
GM Brian Cashman told Roger Rubin of the New York Daily News that the Yankees are not going to acquire Jose Reyes any time in the foreseeable future. Cashman said a move for Reyes is "just not going to happen" and explained that he believes in his club's current shortstops.
There was — and still is, kinda — this weird narrative about the Yankees going after Reyes that I'm not sure would exist if he hadn't played with the Mets. Every year it was "Derek Jeter's going to retire soon and Reyes can replace him at short," which I guess made sense, except Jeter didn't retire until Reyes had started his decline phase. People were talking about him replacing Jeter in like 2010. That just wasn't going to happen.
The Mets never did trade Reyes at the deadline that year. They took the two draft picks after the season and used them on catcher Kevin Plawecki and infielder Matt Reynolds. That was all ownership though. The Wilpons didn't let Alderson trade him because they wanted butts in the seats.
June 24th, 2011: K-Rod Would Consider Trade To Yankees, Rays
6:06PM: Rodriguez described himself as "irritated" about the story describing his interest in a trade to the Yankees, tweets Andy McCullough of the Newark Star-Ledger.  The closer reiterated that he wants to stay with the Mets.

8:13AM: Mets closer Francisco Rodriguez told Kristie Ackert of the New York Daily News that he would consider accepting a trade to a contending team like the Yankees, even if it meant setting up rather than closing. Rodriguez says he'd "love to stay" put, but understands that the Mets may approach him about waiving the no-trade protection that allows him to block deals to ten teams.
The Yankees were connected to K-Rod all the time too, though that's a bit more understandable because teams always have room for another high-end reliever. The Mets did trade him that summer — I remember the trade was announced like ten minutes after the All-Star Game ended — for two prospects who never amounted to much. I have a hard time thinking the Wilpons would have signed off on a trade sending Rodriguez to the Yankees.
June 25th, 2011: Olney's Latest: Cashman, Rays, K-Rod, Managers
In today's Insider-only blog post, ESPN's Buster Olney spoke to executives that believe this will be Brian Cashman's last season as Yankees GM. His contract expires after the season, and it could just be a simple case of burnout. "I think maybe he's finally had it," said one GM. "That's a job that will take a lot out of you." Olney cites Cashman's recent stretch of brutal and uncharacteristic honestly as evidence, but also notes that there have been three other instances in which he's looked ready to leave, only to end up staying on three-year deals.
That was two three-year contracts ago. Cashman signed a three-year deal following the 2011 season and then another three-year contract following the 2014 season. That's five straight three-year contracts, I believe. We've heard the "he's burned out" and the "he's sick of ownership overruling him" stuff many times over the years, yet Cashman is still around. Will he be around after his current deal expires following next season?
June 26th, 2011: Davidoff On Padres, Bell, Yankees, Reyes
The Yankees have called the Padres about Bell, but haven't been as aggressive as other clubs who would use Bell to close games.
Heath Bell was pretty damn awesome for a few years there, but there were definitely some red flags in his game that 2011 season. I remember wanting the Yankees to stay away at the trade deadline and in free agency. Bell's homer rate basically doubled in 2011 and his strikeout rate fell from 29.2% from 2009-10 to 19.9% in 2011. The Yankees never got particularly close to acquiring Bell as far as we know. The Padres never traded him, took the two draft picks when he left as a free agent after the season, and Bell immediately became cannon fodder. San Diego used one of the compensation picks to select righty Zach Eflin, who they later traded for Matt Kemp.
June 26th, 2011: AL East Notes: Hughes, Montero, Blue Jays, Rays
Rival evaluators have taken note of Jesus Montero's decline in offensive production this year, says ESPN.com's Buster Olney (Insider only). According to Olney, it's led to some speculation that the Yankees could push to trade Montero this season "in an effort to recoup some value."
Ah yes, the "Montero is bored" narrative. I definitely think there was some truth to that, though I didn't consider it as much of a character flaw as I should have. Character flaw isn't really the right term. I overlooked the apparent lack of motivation. Anyway, here are some Triple-A numbers:
2010 Montero: .289/.353/.517 (133 wRC+) with 21 homers in 123 games
2011 Montero: .288/.348/.467 (121 wRC+) with 18 homers in 109 games
The numbers aren't that much worse, but they're worse, and when a guy spends a full year at a level then repeats it the next year, the numbers should improve. Montero came up in September and mashed some dingers, then the Yankees flipped him for five years of a high upside starter. The idea they had to "recoup some value" was pretty crazy though. That sounds like rival execs trying to push his value down.
June 27th, 2011: New York Notes: Crosstown Trades, Osuna, Reyes
The Yankees, Rangers, Blue Jays, Athletics, and Padres watched Roberto Osuna throw in Mexico on Thursday, reports Roberto Espinoza of Vanguardia (link in Spanish).  The Red Sox are also interested.  The 16-year-old Osuna is one of the top pitchers in the July 2nd class.
That's the same Roberto Osuna who is currently in Toronto's bullpen. The Blue Jays gave him a $1.5M bonus back in 2011 and injuries, most notably Tommy John surgery, limited him to 109 minor league innings from 2012-14. Osuna managed to make the Blue Jays out of Spring Training as a 20-year-old last year, and he's now one of the best relievers in the league. The kid skipped Double-A and Triple-A.
That 2011-12 international signing period was the first year with bonus restrictions. Every team had $2.9M to spend that year, then the next year they starting basing the bonus pools on the reverse order of the standings. The biggest bonus the Yankees handed out that year went to third baseman Miguel Andujar. He got $750,000. The best player and prospect they signed that summer? Luis Severino. The Yankees picked him up for only $225,000.
June 28th, 2011: Sherman On Yankees, Padres, Clippard
Hoping for the Yanks to acquire Jair Jurrjens or Derek Lowe?  We're not sure if either is available, but Sherman says "the Yankees' policy has become pretty much to run away from Atlanta pitching after having successful Braves hurlers blow up on them."
I'm trying to remember which Braves pitchers blew up on the Yankees. Jaret Wright for sure. Chris Hammond too. He had a 2.86 ERA (3.25 FIP) in 63 innings with New York in 2003 but I'm not sure anyone felt comfortable with him on the mound. I guess Steve Karsay fits. He only spent a half-season with the Braves before coming to the Yankees though. Does Denny Neagle count? He had a stint with the Reds between the Braves and Yankees. Javy Vazquez 2.0 didn't work out too well, and more recently, there's David Carpenter.
Braves pitchers seem to break down at a higher rate than all other pitchers, and maybe it's just a fluke. Jurrjens, Kris Medlen, Mike Minor, Brandon Beachy, and the late Tommy Hanson all broke down physically and/or had their performance collapse two or three years into their careers. Alex Wood's elbow is acting up now too. Even if it is a fluke, that kind of recent track record is going to scare teams away. Say no to Braves pitchers. The long-term track record is awful unless you're a Hall of Fame talent.
June 29th, 2011: Minor Deals: Kensing, Bautista
The Yankees have signed Logan Kensing to a minor league contract according to his representatives, CAA Baseball, on Twitter. The 28-year-old right-hander did not pitch in affiliated baseball last year and has a 5.81 ERA in 161 big league innings. He pitched for Yankees manager Joe Girardi with the Marlins in 2006.
I could have sworn Kensing spent some time with the Yankees, but apparently not. He only spent a few weeks in Triple-A. Once upon a time Kensing was supposed to be a future closer with the Marlins, though that never quite worked out. He's still active though. In fact, Kensing made the Tigers' Opening Day roster this year. He didn't last long (4.2 innings) before being designated for assignment.
June 29th, 2011: Yankees Acquire Sergio Mitre
Sergio Mitre is heading back to the Bronx. The Yankees acquired the right-hander from the Brewers for cash considerations, according to Tom Haudricourt of the Milwaukee Journal Sentinel (on Twitter). Milwaukee designated Mitre for assignment Monday and he has since drawn interest from other teams.
That's 2009 World Series champion Sergio Mitre to you. Mitre spent parts of three seasons with the Yankees. He had a 6.79 ERA (5.30) in 51.2 innings in 2009 and a 3.33 ERA (4.69 FIP) in 54 innings in 2010 before the team traded him to the Brewers for Chris Dickerson in Spring Training 2011. Milwaukee got sick of him and designated him for assignment, so the Yankees brought him back to help their injury depleted bullpen.
Mitre's second stint with the Yankees lasted 5.1 innings. He allowed nine runs on nine hits and four walks before going down with a shoulder injury. The Yankees released Mitre following the season, he threw 11.1 innings in winter ball in Mexico in 2012, and hasn't pitched since. Sergio Mitre was Esmil Rogers before Esmil Rogers came along.