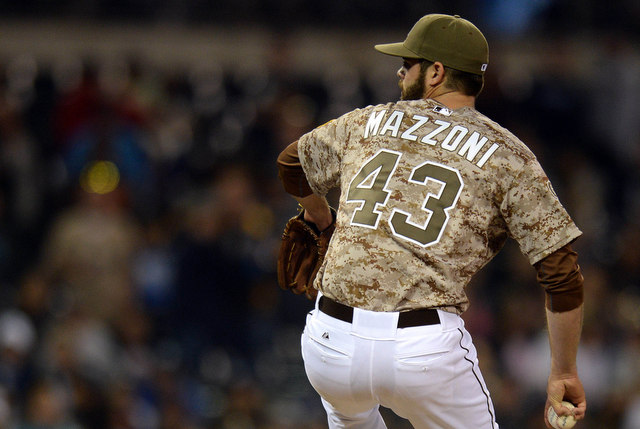 The season is not even a month old, and already the Yankees have been hit pretty hard by the injury bug, particularly in the bullpen. Branden Pinder and Nick Rumbelow — the team's two main shuttle relievers — are both out following Tommy John surgery, Bryan Mitchell broke his toe in Spring Training, and Jacob Lindgren is on the High-A Tampa DL. That's half a bullpen on the shelf.
The Yankees still have enough relievers to keep themselves afloat — Luis Cessa, James Pazos, and Tyler Olson are still a phone call away — but the depth has been thinned out. There's a reason they had to dip into an independent league to sign Phil Coke earlier this week. They needed the warm body. Yesterday afternoon, the Padres designated a potential bullpen shuttle candidate for assignment in right-hander Cory Mazzoni. Is he worth a waiver claim? Let's look.
The Performance
The Mets originally drafted Mazzoni in the second round of the 2011 draft out of North Carolina State. He climbed the ladder in their farm system before being traded to San Diego last spring for lefty Alex Torres. For what it's worth, Baseball America ranked Mazzoni as one of the 16 best prospects in his team's farm system every year from 2012-16.
Mazzoni, 26, made his big league debut with the Padres last year, and I almost don't want to list the stats because they're so bad. I guess I have to though. In 8.2 innings with San Diego, he allowed 22 runs (20 earned) on 23 hits and five walks. He fanned eight. Yes, 22 runs and 23 hits in 8.2 innings. Mazzoni was quite bad in his limited action last year. I guess the good news is he had a 3.97 ERA (1.95 FIP) in 34 Triple-A innings in 2015.
Prior to being designated for assignment, Mazzoni had appeared in one Triple-A game, allowing an unearned run on a hit and a walk in 1.1 innings. Not much to look at there. Clearly you have to be willing to look past Mazzoni's numbers with the Padres last year to have any interest.
The Stuff
The Mets drafted Mazzoni as a starting pitcher and he remained in that role for a few years before moving into the bullpen full-time. According to PitchFX, he averaged 95.6 mph with his four-seam fastball last year and topped out at 97.3 mph. He also has an upper-80s splitter/changeup hybrid and a mid-80s slider, but he doesn't throw the split-change a whole lot in relief. He's a fastball/slider reliever.
There are no worthwhile highlight videos of Mazzoni on MLB.com or YouTube, so here's a GIF of his slider instead. His fastball looks like every other fastball you've ever seen in your life.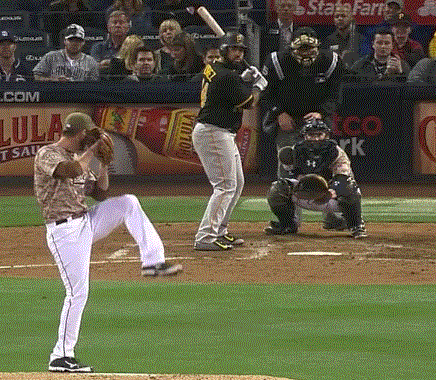 The swing-and-miss rates on Mazzoni's fastball and slider were awful last season (4.0 % and 9.5%, respectively), but then again everything he did in the big leagues last year was awful. MLB.com ranked Mazzoni as the No. 17 prospect in San Diego's system before the season, and here's a snippet of their scouting report:
As is the case with most pitchers, the right-hander had his stuff tick up in the (bullpen), sitting at 92-95 mph and touching 97 with his fastball, and throwing his slider with more power and sharper bite … Though he has good velocity, Mazzoni doesn't generate many whiffs with his heater. He does induce plenty of groundballs though, which highlights his potential as a swingman or middle reliever … he'll have to refine his command to hold down a permanent role in a big league bullpen.
Mazzoni's ground ball rate was an even 50.0% in his limited big league time last year, for what it's worth. We've read that scouting report about a million times before. Fastball/slider right-hander who needs to refine his command and has a chance to be a middle reliever? Those guys are everywhere.
Injury History
Injuries are one of the reasons Mazzoni moved into the bullpen full-time. Here's a quick recap of his injury history:
2015: Shoulder strain ended his season in July.
2014: Missed close to three months with a shoulder strain.
2013: Missed a month with elbow inflammation, then the final two months with a torn meniscus in his knee.
Now here's the kicker: Mazzoni was the 7-day DL in Triple-A when he was designated for assignment yesterday. I have no idea why though. I can't find anything anywhere. Regardless, Mazzoni has had a bunch of arm problems in recent years, including some scary shoulder strains.
Contract & Options Status
This is the easy stuff. Mazzoni has only 56 days of service time, so he has all six years of team control remaining. The Mets added him to the 40-man roster to protect him from the Rule 5 Draft back in November 2014, so he burned his first option last year and his second this year. Mazzoni has one minor league option year remaining.
Wrapping Up
Mazzoni is quintessential middle relief fodder at this point. He's a fastball/slider guy with command questions and an injury history. They grow those guys on a farm upstate, I hear. The Padres dropped Mazzoni from the 40-man roster, so he's freely available. If you can get him on waivers, great. If not, then no hard feelings.
The way I see it, the Yankees have already lost a lot of bullpen depth to injury, forcing them to turn to the Phil Cokes of the world. It's still only April too. They need to restock the cupboard a bit and they have more than enough 40-man roster space. Aroldis Chapman's suspension clears one spot and the Yankees have several 60-day DL candidates as well. They could easily claim Mazzoni and stash him in Triple-A.
This is certainly no "must make" move. Mazzoni's not some kind of hidden gem. He's more Kirby Yates than Johnny Barbato, if you know what I mean. The Yankees have had some success with scrap heap arms like this, so as long as Mazzoni's healthy (a big if), I think he's worth a waiver claim and a spot in the Triple-A Scranton bullpen.