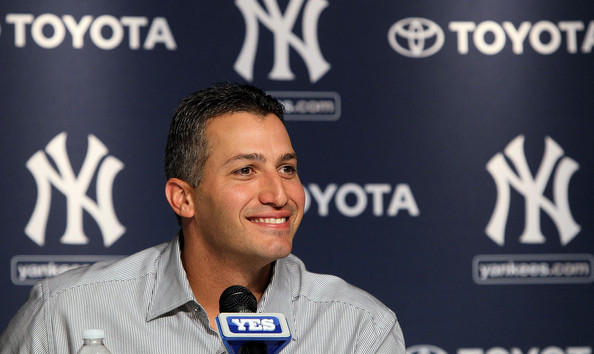 Retro Week is now in the rear-view mirror, and since it's a new month, it's time to look back through the MLB Trade Rumors archive. This seems like a good way to transition from Retro Week back to the real world. As a reminder, these posts are for fun and are not intended to make fun of the reporters or the crew at MLBTR. What good are rumors if you read them once and forget about them?
We're now in February 2011, and at this point of the offseason the Yankees had already lost out on Cliff Lee and were scrambling to fill out the rotation. Freddy Garcia and Bartolo Colon were signed to minor league deals, and Scott Boras convinced the team to panic sign Rafael Soriano. Derek Jeter and Mariano Rivera also inked new contracts. Here's a look back at everything Yankees-related that happened five years ago this month.
February 1st, 2011: New York Notes: Pettitte, Mets, Pitching
Yankees people continue to hear from friends of Andy Pettitte that they think the 38-year-old will pitch this year, tweets Jon Heyman of Sports Illustrated.  Of course, there's still no word from Pettitte himself on the matter.
Spring Training was inching closer and there was still no indication whether Pettitte would pitch again. He was 39 years old at the time and he was coming off a season with a 3.28 ERA (3.85 FIP) in 129 innings. A groin injury forced him to miss a bunch of time, and ultimately the rehab from that injury is what pushed Pettitte to retirement. His body didn't recover as quickly as it once did and he didn't want to go through the grind anymore. The Yankees desperately needed him though. The rotation at the time was CC Sabathia, A.J. Burnett, Phil Hughes, an unproven Ivan Nova, and no one in particular.
February 2nd, 2011: Yankees Acquire Justin Maxwell
The Yankees announced that they have acquired Justin Maxwell from the Nationals for minor league right-hander Adam Olbrychowski. When Washington had to clear roster space last week, they designated Maxwell for assignment.
Maxwell had a real nice year in Triple-A in 2011 — he hit .260/.358/.588 (157 wRC+) with 16 homers and eleven steals in 48 games — but he tore up his shoulder crashing into the wall while trying to rob a home run and needed season-ending surgery. The Yankees cut him loose in Spring Training the following year, the Astros claimed him, then Maxwell mashed lefties in 2012 (143 wRC+). Everyone complained because Maxwell was great and Andruw Jones stunk that year. The Yankees somehow survived and won the division anyway.
February 2nd, 2011: Yankees Remain In Contact With Kevin Millwood
The Yankees have added Bartolo Colon and Freddy Garcia in the last week, but the team is still in contact with Kevin Millwood, reports Sports Illustrated's Jon Heyman (Twitter link).  It could be that the Yankees just want to give themselves as many veteran starting options as they can, or, as Heyman opines, "they're growing more worried" that Andy Pettitte will retire. 
The Yankees eventually did sign Millwood to a minor league contract — he spent a month in Triple-A before exercising an opt-out clause — but I remember there being a lot of talk that Millwood was a must sign. A must sign. He had a 5.10 ERA (4.86 FIP) with the Orioles in 2010 but the back of the rotation was a mess, and Millwood was a familiar name. Those were desperate times indeed.
February 3rd, 2011: Andy Pettitte To Retire
It's the end of a three-month wait for the Yankees and a 16-year career for Andy Pettitte. The left-hander is set to announce his retirement tomorrow, the team announced.
And there it is. Pettitte decided to retire and Brian Cashman admitted the Yankees basically begged him to come back after missing out on Lee. Andy wasn't having any of it. He wanted to be home with his family and who could blame him? He'd won titles, built a strong Hall of Fame case, made an ungodly amount of money … why put yourself through it again if the physical grind was too much? I was very sad Pettitte retired. Little did we know he would be back a year later.
February 4th, 2011: Yankees Consider Left-Handed Pitchers
The Yankees, who heard this week that Andy Pettitte will retire, have considered exploring trades for other left-handers, according to Ken Rosenthal of FOX Sports (on Twitter). Joe Saunders, Scott Kazmir, Wade LeBlanc, Clayton Richard and Gio Gonzalez are among the possible targets some Yankees people have "kicked around."
Yeesh. What a list of pitchers. Gio was pretty good and would have been a nice pickup. Saunders was with the Diamondbacks at the time and had a 4.47 ERA (4.57 FIP) in 203.1 innings in 2010. Kazmir had a 5.94 ERA (5.83 FIP) in 150 innings with the Angels and Richard had a 3.75 ERA (3.81 FIP) in 201.2 innings with the Padres. LeBlanc, who threw one inning with the 2014 Yankees, was an up-and-down arm with San Diego. Aside from Gonzalez, this was retread/back-end fodder city. Goodness.
February 4th, 2011: Robinson Cano Hires Scott Boras
Robinson Cano has hired Scott Boras as his agent, according to Enrique Rojas of ESPNDeportes.com. The second baseman, who was previously a Bobby Barad client, met Boras in the Dominican Republic today.
I totally forgot about this. It was a huge deal at the time because it's Boras and Boras always wants insane contracts. The Yankees controlled Cano through 2013 thanks to the extension he signed in 2008, so his free agency wasn't imminent, but dealing with Boras is never fun. As it turned out, Boras never did negotiate a deal for Cano. Robbie dumped Boras for Jay-Z's Roc Nation group in 2013. They negotiated his contract with the Mariners. I can't imagine many elite players have hired Boras only to fire him before becoming a free agent.
February 4th, 2011: Yankees, Ronnie Belliard Agree To Minor League Deal
The Yankees and Ronnie Belliard have agreed to a minor league deal, according to Enrique Rojas of ESPNDeportes.com (via Twitter).  The 35-year-old Praver Shapiro Sports Management client will earn $825K plus incentives if he makes the varsity squad.
Ronnie Belliard! The Yankees were looking to round out their bench at this point of the offseason and they brought Belliard in to compete for a job in camp. They wound up releasing him before the end of Spring Training. Belliard hooked on with the Phillies after that, spent two months in Triple-A, then retired. Remember when Matt Diaz was a Yankee for like two weeks a few years ago? Same deal. They signed him then released him before the end of Spring Training. Who's going to be that guy this year, the recognizable name on a minor league pact who doesn't get through camp?
February 6th, 2011: Cafardo's Latest: Pettitte, Millwood, Blanton
The Yanks will "see what they have" with pitchers like Freddy Garcia, Bartolo Colon, and Sergio Mitre before they consider trading for someone like Joe Blanton.
Oy vey. Blanton had a 4.82 ERA (4.84 FIP) in 175.2 innings for the Phillies in 2010. In the wake of losing out on Lee, the plan was to see what the Yankees had in the bad pitchers they signed before trading for a different bad pitcher. And hey, it worked! Colon and Garcia were pretty good in 2011.
February 8th, 2011: Michael Young Requests Trade
MONDAY, 10:34pm: MLB.com's T.R. Sullivan has the list of eight teams Young is willing to accept a trade to: Cardinals, Yankees, Twins, Astros, Rockies, Dodgers, Angels, and Padres. The team has said they are dealing with just those eight teams right now.
It was kinda weird Young had a reputation for being a team first guy because he moved to different positions even though he complained and requested a trade each time. The Rangers had just signed Adrian Beltre and were planning to make Young their full-time DH. The Yankees had a full infield (Mark Teixeira, Cano, Jeter, Alex Rodriguez) and Jorge Posada was moving to DH full-time, so there was no room for Young. He was going to have to be a bench player, and since he had three years and $48M left on his contract at the time, it just wasn't going to happen. Young did end up staying with Texas, but plenty of folks wanted him for the mythical supersub role that doesn't seem to actually exist.
February 8th, 2011: MLB Teams Sign Six Dominican League Prospects
The Yankees signed 20-year-old center fielder Freiter Marte for $100K. Marte had been selected to play in the DPL All-Star Game.
Marte hit .270/.342/.377 with three homers and 19 steals in 85 Dominican Summer League games from 2011-12 before being released. A hundred grand doesn't buy what it used to.
February 8th, 2011: Yankees Notes: Delgado, Washburn, Pavano
The Yankees have zero interest in Carlos Delgado. The longtime Blue Jays slugger wants to play in 2011, but hasn't been getting much interest so far.
The Yankees checked in on Jarrod Washburn earlier in the winter, but talks did not progress much. However, the Yankees would consider Washburn if he's willing to accept a minor league deal like Freddy Garcia and Bartolo Colon did.
Delgado did not play in 2010 but he wasn't retired. No one signed him. Sucks. The Yankees had a full infield and Posada at DH. There was no room for Delgado even if he did have something left in the tank. Remember when Delgado hit .344/.470/.664 (179 wRC+) with 41 homers in 2000? He was a damn monster back in the day.
Washburn was in the same boat as Delgado. He did not play in 2010 but wasn't actually retired. No one wanted him. The Yankees did check in on him — Washburn had a 3.78 ERA (4.58 FIP) in 176 innings in 2009 — though they couldn't work out a deal. Desperate times, man. The Yankees were trying to get dudes to come out of semi-retirement after losing out on Lee.
February 9th, 2011: Yankees To Sign Luis Ayala
The Yankees agreed to sign reliever Luis Ayala to a minor league deal, according to Jon Paul Morosi of FOX Sports (Twitter links). The right-hander a career ERA of 3.67 with 5.9 K/9 and 2.1 BB/9 in parts of six major league seasons.
Ayala had the worst 2.09 ERA in history in 2011. It's not just that he had a 4.19 FIP, it's that he allowed 33% of inherited runners to score, including 43% in the second half. Ayala had a nice and shiny ERA but he was ruining everyone else's. He was a nice find for the Yankees and a serviceable middle reliever, but man, I see that 2.09 ERA and it does not compute.
February 9th, 2011: Yankees Sign Eric Chavez To Minor League Deal
The Yankees have signed Eric Chavez to a minor league deal, according to WFAN's Sweeny Murti. ESPN.com's Jerry Crasnick reports that the deal is done and that Chavez will earn $1.5MM if he makes the big league team (Twitter links). The third baseman, who is represented by Lapa/Leventhal, can earn up to $4MM more in bonuses.
Chavez played 154 total games from 2007-10 (81 wRC+) due to a variety of injuries and the Yankees were mocked for signing him. "They're a lock for the 2003 World Series!" was a common refrain after the Chavez, Colon, Garcia, and Andruw signings. Chavez wasn't great in 2011 (80 wRC+) but he did have a few big hits, so the Yankees brought him back in 2012, and he raked that year (126 wRC+). People went from laughing at the Yankees when they signed Chavez to wondering why they let him walk as a free agent two years later. Reminder: the Yankees are smarter than you.
February 9th, 2011: Yankees Void Deal With Vizcaino
The Yankees have voided their contract with reliever Luis Vizcaino, according to Joel Sherman of the New York Post.  The right-hander tore his Achilles tendon late in the Winter Ball season and is not likely to pitch this season.
It's amazing the Yankees got a draft pick for Vizcaino after the 2007 season. (They used it to take Jeremy Bleich.) The old Type-A/B system led to a lot of weirdness. Anyway, the Yankees signed The Viz to a minor league deal earlier in the offseason before the Achilles injury. He was active in 2015, you know. Vizcaino, now 41, had a 7.65 ERA in 20 innings with two teams in Mexico last summer.
February 11th, 2011: AL East Links: Guthrie, Bard, Balfour, Rays
Joel Sherman of the New York Post has the latest on some creative discussions between Kevin Towers and the man he worked for last year, Brian Cashman.The Yankees, who considered completing a sign-and-trade with Arizona to acquire Carl Pavano without surrendering a draft pick, discussed a similar deal with the D'Backs about Grant Balfour. The Yankees were moving toward Balfour before they signed his former teammate, Rafael Soriano.
The sign-and-trade idea was a good one. The Diamondbacks had two top ten picks in the 2011 draft — their normal pick (third overall, Trevor Bauer) and a compensation pick for failing to sign 2010 first rounder Barrett Loux (seventh overall, Archie Bradley) — so the idea was Arizona signs Pavano or Balfour, gives up their second rounder, then trades Pavano/Balfour to the Yankees for a prospect.
Had it gone down, the Yankees would have gotten the free agent and kept their first round pick, and for their trouble the D'Backs would get a prospect presumably closer to MLB than whoever they'd take with that second round pick. Pavano or Balfour would have had to agree to this because free agents can't be traded until June 1st without their consent. Nice idea. Never worked out. Cashman and then D'Backs GM Kevin Towers are very close, which is why this was discussed. I can't imagine many GMs would hook up for a deal like this.
February 14th, 2011: Latest On Sabathia Opt-Out Decision
10:38pm: Barring something unforseen, Sabathia is expected to exercise the opt-out clause in his contract, a source with knowledge of the situation told Mark Feinsand of the New York Daily News.

9:35am: Not many players would ever think about walking away from $92MM, but C.C. Sabathia is one of the few who could consider it. Sabathia can opt out of his contract with the Yankees after the season, but repeated today that he does not intend to do so. The left-hander told reporters, including Marc Carig of the Star-Ledger, that he will not opt out and that he doesn't intend to address the issue again this season (Twitter link).
This was the start of Sabathia Opt-Out Watch. Sabathia said he wasn't going to opt-out all summer and that was adorable. Of course he was going to use the opt-out in some way to make more money, which he did by leveraging it into an extension. Sabathia didn't actually opt-out, but he used it to make the Yankees pay. They tacked another year and $30M onto his contract, plus the vesting option. Last season was the final season on the original seven-year contract Sabathia signed during the 2008-09 offseason. Time flies, doesn't it?
February 16th, 2011: Minor Moves: Geary, Perkins, Cotts, Petit
The Yankees signed righty reliever Fernando Hernandez, tweets Eddy. The 26-year-old pitched in three games with the 2008 A's as a Rule 5 Pick, though he spent last year with their Triple-A affiliate (4.77 ERA in 77 1/3 innings).
Hernandez reached the show with the Athletics in 2008, throwing three innings. He spent the 2011 season with Double-A Trenton and Triple-A Scranton, didn't pitch well (6.17 ERA), and wound up in an independent league at midseason. Hernandez has bounced around indy ball since. He had a 4.15 ERA in 65 innings for the Kansas City T-Bones last year.
February 20th, 2011: Millwood Rejected Yankees' Minor League Offer
One of the few notable names left on the starting pitching market, Kevin Millwood still appears to be seeking a Major League contract. The veteran right-hander recently turned down a minor league offer from the Yankees, according to Joel Sherman of the New York Post. According to Sherman, the deal was structured similarly to the one Freddy Garcia signed with the club.
Millwood caved and signed a minor league deal with the Yankees on March 25th. As I said earlier, he spent a month with Triple-A Scranton before exercising an opt-out clause. Millwood landed with the Rockies the rest of the season and had a 3.98 ERA (4.29 FIP). Not too bad.
February 20th, 2011: Cafardo's Latest: Molina, Aceves, Nathan, Cameron
Alfredo Aceves, who recently signed with the Red Sox, "wasn't pleased" that the Yankees didn't show a stronger interest in re-signing him. Brian Cashman said the Yanks only offered Aceves a minor league deal due to injury concerns.
The Yankees non-tendered Aceves earlier in the offseason and made no sense from the outside, especially since they were short on rotation depth with or without Lee. The team had concerns about his back and also his attitude, but it sure didn't look good when Aceves had a 2.61 ERA (4.03 FIP) in 114 innings for the Red Sox in 2011. Aceves was never effective after that season and he seemed to get a little crazier each year. He spent last season in Mexico and had a 4.76 ERA in 87 innings. We'll always have 2009, Ace.
February 21st, 2011: Steinbrenner On Jeter, Luxury Tax, Burnett, Soriano
Steinbrenner seems worried about the team's drive to win, saying "I think maybe they celebrated a little bit too much last year," the co-chairman said. "Some of the players are too busy building mansions and other things and not concentrating on winning."  Shortstop Derek Jeter built a mansion in Florida during the offseason after negotiating a new three-year, $51MM deal.  When asked if the comment was directed at the team captain, Steinbrenner insisted that he wasn't singling anybody out.
Oh man, I forgot about the "some guys are too busy building mansions" line. That was from Hank Steinbrenner, by the way. Not Hal. But still. The owner basically called out Jeter following their contentious contract talks. Derek was in the middle of building St. Jetersburg …
… at the time and everyone knew it. It was no secret. Hank said he wasn't calling out Jeter specifically, but come on, we're not stupid. I don't think we've heard from Hank since. The Yankees seem to keep him under wraps these days. Either way, that comment added some excitement to the first few days of Spring Training. It blew over pretty quickly.
February 23rd, 2011: Minor Moves: Sisco, Mujica, Russell, Armstrong
The Yankees and Braves each inked a veteran international free agent, with New York signing Cuban shortstop Yadil Mujica and Atlanta signing Australian outfielder-turned-pitcher Andrew Russell, a righty, tweets Eddy.
Mujica hit .229/.291/.278 in 137 games as a utility player at three levels from 2011-12. The Yankees released him and he hasn't played professional baseball since, as far as I can tell. Not every player who leaves Cuba makes it to the big time here.
February 24th, 2011: Pitching Notes: Hudson, Buehrle, Carpenter
In today's blog post at ESPN (Insider req'd), Buster Olney reports that the Yankees did not inquire about Tim Hudson. Yesterday we heard that the Braves aren't looking to move one of their starters anyway.
This rumor never quite made sense. The Braves were good in 2010 (91-71) and they projected to be good in 2011 (89-73), and Hudson was one of their best pitchers. He had a 2.83 ERA (4.09 FIP) in 215 innings in 2010 and finished fourth in the Cy Young voting, plus he had two cheap years left on his contract ($9M each) with a cheap club option ($9M) for another year. And he had ten-and-five rights and could have vetoed any trade. I don't remember what we were all talking about back then, but I have to think most were on board with acquiring Hudson if he were available. The Braves were good though. Why would they move their best starter?
February 25th, 2011: AL East Notes: Yankees, Werth, Pavano, Jays, Rays
Joel Sherman of The New York Post reports that the Yankees "have told their scouts to bear down on several teams they think could have starters available" in a trade this summer. The teams they are targeting include the Braves, Angels, A's, White Sox, and Cardinals according to Sherman.
The Cardinals ended up needing to trade for a starter at the deadline that season — they got Edwin Jackson from the ChiSox — so they didn't have starters to spare. The Braves and Angels were in contention in 2011 and needed all their starters, and while the A's did have some extra arms, Billy Beane is known for seeking huge returns. Point is, finding help at midseason is tough. It's best to do all your shopping during the offseason.
February 26th, 2011: Yankees Keeping Eye On Liriano
The Yankees are keeping a close eye on Twins starter Francisco Liriano, tweets Bob Nightengale of USA Today.  Meanwhile, the Twins are keeping tabs on Yankees prospects.
Liriano was very good in 2010 (3.62 ERA and 2.66 FIP) and I remember wanting him real bad that offseason, with or without Lee. Then he had a 5.09 ERA (4.54 FIP) in 2011. Liriano was so unpredictable earlier in this career. Giving up actual prospects to get him and then having him pitch like that would have only compounded the problem after missing out on Lee. Sometimes the best trades are the ones you don't make.