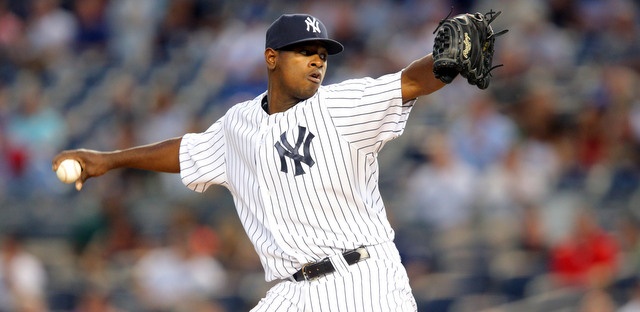 After getting roughed up by the Blue Jays on Friday night, Luis Severino walked around the clubhouse with his right calf wrapped, and seemed to indicate he hurt himself at home, away from the field. "There's a little pain," said Severino to Chad Jennings while adding the calf issue had no impact on his pitching.
It's unclear how or what exactly happened — as Jennings noted, the "hurt at home" thing could have been the result of the language barrier — but it's worth noting Severino caught a spike mid-delivery Friday night and slipped on the mound. Perhaps he poked himself in the calf with his cleat. Here's the play:
"I'm still not sure what happened," said Girardi to
Jennings
on Saturday. "He said he felt that it was bruised, it hurt to touch. It didn't hurt to walk or anything. It might have been when he tripped. I'm going to have to watch the tape, that first inning when he tripped because it wasn't a ground ball that hit him or anything so it's gotta be in that first inning when he fell. Maybe he hit his spike on his leg and that's what happened."
Regardless of what happened, the injury is not expected to have any impact on Severino's next start. The 21-year-old is lined up to start Wednesday night's series finale against the Rays at the moment, though the Yankees might try to squeeze in a sixth starter at some point or something. Who knows. Severino has a 3.35 ERA (4.63 FIP) in 37.2 innings across seven starts for the Yankees this year even after getting smacked around by the Blue Jays last week.
The Yankees are already without Nathan Eovaldi (elbow) for the rest of the regular season, plus they want to give Masahiro Tanaka extra rest whenever possible, so losing Severino for even one start with a calf problem would be bad news. Heck, even pushing him back a few days would create a headache Wednesday night. Thankfully the calf issue is minor and won't affect Severino's pitching schedule.