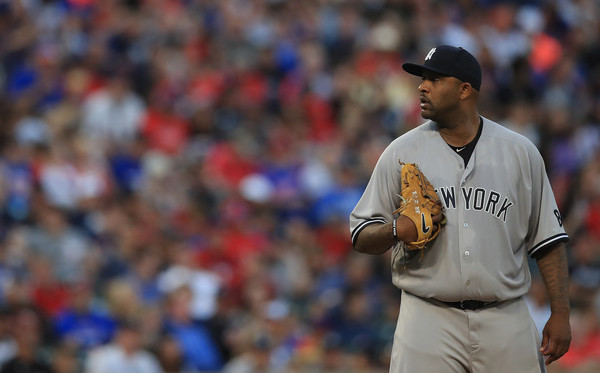 3:54pm: Joe Girardi told reporters this afternoon Sabathia hurt himself in the fourth inning of Wednesday's game. He didn't say anything until after the game, however. Nova will indeed move into the rotation and start in Sabathia's place. The timetable for Sabathia is about three weeks, says Girardi.
2:24pm: Earlier this week CC Sabathia had his best start in about three years, so, naturally, he was placed on the 15-day DL with a left groin strain today, the Yankees announced. We're not allowed to have nice things. Phil Coke has been called up to fill the roster spot. Definitely never expected to write that sentence again.
Sabathia threw seven shutout innings against the Orioles two nights ago. I have no idea when he got hurt, but Sabathia has been known to pitch through pain, so it could have happened during that start. He's pitched with a bone spur in his elbow, a hamstring strain, and all sorts of knee problems over the years.
In all likelihood Ivan Nova will step into the rotation to replace Sabathia. Luis Cessa and Chad Green, both of whom came over in the Justin Wilson trade, are pitching well in Triple-A and are rotation candidates as well. It's unclear how long Sabathia will be sidelined. Hopefully it's only two weeks and not any longer.
My guess is Coke is a stopgap. The Yankees signed him out of an independent league last week where he had been working as a starter, so he's stretched out to 70 pitches or so. Coke will replace Nova as the long man. Aroldis Chapman is due to return Monday and that may be the end of Coke's second stint in pinstripes.
Sabathia, 35, has a 3.81 ERA (3.51 FIP) in five starts and 28.1 innings this season. He's been the Yankees' second best starter overall. Sabathia's vesting option for 2017 is based on the health of his shoulder, not his groin, so this injury doesn't change anything.