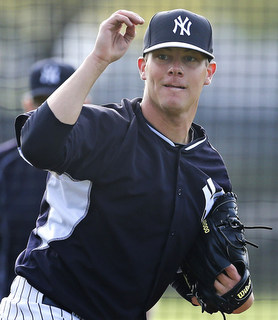 Sunday night's game with the Mets was a textbook win for these Yankees. They got an early lead and made it stand up thanks to some stellar defense and an excellent bullpen — five relievers combined to throw 4.2 scoreless and hitless innings to preserve the lead. That's exactly the kind of game the front office had in mind when they put this club together over the winter.
Thanks in part to that 19-inning game, we've already seen the Yankees cycle through several extra relievers these last few weeks. Matt Tracy, Kyle Davies, Joel De La Cruz, and Branden Pinder have all spent some time in the bullpen this year. The Yankees have plenty more bullpen options in Triple-A too, most notably Jacob Lindgren, Danny Burawa, Nick Rumbelow, Tyler Webb, and Jose Ramirez.
Further down the ladder is another more veteran bullpen option: rehabbing right-hander Andrew Bailey. He's coming off major shoulder surgery but did get back on a mound in Spring Training and has been with High-A Tampa since the start of the minor league season. Including Grapefruit League play, the 30-year-old Bailey has thrown 10.2 innings across 12 appearances in 2015, pitching to a 5.06 ERA with 14 strikeouts and five walks overall.
At this point the actual performance is a secondary concern. Who cares that Bailey's ERA is high in his first ten or so innings after missing nearly two full years to a shoulder injury? The most important thing is that he's healthy and working his way back from his shoulder injury. Bailey's usage has started to look like typical reliever usage too — he entered a game in the middle of an inning last week and pitched in back-to-back games over the weekend. Those are good signs that his rehab is going well.
Bailey was taken off the High-A Tampa roster and sent to Extended Spring Training yesterday, which usually means one of two things. Either he's injured or the Yankees are preparing to move him up to a higher level. There's no indication Bailey is hurt and it seems like he's reached the point when a veteran pitcher would move up a level to continue his rehab. The question is which level, and is it possible that level is the big leagues?
The Yankees are planning to call up Chase Whitley to make a spot start tomorrow, so the bullpen is going to get reworked a bit. Someone (Chasen Shreve?) will be sent down to make room for Whitley, then Whitley will presumably go down for another reliever Wednesday. Shreve and Pinder can't come back since it will not have been ten days since they were optioned. Lindgren took a line drive off his foot yesterday, so he may be sidelined for a few days. That leaves Ramirez and Burawa as 40-man options and Rumbelow and Webb as non-40-man options.
Those four may or may not be better big league options than Bailey at this point. Who really knows? There may be other factors to consider as well. Bailey's minor league contract could very well have an approaching opt-out date, say May 1st or something like that. (Johan Santana's first opt-out date with the Blue Jays was April 28th, for example.) The Yankees could call Bailey up soon to keep him from opting out. They have spent more than a year rehabbing him, after all. They probably don't want him to leave and get zero return for their effort.
Either way, Bailey or no Bailey, the Yankees have a quality big league option and several options waiting in Triple-A if necessary. Bailey was a low cost flier who is making real progress from his shoulder injury, and there's a chance — albeit a small one — he could join the Yankees sooner rather than later. Whether he can be effective is another matter. Bailey is an option though, and following Whitley's spot start tomorrow, the club will have to turn to one of their bullpen options to fill out the roster.