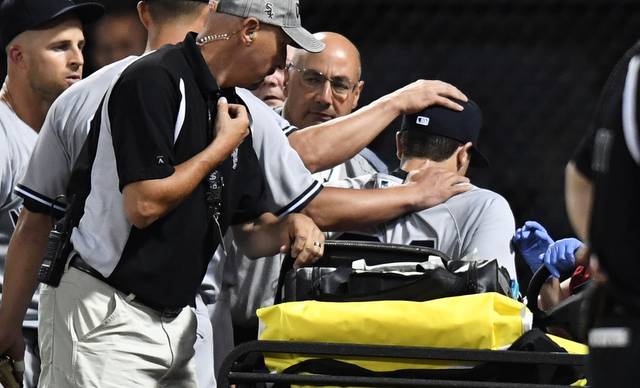 12:08pm ET: Fowler suffered an open rupture of the right patella tendon, the Yankees announced. He's having surgery tonight and his season is over. Brutal. Absolutely brutal. I feel awful for the kid. At least he'll collect big league pay while on the disabled list.
11:24pm ET: Dustin Fowler exited tonight's game, his MLB debut, in the first inning after crashing into the side wall in foul territory. He was chasing after a fly ball and hit the wall at close to full speed. Fowler tried to walk it off, but he crumbled to the ground and had to be carted off the field. They were looking at his right knee. Sigh. Here's the video.
The Yankees called Fowler up earlier today to serve as an extra left-handed bat during these ten games prior to the All-Star break, during which they're tentatively scheduled to face nine right-handed starters. This was the first inning of his big league career. He hadn't even had an at-bat yet. He was due to lead off the next inning. The Yankees haven't announced an update on Fowler, so stay tuned.