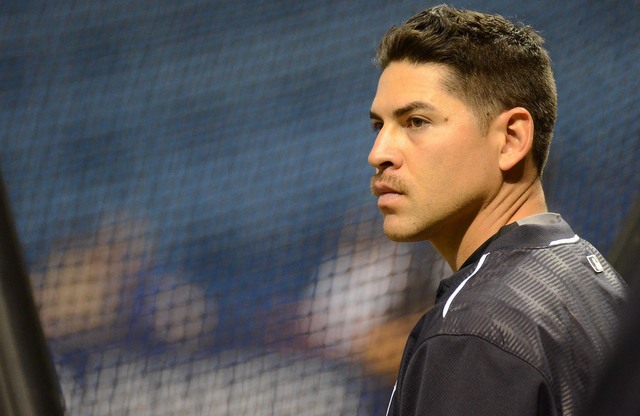 Following last night's game, Joe Girardi told reporters Jacoby Ellsbury is likely to miss more than the minimum 15-day DL stint due to his right knee sprain. Ellsbury suffered the injury when he caught a cleat on a swing and said the injury is on the outside of his knee. Girardi added surgery will not be required. That's all we know at this point.
"It's basically, he's on the 15-day DL. Do I think we'll get him back in 15 days? No. Do I think it'll be a long DL stint? No," said Girardi, according to Brendan Kuty. "But, as I've said all along, it's going to depend on how he responds to the treatment and with the speed being a big part of his game, we'll just have to see what he's doing."
Depending on the severity, a knee sprain could require anywhere from two weeks to two months to heal. Maybe longer. We're just going to have to wait and see. Since Ellsbury is a speed player and this is a leg injury, the Yankees have to make sure he's 100% before returning. I mean, that's always true, but you catch my drift.
Slade Heathcott figures to play quite a bit in Ellsbury's absence, at least against righties with Chris Young playing against lefties. Brett Gardner has slid into the leadoff spot with Carlos Beltran taking over as the number two hitter. Problem is Stephen Drew and Didi Gregorius are batting seventh and eighth instead of eighth and ninth now, respectively.
Ellsbury is the Yankees' best all-around player and one of their best hitters, so losing him for any length of time is really bad. Even the minimum 15 days was going to be tough. I have no idea what Girardi means when he says Ellsbury will be out longer than that, but hopefully it's not much longer. I'm as excited to see Heathcott as anyone, but geez, no Ellsbury is a huge blow.